Oh boy….. this is a blog for the ages!!
A telephone call early woke me up a bit sooner than I wanted. One of the riders called with bad news…. their flight was delayed with a mechanical problem. Apparently a rubber band broke on the propeller and they needed to fly something in from Timbuktu. Nah….. just one of the typical delays we all know happens when you travel these days. But with luck they'll make it to Frankfurt only a couple of hours later than expected. Disappointing but not a problem we can't work through!
We got our rental vehicles…. ok, a small issue, they weren't quite ready.   So we went to a coffee shop to kill a little time.  You know, there really isn't anything much better than a coffee shop and fresh pastries!!
Selection was good….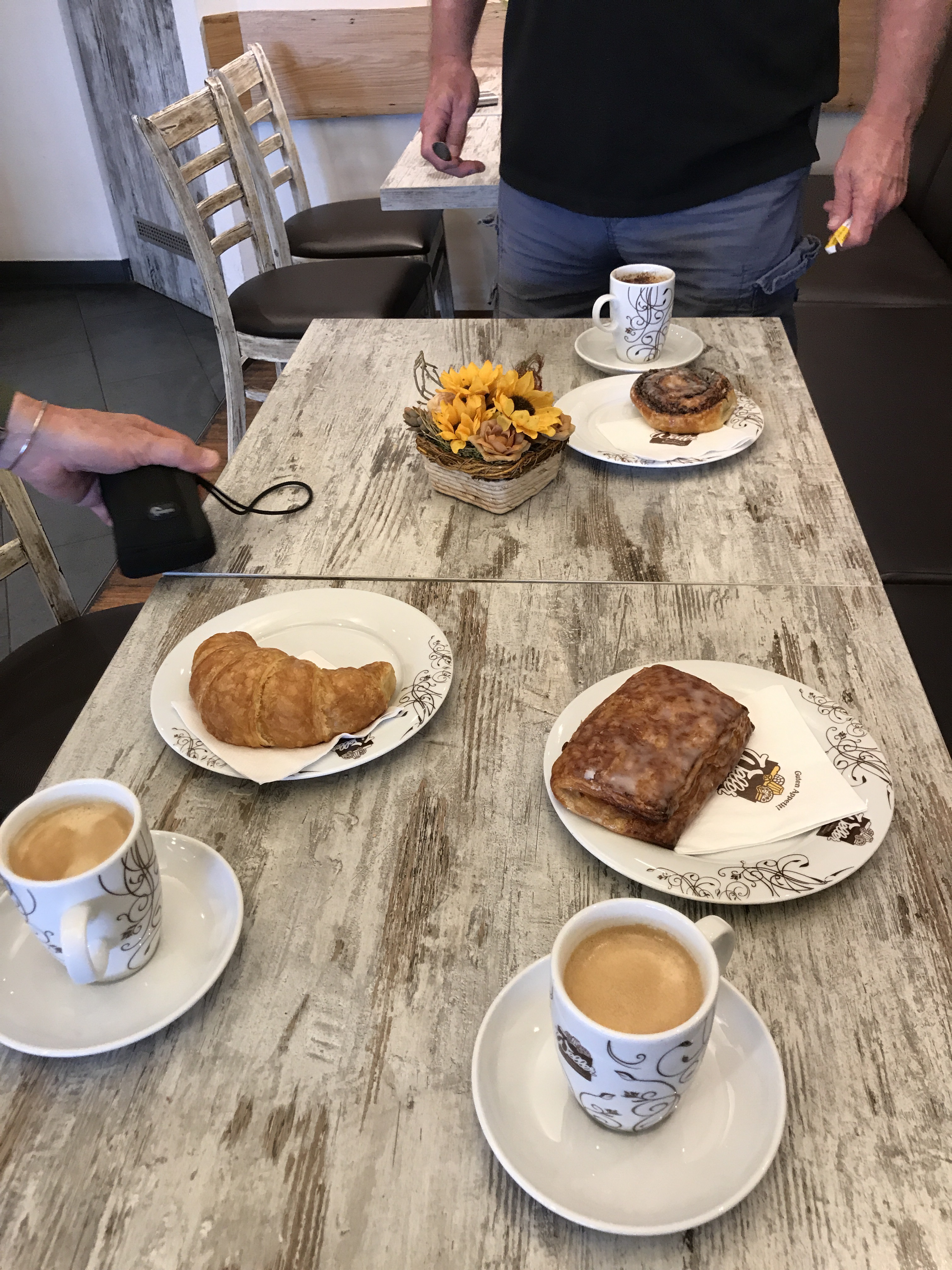 Nice little place to stop for a snack…..
When we got back to the Sixt rental agency, they had our vehicles all ready. We had a really nice Ford Transit 9 passenger van all lined up. Gorgeous!!! But guess what?? Navigation wasn't installed. So the agent said "We have another one… I'll go get it". 15 minutes later he can back and said with a wonderful Germanic accent "The other one doesn't have Navi installed either". So he switched us to a Renault 9 passenger. Not too bad, although I would have preferred a Ford with an operational Navi.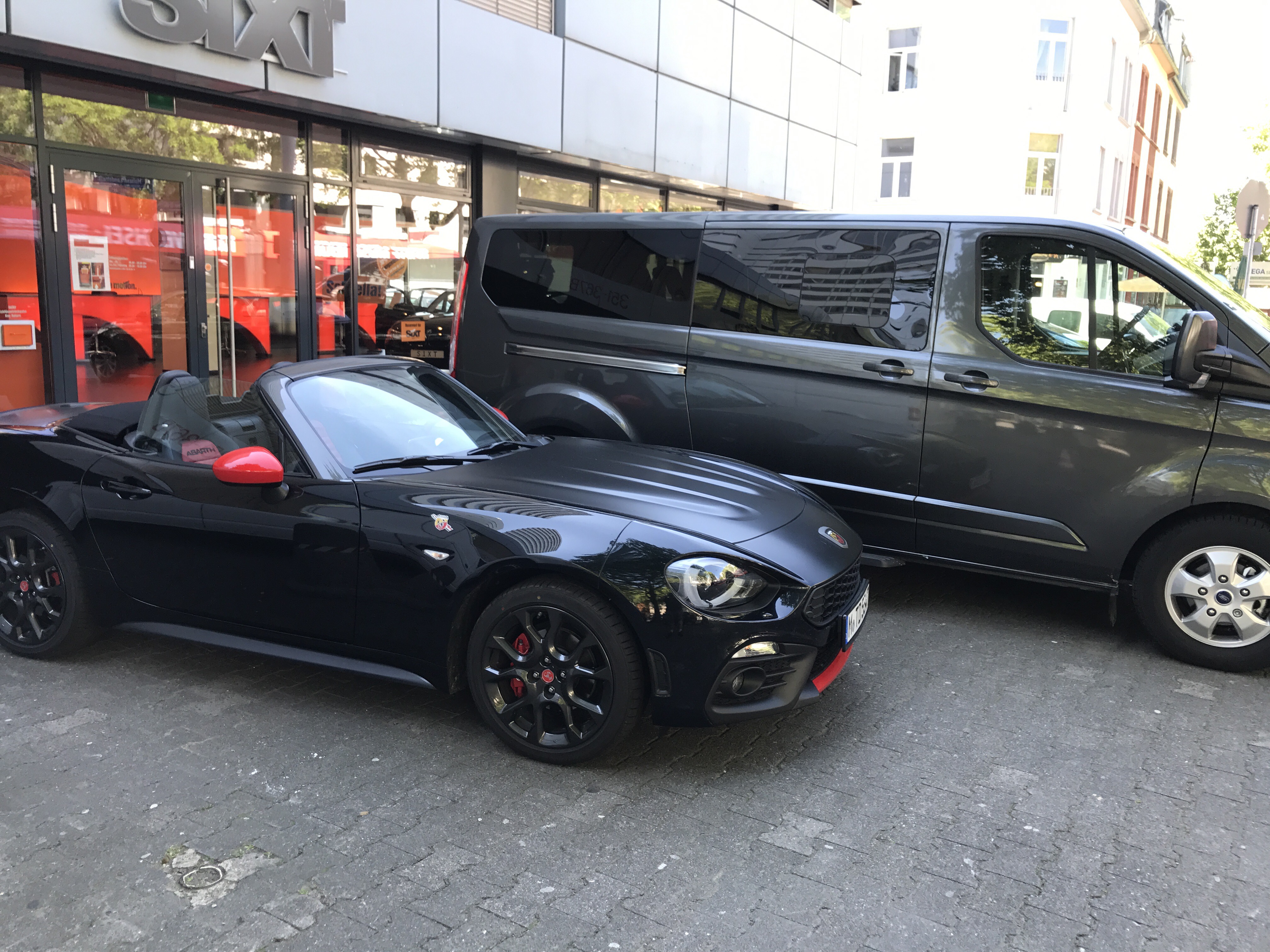 Here's the Ford….. but I was really thinking about renting the Fiat Spyder in the foreground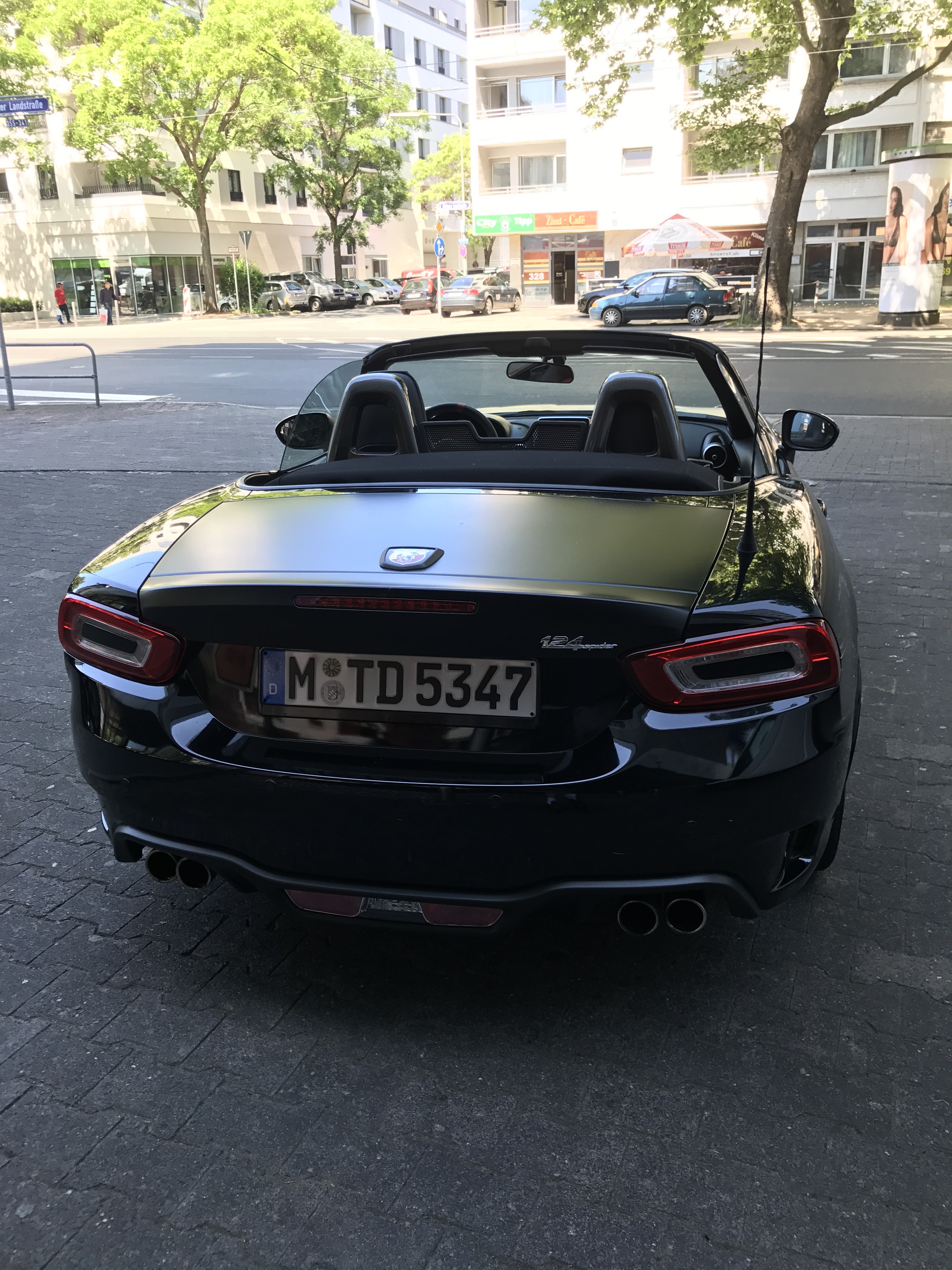 it does look nice from behind too….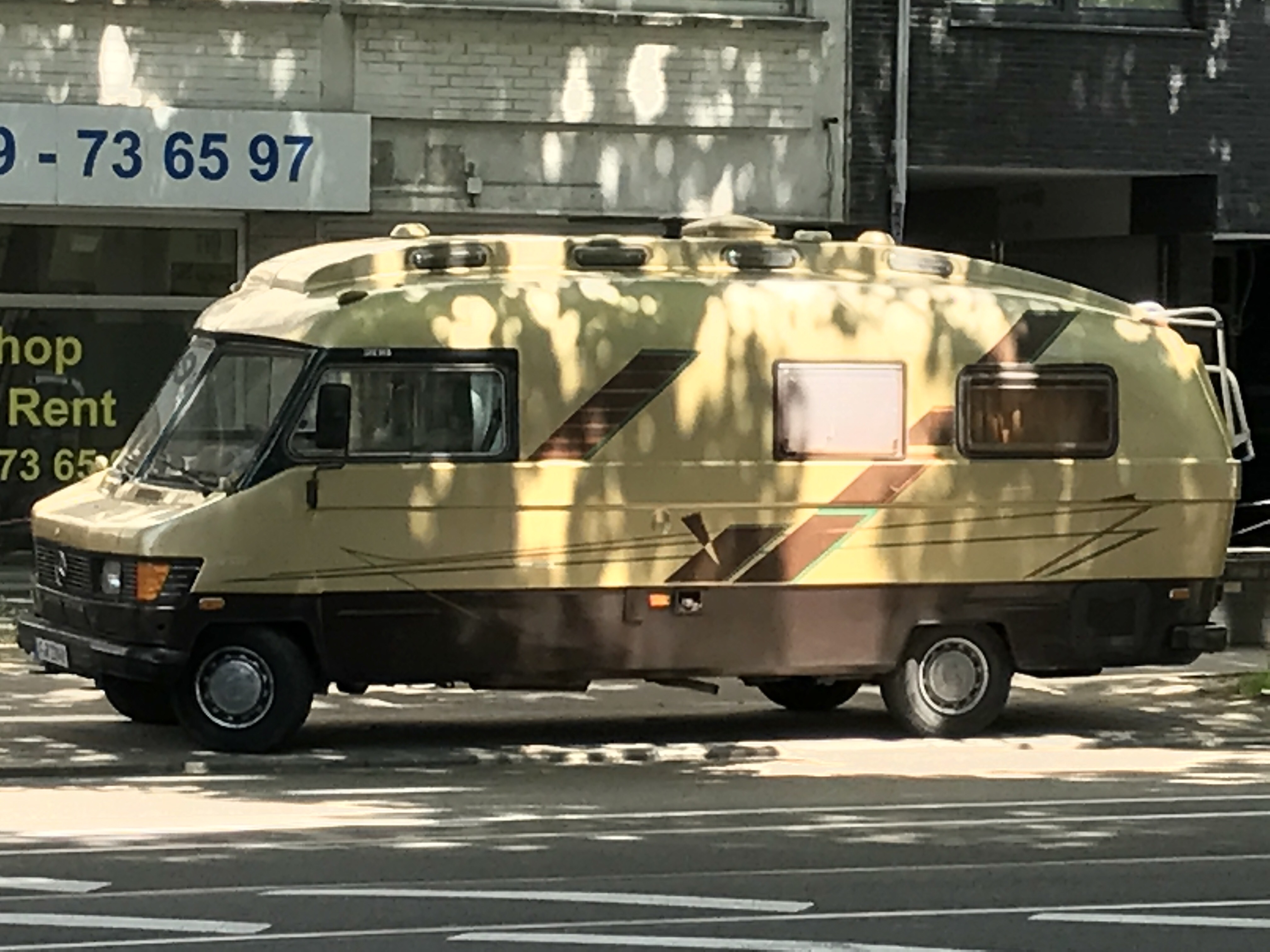 This Mercedes RV is a surprise gift for Gretchen…..
Next, we drove to Sossenheim on the northwest part of Frankfurt.  This is where we needed to pick up our bikes.  Markus, the owner, had every thing ready and we loaded up the bikes to head out. We are now all set for a pm departure after picking up the rest of the group.
While at Markus' bike shop (Intra Spiel und Sport), we did pick up a few things we couldn't ship from the US (CO2 cartridges) and stuff we just plain forgot. Like a lock and cable.  Markus really has a great selection.
Markus comes from a long line of cyclists and racers and always loves to tell us stories. He is truly one of the people that make doing this fun. And his shop, while on the small side, has everything we could need.
When we got back to the hotel, we secured the Rental Van with our bikes inside, as well as the passenger van, and went to engage in our new German pastime….. bier trinken. Steve and I enjoyed the wonderful German weather and sat on the patio with a few Hefeweizen biers. Mac decided he would check out his bike and go for a short ride. We cheered him on…. as we had another Hefeweizen on the patio.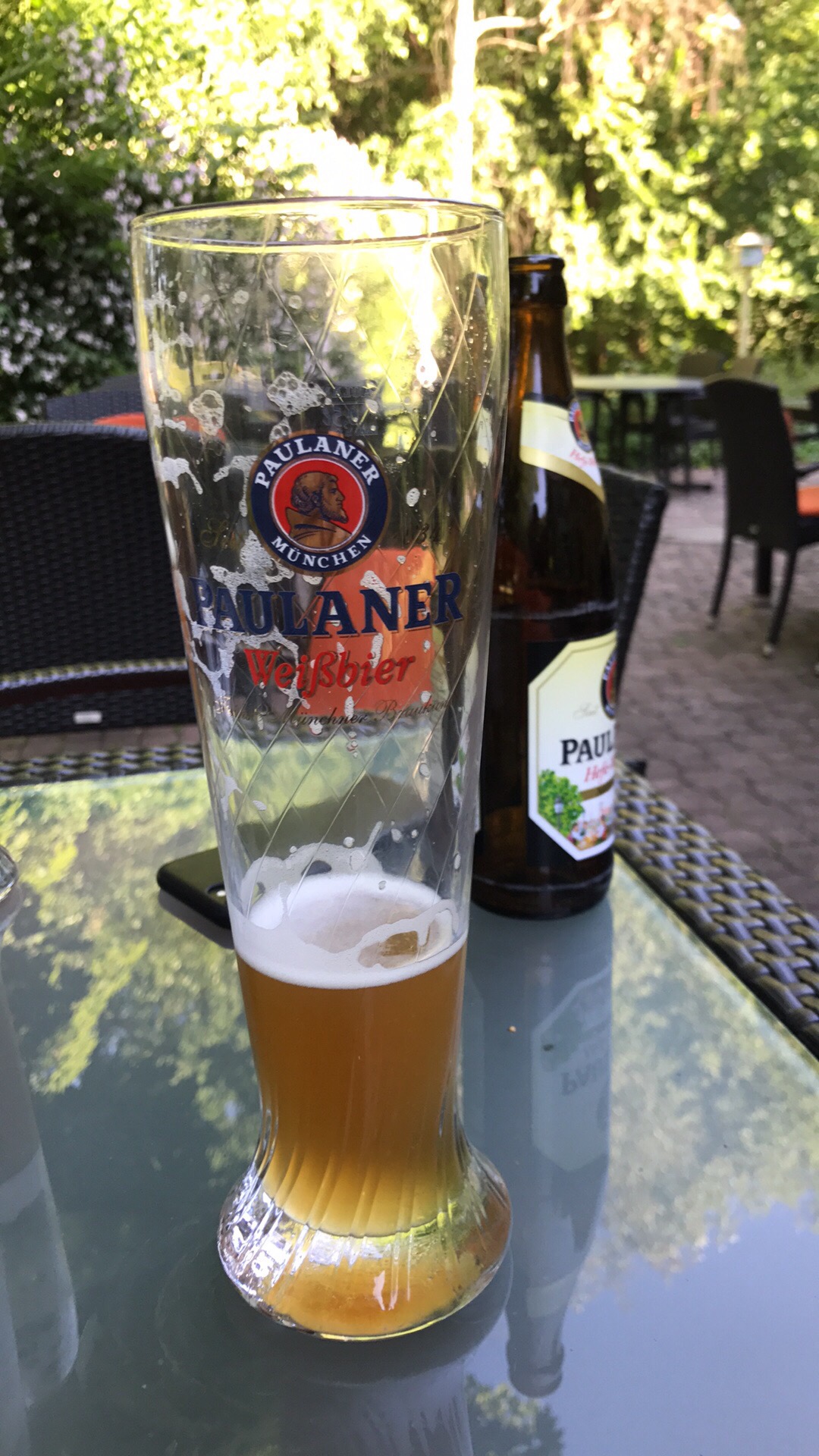 He returned, all smiles, finding the trail to be in great shape! He joined us for another bier before we adjourned to dinner.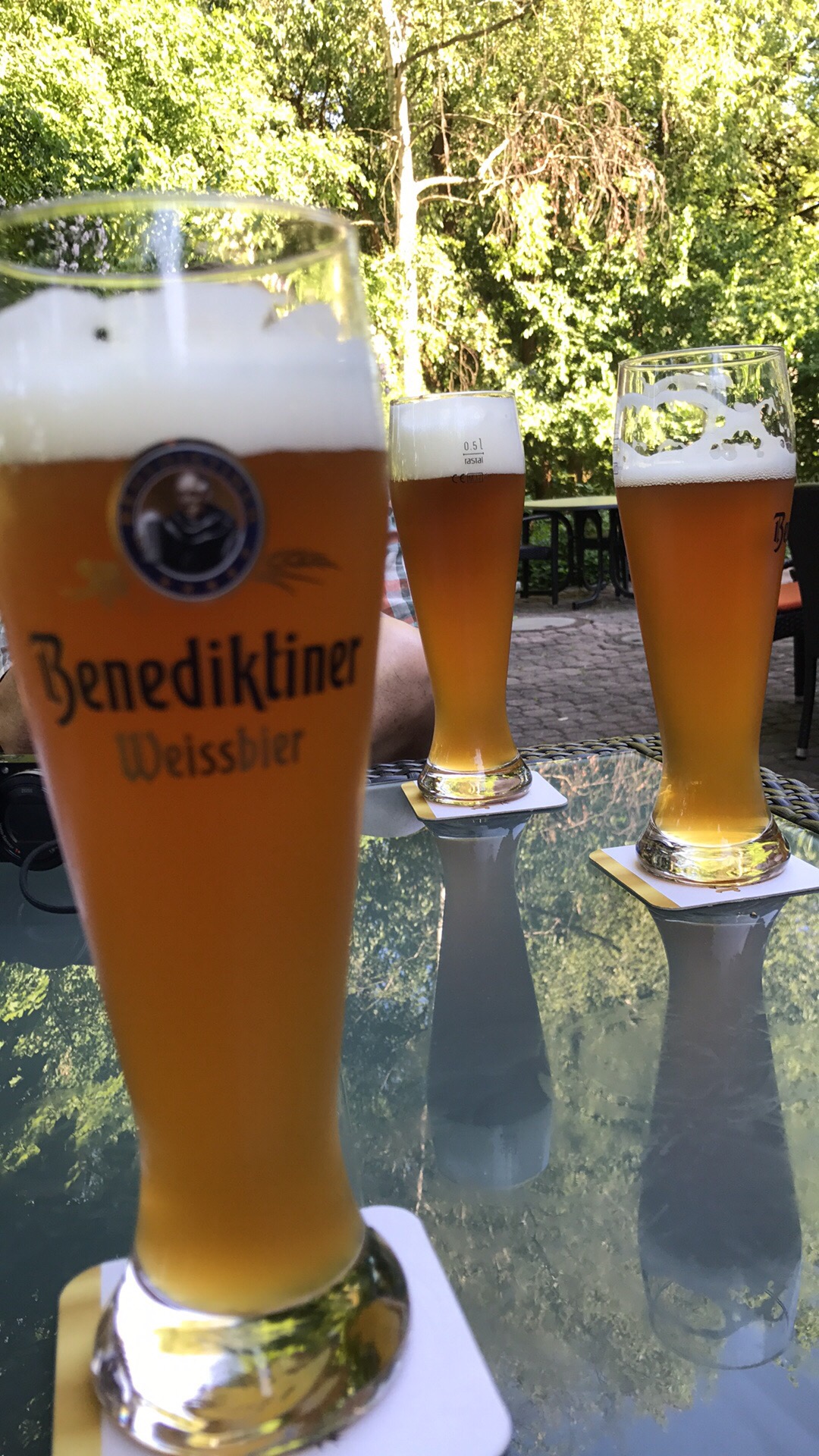 Dinner was at the Tapas Restaurant out the back of the hotel from us.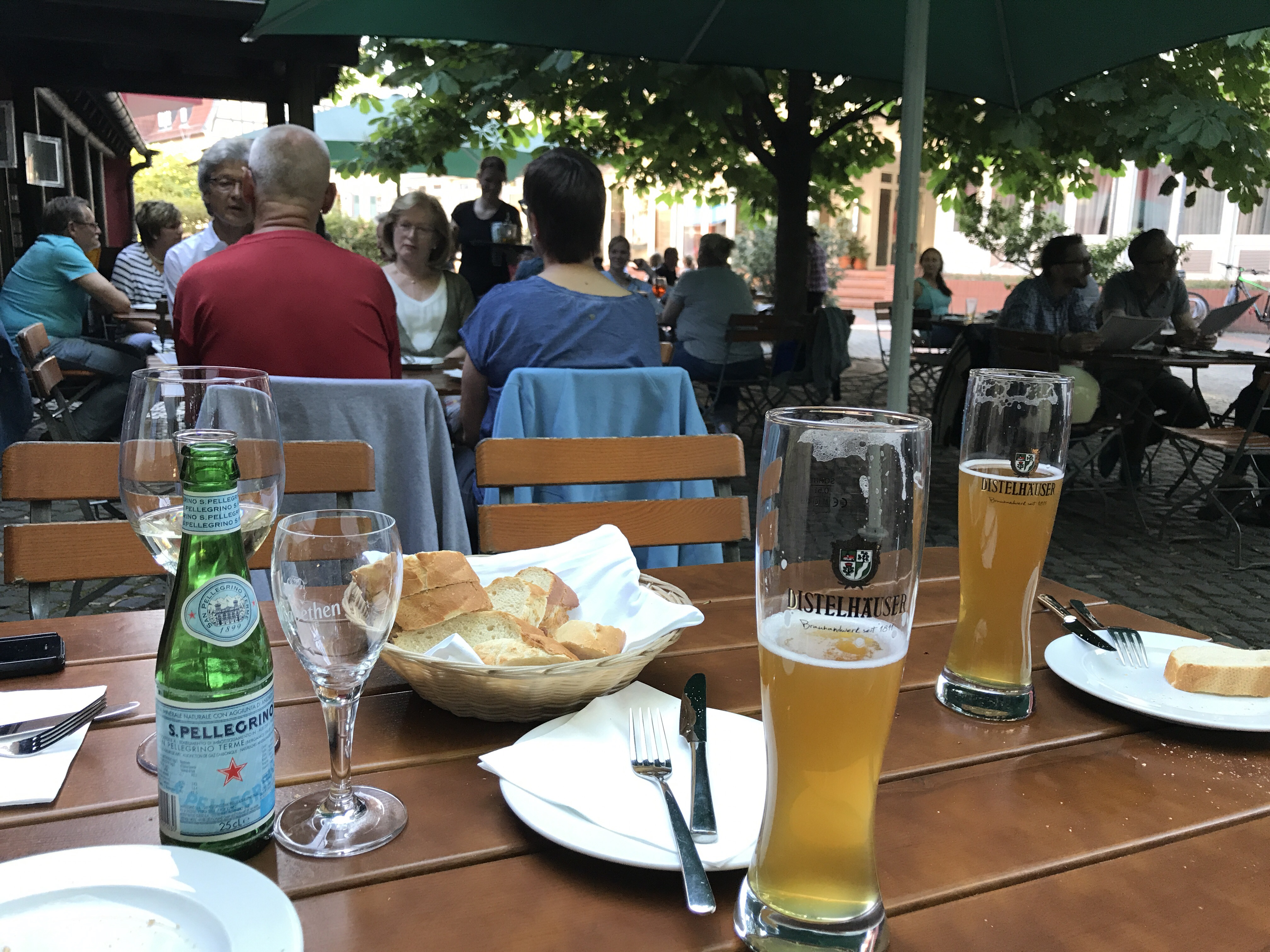 It is a really great place, good bier and friendly staff. Mac had a series of Tapas dishes, Steve and I had kraut encrusted pork medallions.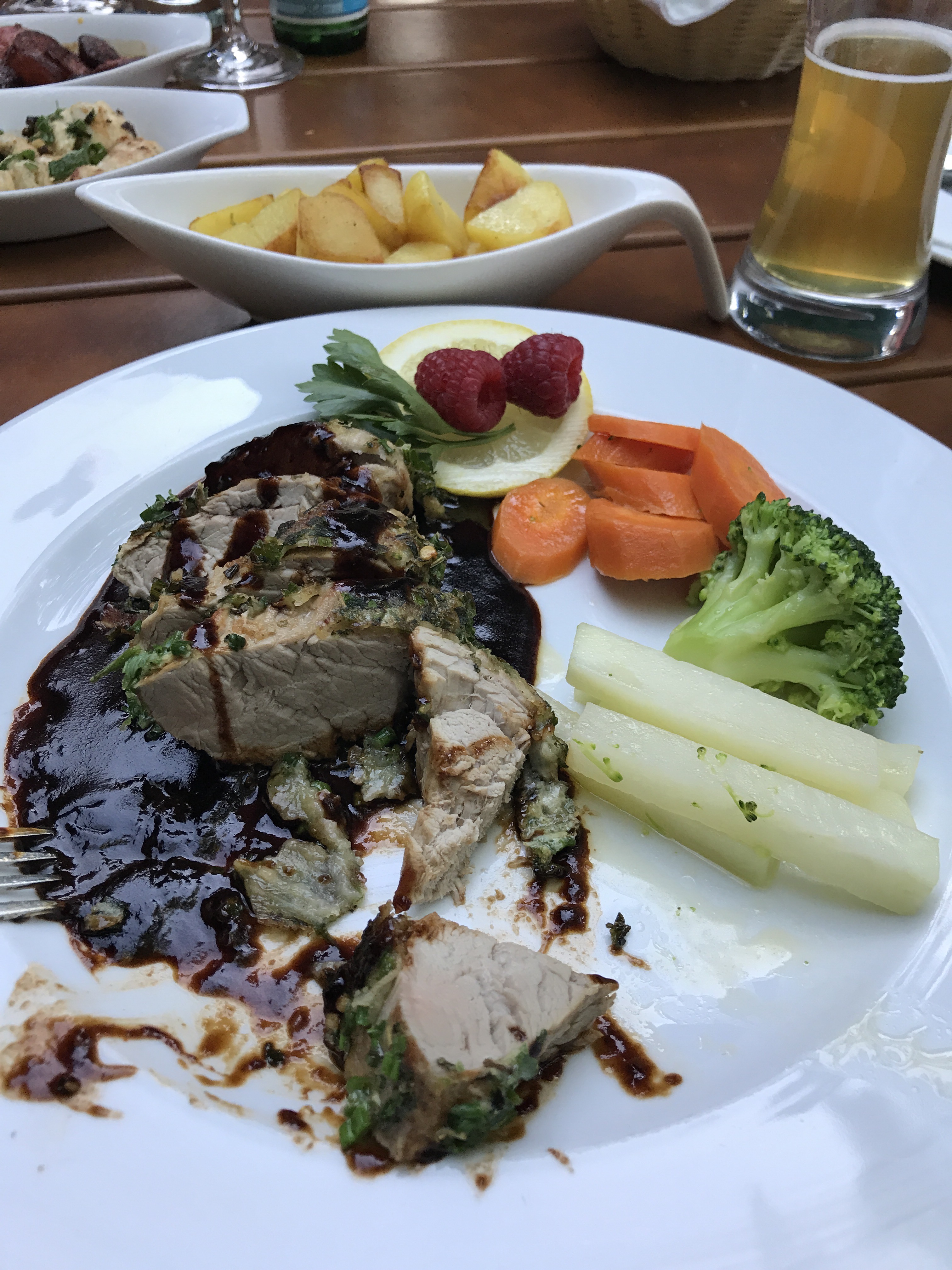 Delicious!!
Our waitress, Maren, treated us to some schnaps after we finished dinner. Guess she knew the Americans were good tippers. And it will definitely help us sleep tonight!!
Now…. it's time for bed!   It hopefully be a night with good news from our missing teammates.   For tomorrow, we hope our delayed teammates make it to Frankfurt by 1 pm. And we'll head out for an overnight stop with family and another wonderful dinner.