Friends,
First and foremost, I'd like to thank you for giving me a few minutes of your time to complete the Survey I sent out a few weeks ago. It was very helpful and helped me focus on what tours to offer this year.
To that end, here is what I am proposing for the 2018 BG Adventures tour schedule. This is still in a developmental stage….
1- France – The Dordogne – 8 days – May
2- Switzerland, France, Germany, the Netherlands – The Great Rhine Adventure – 17 days – May/June
3- Germany – The Main Radweg – 8 days – June
4- Germany – Oktoberfest and the Main Radweg – 12 days – September
5- Germany – Bavarian Christmas Markets– 8 days – December
Now that you know what we are offering, let me go into a little more detail on each package. While #1-4 below are primarily cycling tours, any of them can accommodate spouses or guests who simply want to sightsee.
1 – France – The Dordogne – Mid May
This tour will be a "Hub and Spoke" tour. We will stay at a Chateau and venture out on 5 daily 30-50 km rides with two days being reserved for "sightseeing days". The bicycles we use will be hybrids with the option of using E-Bikes. This region of France can be hilly and I prefer enjoying this ride with a little "assist".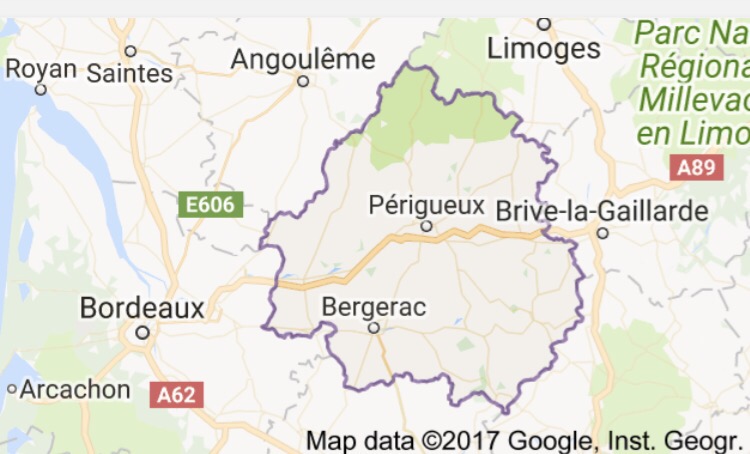 We will enjoy French restaurants in the area, visit the Hautefort chateau and travel to Rocamadour, a town built into the side of a cliff. We'll also enjoy Market Day in Excideuil, the closest town to our chateau.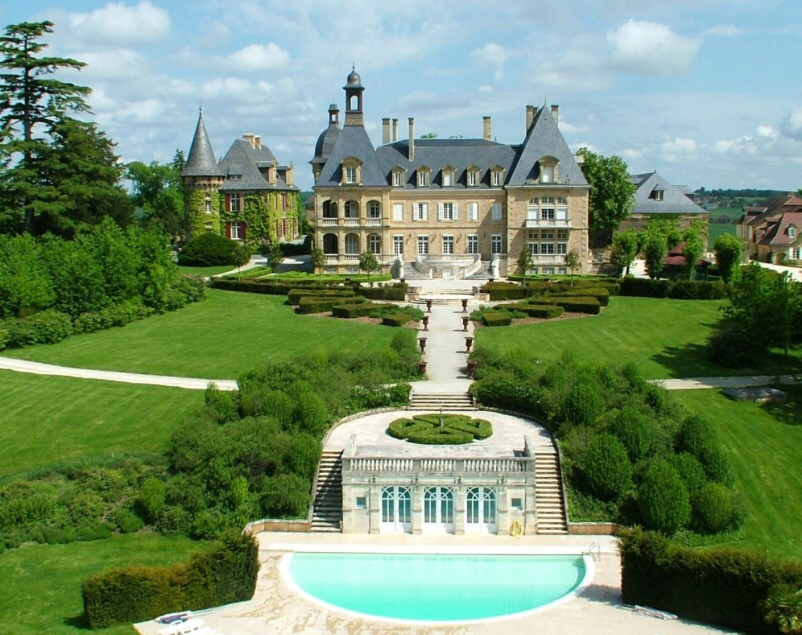 The Chateau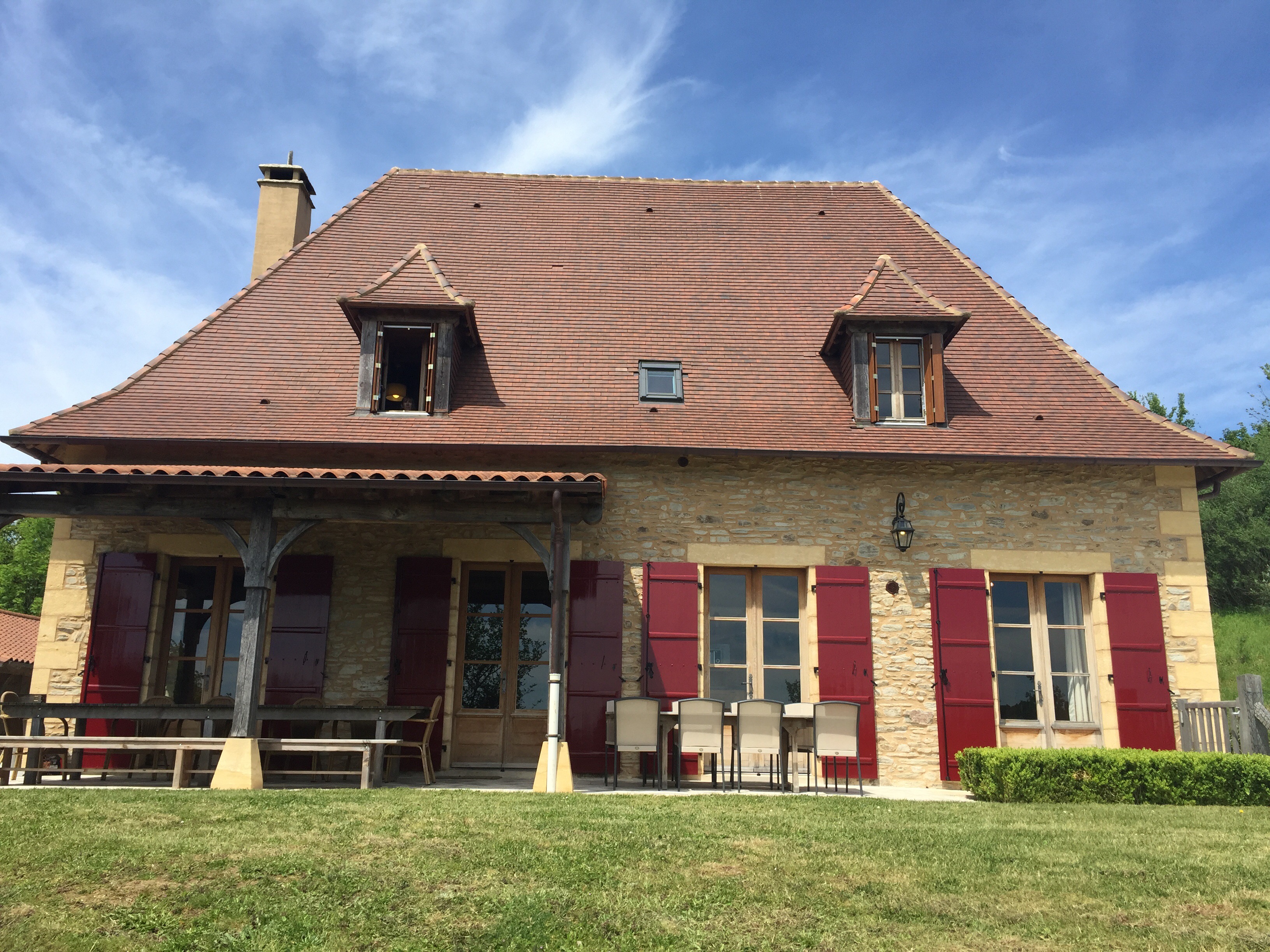 Our Gîte on the Chateau grounds
This tour will include all transportation (except airfare to Bordeaux), bicycles and accommodations with breakfast daily.
2 – Switzerland, France, Germany and The Netherlands – The Great Rhine Adventure – May/June
This tour will actually provide 3 options….
a) The whole 1200 km trip – 17 days from Basel to the North Sea at Rotterdam.
b) The first half 550 km – 8 days from Basel to Frankfurt.
c) The second half 700 km – 8 days from Frankfurt to the North Sea at Rotterdam.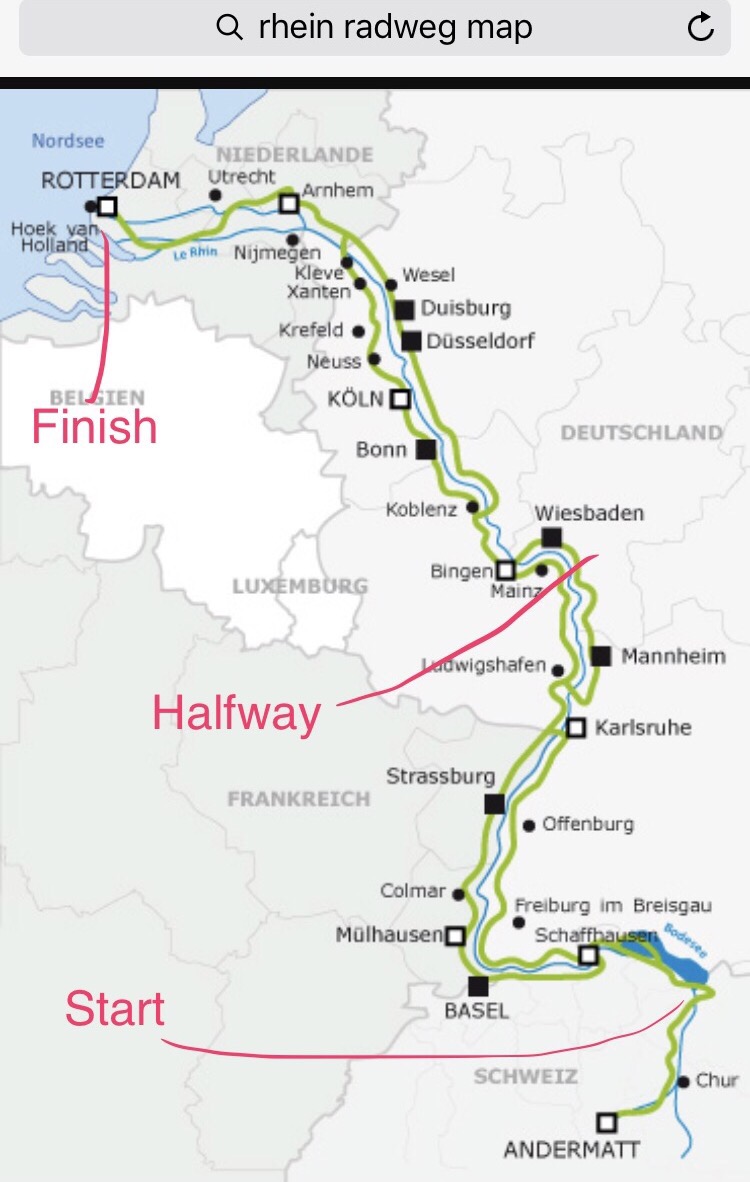 Eurovelo 15
This touring ride will be along the Rhine River from Lake Constance region of Switzerland, passing thru Eastern France (Alsace), then Germany and finally thru the Netherlands to the North Sea. Because of the time and distance, this ride will be approximately 100 km a day, leaving after breakfast at 8 am, finishing by approximately 3 pm.
At the midpoint of the ride, we will have a "rest day" in Hattersheim, a small town close to Frankfurt, for people to join for the second half or leave after doing the first half.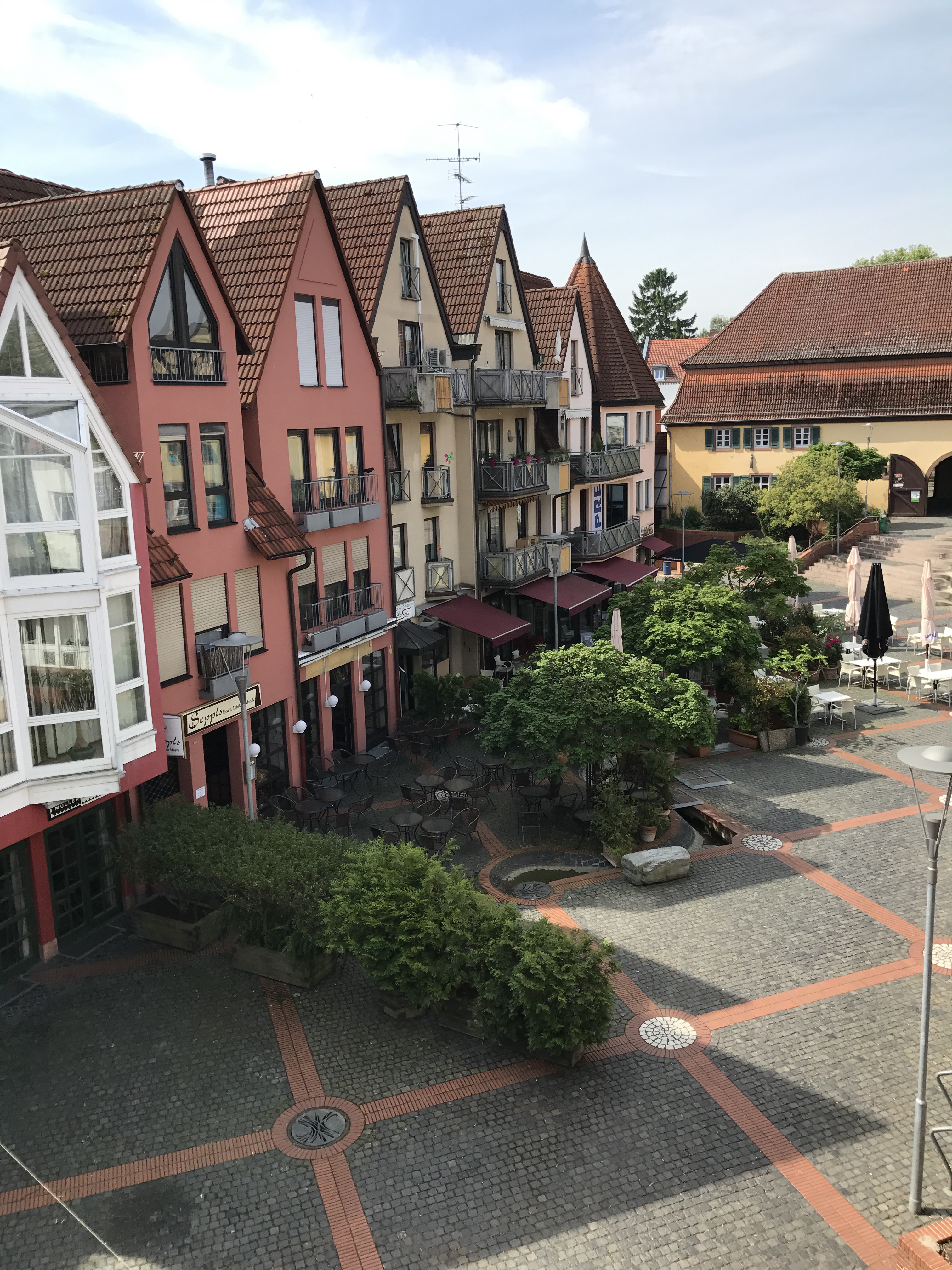 Food court by our hotel in Hattersheim
Flights would either be into Basel, Switzerland (for the whole ride or 1st half) and either in/out of Frankfurt (for ending the 1st half or starting the 2nd) or Amsterdam (for whole thing or 2nd half).
This tour will include all transportation (except airfare to starting airport), bicycles and accommodations with breakfast daily.
I have my own "stable" of bikes so that is one thing you never need to worry about. Of course, if you want to ride your own bike, you can certainly do so (expense/cases on your own).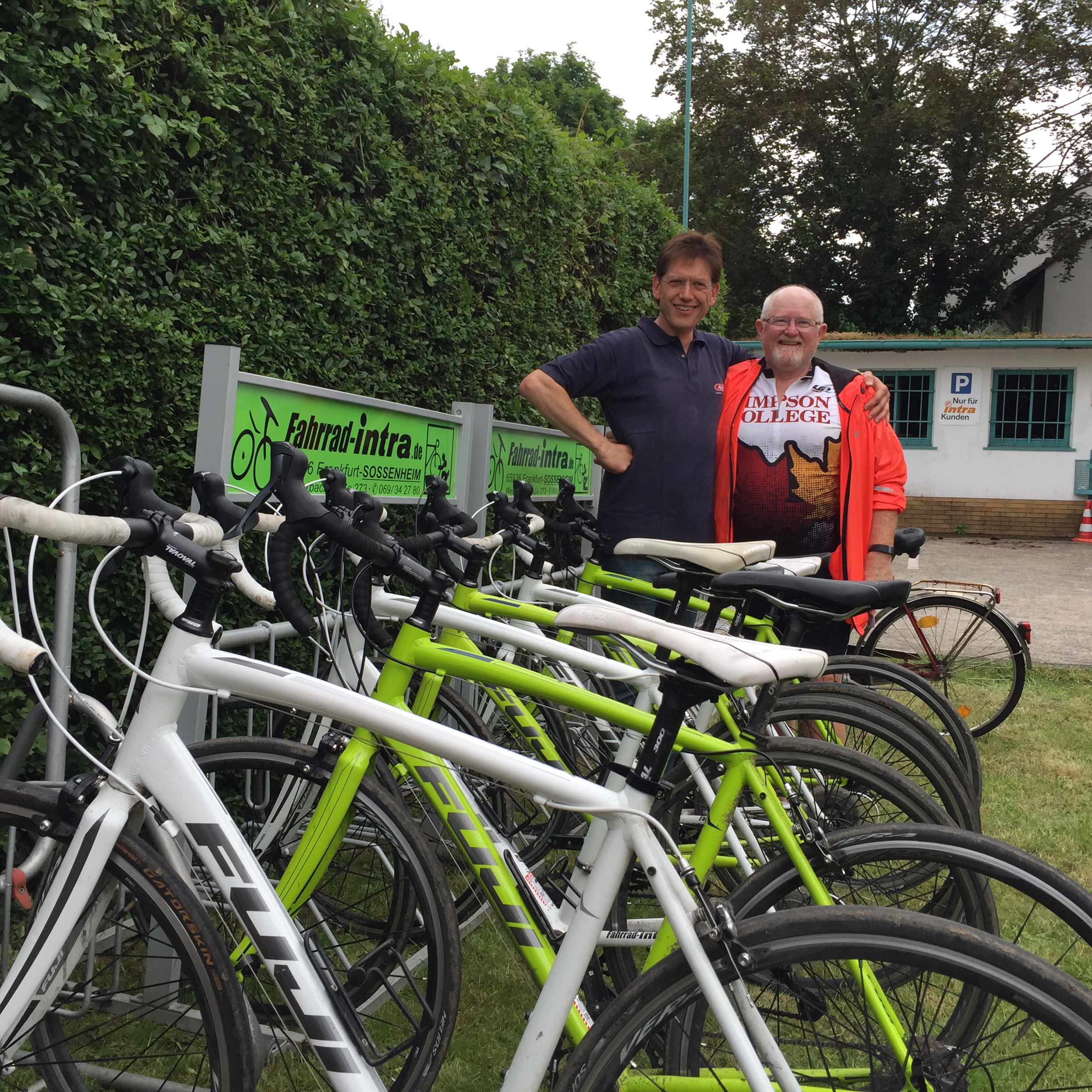 These Fuji road bikes have less than 1000 miles on them.
3 – Germany – The Main Radweg – June
This 8 day tour will begin and end in Frankfurt where we will gather in Hattersheim, a short taxi ride from the airport. After we all gather, we will leave for our starting town of Theres to prepare our bikes and have a wonderful dinner with an opportunity to get to know some Germans.
From Theres, we will ride approximately 50 km a day, leaving each day about 9 am and finishing around 12-1 pm. This is more of a "sightseeing tour" with time to stop along the way for pictures and maybe coffee and pastries mid-morning. Arriving in our end town early every day allows us to explore these towns or maybe venture out for some of the other attractions in the area.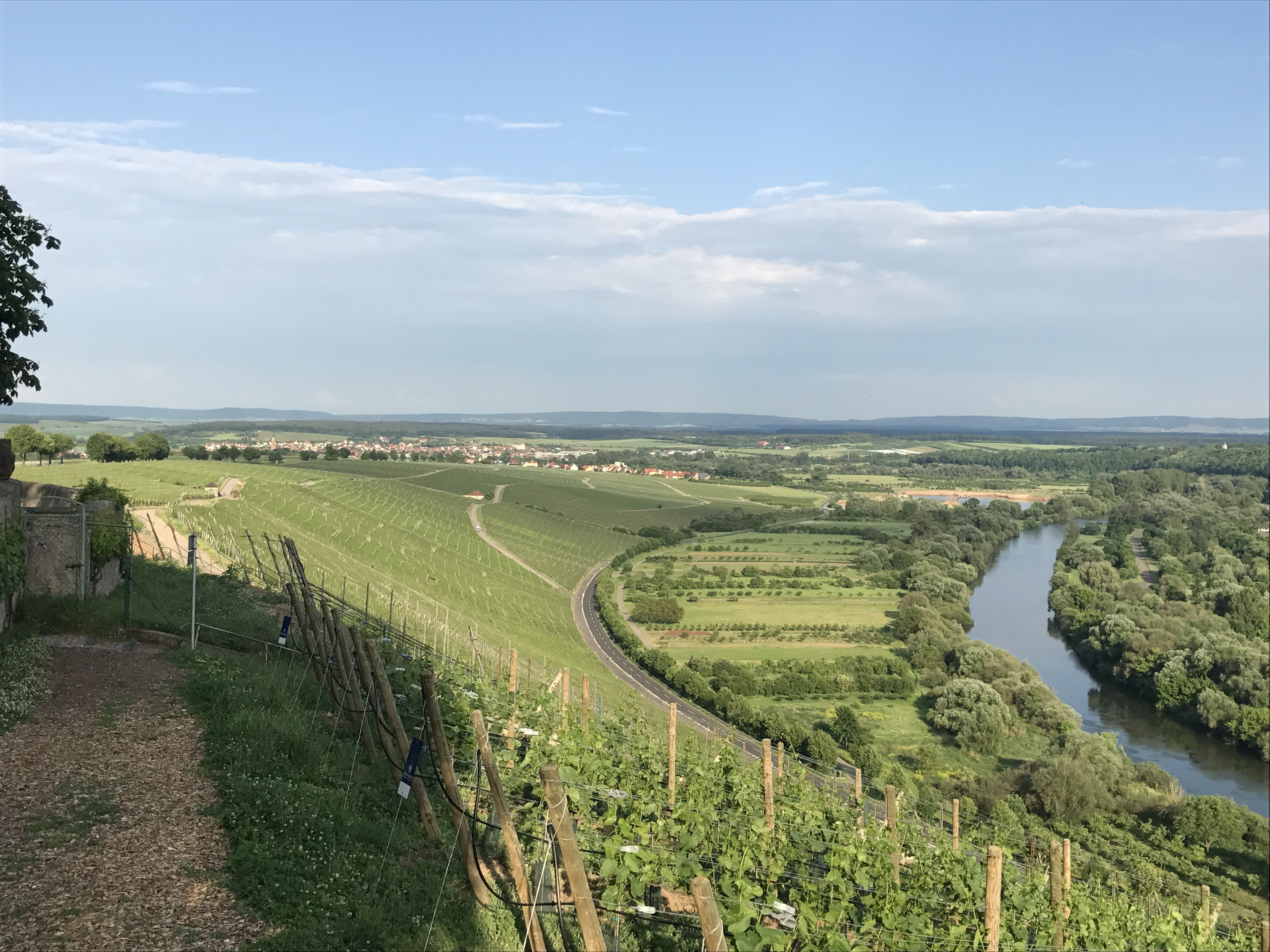 The "Wine Mountain" (Weinberg) outside of Volkach, Vogelsberg
The ride will end in Aschaffenburg, which has two castles in the area to visit. A fairly short shuttle ride to the airport in the morning will have you on your way back to the USA.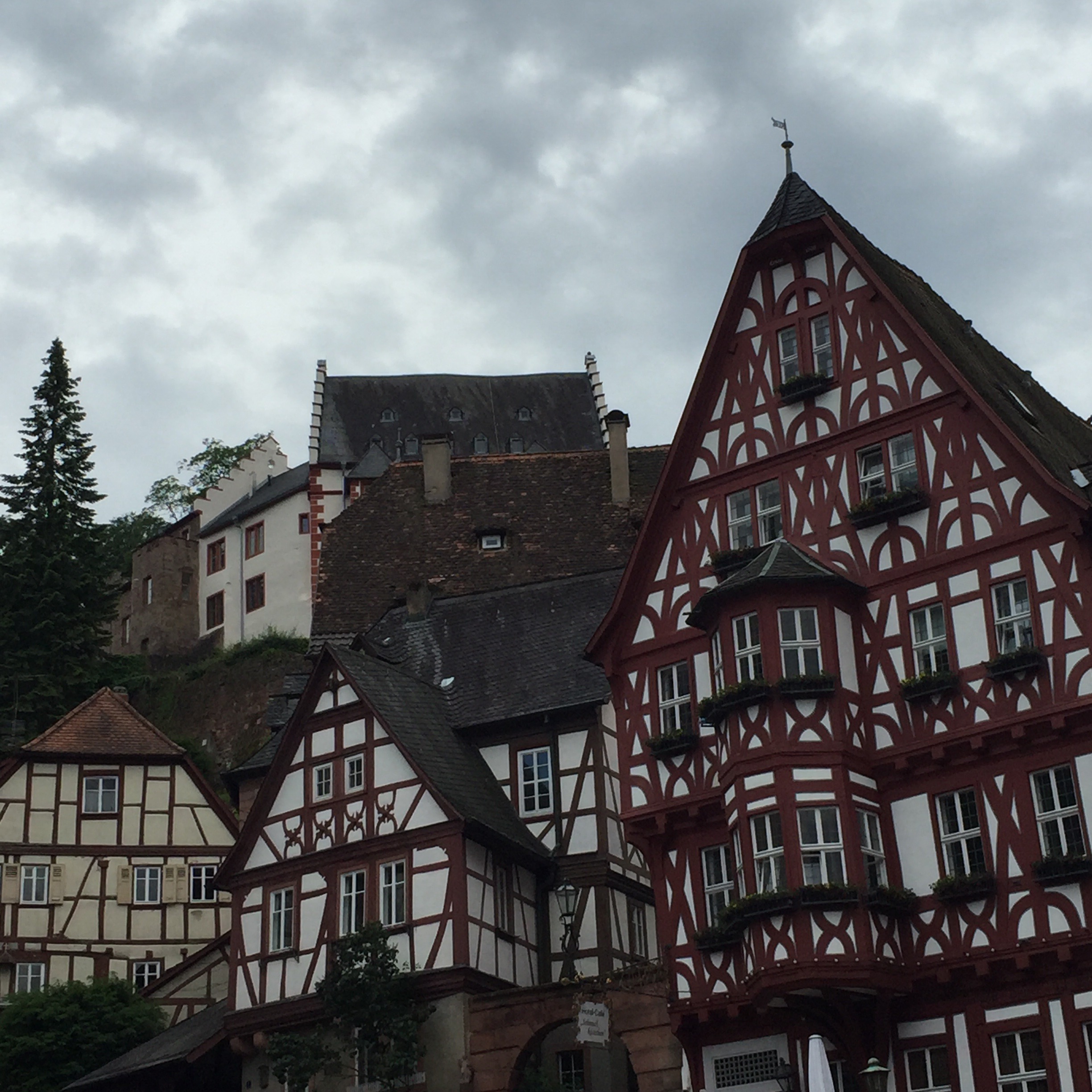 Miltenberg
This tour will include all transportation (except airfare to starting airport), bicycles and accommodations with breakfast daily.
4 – Germany – Oktoberfest and the Main Radweg – September
This tour can be configured into a 5 day Oktoberfest ONLY tour OR the 12 day Cycling tour.
This tour will begin with our flights into Munich, with 4 days to experience Oktoberfest and get your "Bucket List" checked. We will also be able to visit two of King Ludwig ll's castles, Neuschwanstein and Linderhof, go to the top of the highest mountain peak in Germany (the Zugspitze) and maybe visit the World's oldest brewery (1040).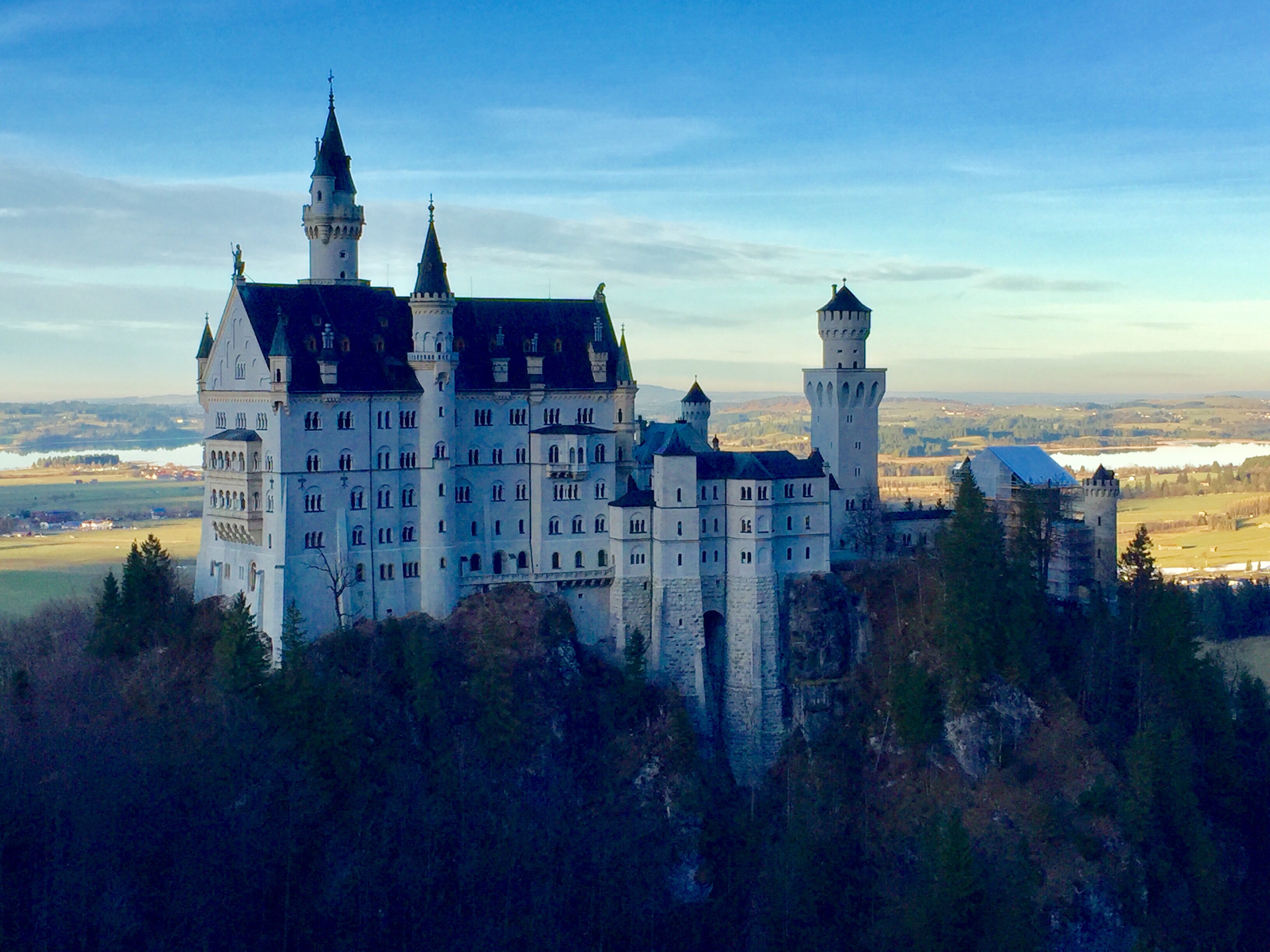 Schloß Neuschwanstein
Following the fun in Munich we will make our way to the start of our bike ride. Depending on the desire of the majority of our riders, we can do the long tour (100km daily) or the short version (30 km).
Flights home will be from Frankfurt.
This tour will include all transportation (except airfare to starting airport), bicycles and accommodations with breakfast daily.
5 – Germany – Bavarian Christmas Markets – December
This is purely an 8 day sightseeing tour.
The Bavarian Christmas Markets….. a great way to get into the season! This tour can be booked for either the first or second full week of December.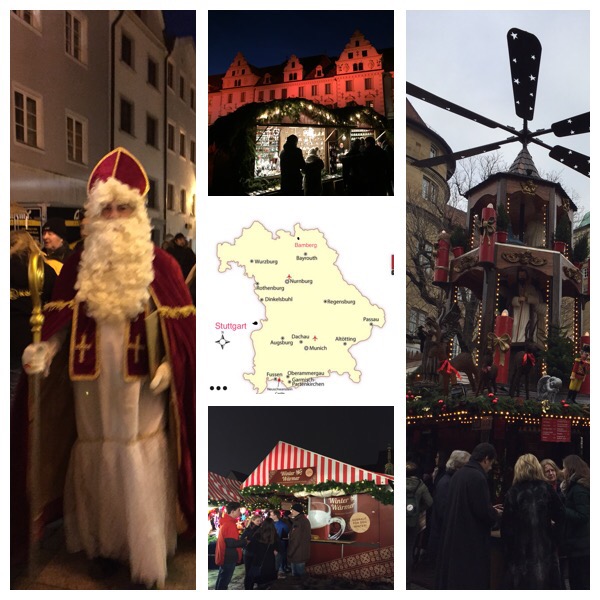 We will start the tour by flying into Stuttgart and, from there, our first stop will be at King Ludwig ll's fantasy castle, Neuschwanstein. We'll enjoy a tour of the castle and then spend the night in Füssen where we will see our first Christmas Market.
The following morning, after a hearty breakfast, we will go to the Second of Ludwig's castles, Linderhof. On the way, we'll pass a lovely alpine lake, usually with crystal clear water. From Linderhof, we'll go on Garmisch-Partenkirchen and if the weather and time allows, we'll go to the top of the Zugspitze, the highest mountain in Germany. Enjoying the scenic views of the Alps while having coffee or enjoying a beer in Germany's highest biergarten will be one of the many "high" points of this day. The quaint Christmas Market in Garmisch will give you a feel for the Alpine region.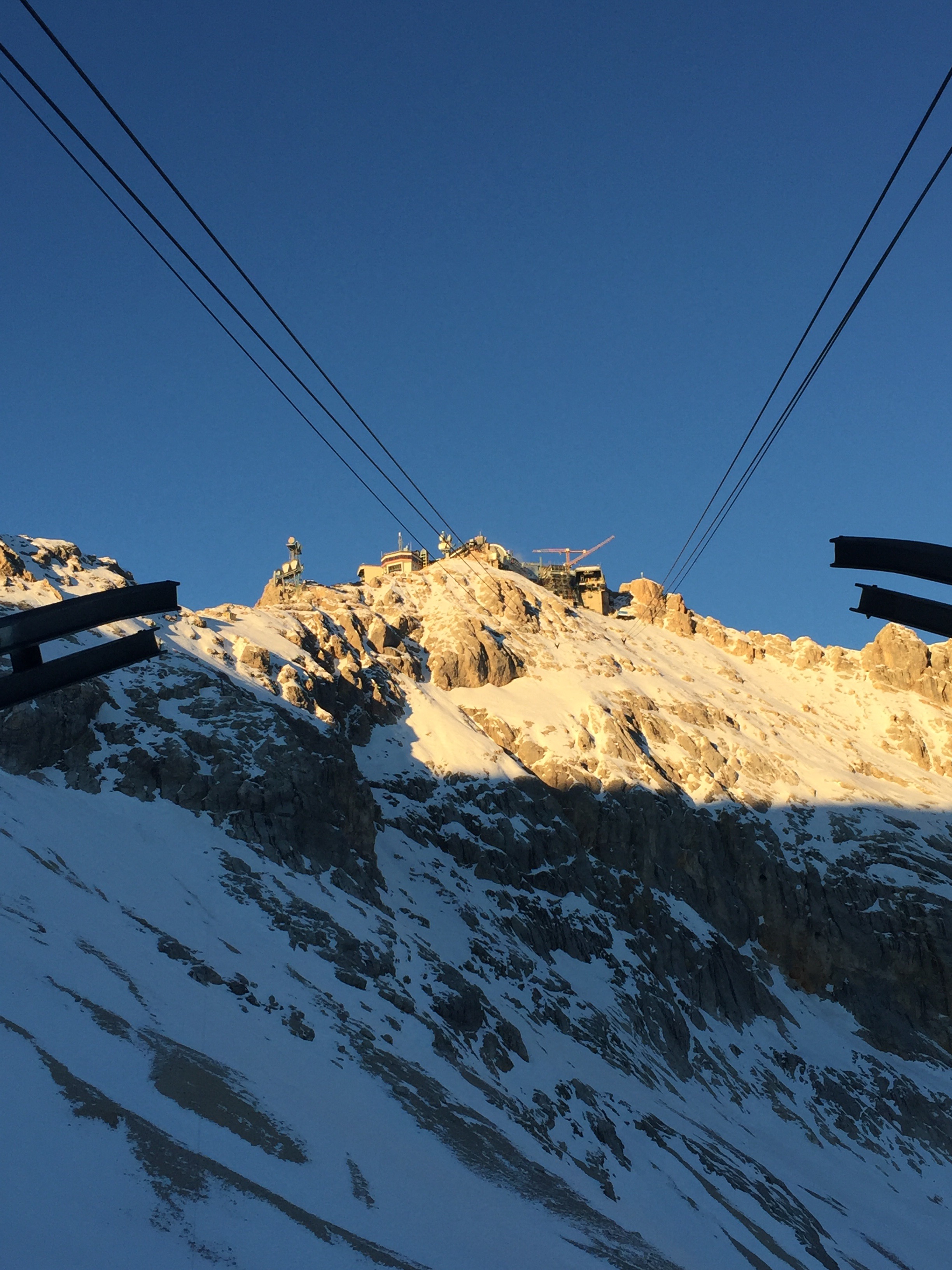 View from the Zugspitze
Day Three will have us going to Regensburg. This is one of the more picturesque markets I've found but because of its venue. It is held on the grounds of the Thurn und Taxis castle, the stalls filling nearly every part of the castle grounds. Unique, handmade items, great food and snacks and, of course, Glühwein (hot spiced/mulled wine), will make this a special stop for you.
Day Four is in Nürnberg, one of, if not the largest Christmas Market in Bavaria. It is made up of 4 separate Markets…. the Main Market, Sister City Market, the Children's Market and the Market up the hill. You'll get plenty of walking this day if you wish! There are also churches to see, the Albrecht Dürer house/museum and the Art Cellars where works of art were put during WWII to protect them.
Day Five is in Bamberg. It's a great town with 9 UNESCO sites… churches, the old town… so much in Bamberg! And Bier…. Bamberg is home to one special beer, Rauchbier, or Smoke beer. It is made with malted barley dried over an open wood fire. It's a must try! The Old City Hall (Rathaus) straddles the river and is a great site for vacation photos.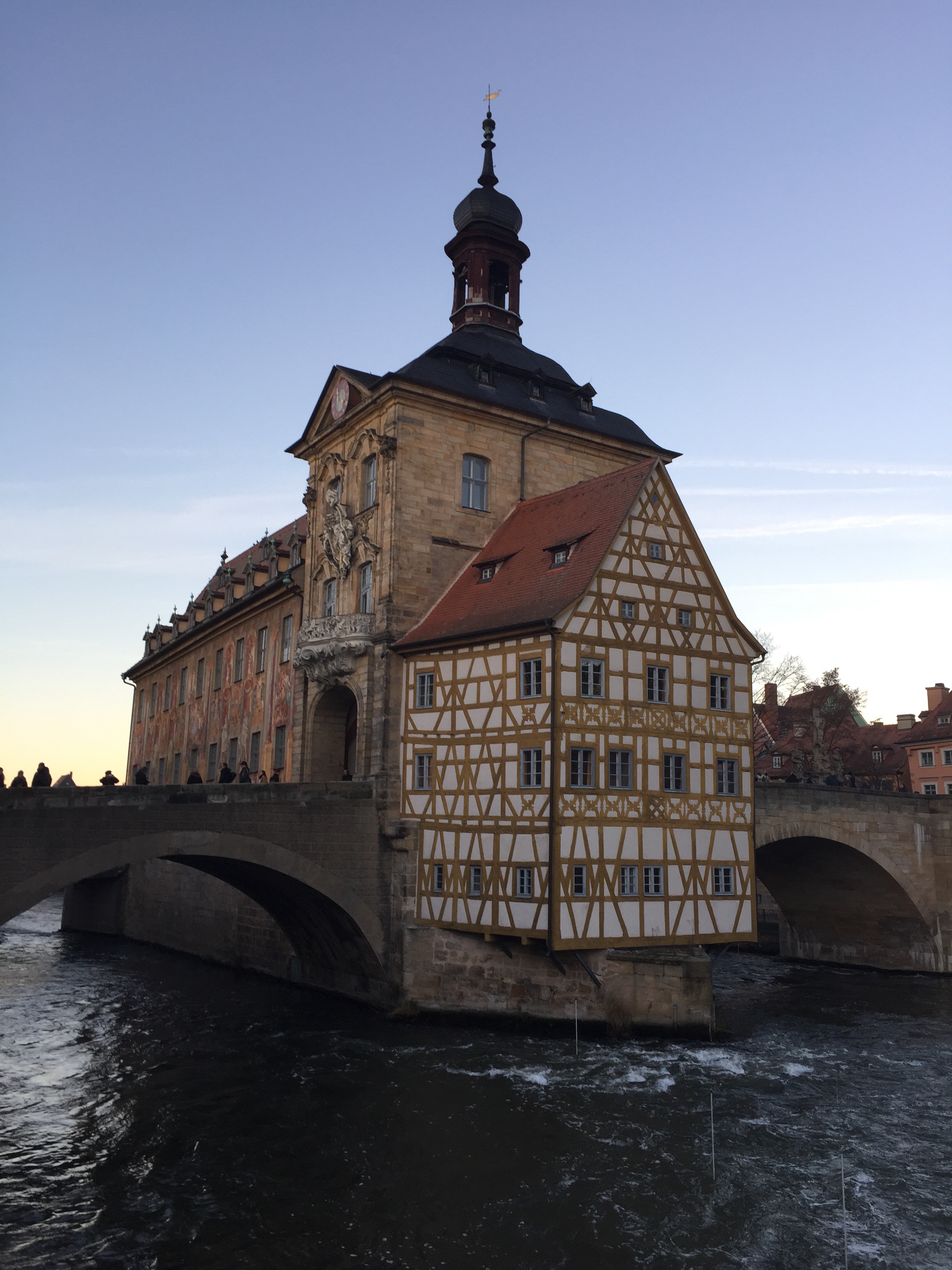 Bamberg old city hall
Day Six will be in a wonderful place and great place for memories! Rothenberg ob der Tauber is a medieval walled city with a gorgeous Market place (marktplatz), filled with stalls. Hope for a dusting of snow on the cobblestones…. that will add a real touch of Christmas!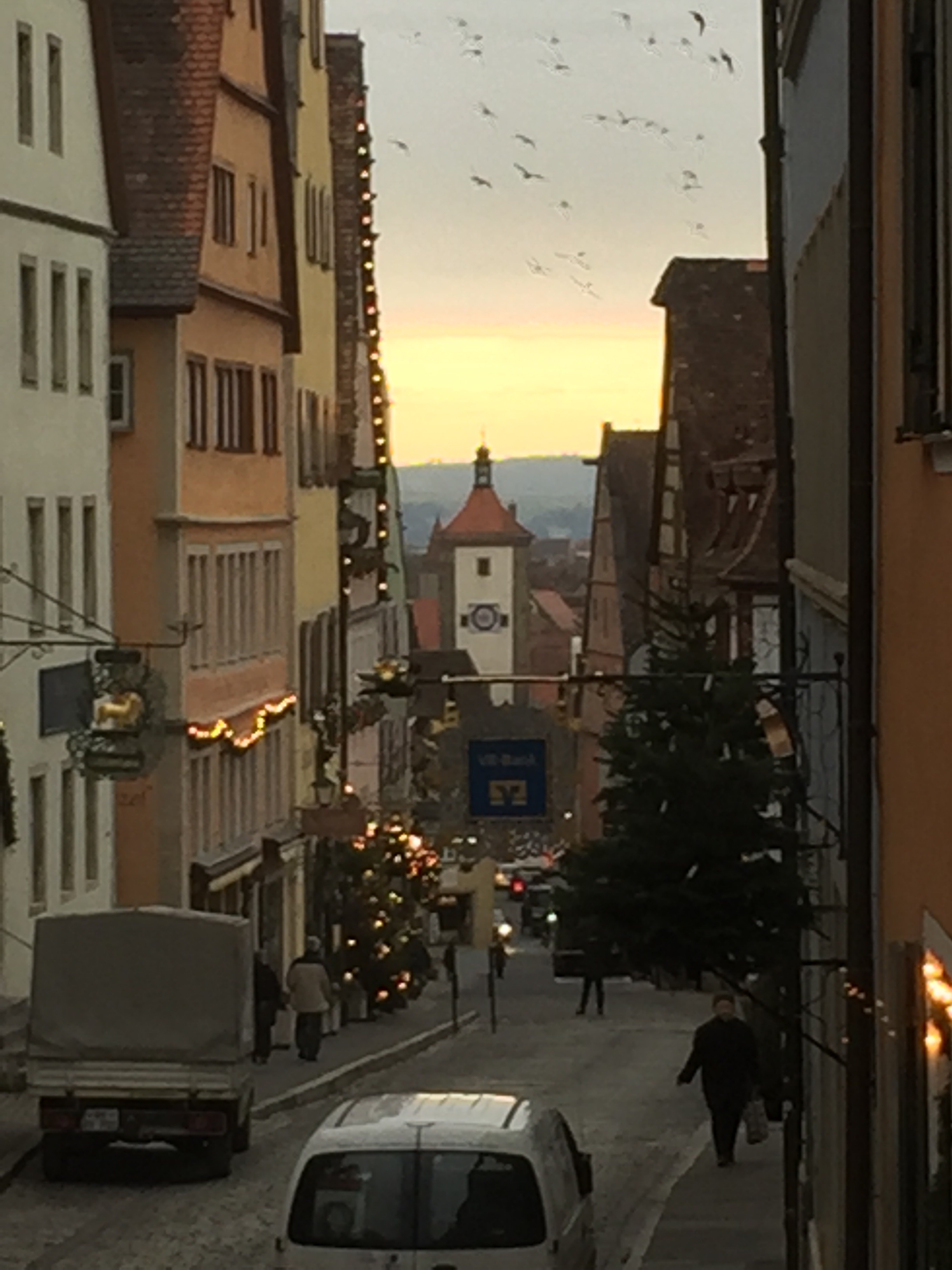 Rothenberg
The last day will be back at Stuttgart. For a bigger town, Stuttgart's Christmas Market is a real treat! The stalls seem to go on forever and everyone of them has gorgeous roof decorations. This will be an early day as we will head back to the airport to finish packing and getting ready for our departure the following day.
What do you need to do now?? What I really need to know is if there is interest. Drop me a note and let's chat about the details of the tours. We'd love to show you "Our Germany" as well as France and the rest.
When you are ready to book, we do generally give an early booking discounts (5%) as well as a discount for full payment at booking.
Let us know what you are thinking along with any questions and we can talk further! Love to have you join us!!
Send any inquiries directly to me at:
Capnben22 @aol.com
O R at:
Facebook.com/BGadventuresllc (by private message.)