We were up and going as usual, enjoying a wonderful German breakfast first thing.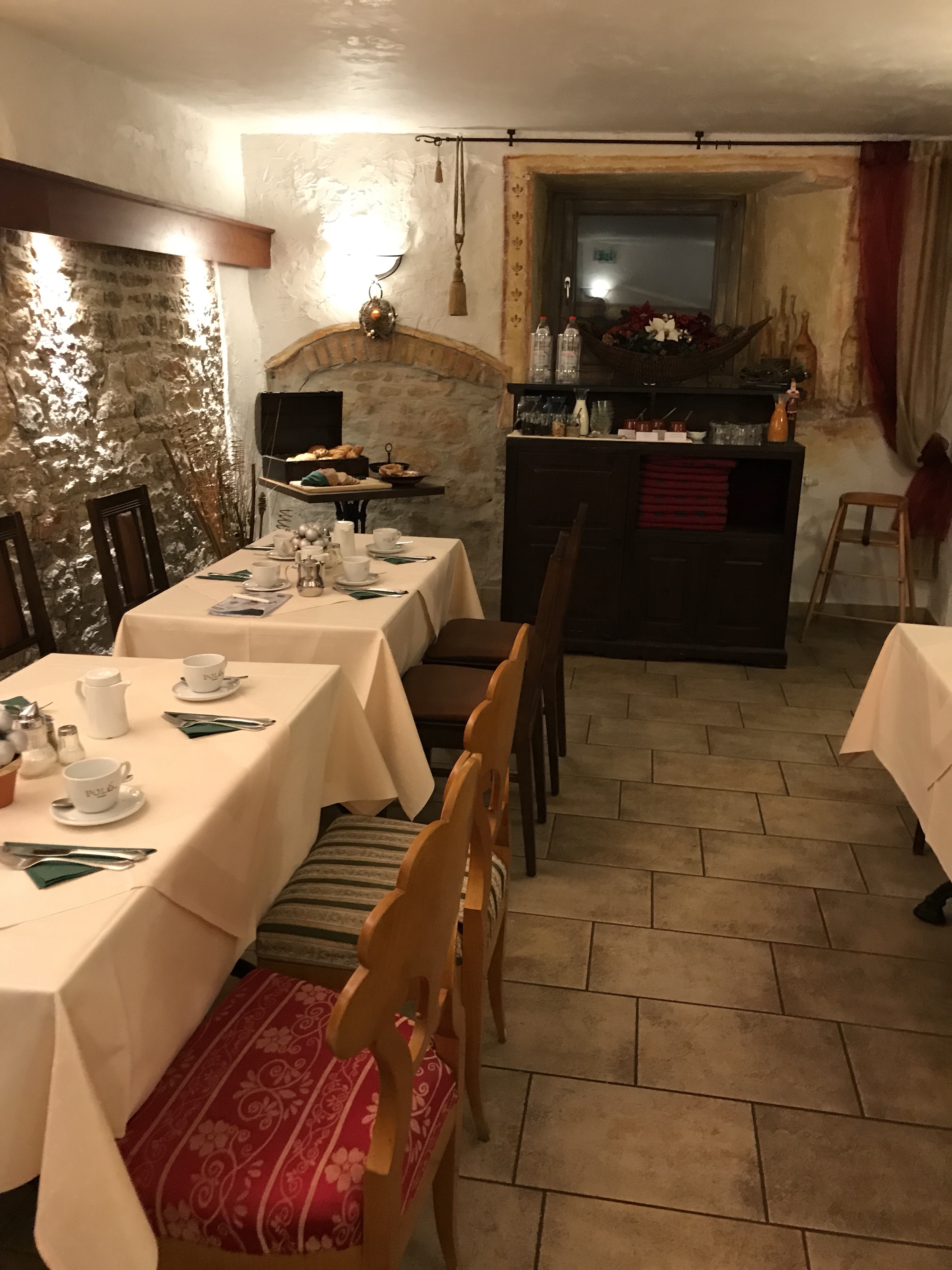 A small Dining room just for us!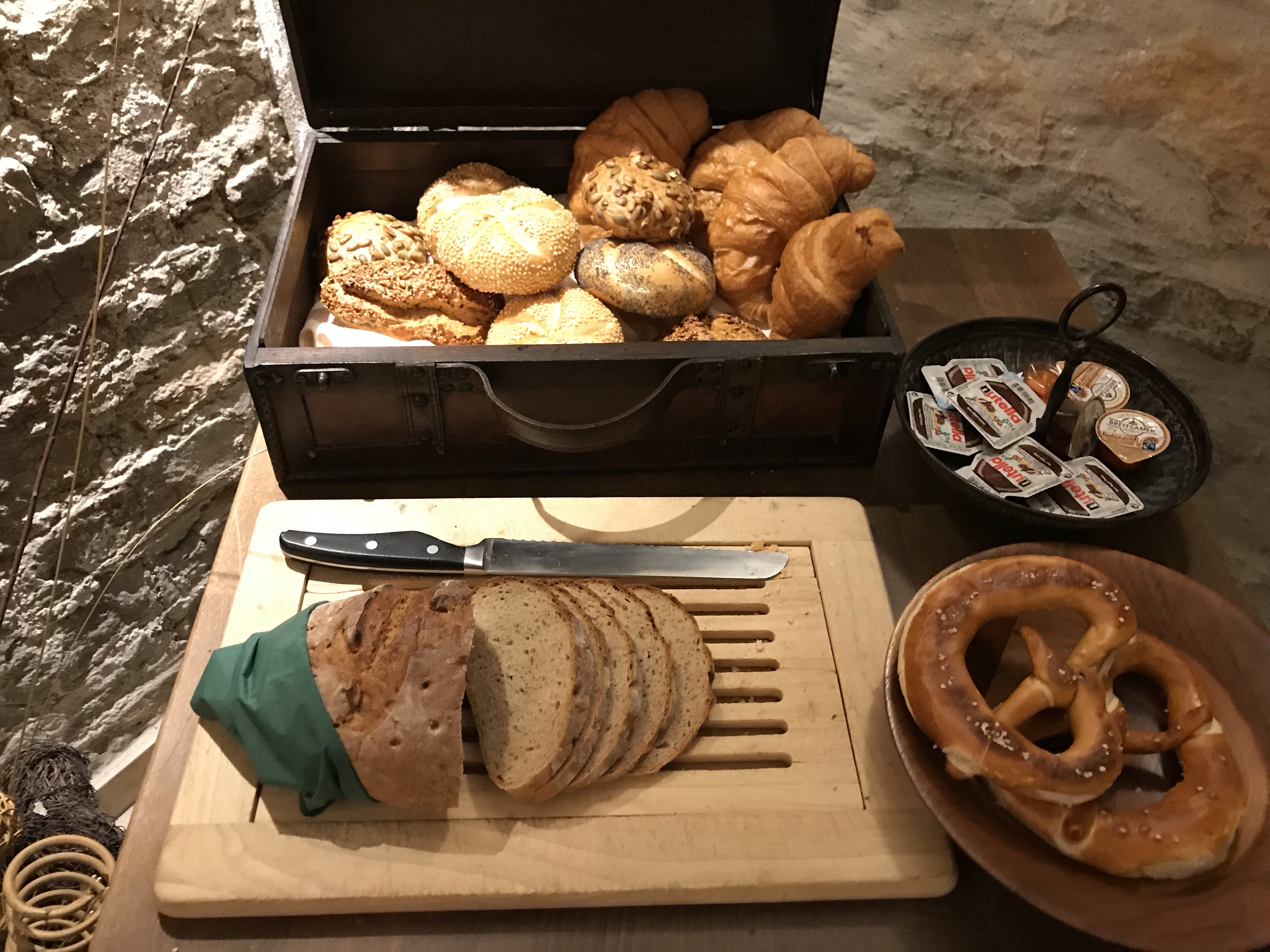 Wonderful breads and hard rolls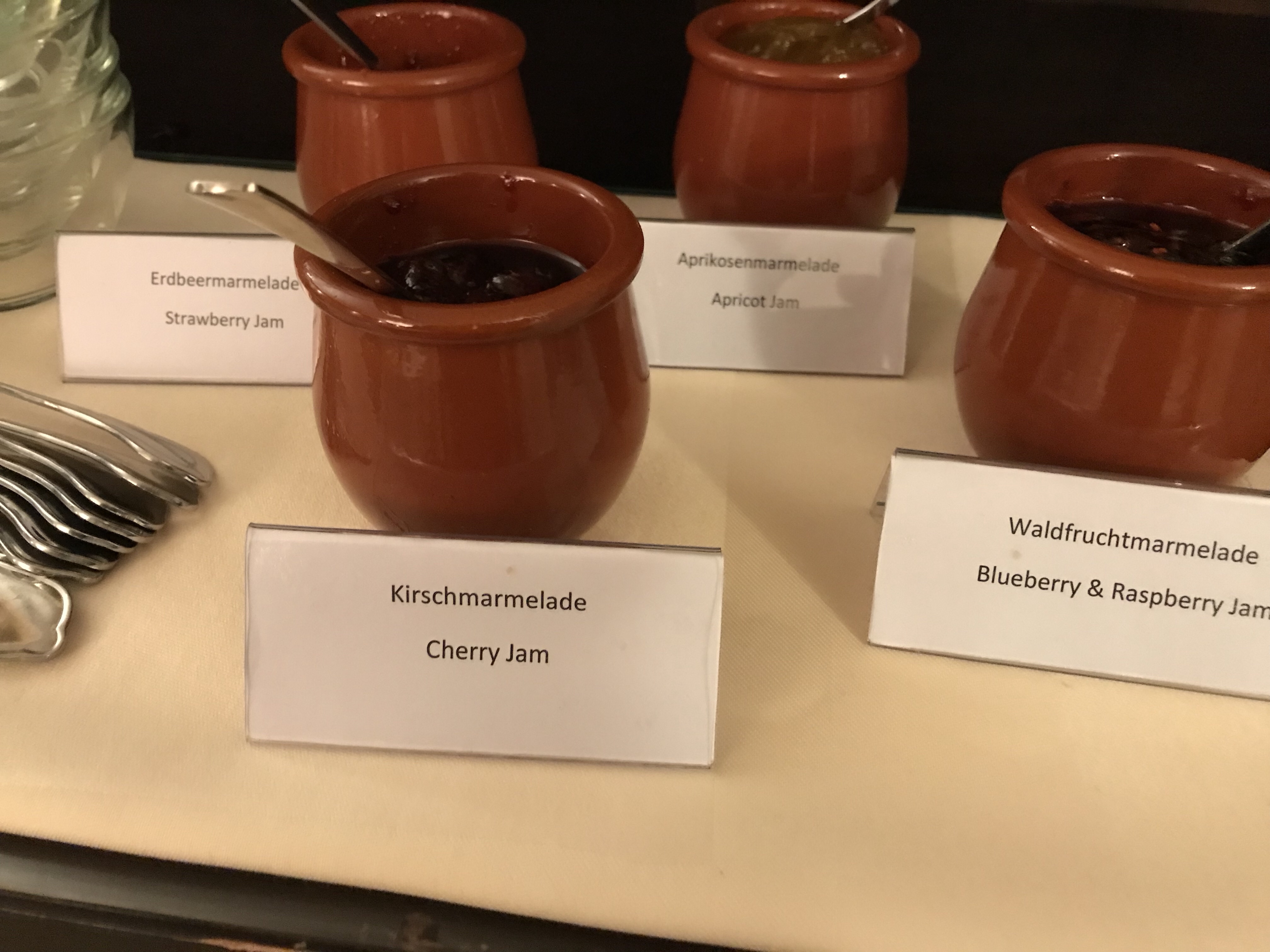 Locally made jams and jellies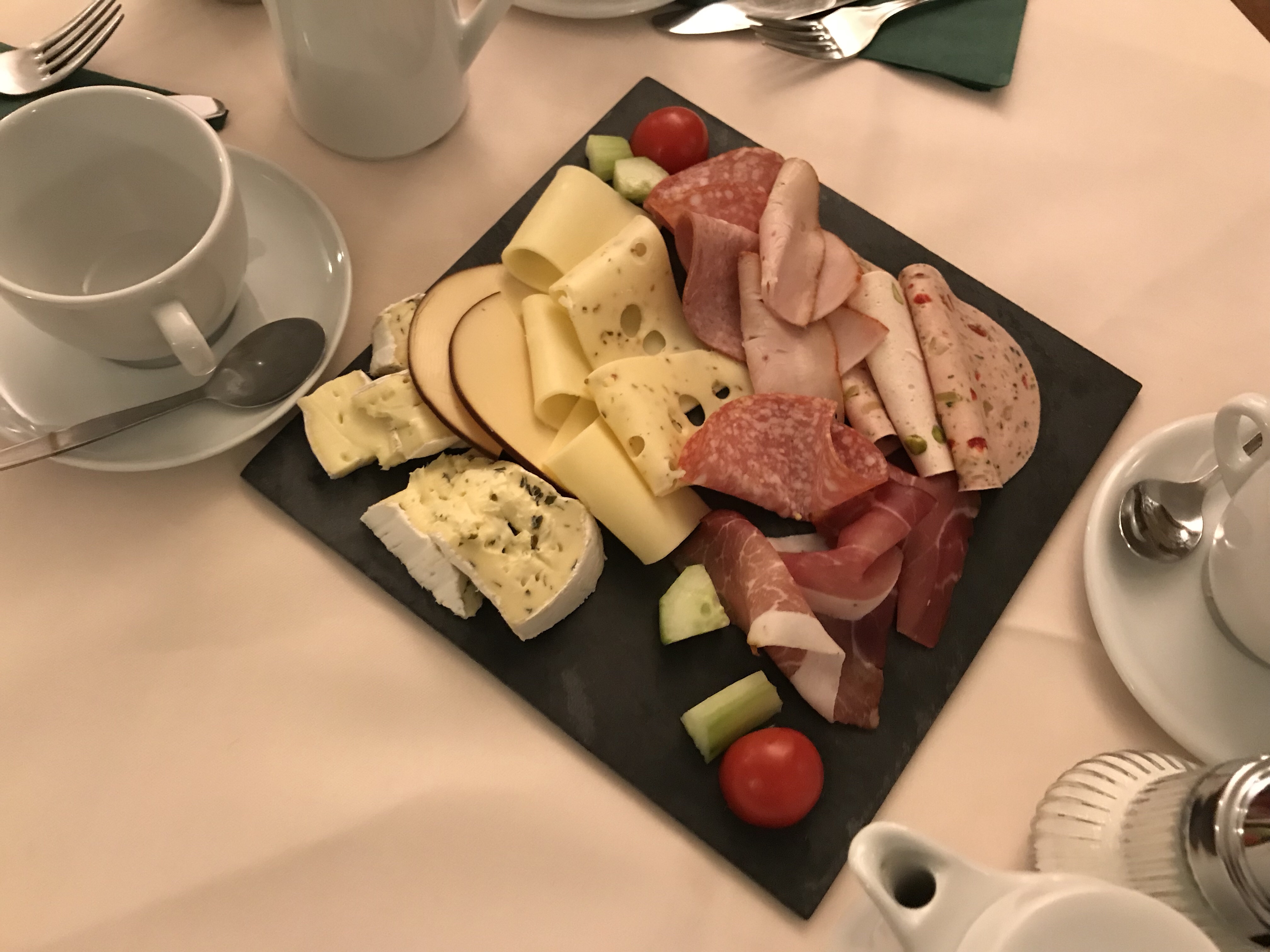 A sampling of the meats and cheeses we've been enjoying on this week's breakfasts.
Since Nürnberg is only about 120 km from Regensburg, we got to sleep in a little longer today!! We left our wonderful hotel at about 10 am and drove straight to Nürnberg and our hotel there. All were surprised when they found out the Christmas Market was literally right around the corner!!
Of course, since we were so early getting here today, we simply parked the van and started to visit the Christmas Market!! Like I've said before, the Nürnberger Weihnachtsmarkt is arguably the biggest in Germany. And this year, I think it got even bigger! The usual areas were still there (the main market area, the partner city area, the children's market) but now other previously unused areas have stalls in place. And they all look to be more festively decorated.
There was, of course, lots to see and eat and drink here. Plus an added benefit was that because the market is surrounded by businesses, there are some very fine places to stop and eat at. We went to Bratwurst Röslein, a nice restaurant specializing in Franconian dishes. Franconia?? I thought you were in Bavaria??? Well, yes we are in Bavaria but in the early 1800's the Franconian region was was awarded to Bavaria after an alliance between Napoleon and the Kingdom of Bavaria. Anyway, the food here in Nürnburg is delicious and it is similar to what I had as a child growing up.
Instead of me rambling on today about arcane things, let me just share some pictures with you….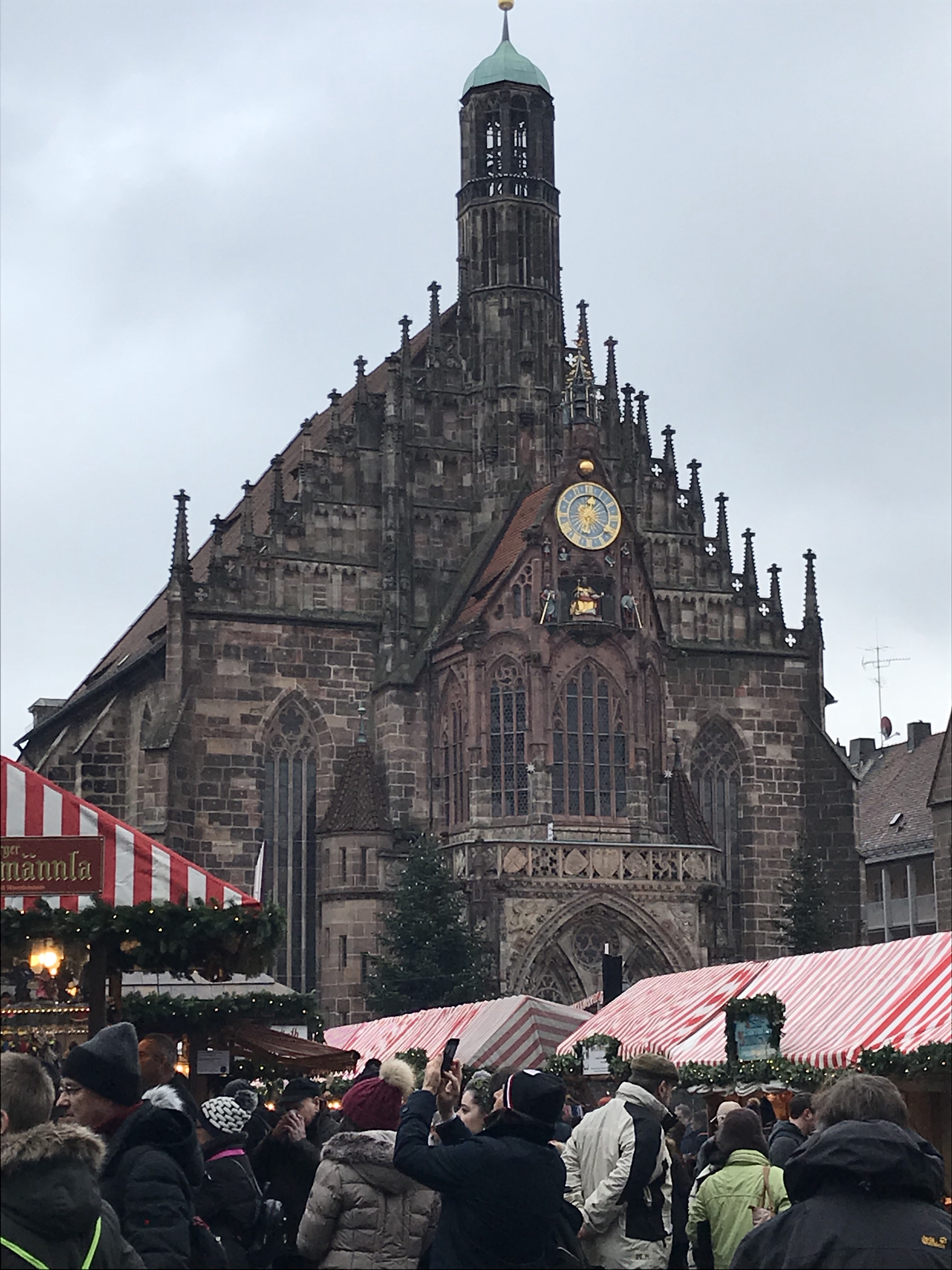 The Frauenkirche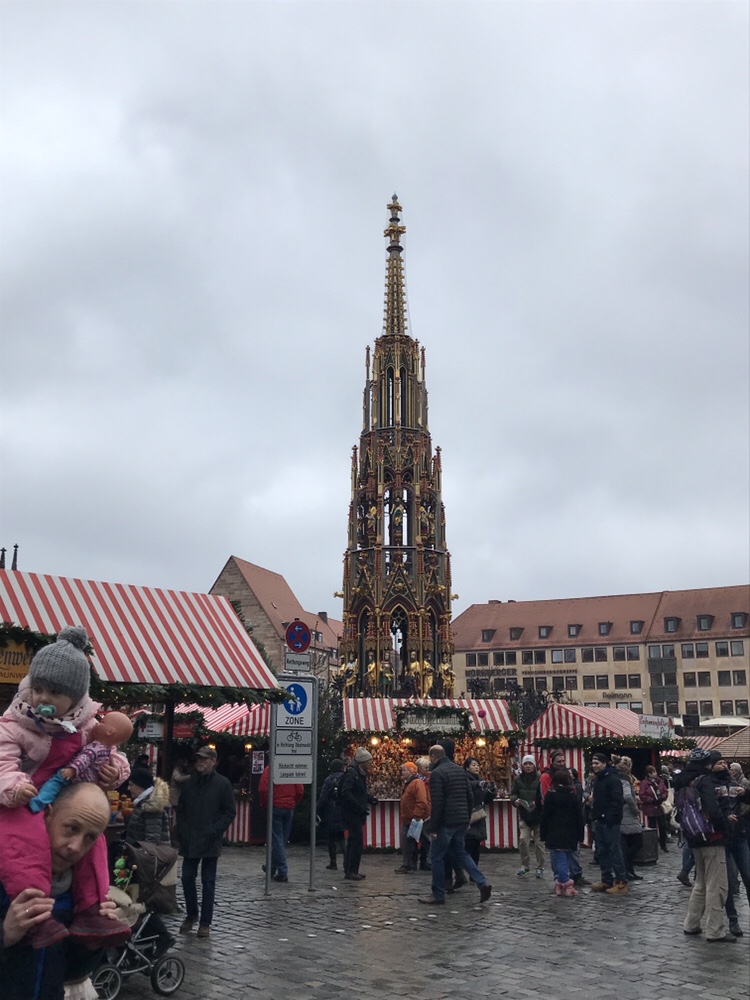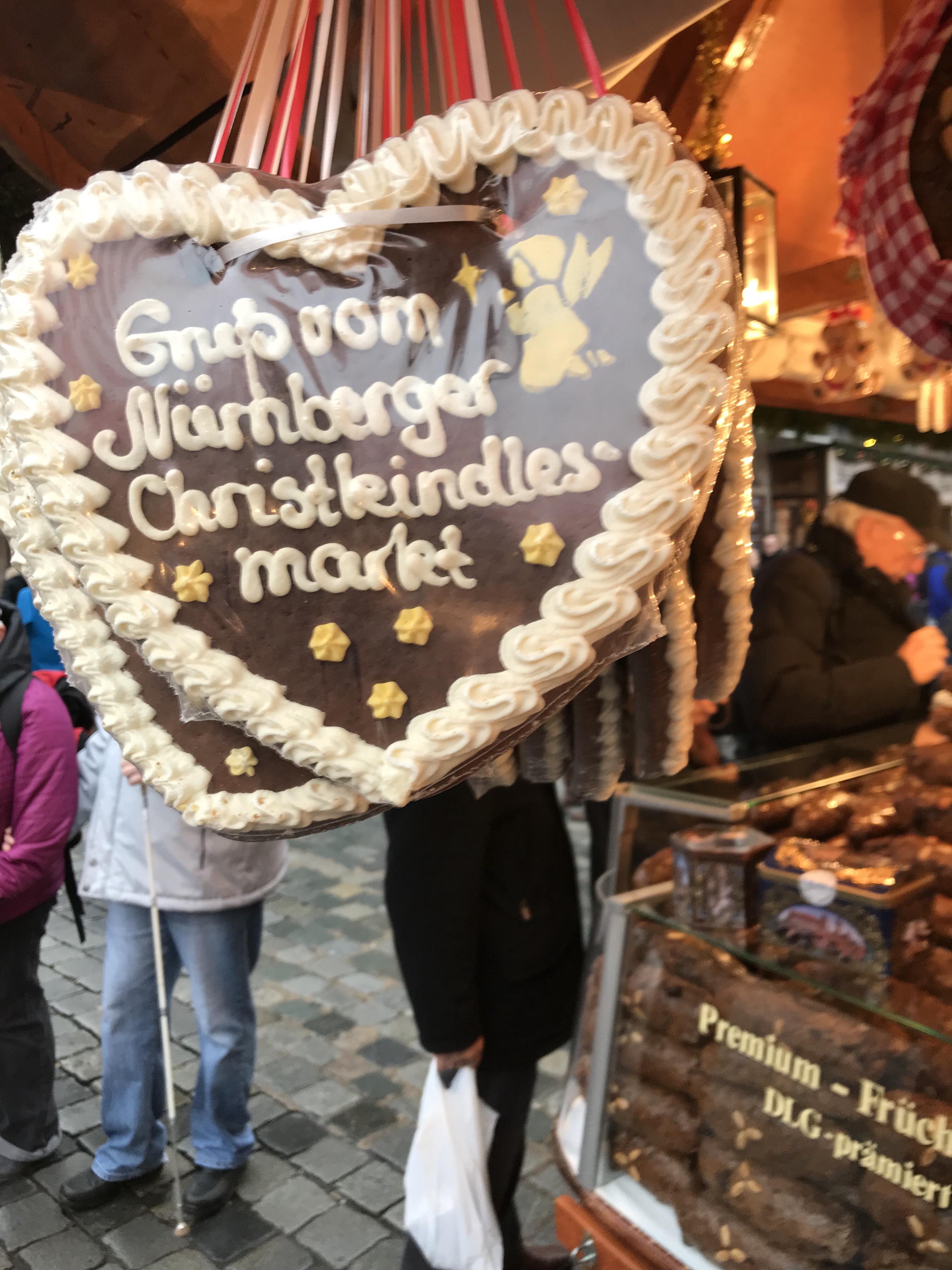 Gingerbread heart that says "Greetings from Nürnburger Christmas Market "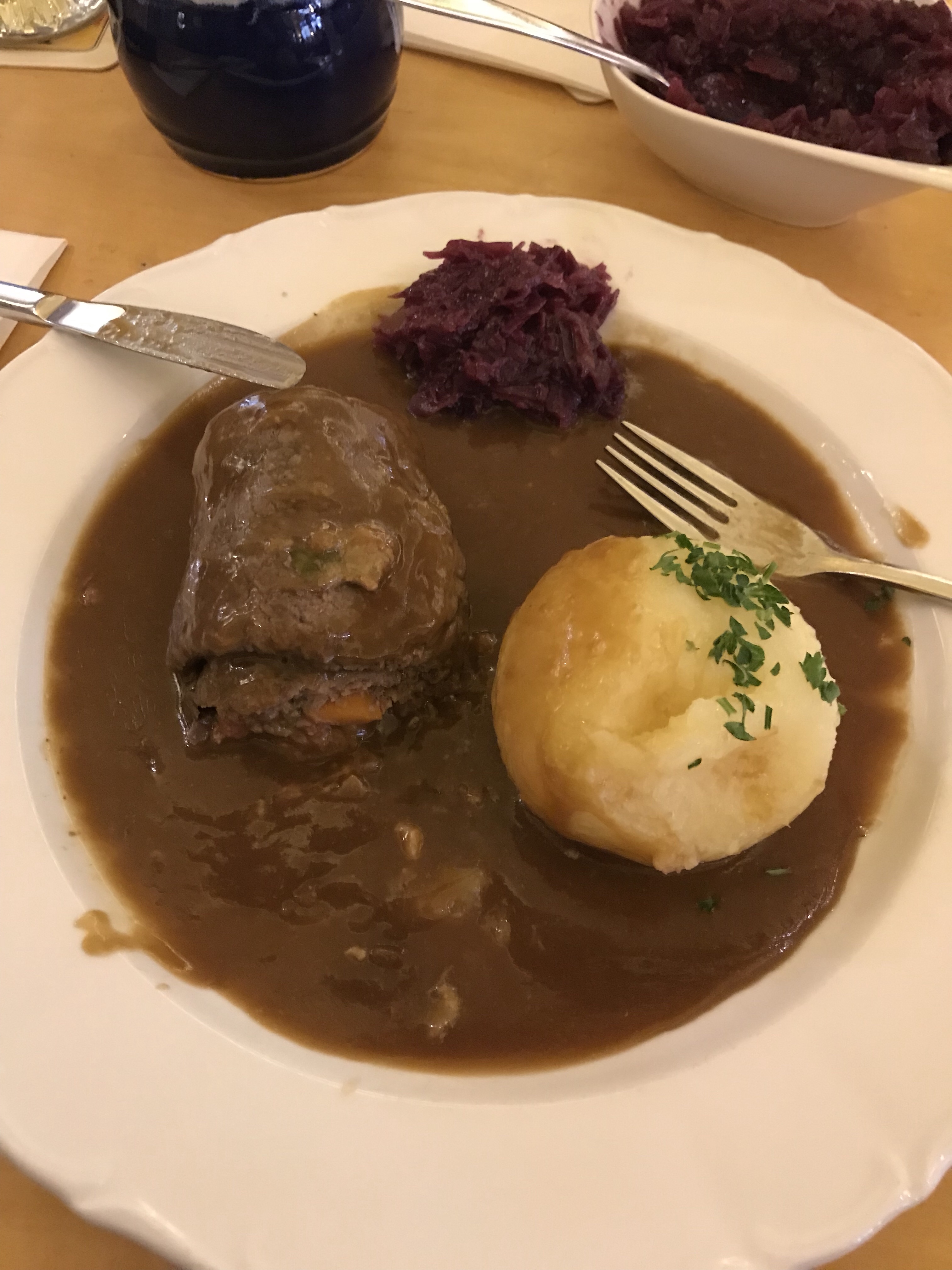 My favorite "Comfort Food", Rinderroulade. Beef round steak, pounded flat stuffed with pickle, onion and bacon, then rolled up. And it isn't complete without a potato dumpling and red cabbage.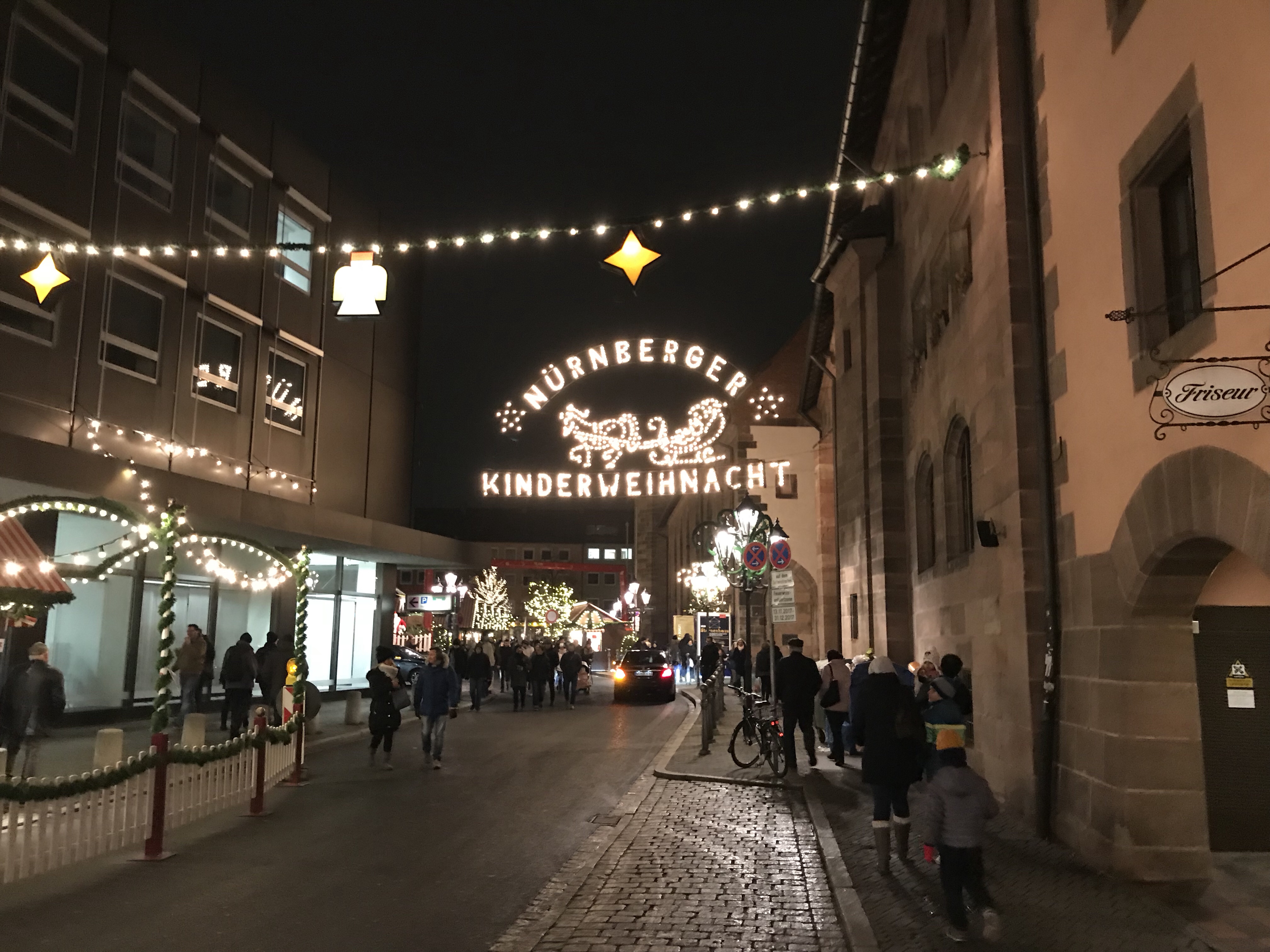 The Children's Christmas Market….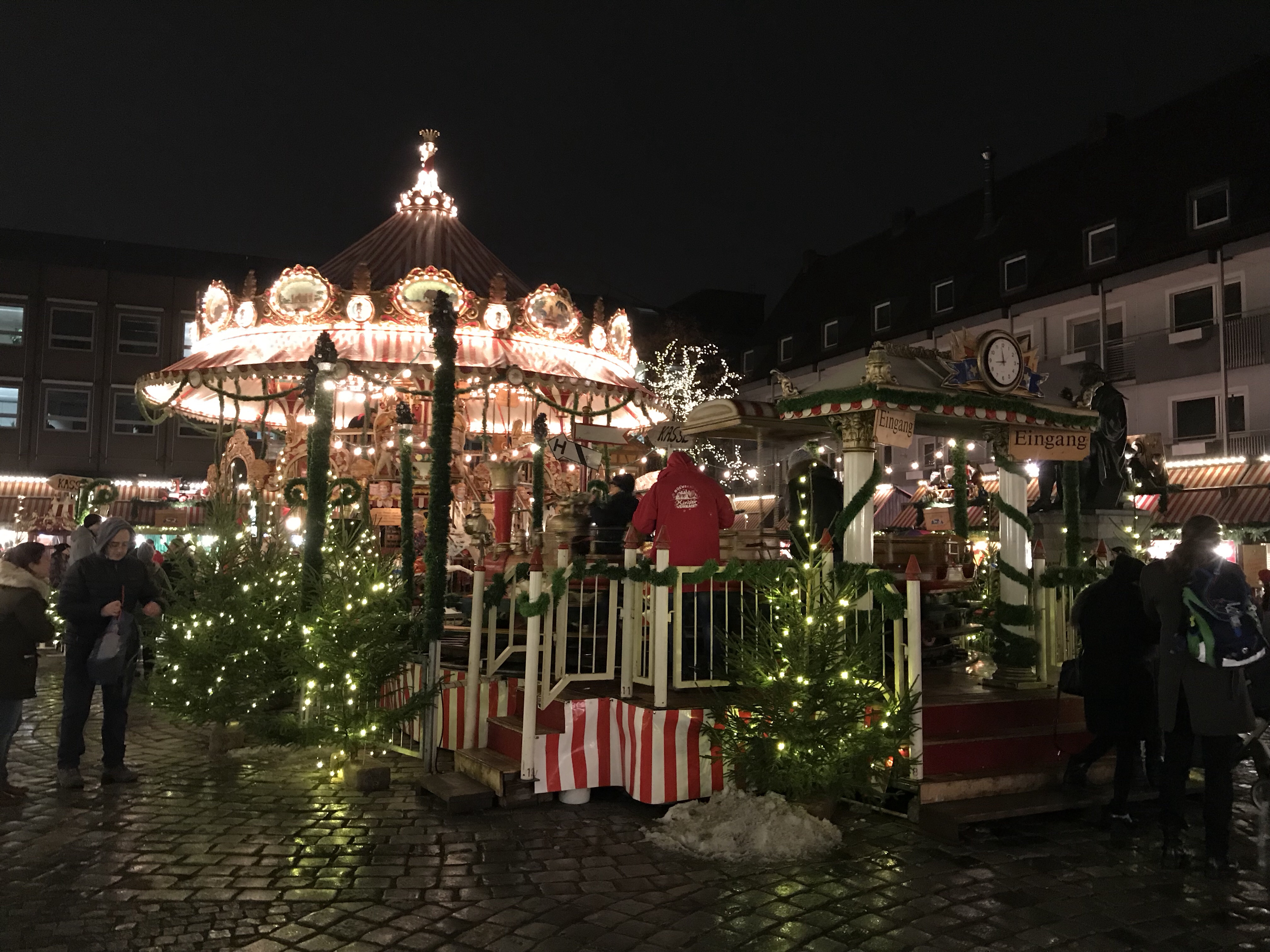 Small rides, like this carousel, are in the Children's Market.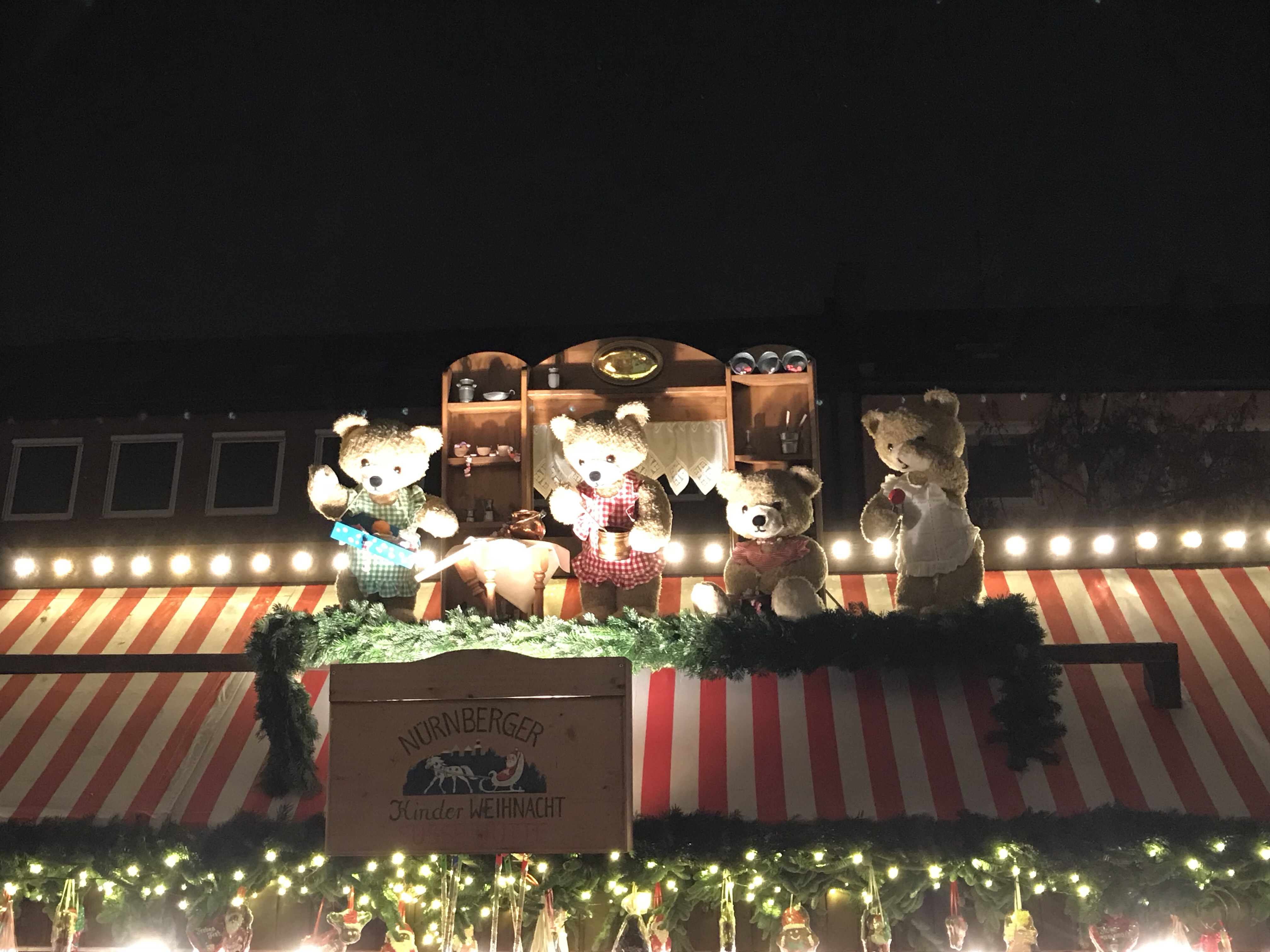 The tops of the stalls are decorated with moving figures for the Children.
Nürnburg is a wonderful city! I think you'd love it too! Tomorrow…. Bamberg!!