WOW!!! Just WOW!!!
Just not for the same reason as yesterday…. let me tell you a little story.
Well, after a great night's sleep and breakfast, we started out on a short ride… or so we thought. The book showed it to be a 40 mile +/- ride… piece of cake, right? I mean after 60 mile days and an almost 80 yesterday, a 40 should be easy. And since it was going to be so easy, Carey decided she would ride with us on the extra bike we were carrying along with us.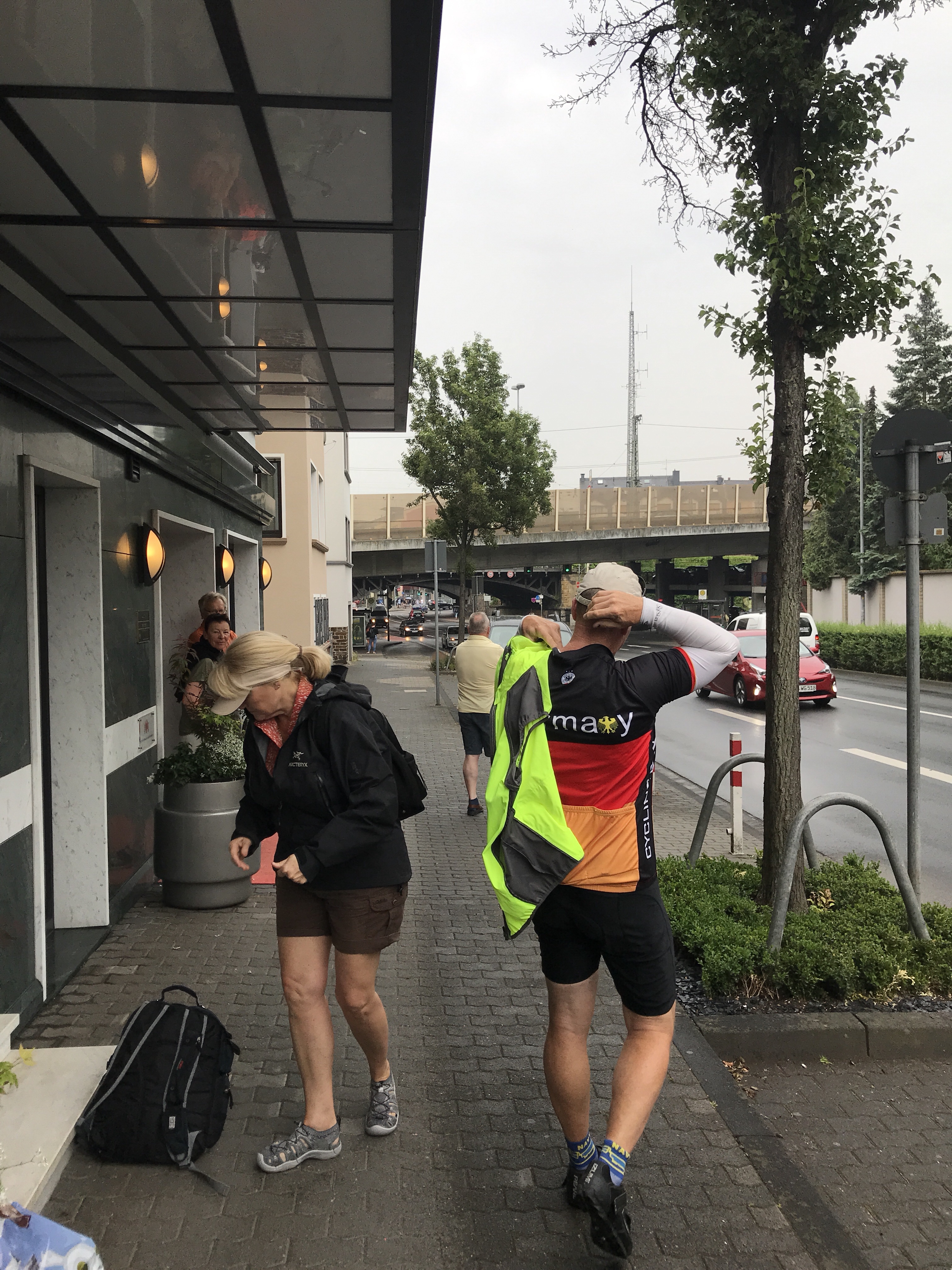 The first complication was rain… it started just as we were leaving the hotel. We put on rain gear and headed out. Remember I said easy…. not to be.
Well, actually, it was easy until we crossed the Rhine to the east bank of the river. That's when it happened…. the trail markings kind of disappeared.
Our first town past Koblenz, Vallendar, had horrid signage…. we spent at least 45 minutes looking for them. Go ride ahead on a trail that ends, go back to the "start" where we got messed up and check the signs, go out to the roadway to see if there were signs, go back and check the map again, go up the roadway, turn around again, check MapQuest to find our GPS location, ask directions from two people and finally we went along the path a fellow biker was taking. That got us back on track again after a slow go.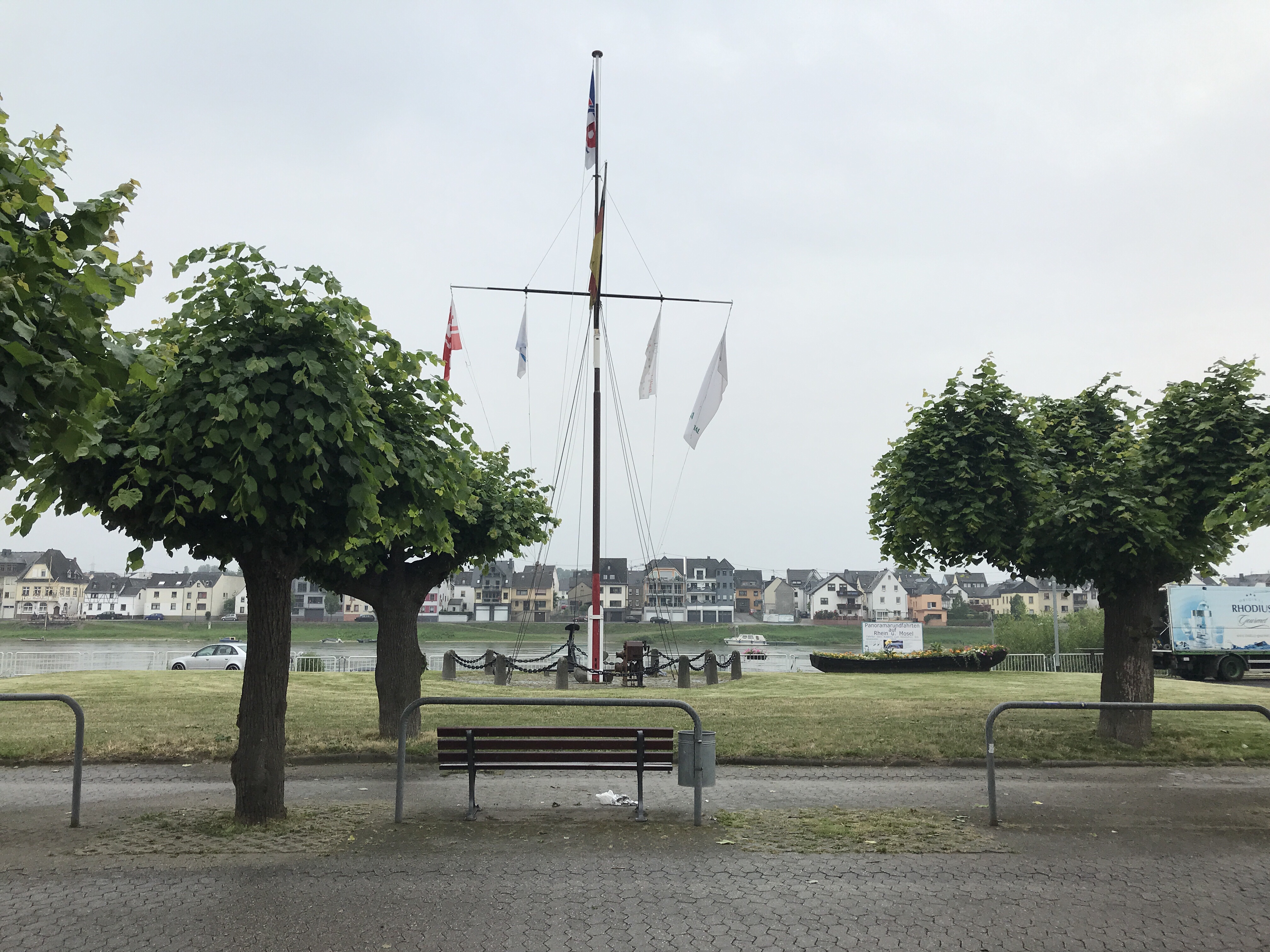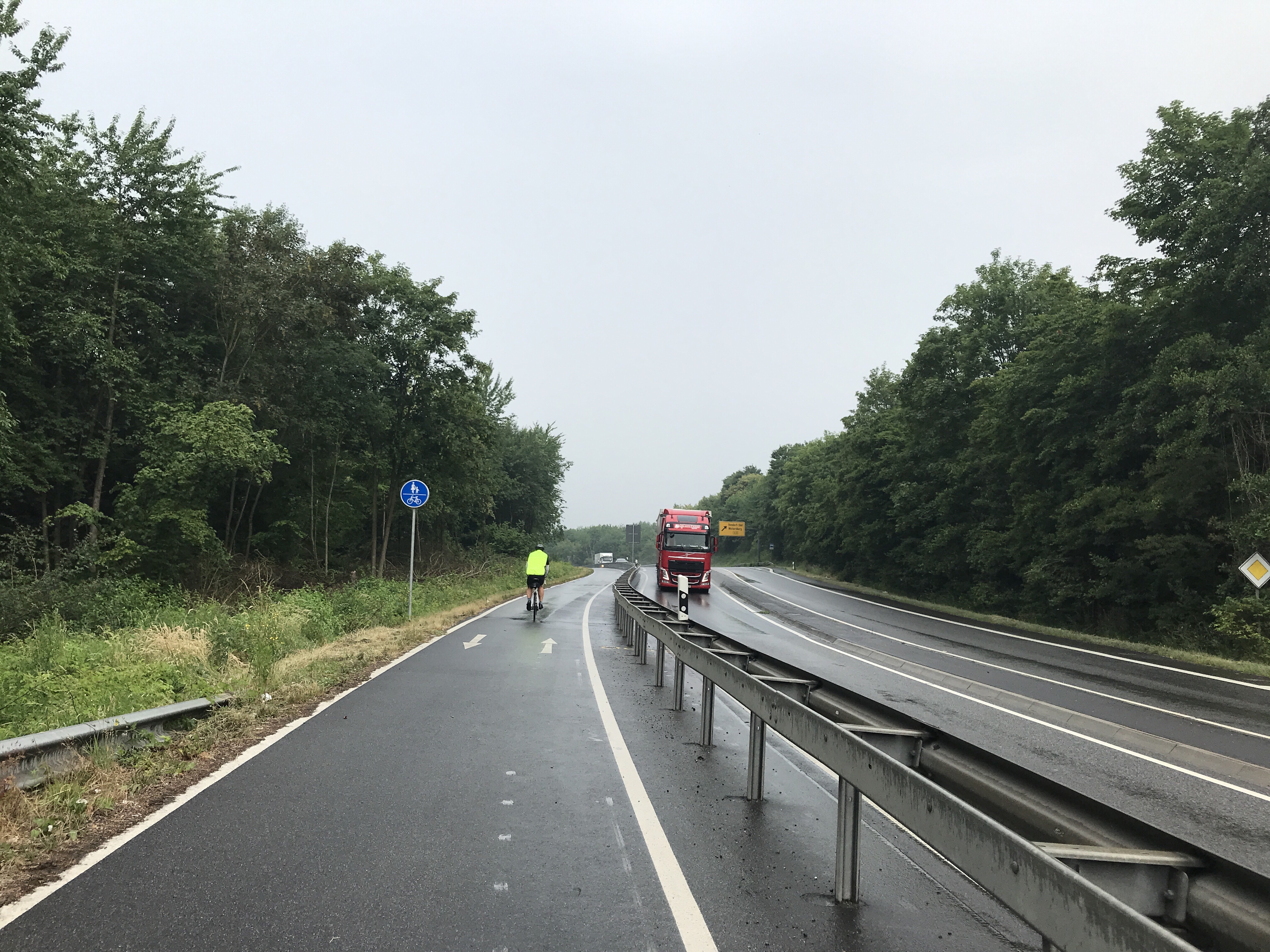 We did well for a little bit, maybe 3-4 miles until we hit a cobblestone stretch that slowed our speed considerably. And after the cobbles, we were thrilled to find asphalt. But…. you knew it was coming… tree roots from the bordering trees grew under the asphalt, heaving it up into a surface far worse than the cobbles. We got beat up for about 5 km or so. Then it was smooth sailing. But we did see a sign…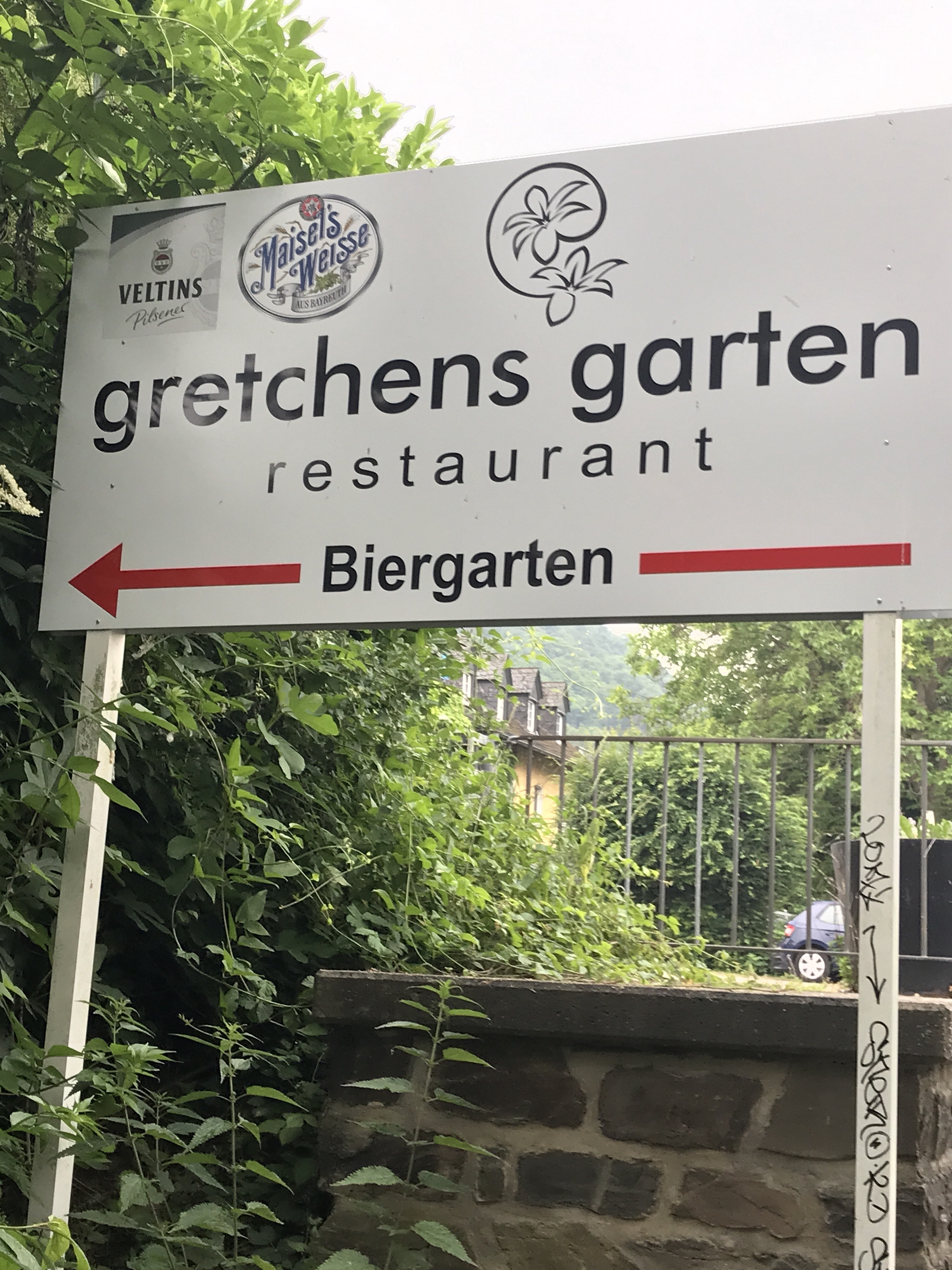 She wasn't there…
There were lots of sights….many monuments to be found.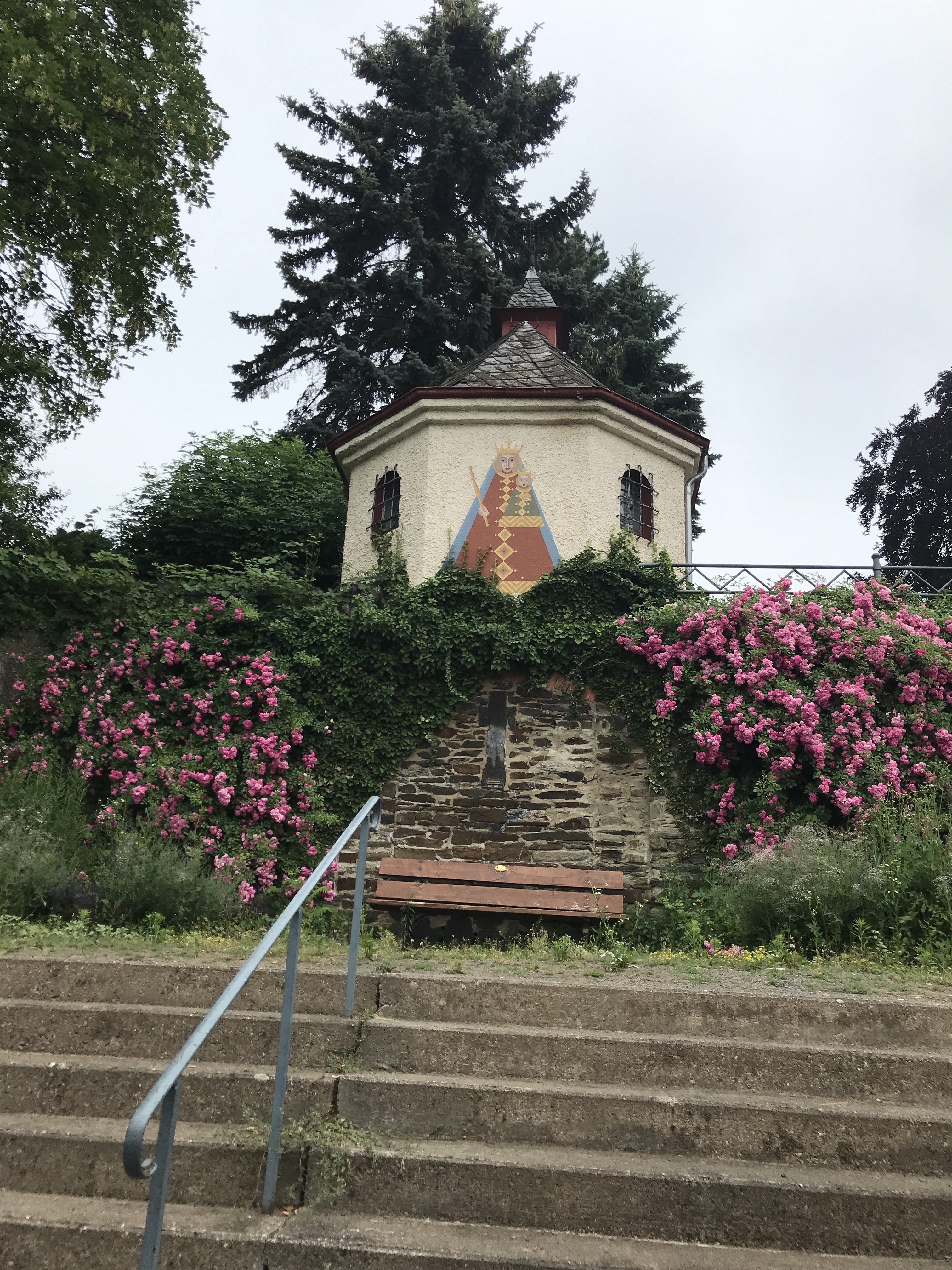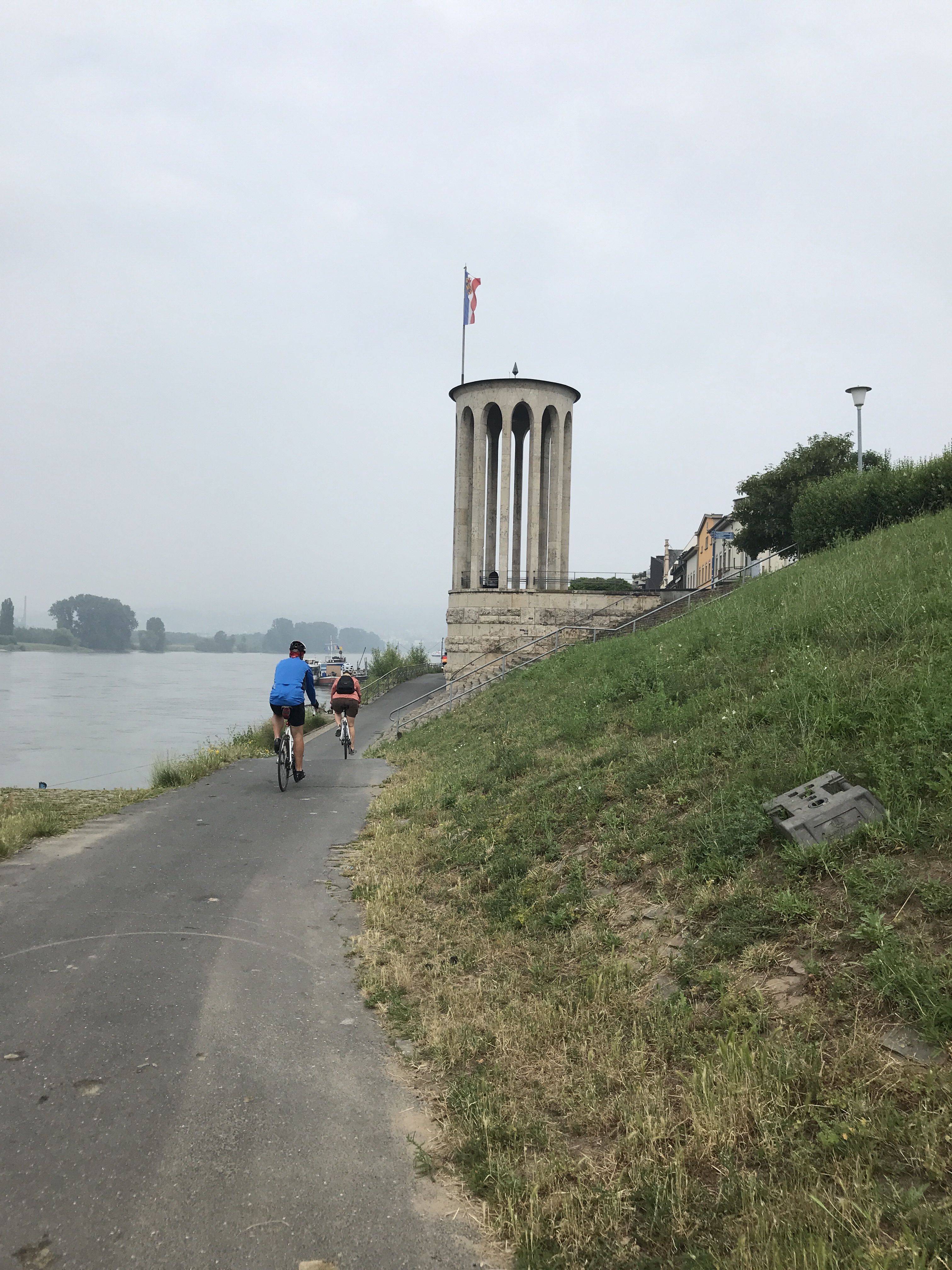 And churches too….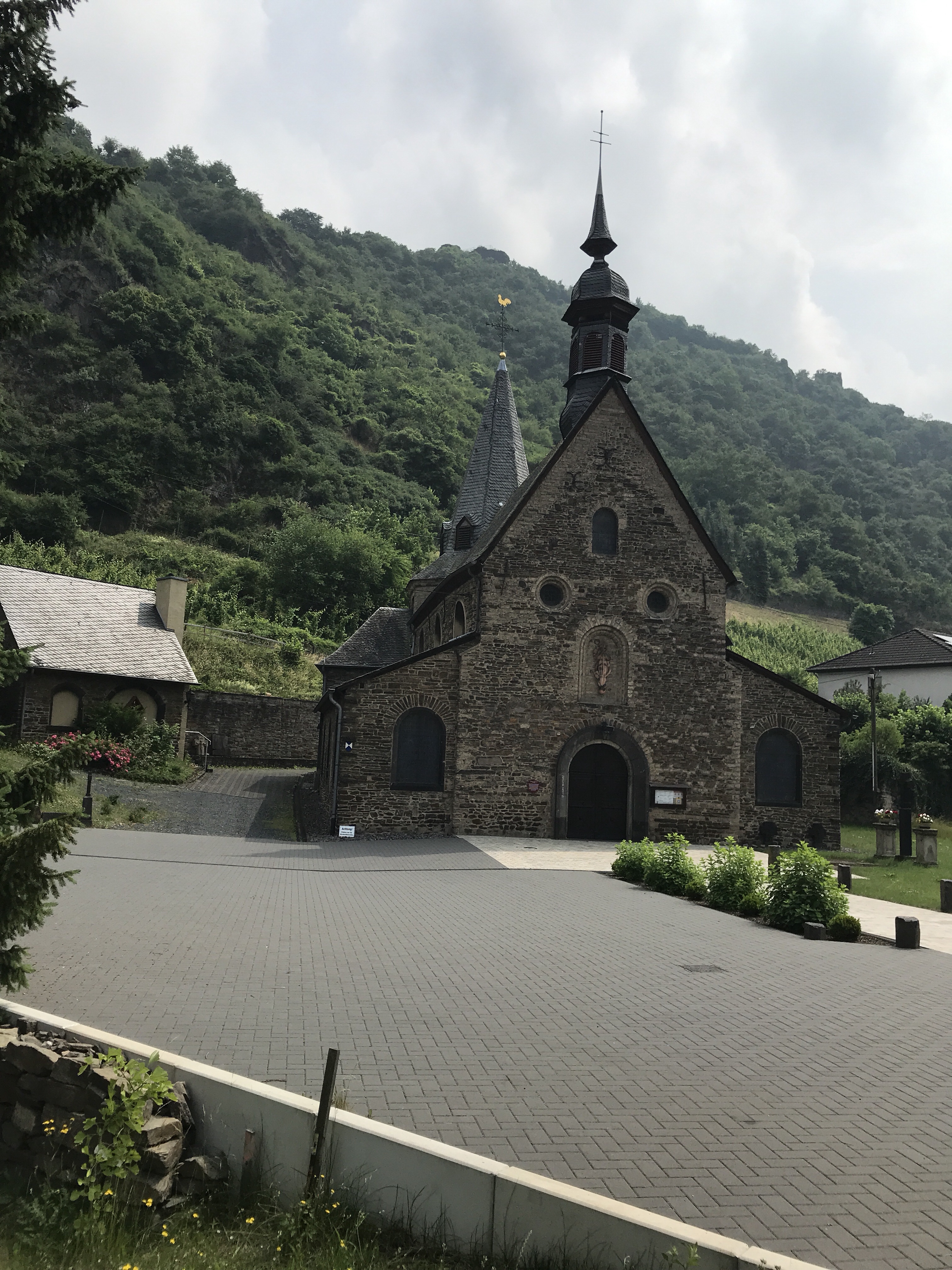 We kept cranking out the miles…. and at Neuwied we stopped for drinks and had a couple of butter pretzels….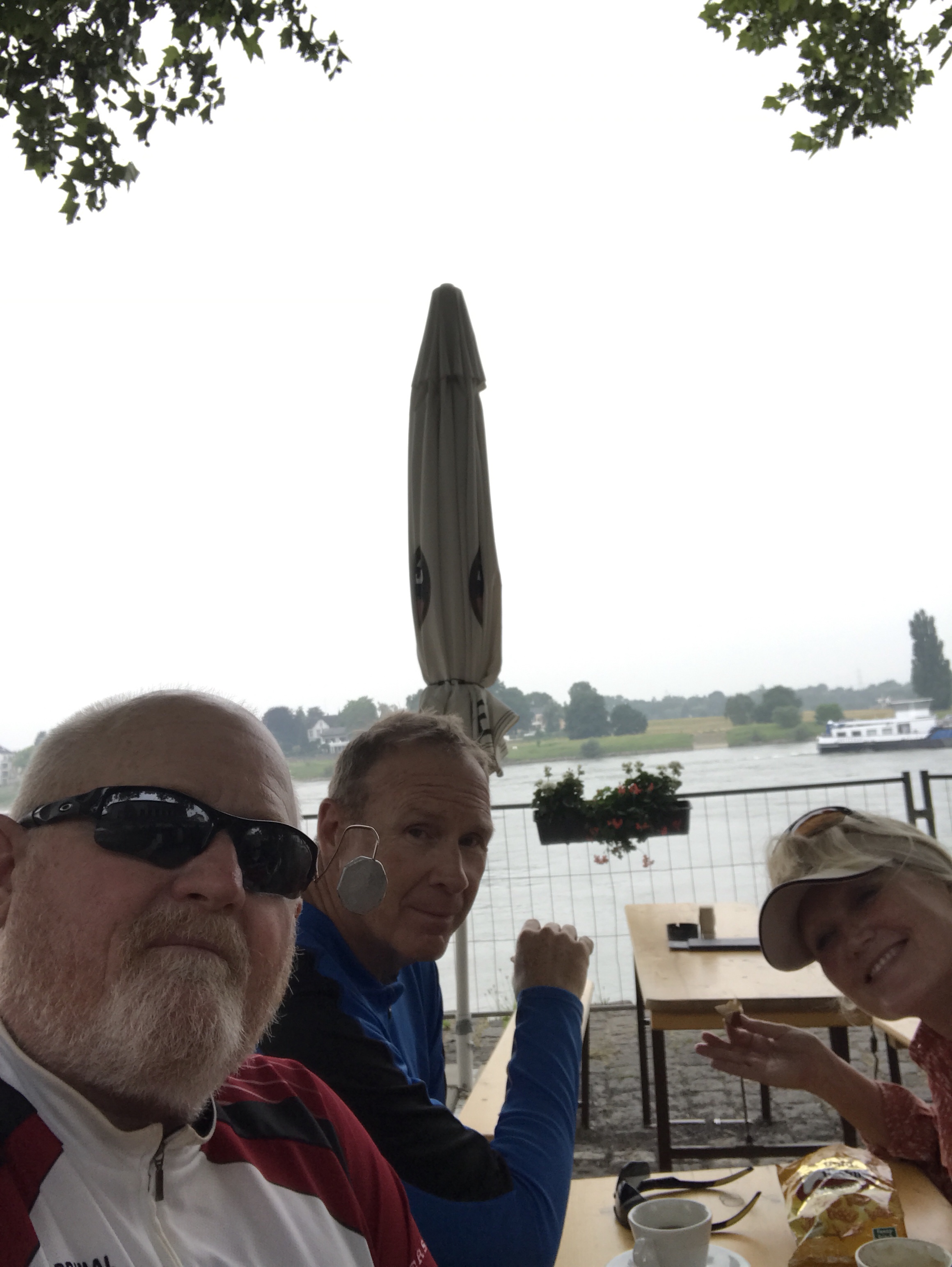 Other scenes continued to pass by as we rode. Carey was a real animal on this ride… it was her first ride of distance but she hung in there.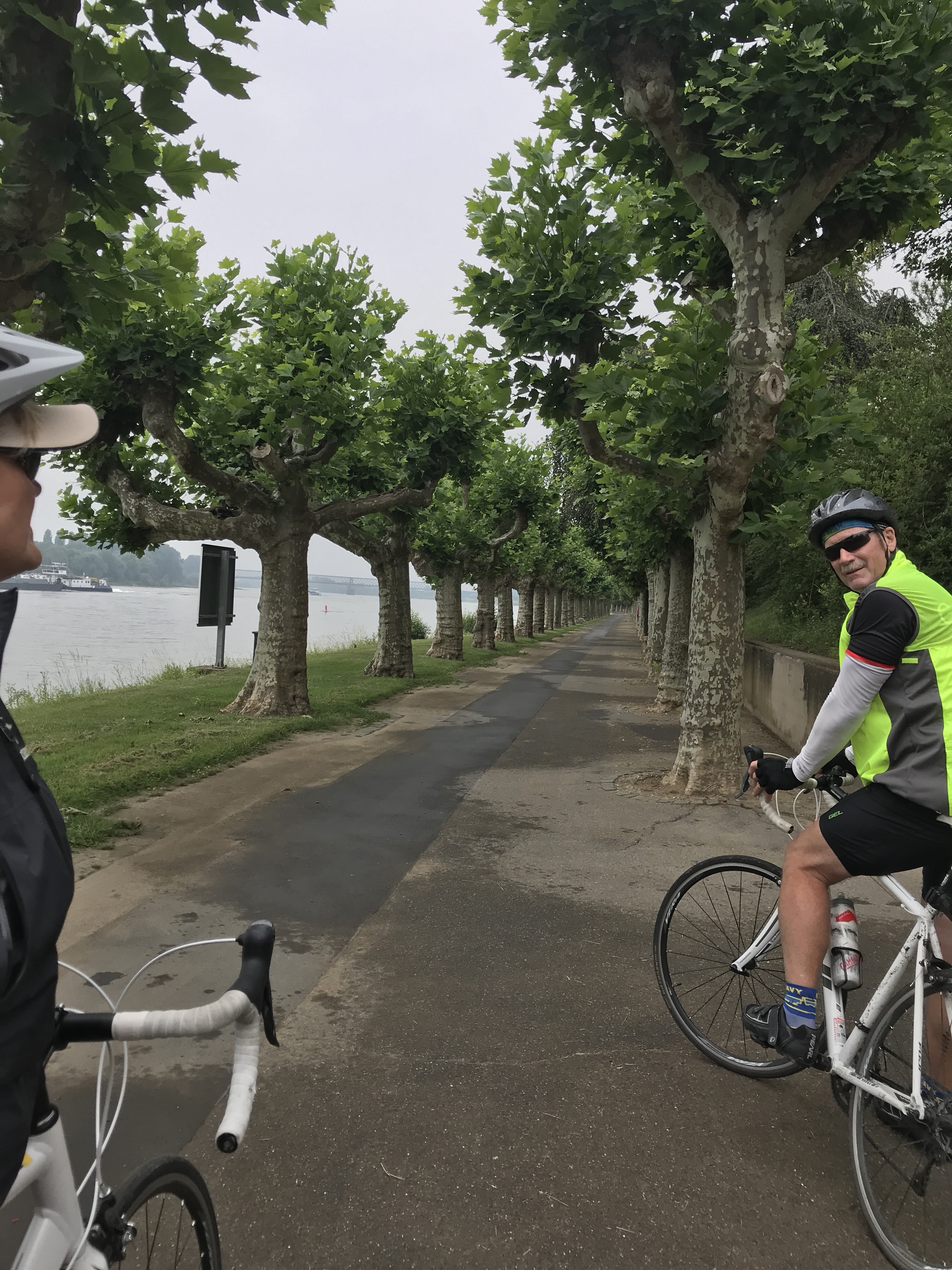 After the break, we pushed on…. riding up and down hills into the vineyards….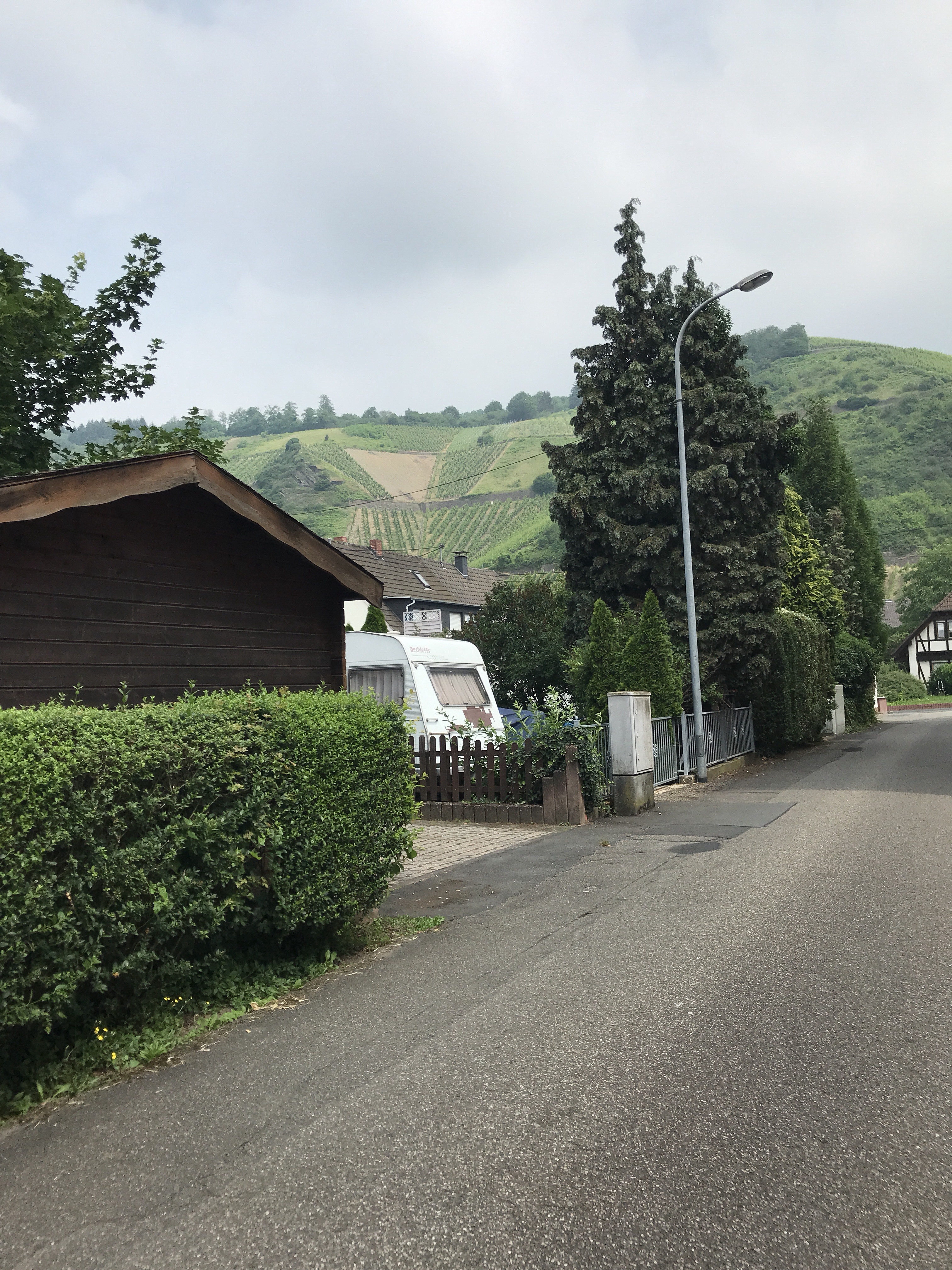 This shows some of the vineyards we rode into….. and some other scenes in the vineyards.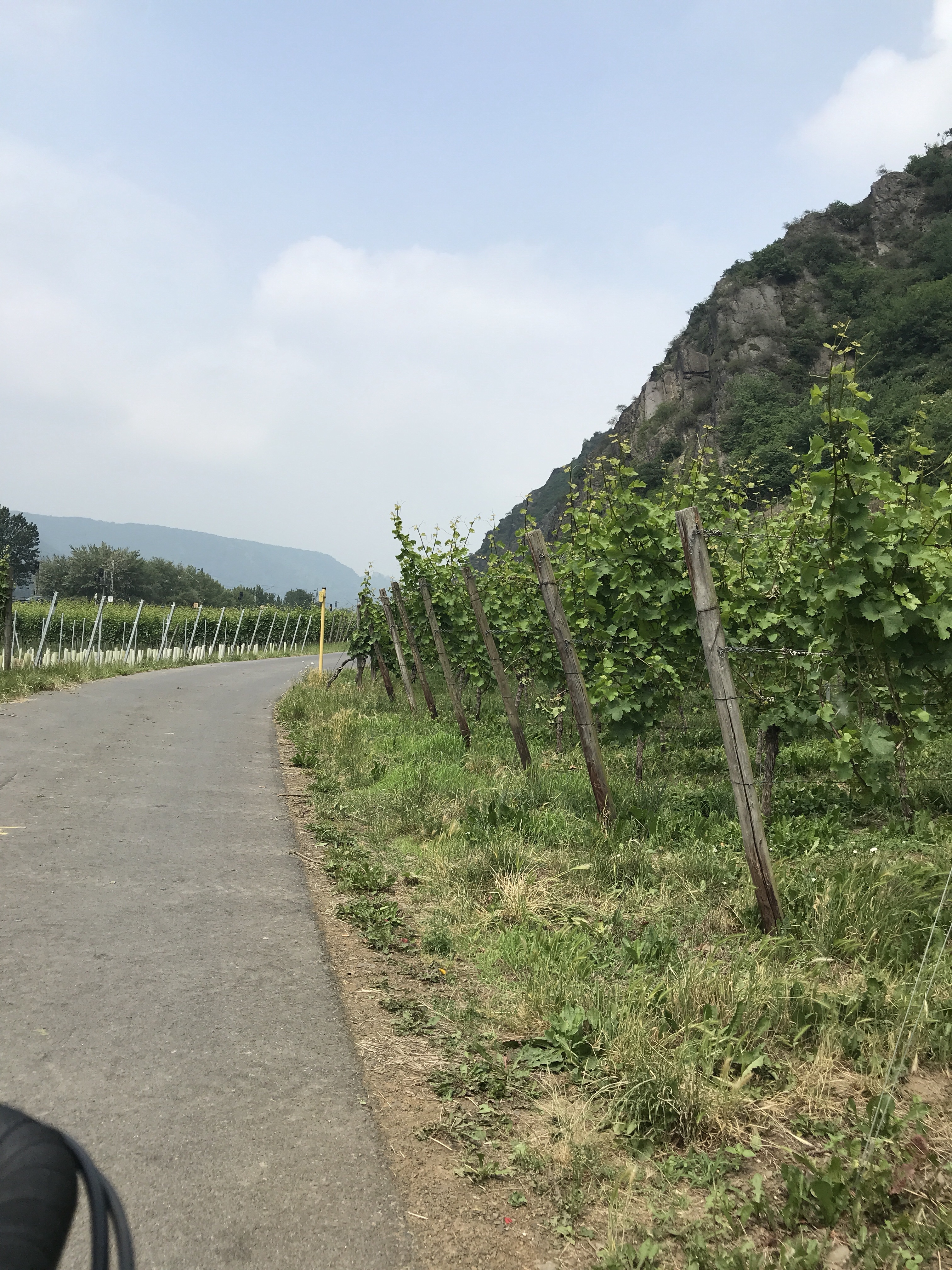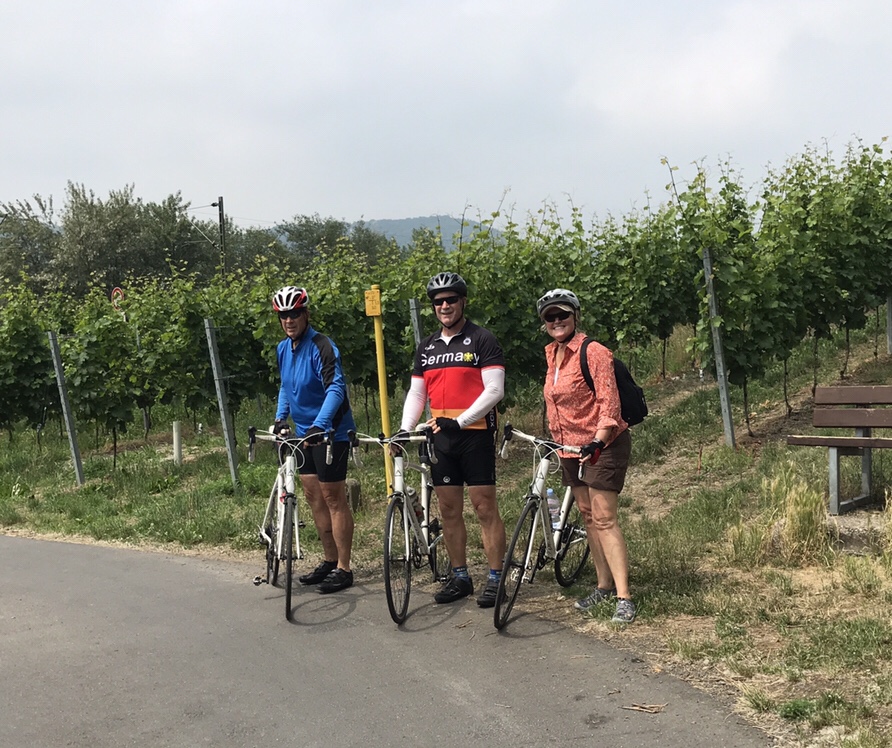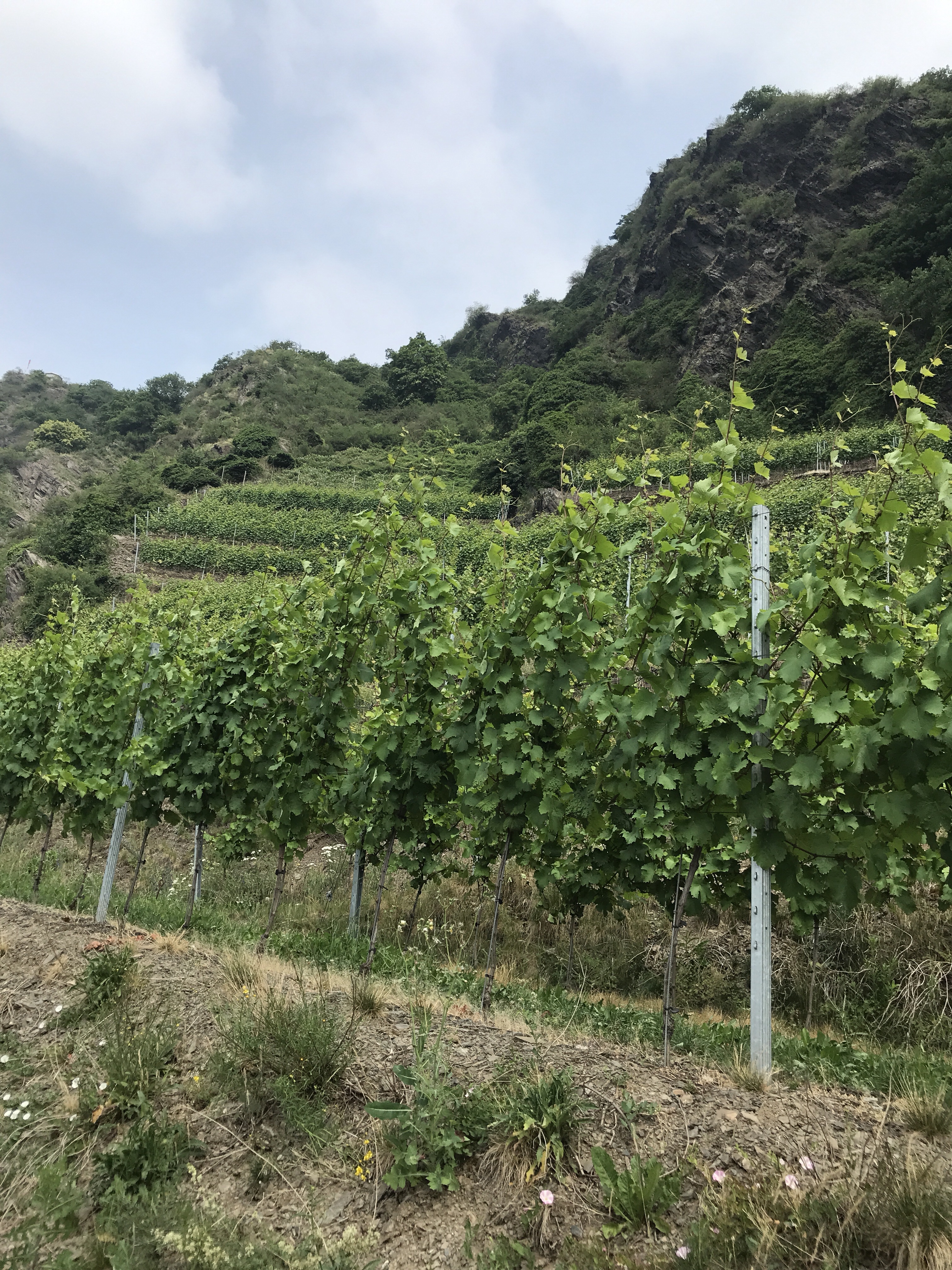 And since I am on a bit of a crusade now about bike lanes, let me show you a couple of different ones they have here…..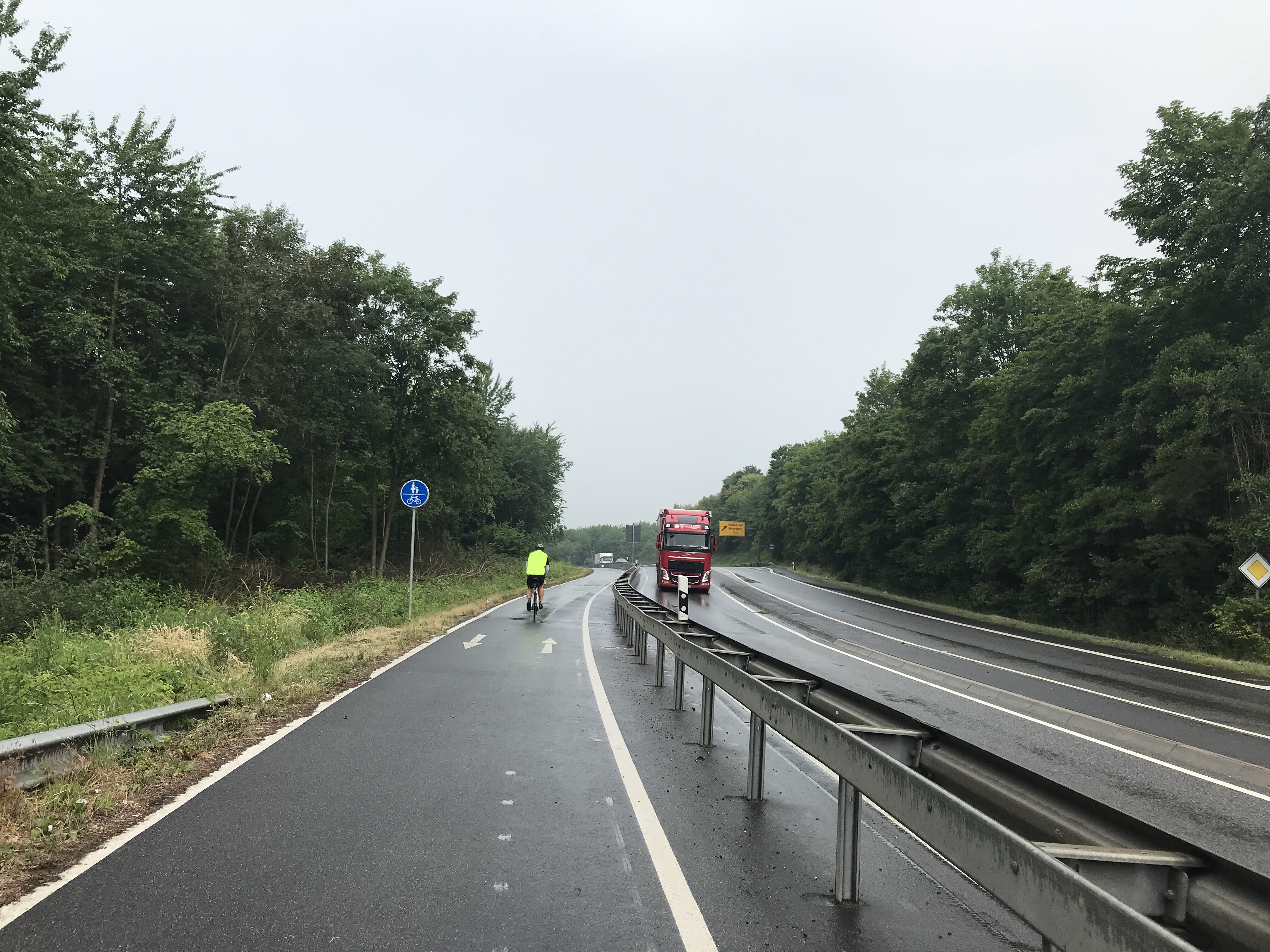 This one has a heavy guard rail between oncoming traffic and the cyclist….while this next one has a wide green stripe with reflector buried in the green stripe….. all ways to help protect the cyclists.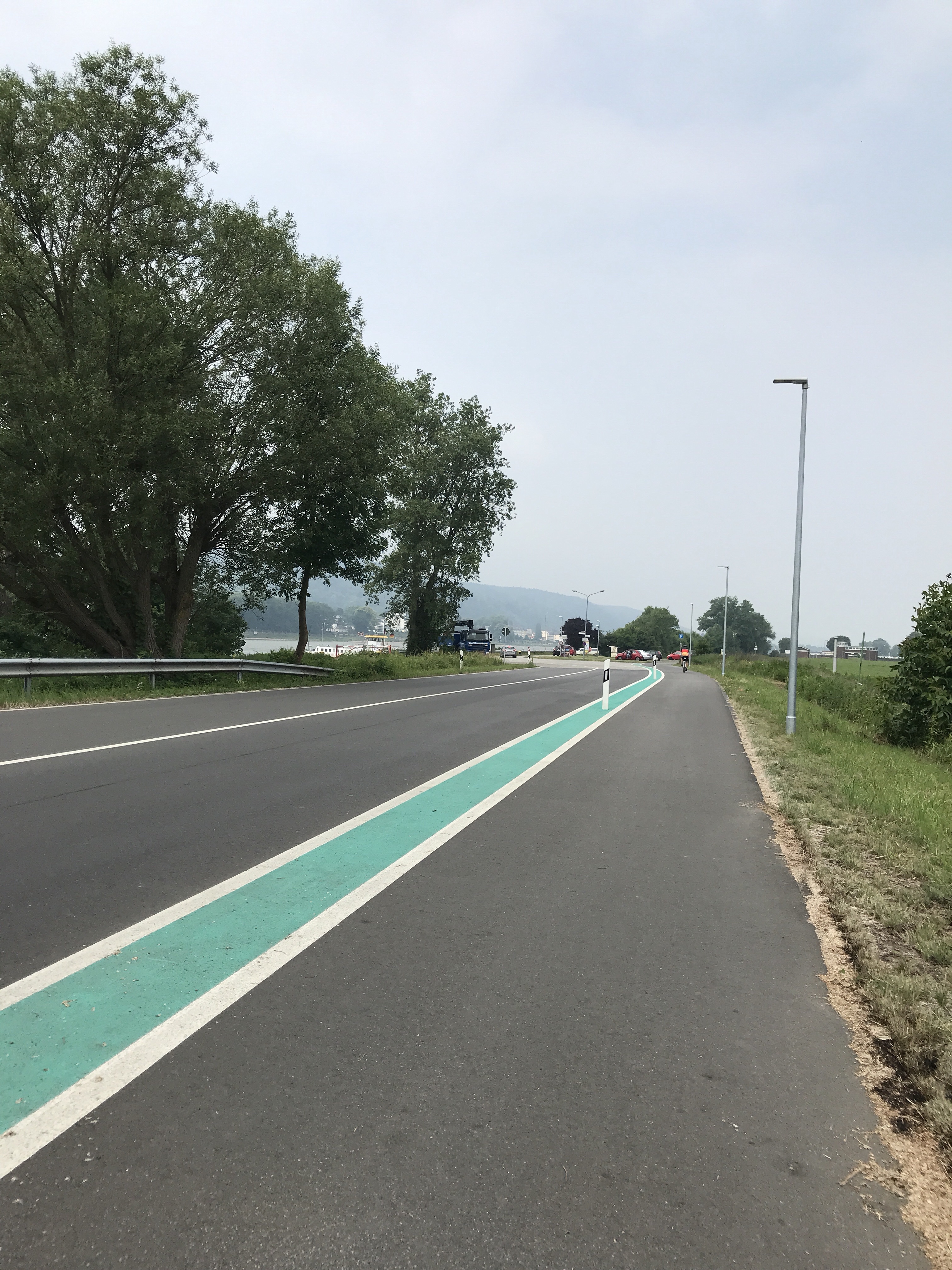 We next came to Linz an der Rhine…. it was a very nice town too with a lovely town market area where we stopped for more refreshments. It was also the point where Carey decided that her seat had had just about all the biking it could handle. 30 miles…. she did really well!! We told her that she was to be accepted into the "Club" based on this performance. Here are theee shots of the Marktplatz and one of the houses on the surrounding hills.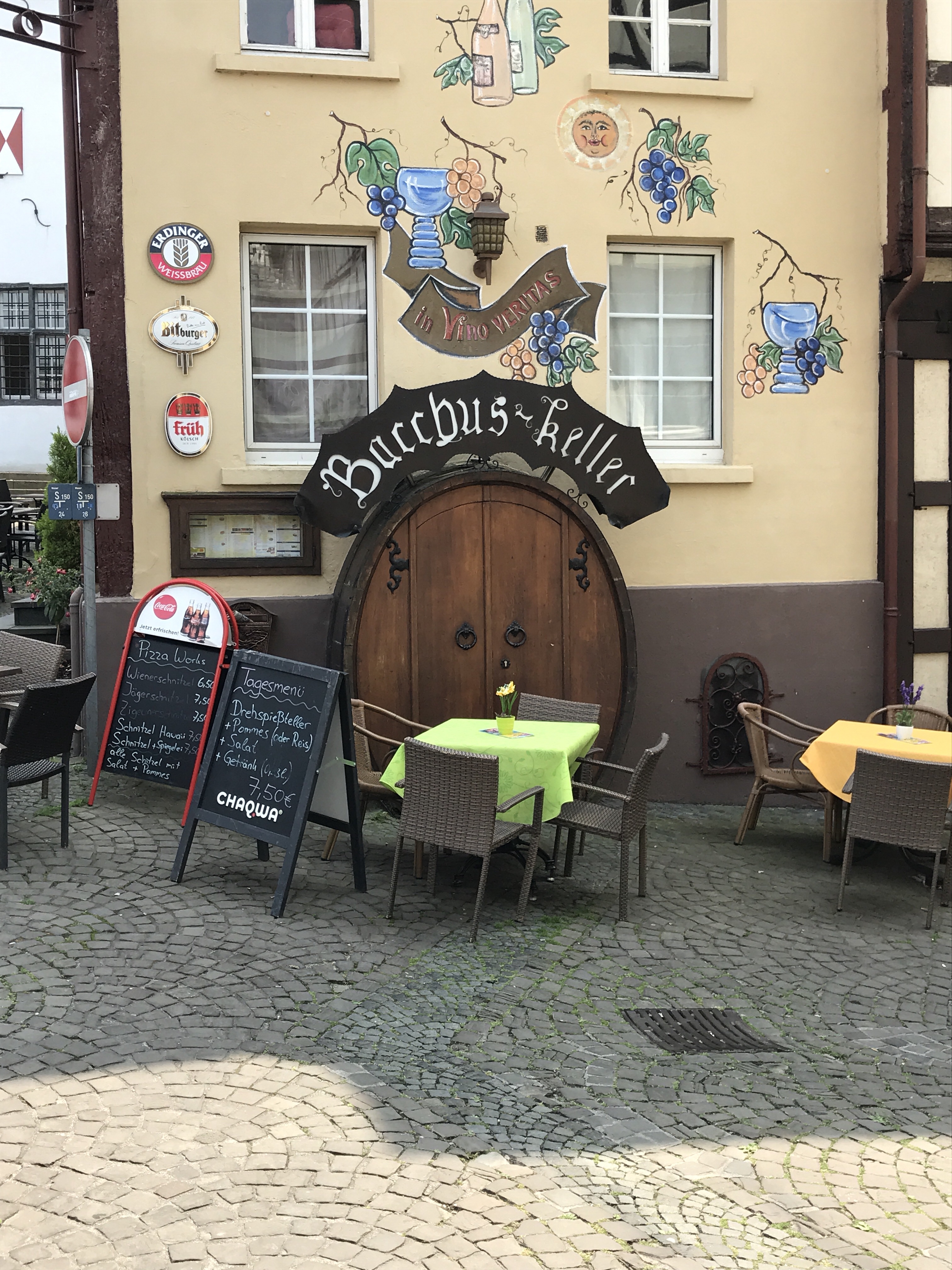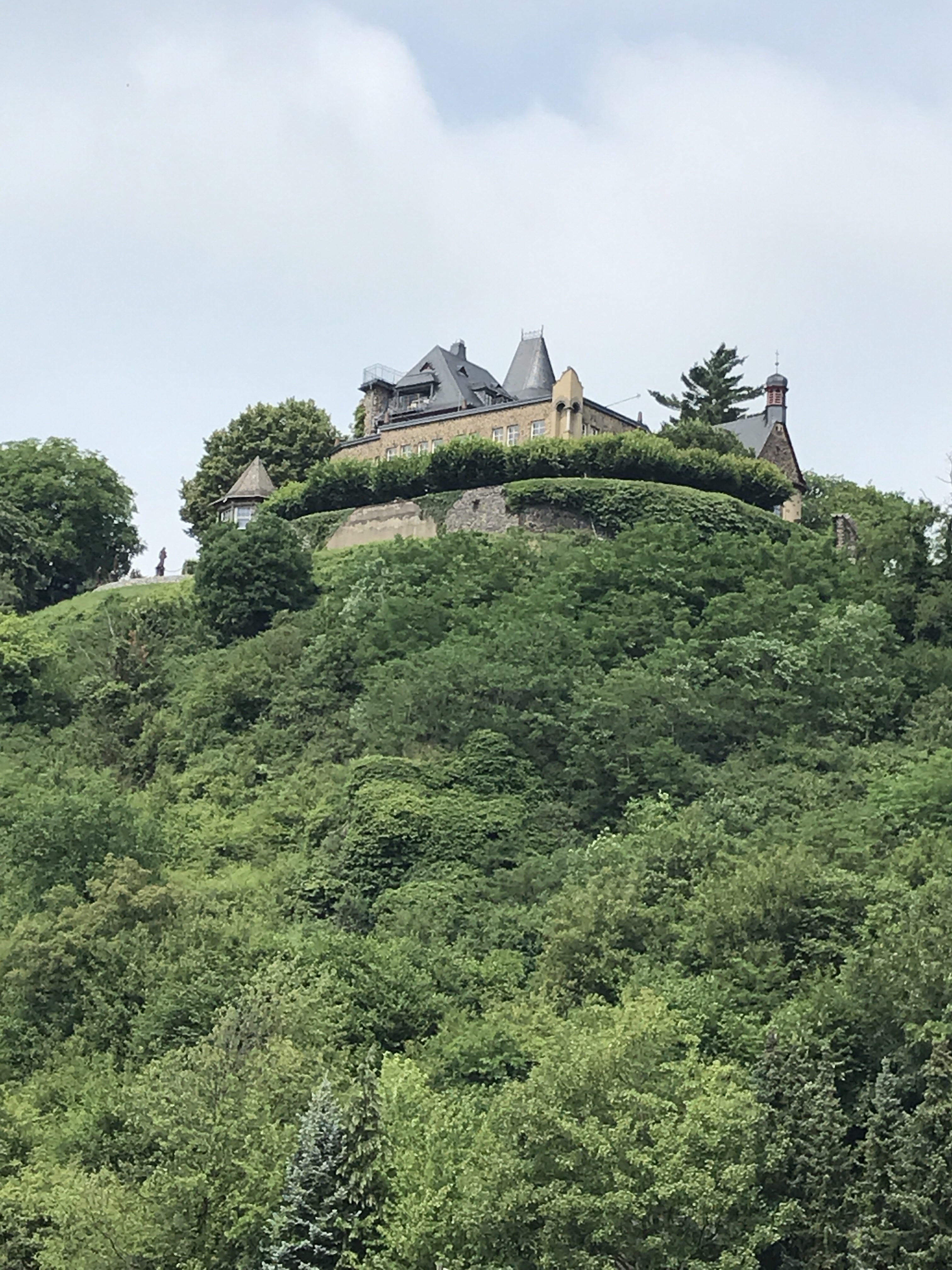 We pressed on…. only 12 miles left. Piece of cake, right? Nope, the signage challenge started immediately after leaving the Marktplatz. Where in the heck (or words to that effect) is the trail? Finally, we found the trail not by the river but up the hill by the railroad tracks. We continued riding on a mixture of trails and streets until we came to an area where the trail was being rebuilt. That made us get off the bike and walk a bit. But shortly after that we found one of the sights I had been looking for… the Ludendorff Bridge. Or as some WWII historians know it " The Bridge at Remagen". Across the river near the town of Remagen, a tower is seen. And on our side there is a similar tower leaving into a tunnel. These are the remains of the railroad bridge captured by the Allies after German sappers failed to destroy it with multiple attempts. This was the first point where US troops were able to cross the Rhine.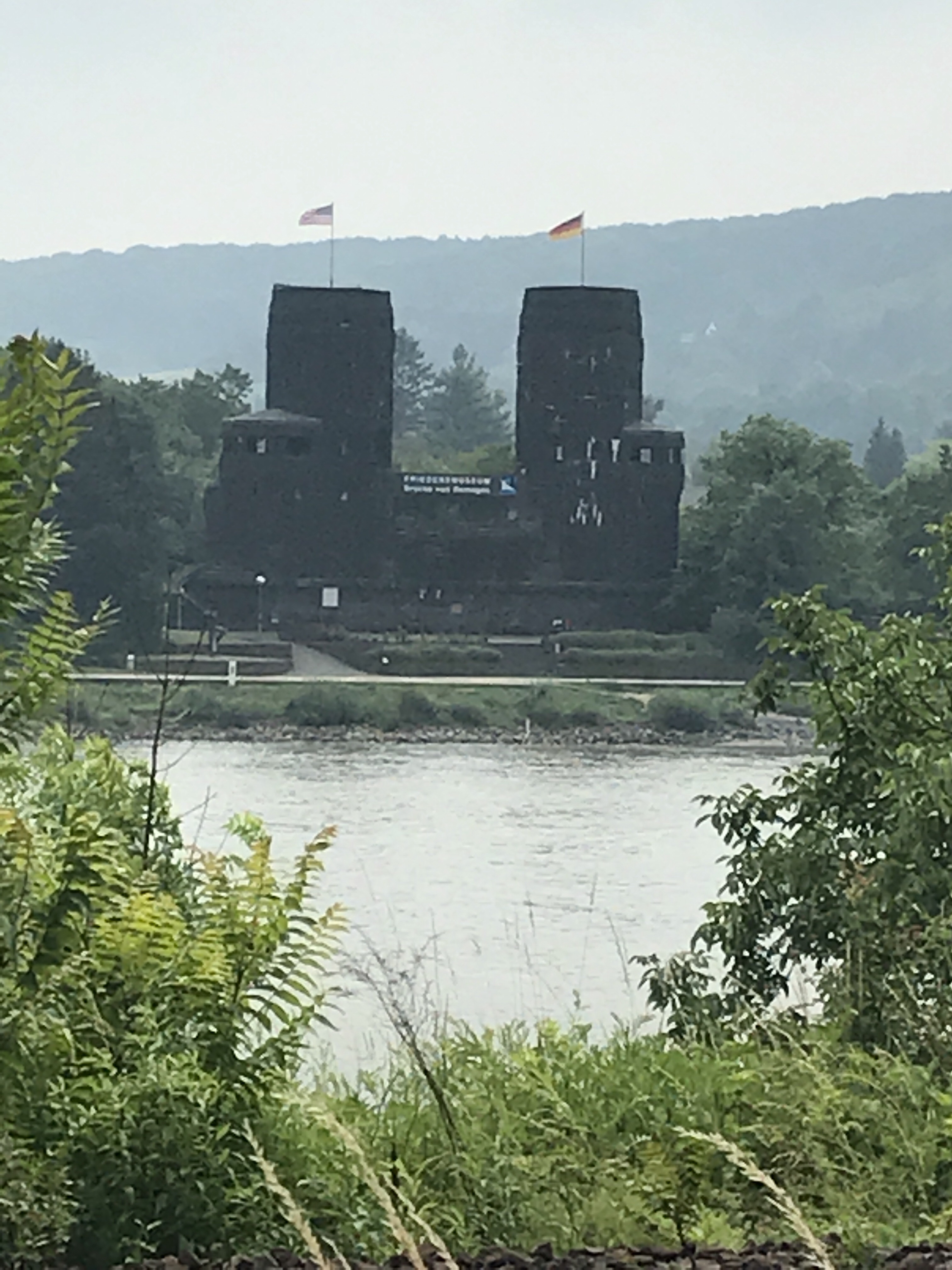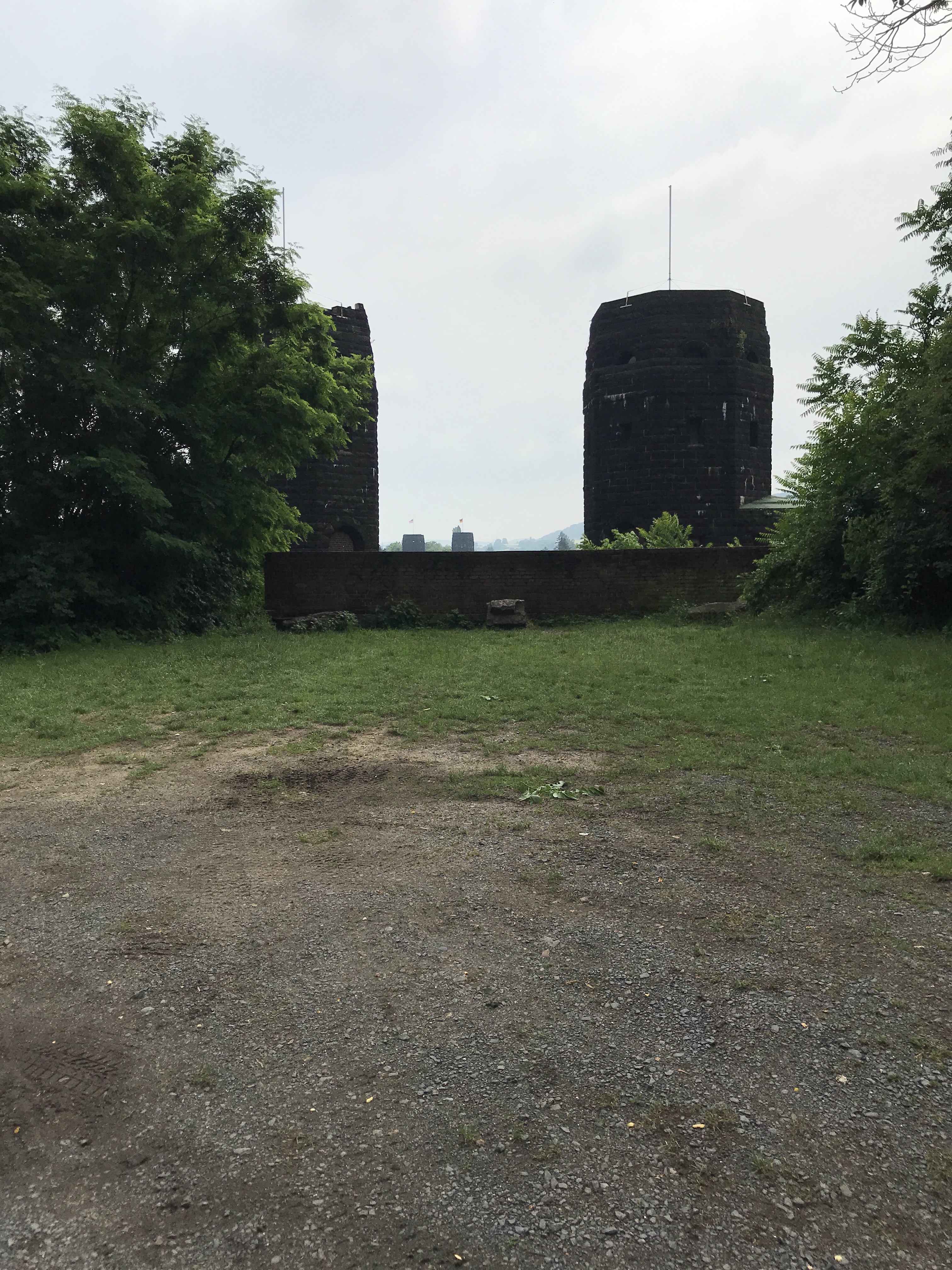 The first picture shows the tower on the West Bank of the Rhine and the second shows the east bank, giving you an idea of where the railroad tracks went. This bridge lasted 10 days, allowing 20,000+ GIs to cross into Germany, before it collapsed of damage from bombings and the sappers.
We got closer to Königswinter and stumbled onto this place…. a bar and grill called the Blaue Sau (the blue sow). But the interesting thing was the number of different types of vehicles found there…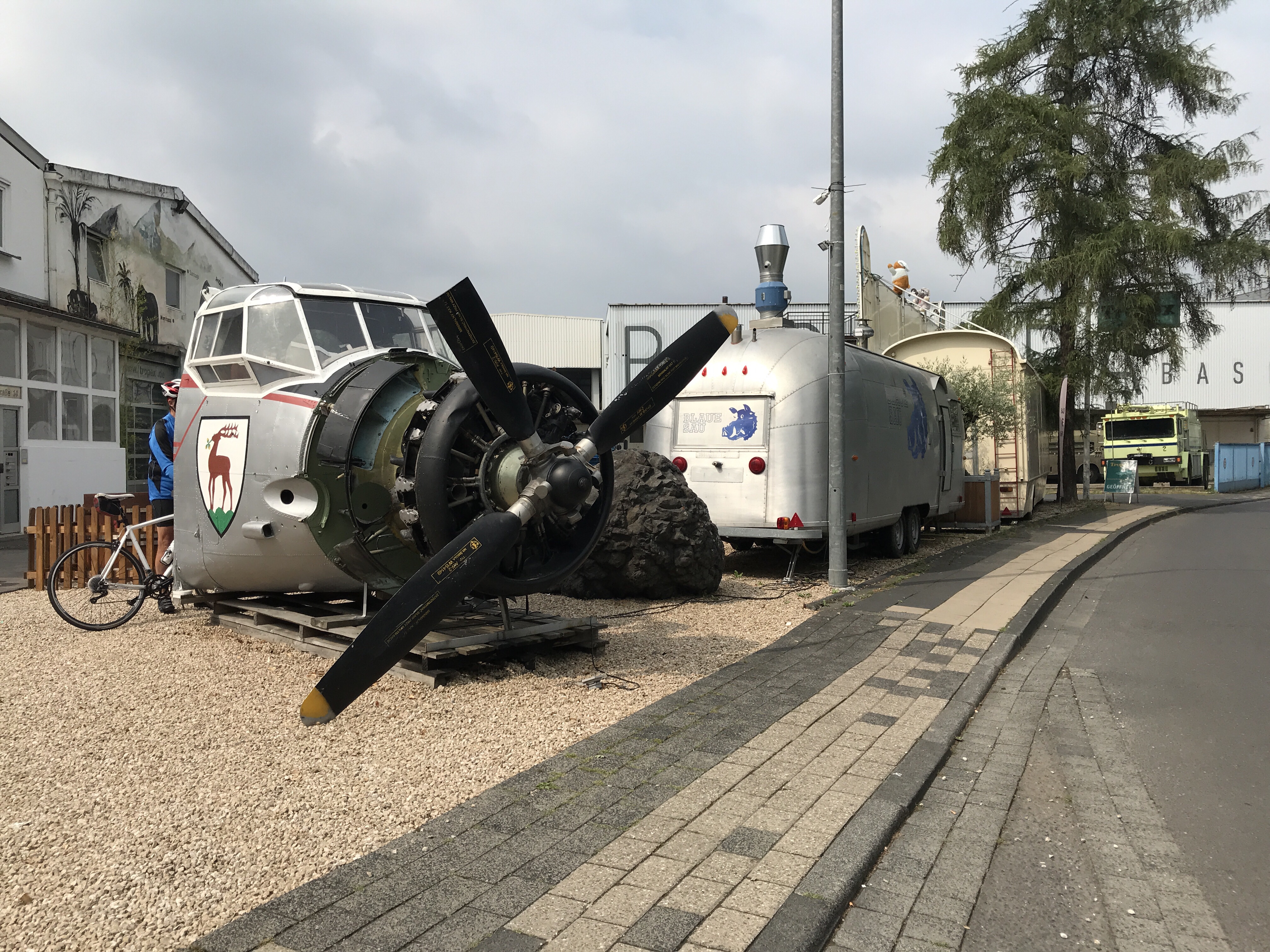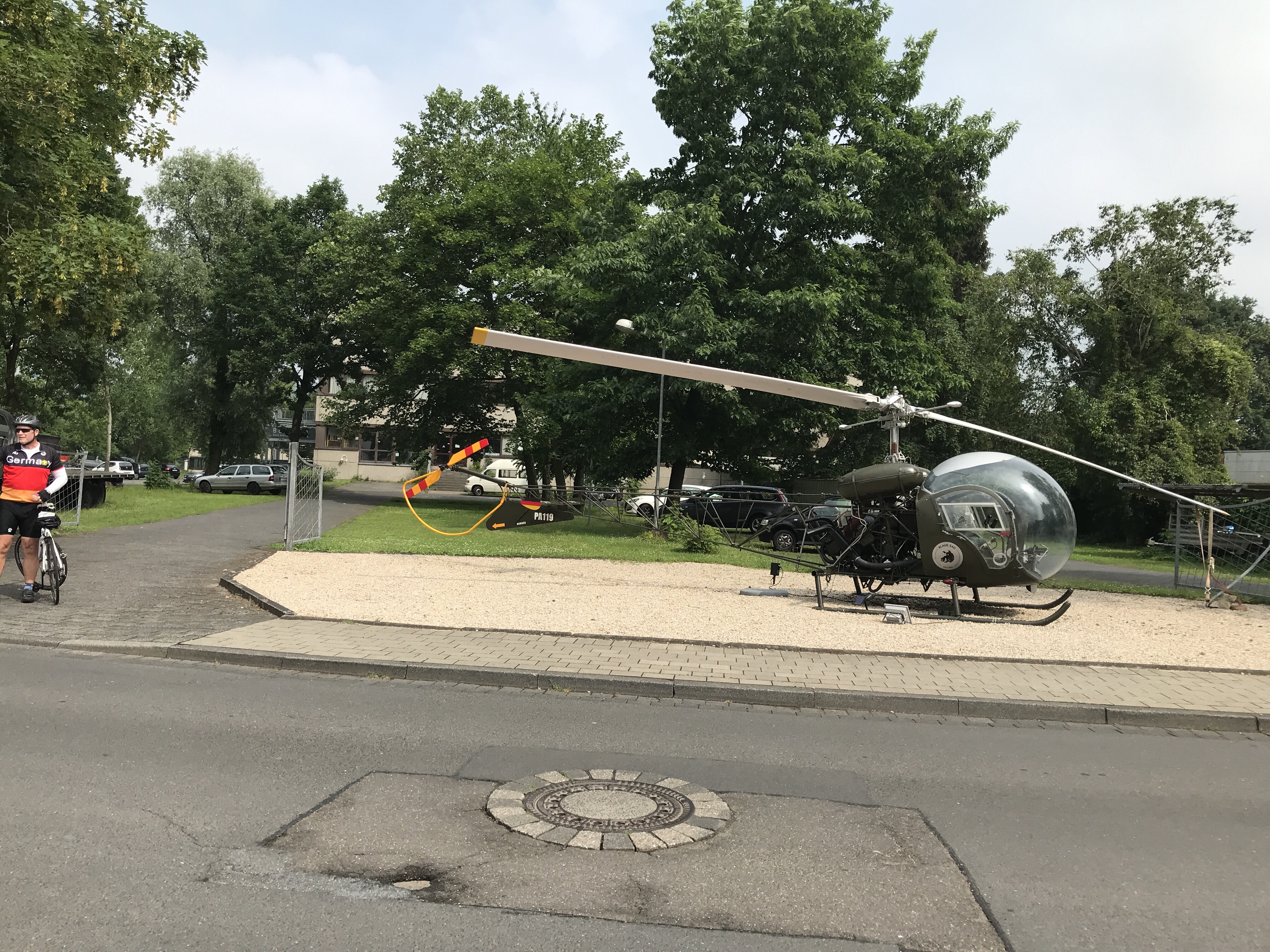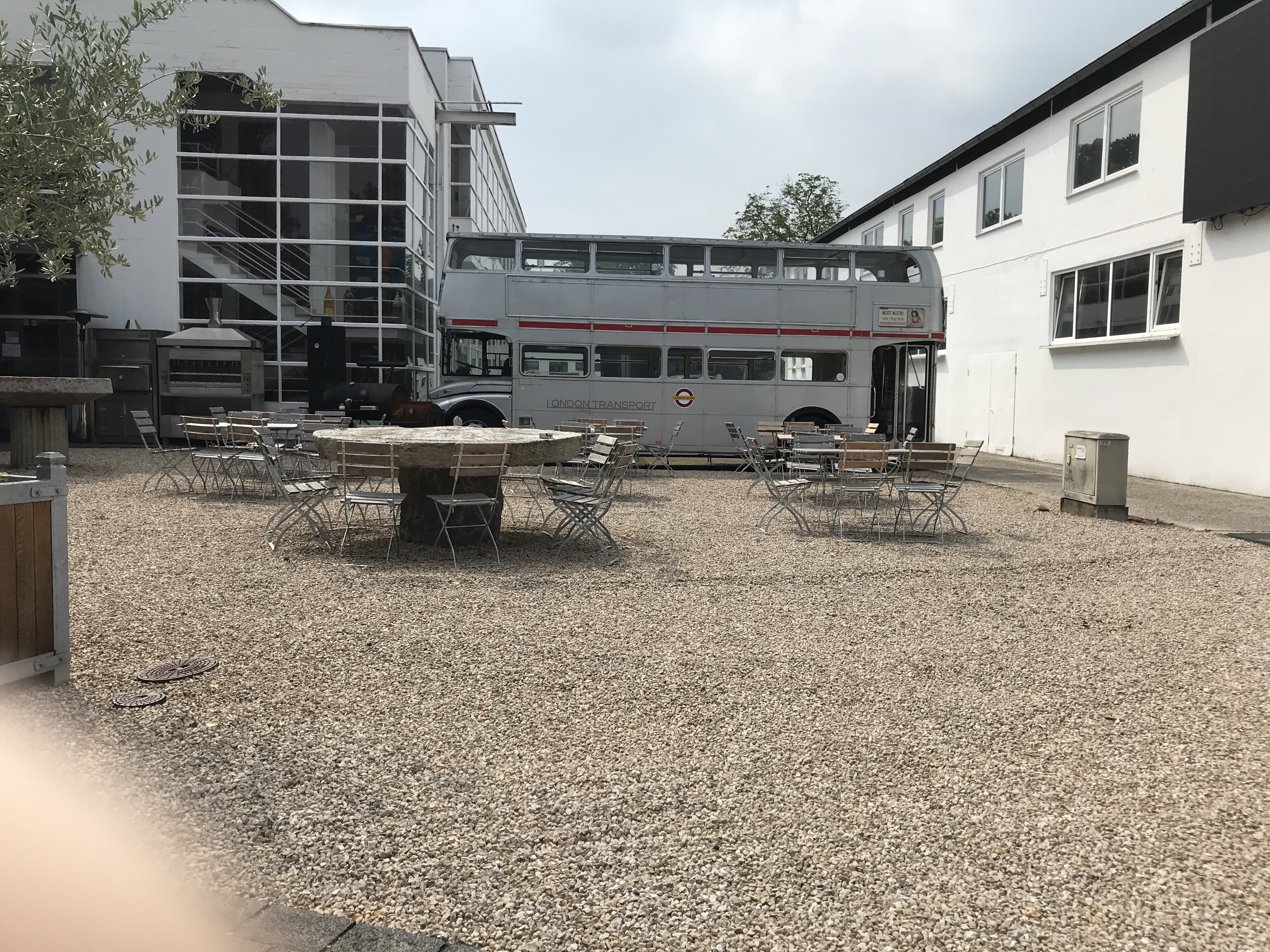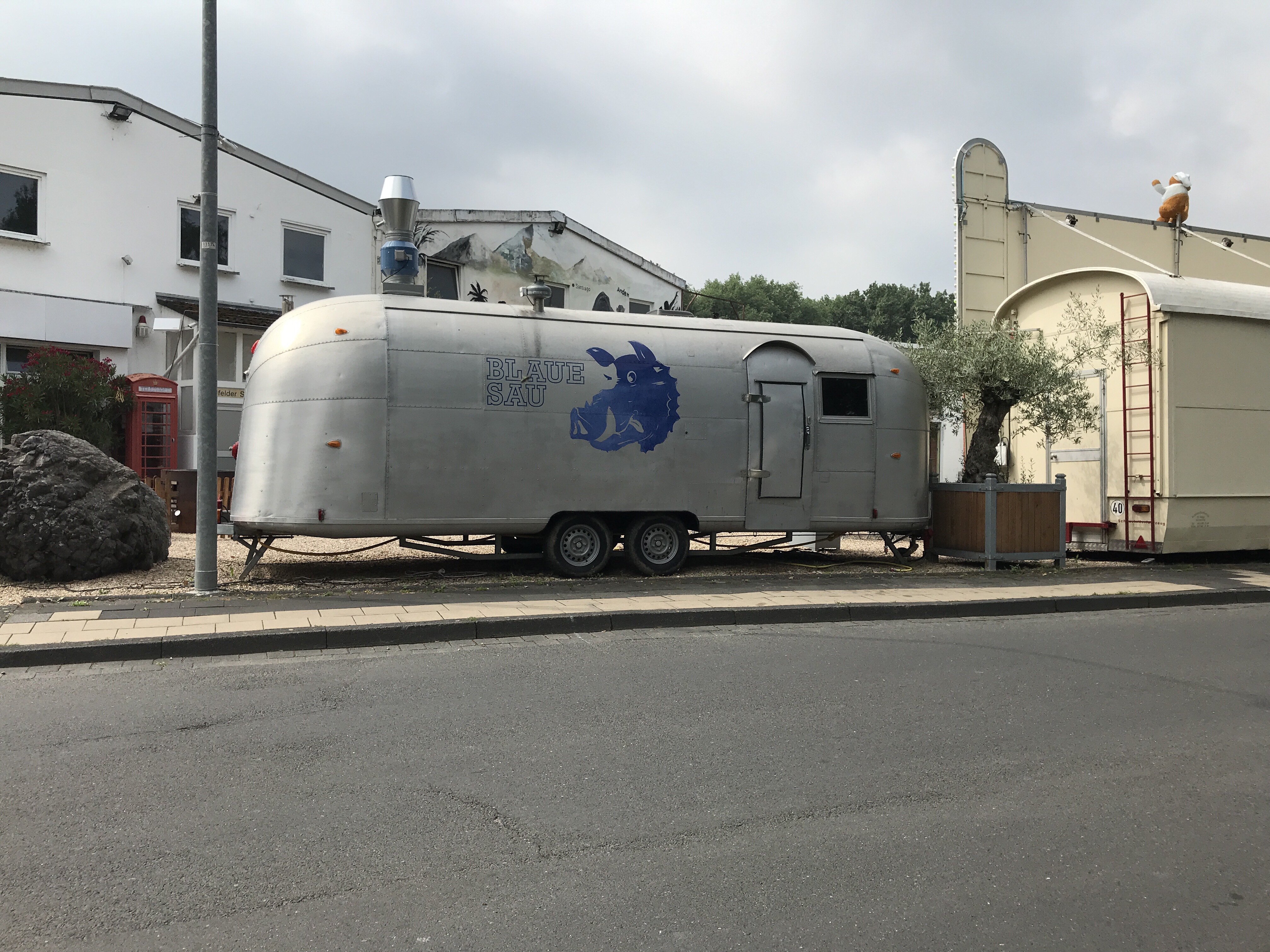 And finally, after riding all day, we made it to Königswinter!! Here are a few photos of the area…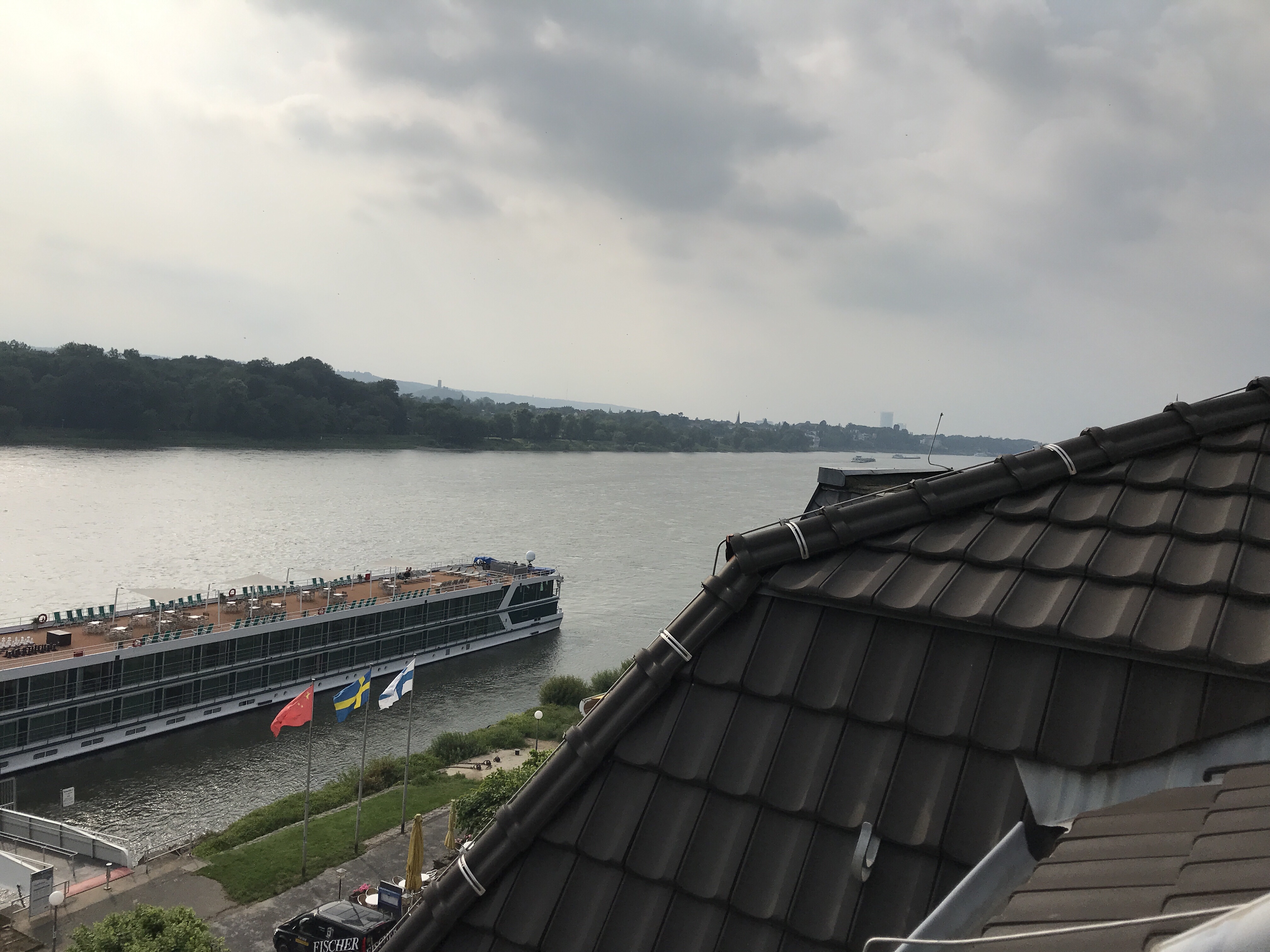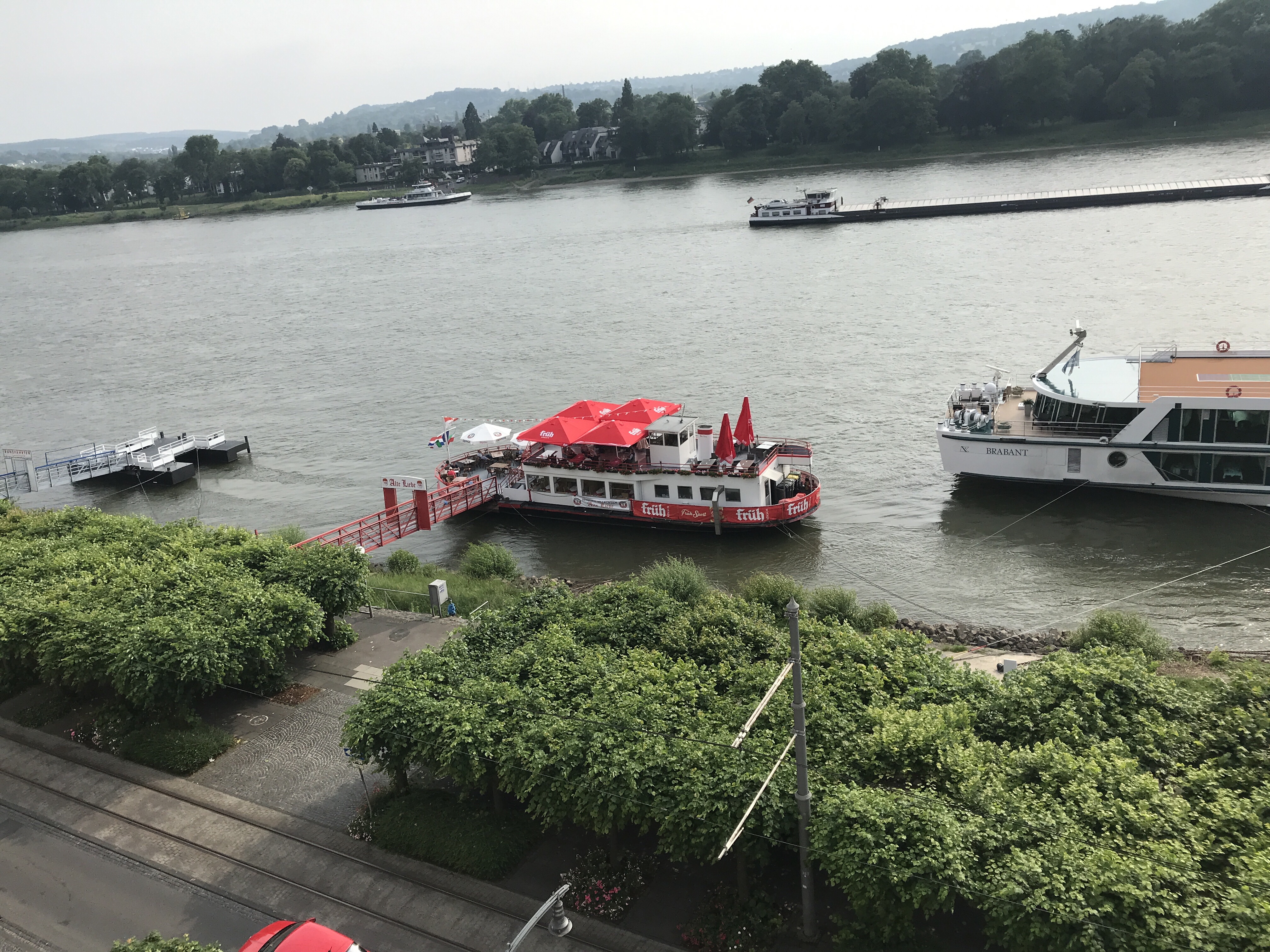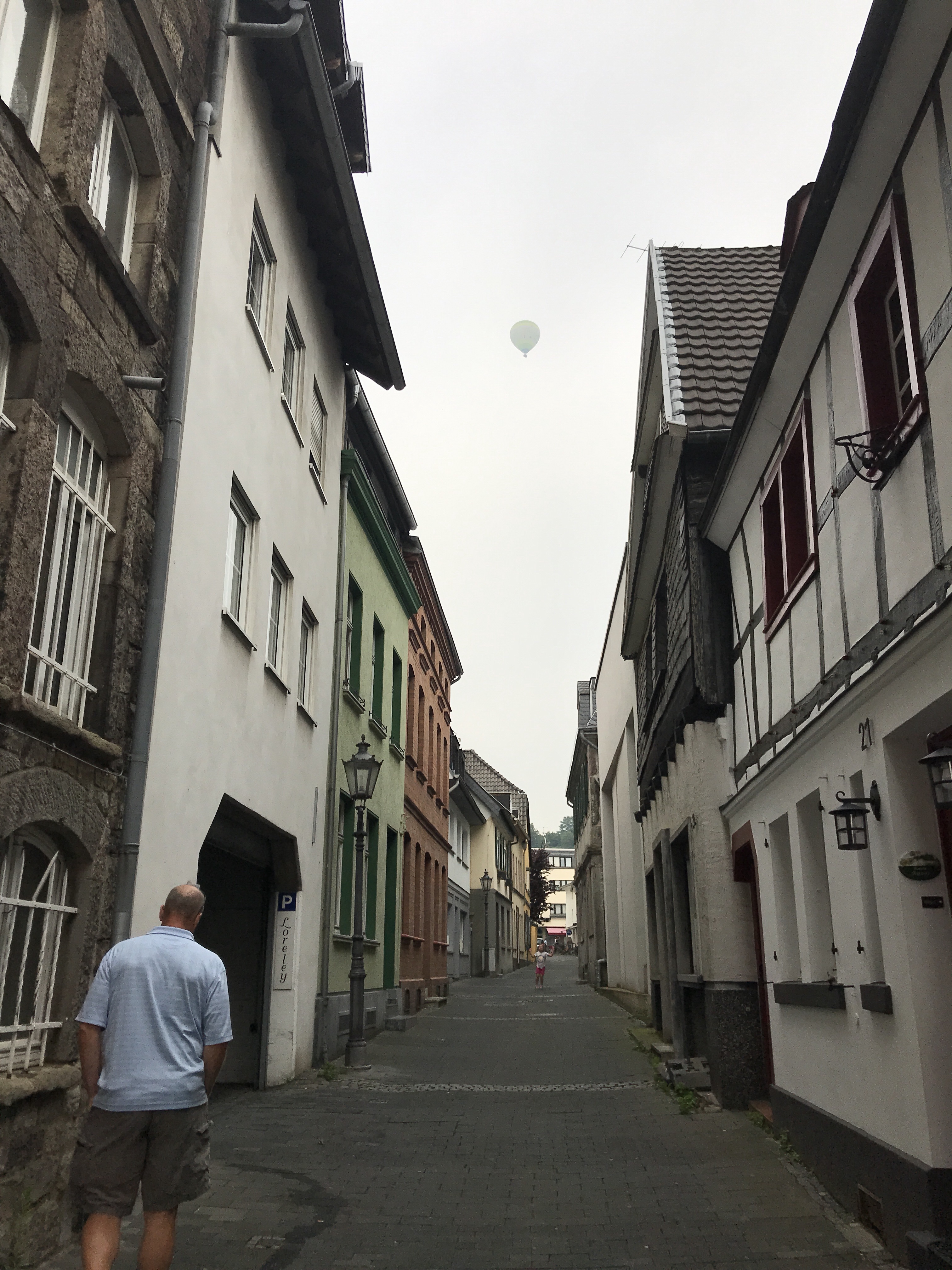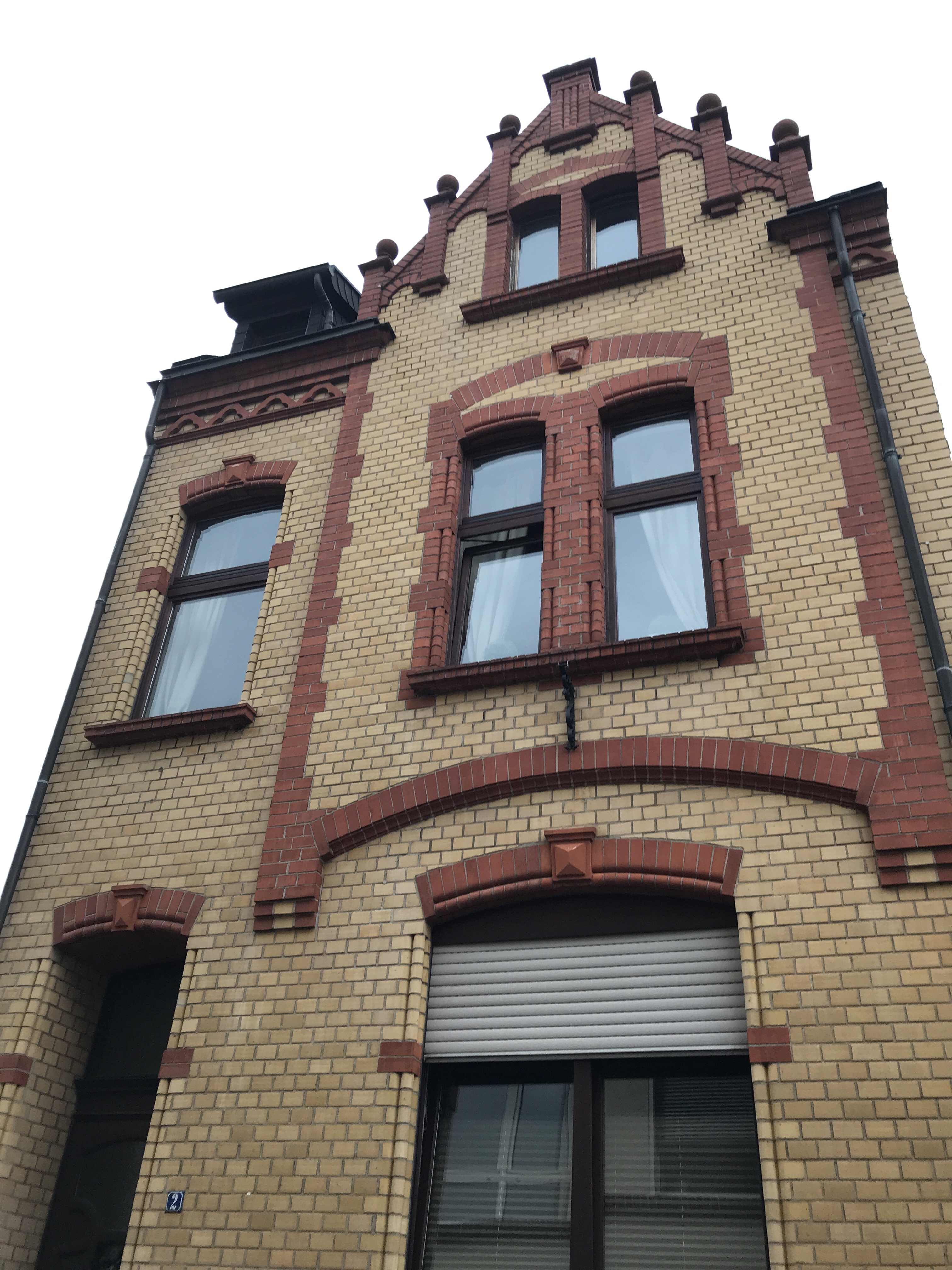 We asked a very nice young man where he would recommend for dinner…. he had been at the hotel all day, doing various things, even helping Eddie park the van. Cedric said that while he had a connection to the hotel he could honestly recommend the hotel restaurant but if we wanted something different that there was a very good Italian restaurant around the corner.
Intrigued, Eddie asked him what his connection to the hotel was…. he replied "Well, my grandfather bought the hotel 40 years ago and refurbished it, then my father took over and now I'm working for the family business." Amazing!! An hour earlier we were talking Hockey (Eddie is a Caps Fan) then NBA basketball. Who'd a thunk it?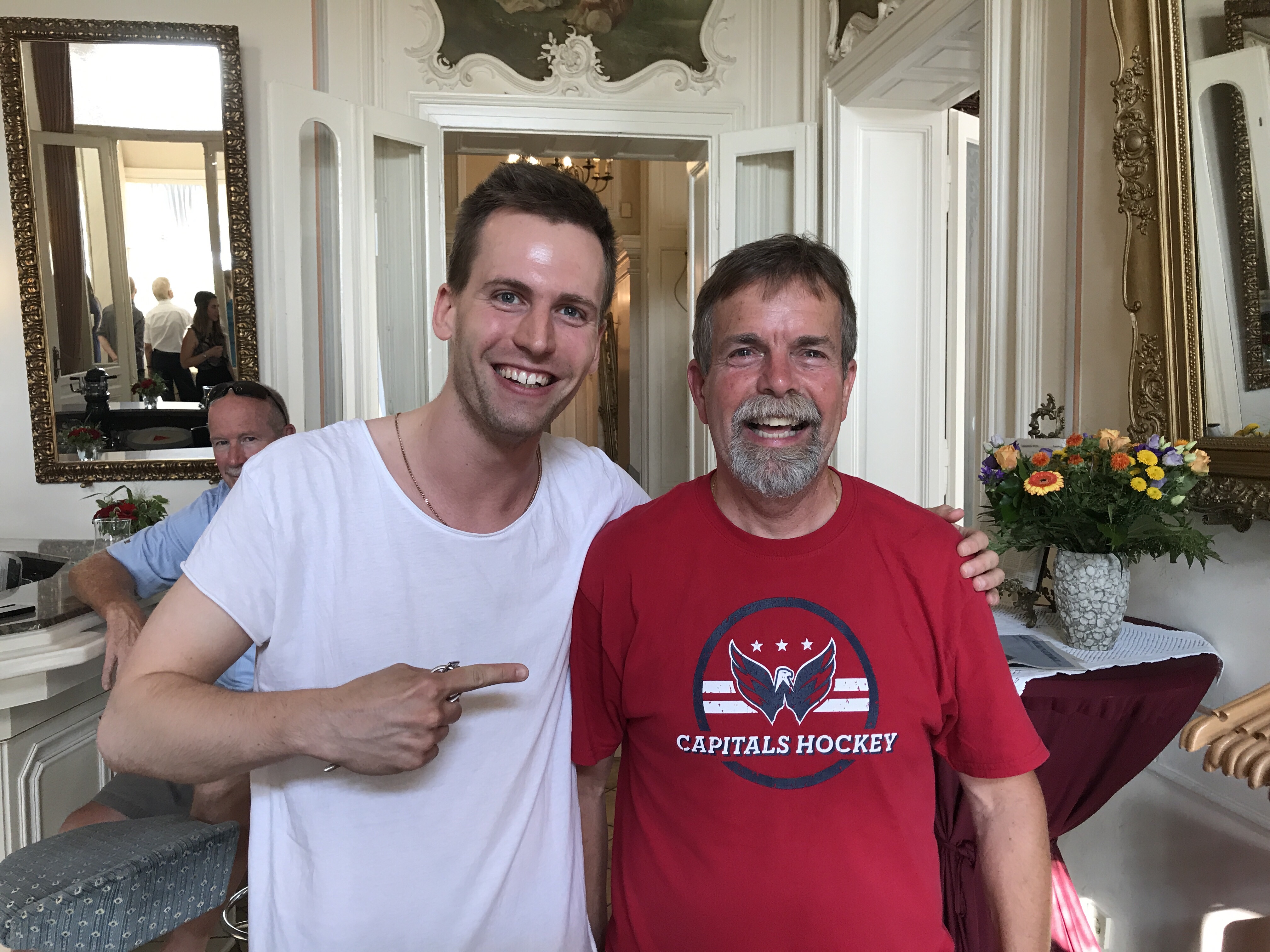 We went for dinner there…Cedric didn't disappoint!!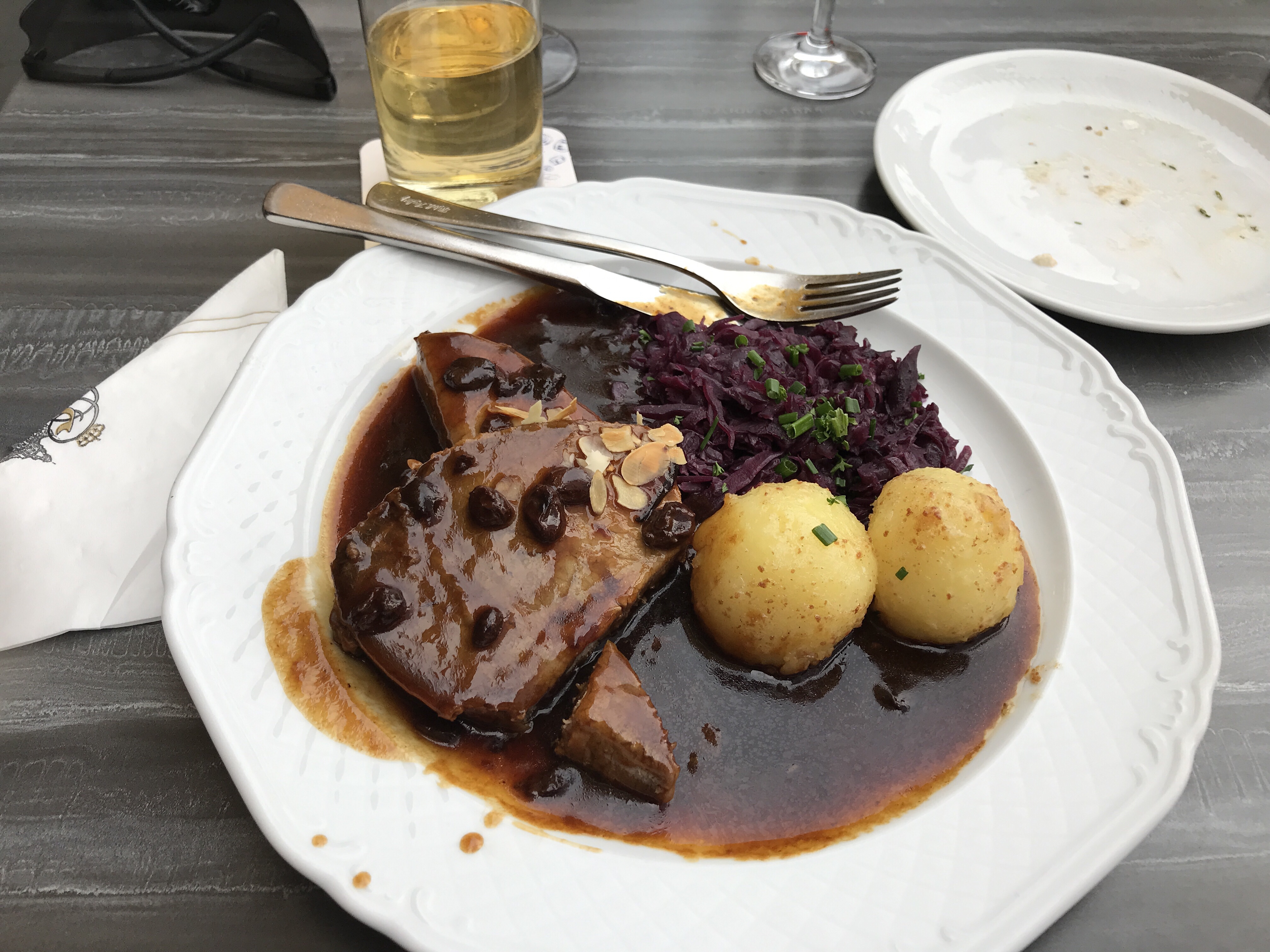 Sauerbraten with red cabbage and potato dumplings. Delicious or as Germans would say Lecker!
Tomorrow will be a long day…. 100 km + ride and we go through 3 big towns Bonn, Köln, Düsseldorf and we end up in Duisburg…. our last overnight in Germany on the ride. Think about us tomorrow…..