Today is Stage 5…. a 69 mile ride from Maximiliansau north along the Western side of the Rhine River. Since the trail follows the Rhine, we knew it would basically be on the floodplain of the Rhine, the dikes along the Rhine or just inside the dike. I know you've been wondering about this so today, in addition to the pictures that will come later, here's a look at the map.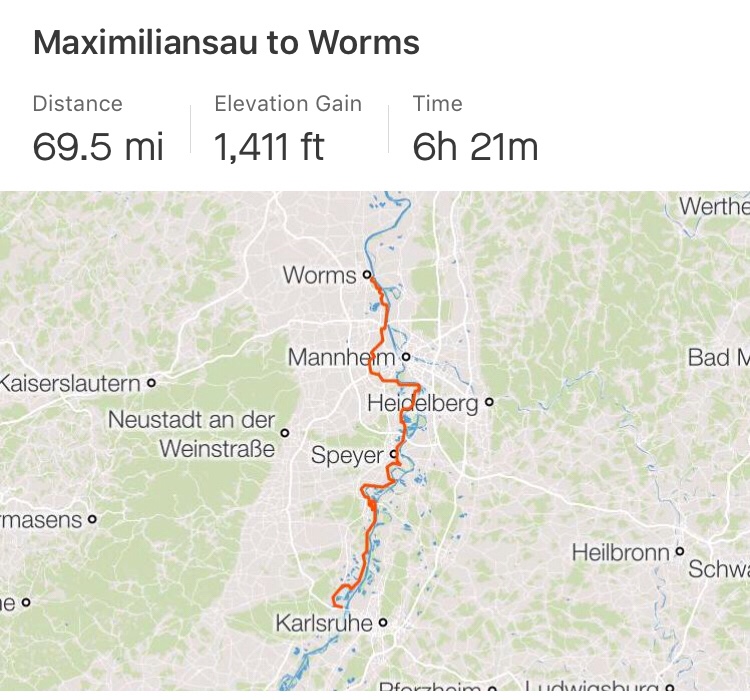 So, to start the day right, we had a hearty breakfast and prepped to start our ride. We left the Hotel Vater Rhein and found the bike trail 50 meters out the front door.
It was a great day to ride… a little coolness to start the day off and the perfect riding conditions…. asphalt trails. The early part of the ride was in the floodplain and on the dike for the first 20 miles.
At the 20 mile mark, we were near the town of Germersheim where we had our first attempt at finding a place for a break. But Germersheim also had a little bit of challenging trail signage. We finally found the trail but it was after our break stop.
I was hungry… the mileage takes it out of you… so I had waffles and coffee. I would have preferred to have a Schnecken ("When the Schnecken beckons!") but they didn't have any. I settled for the waffles and fruit….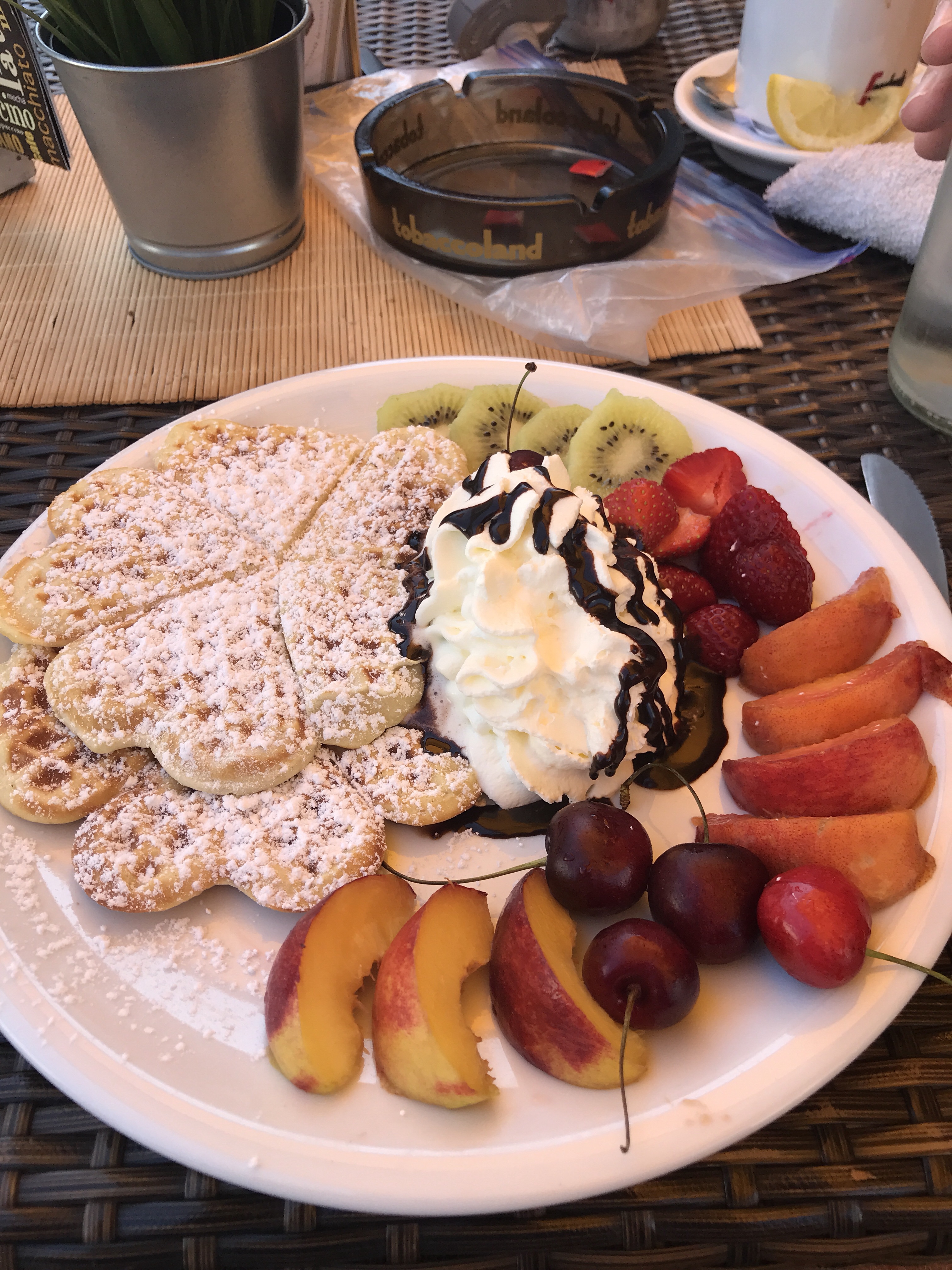 Driving on from Germersheim, we rode another 20 miles through various types of terrain. We even rode into Speyer… interesting town with an Aviation museum. As we approached Speyer, we thought we saw a Boeing 747. Sure enough, we did!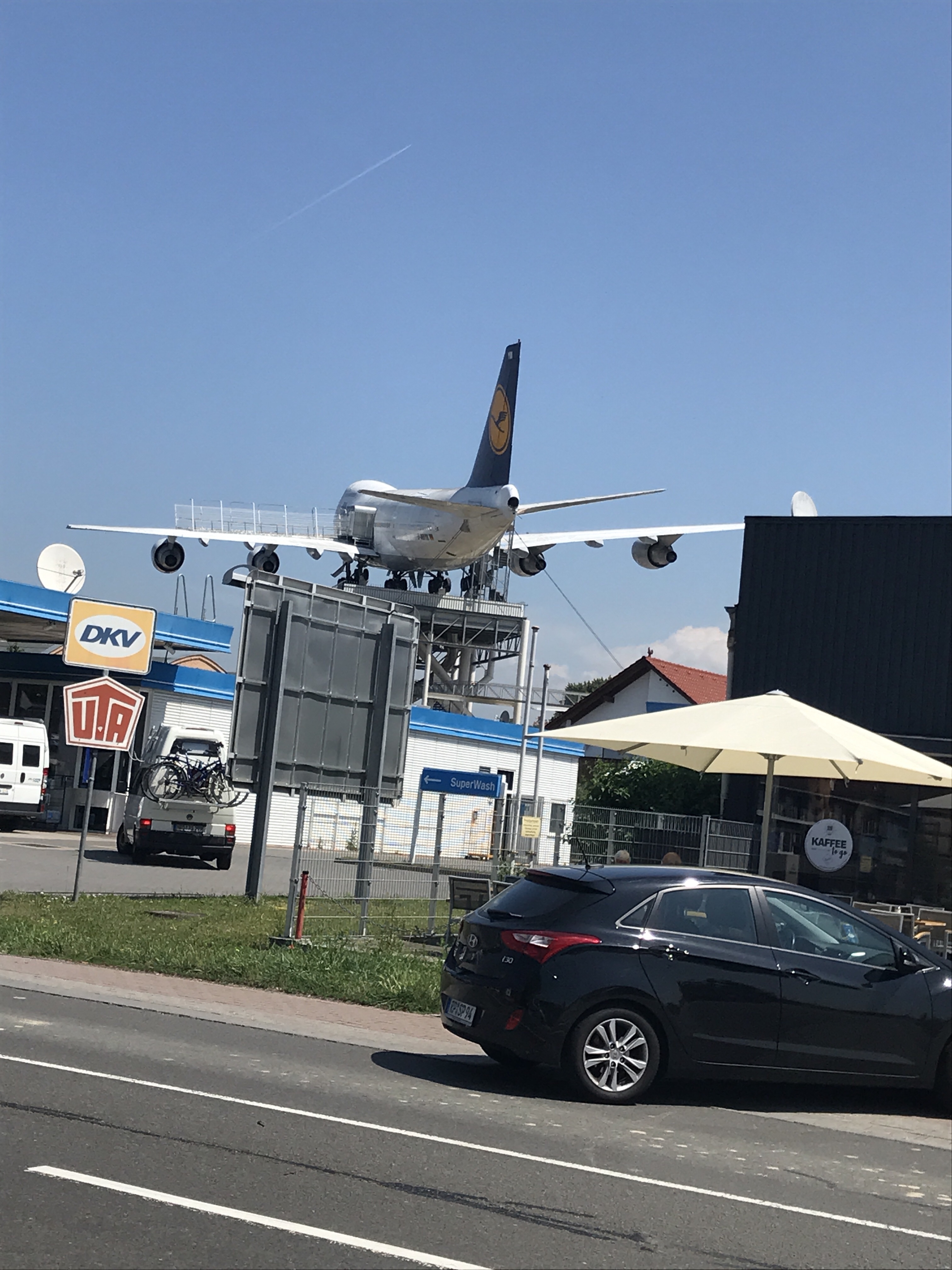 It almost looks like it was taking off or landing…. but it was mounted on a pole. Actually, many poles. There were also many other static displays of planes, like this…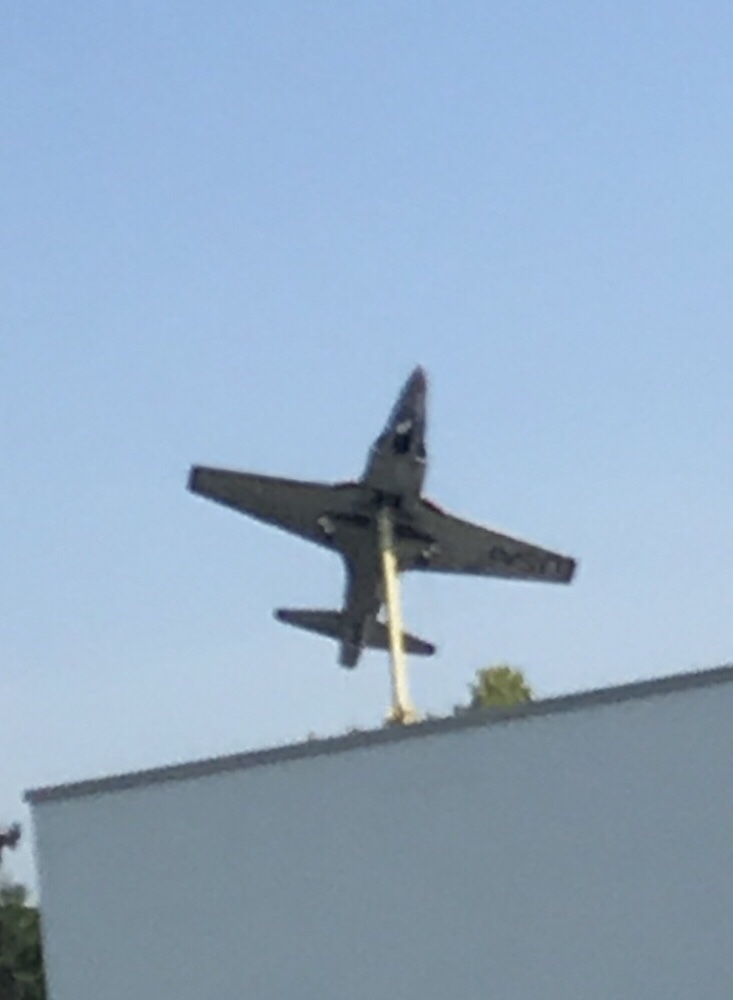 Somebody (Karl Isenberger maybe) please tell me what this one is….
We rode on through Speyer, again on various surfaces and terrain, seeing workers out in the fields. At this first place, it was very obvious what they were working with…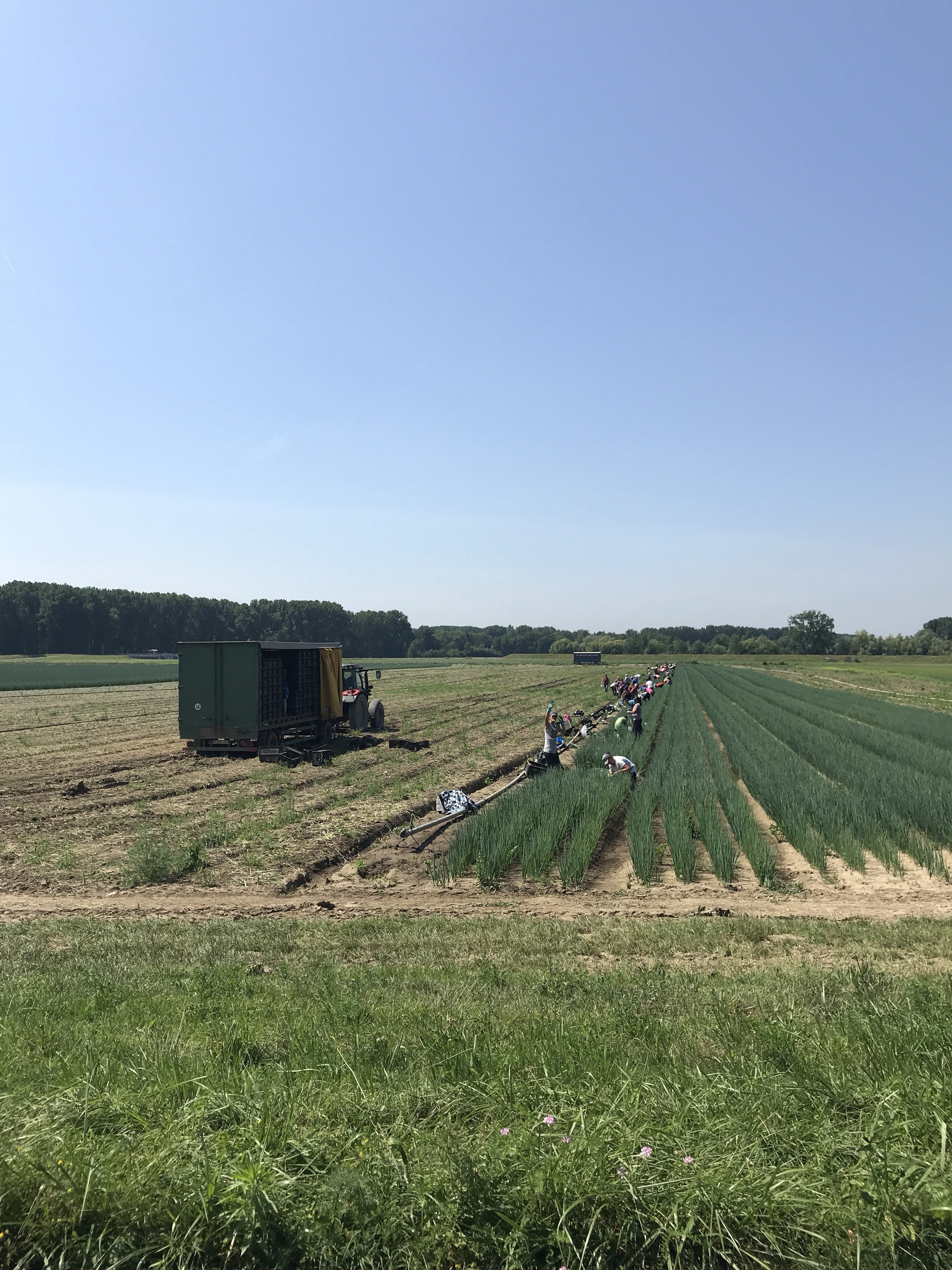 ONIONS!! You could literally smell onions from a quarter mile away!! And later on we saw this….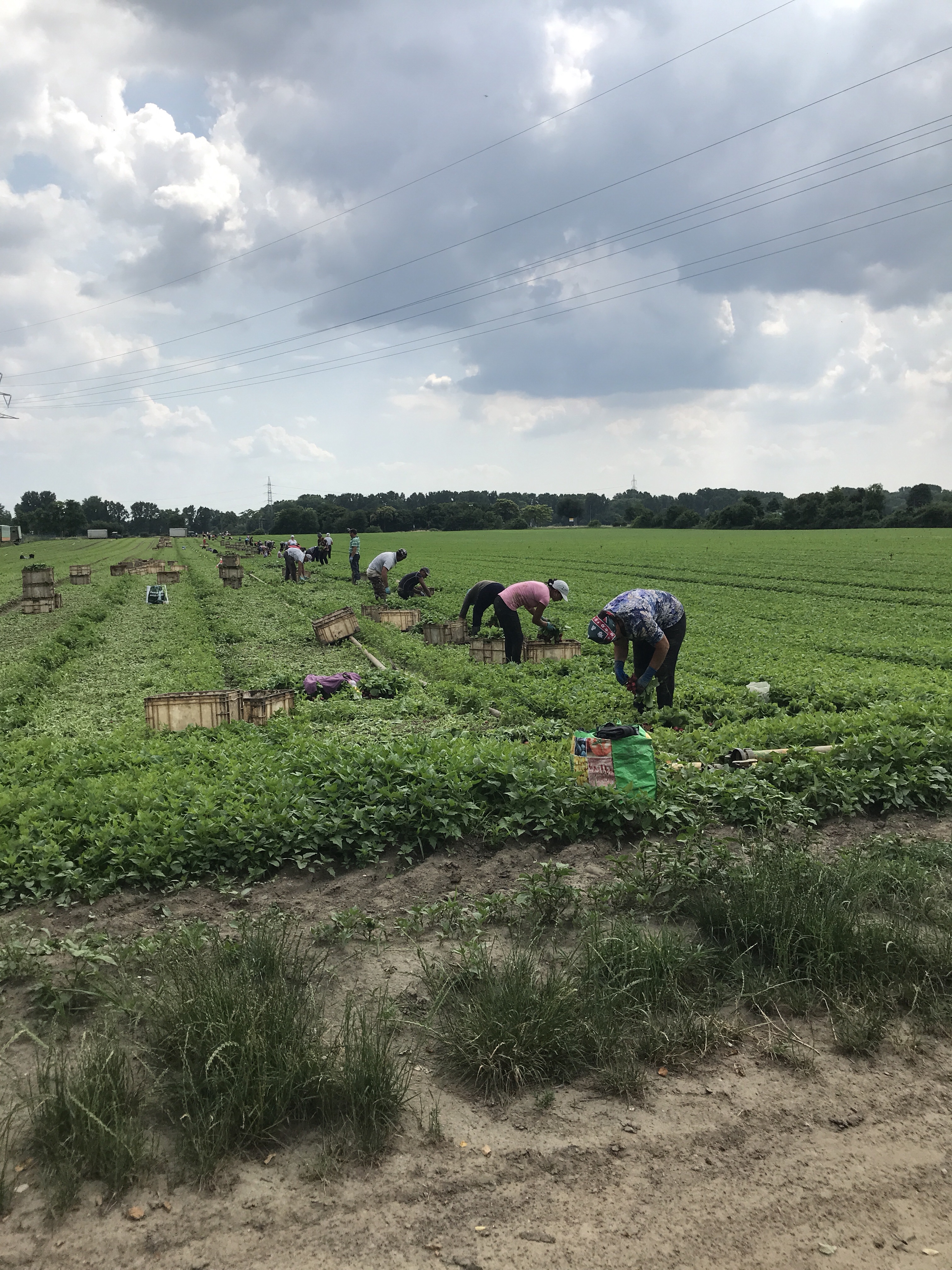 RADISHES! We couldn't smell these but they were all hard at work getting these out of the ground. We continued riding seeing different sights….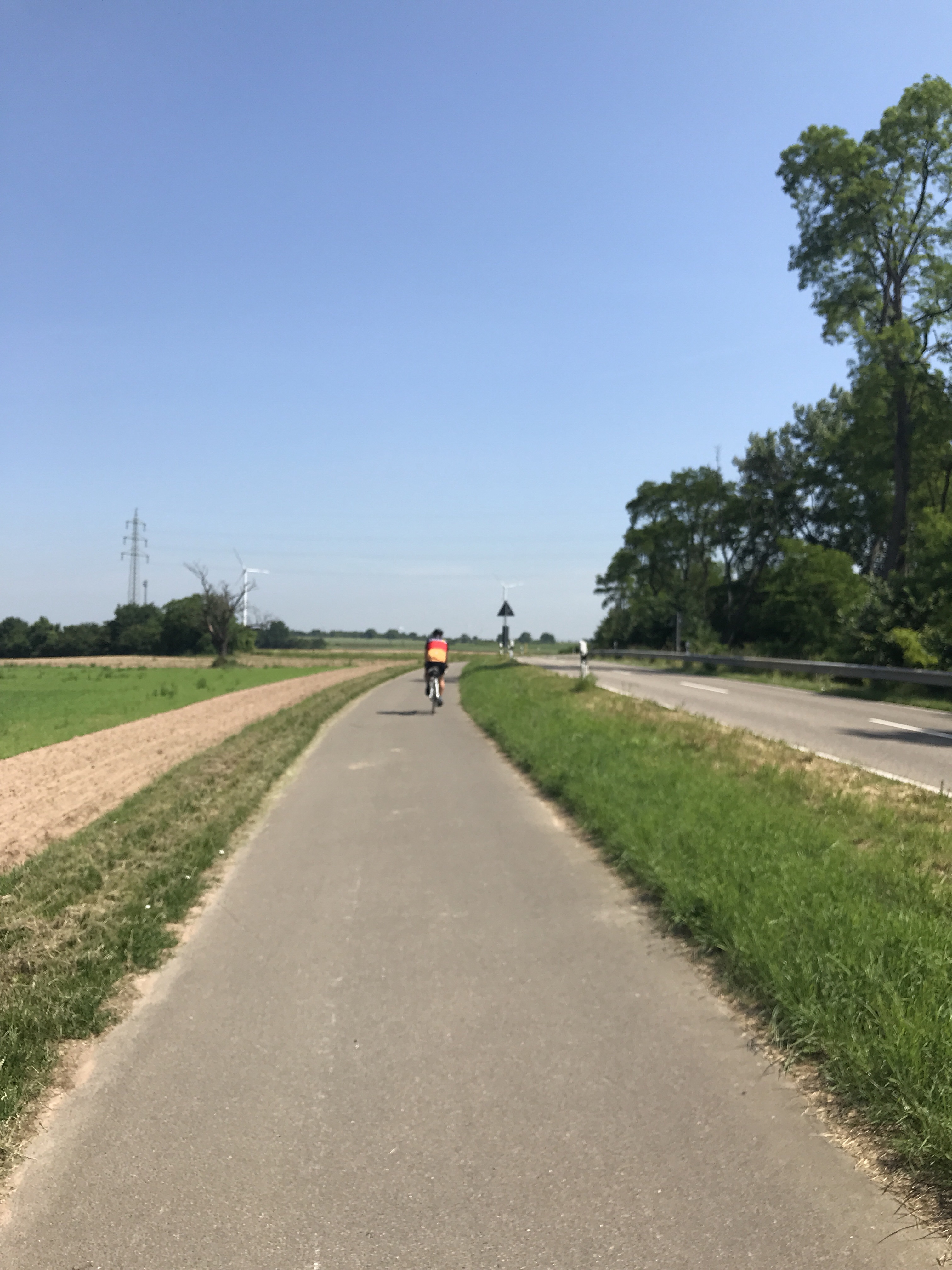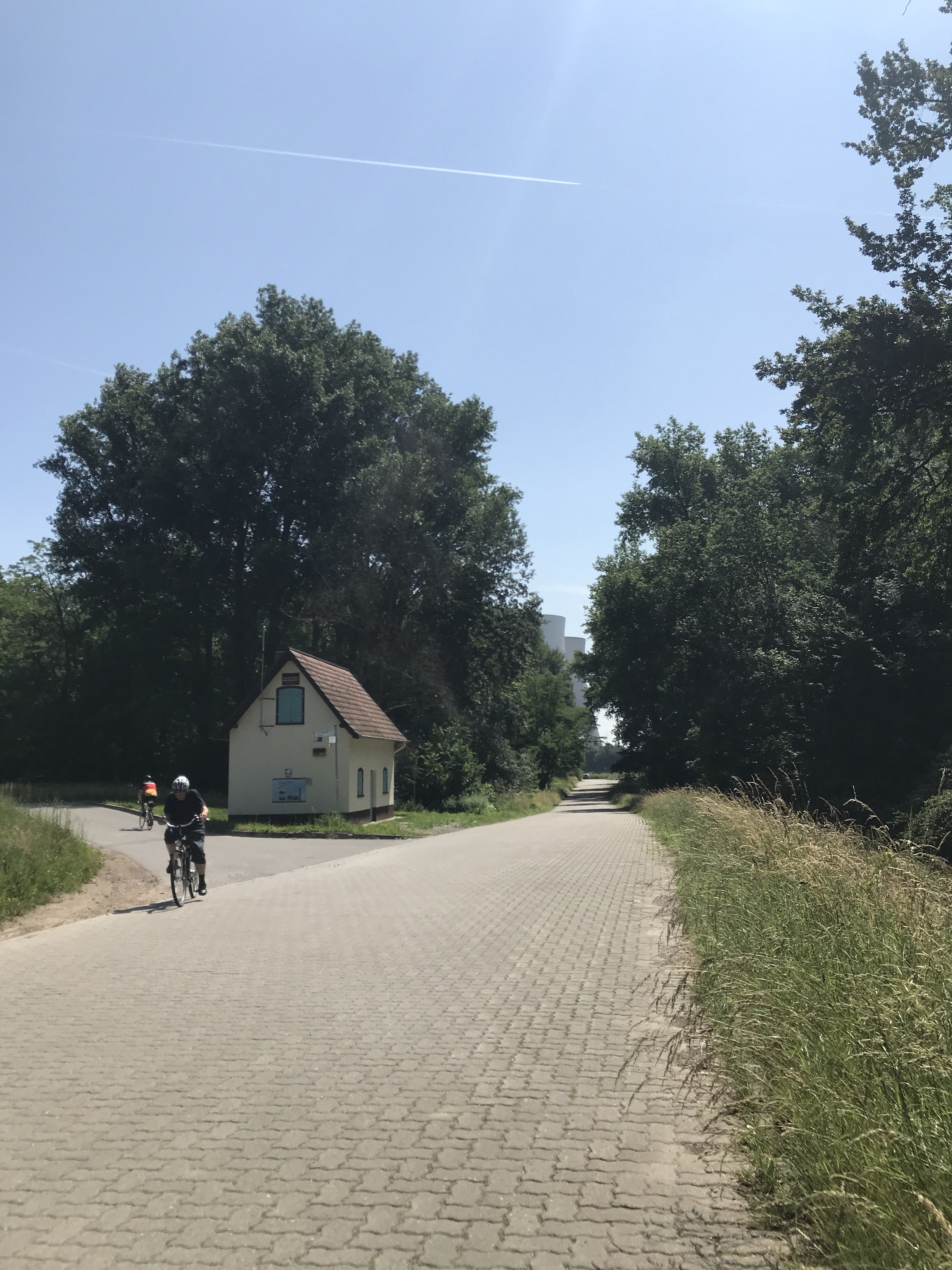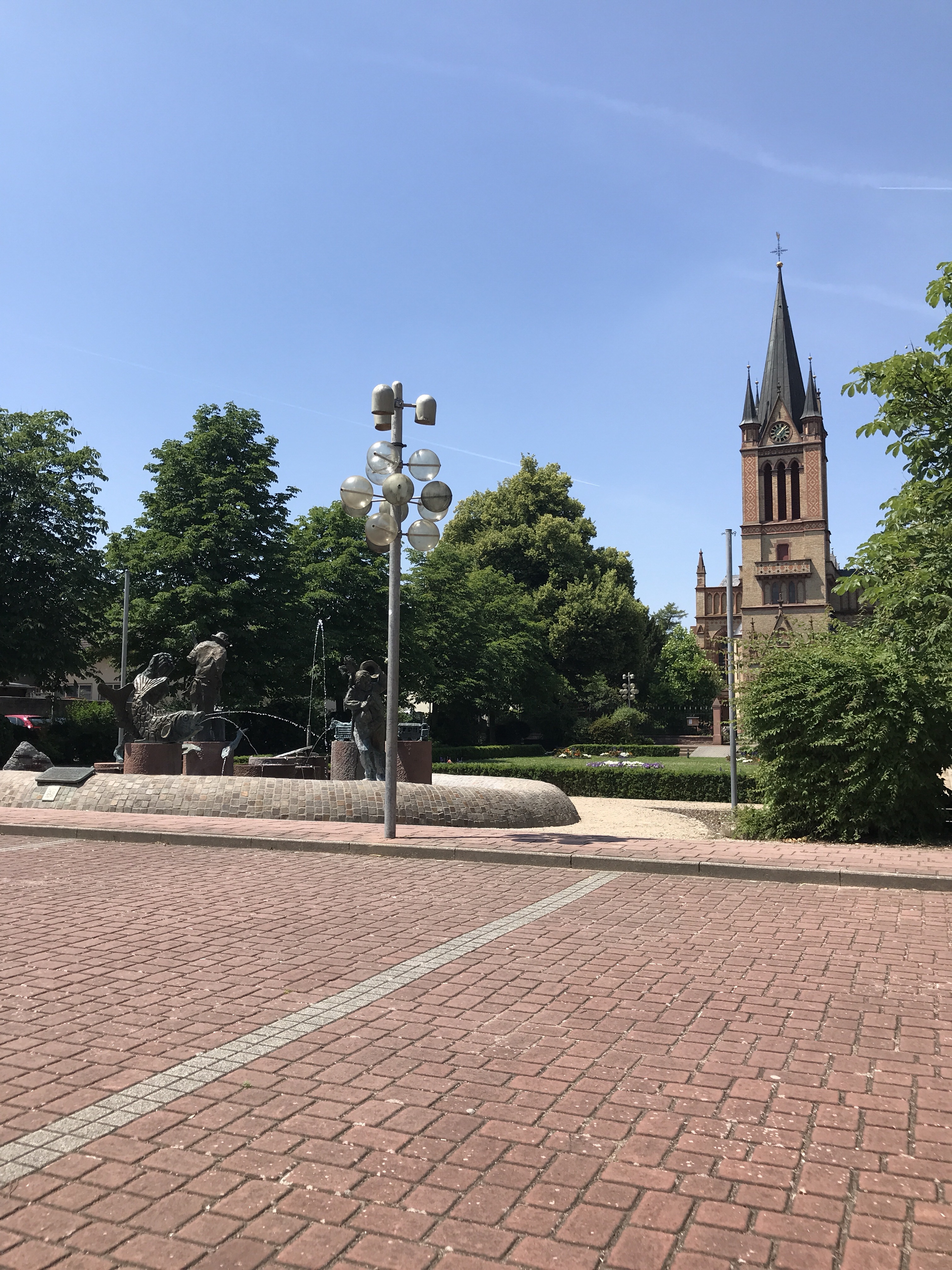 The last photo was taken in the town square, as we would call it, of Otterstadt. And since it was 40 miles in at this point, lunch seemed appropriate… I had Mushroom soup….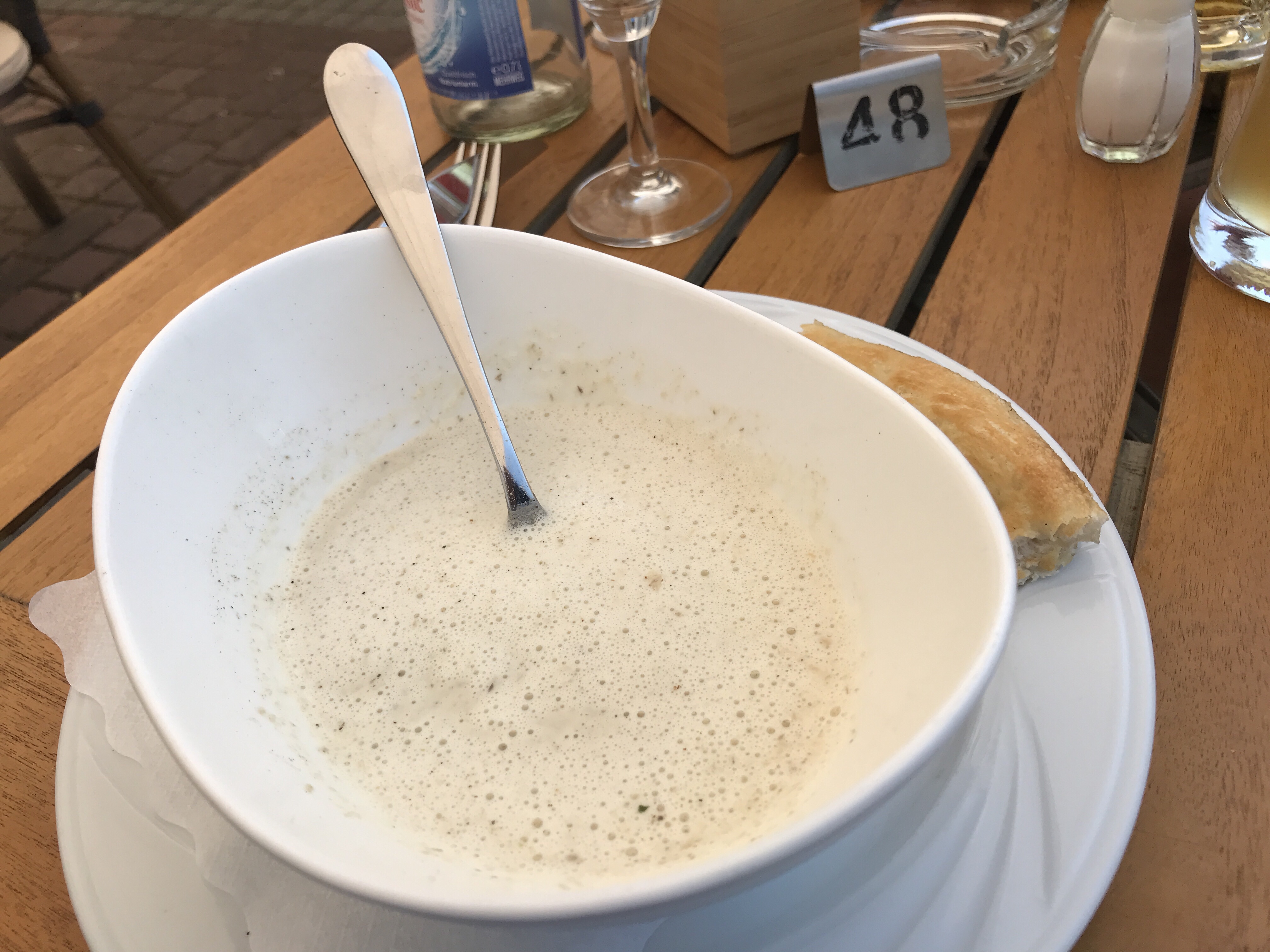 Craig had Broccoli soup and Kyle had Pizza Bread. All three were delicious!! It was 2 o'clock now and we still had 29 miles to go so off we went. The day was getting longer and hotter as we continued. Fortunately, we had some clouds to block the Sun, a little rain to cool us and finally a nice stretch of trail in woods, providing Sun protection and cool temps.
As we rode through the trees, we came upon this sign….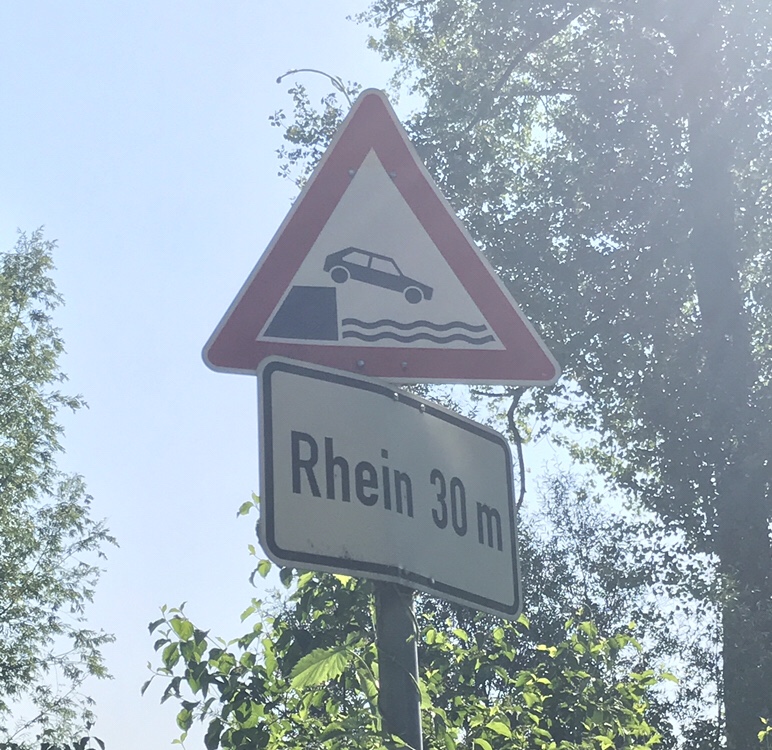 And this is what they meant…..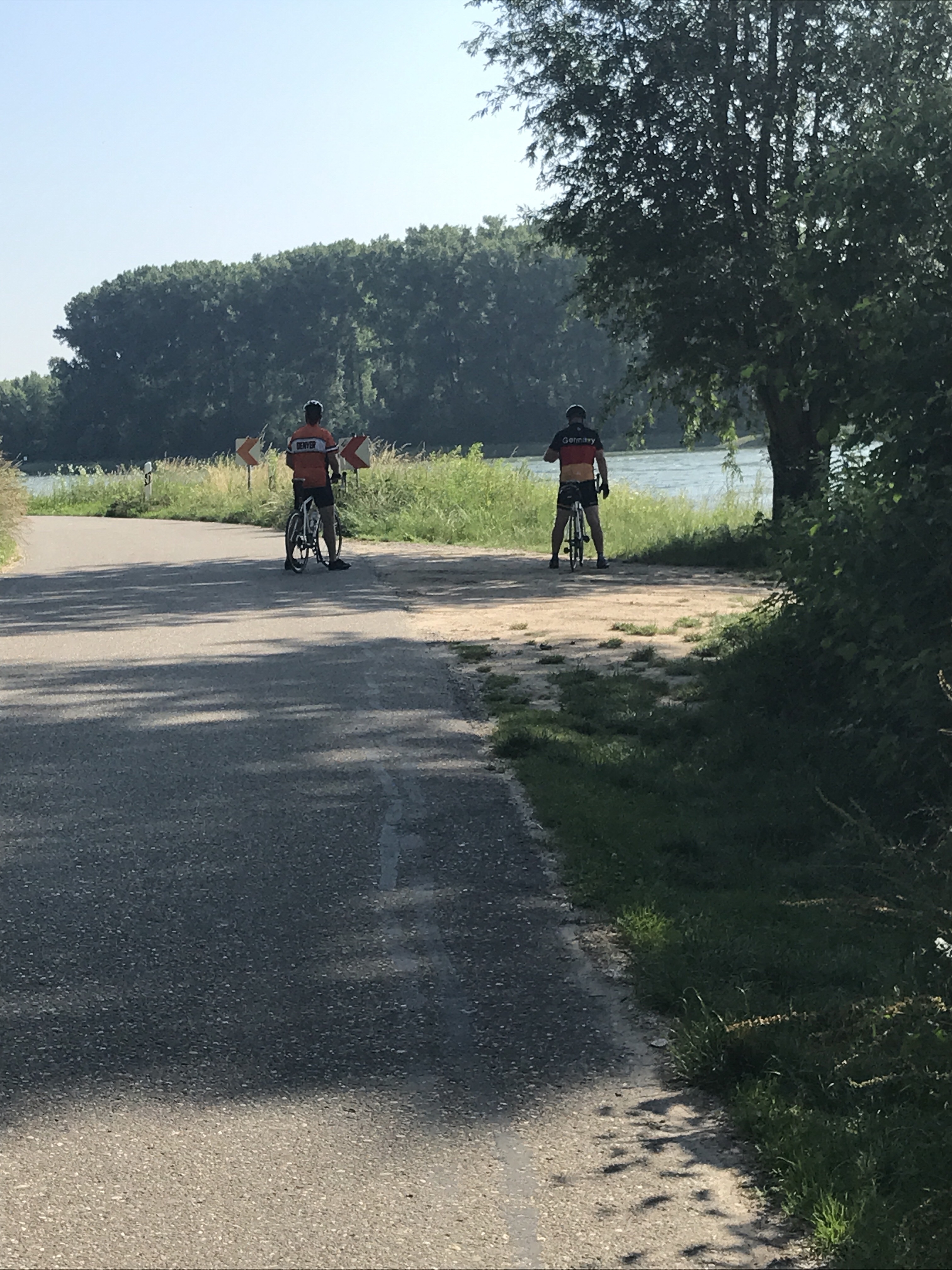 Keep driving or riding fast…. you'll be in the Rhine soon!
As we got inside of 15 miles, we had to divert to a hard packed surface trail. But that was when we hit a "game delay". Apparently, let the "Bull Pen" out….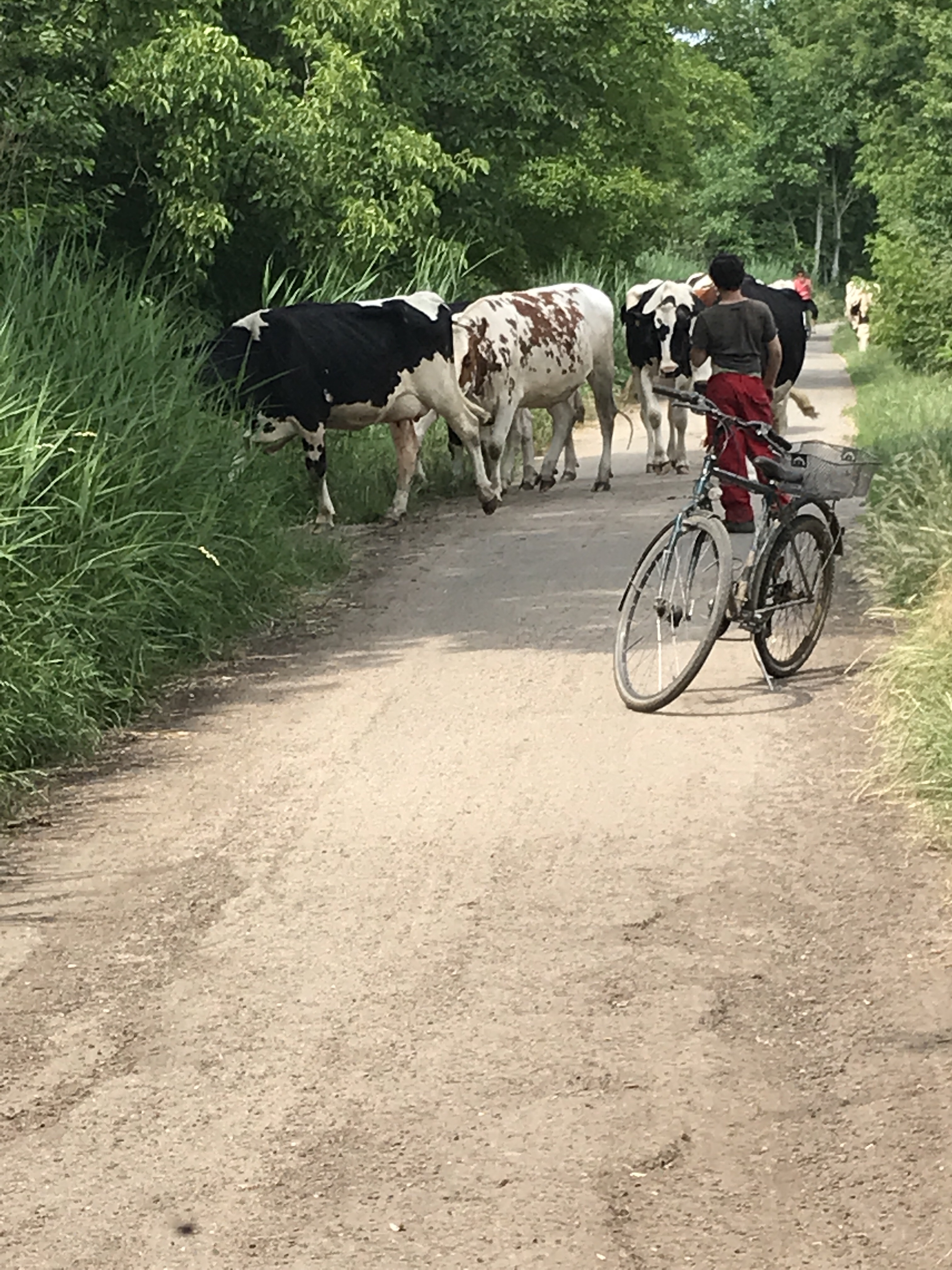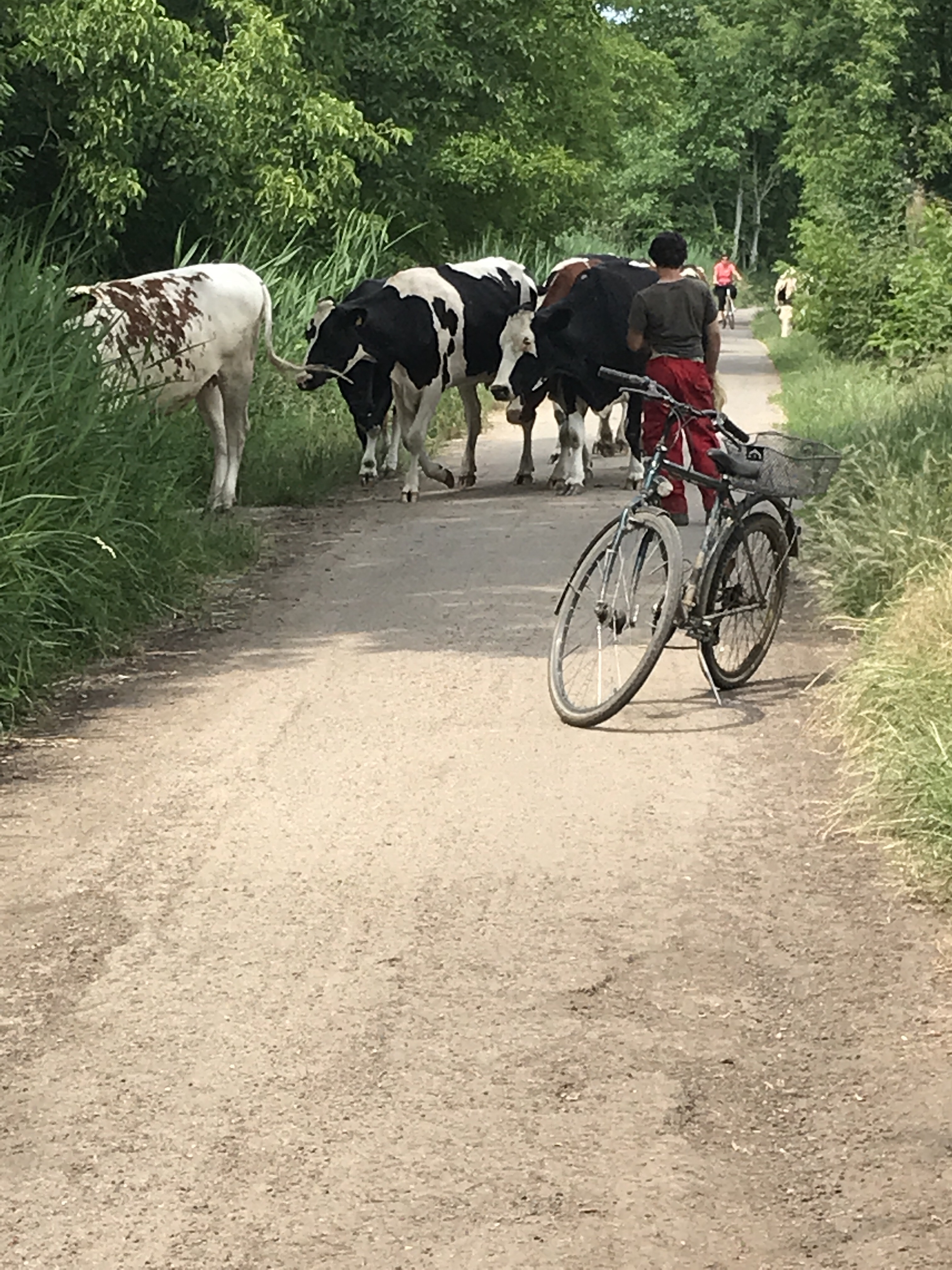 They were moving these cows (yes, I know they weren't bulls… it was a little play on words).
We finished the ride right at the hotel, just in time for a couple of Radlers (Bier mixed with Lemon Soda) and a couple of bottles of Sprudel Wasser (mineral water with carbonation). A quick shower followed and we had dinner. I chose a little lighter meal tonight. Kartoffelsuppe mit Leberwurst Klöße (potato soup with liver wurst dumplings) and a WurstSalat (wurst salad).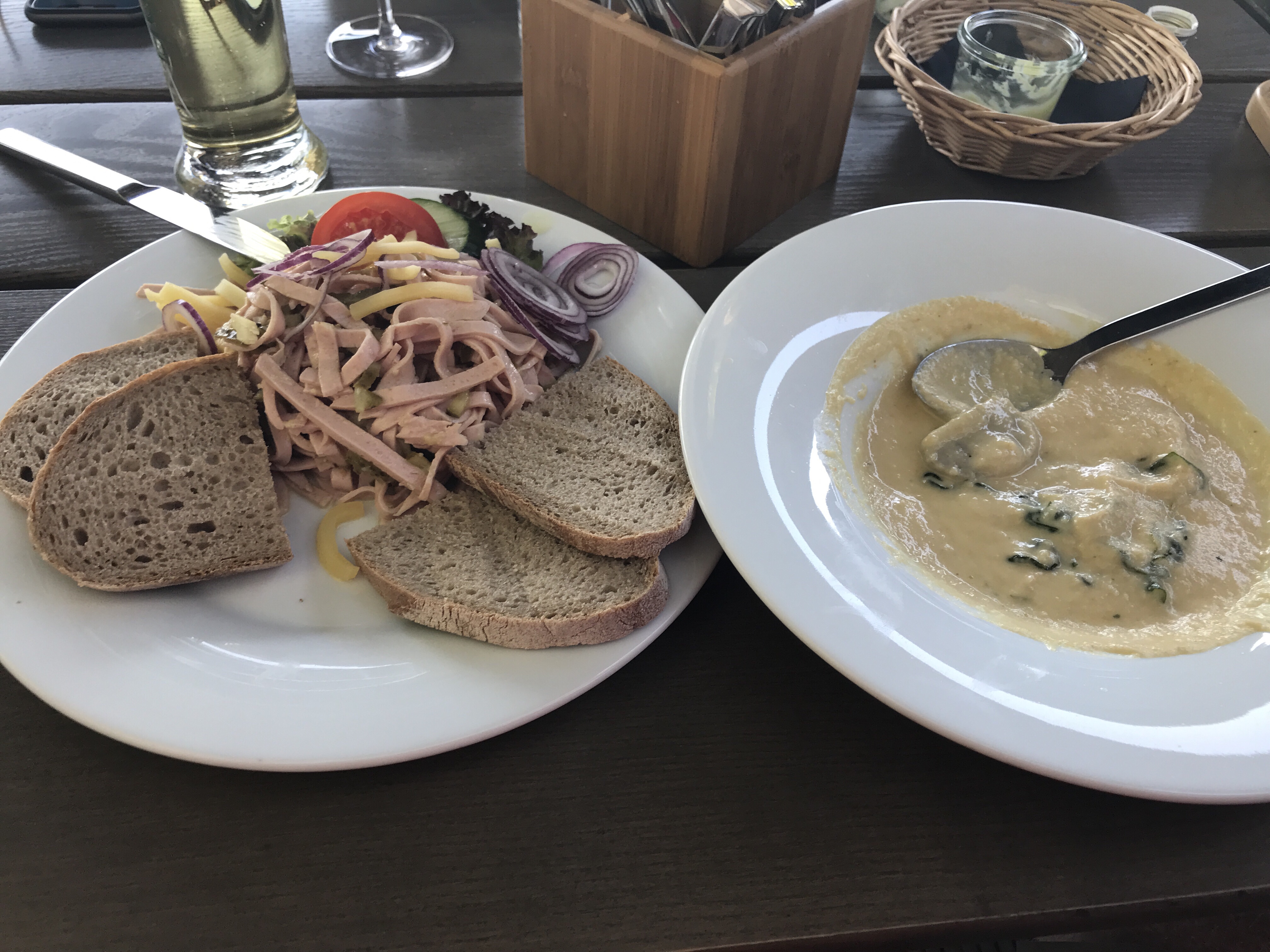 Delicious!!!
This hotel, Alten Ruderhaus, was a very pleasant surprise. This is a view of the Rhine from my deck… nice rooms, looked newly renovated with a superior restaurant right on the river.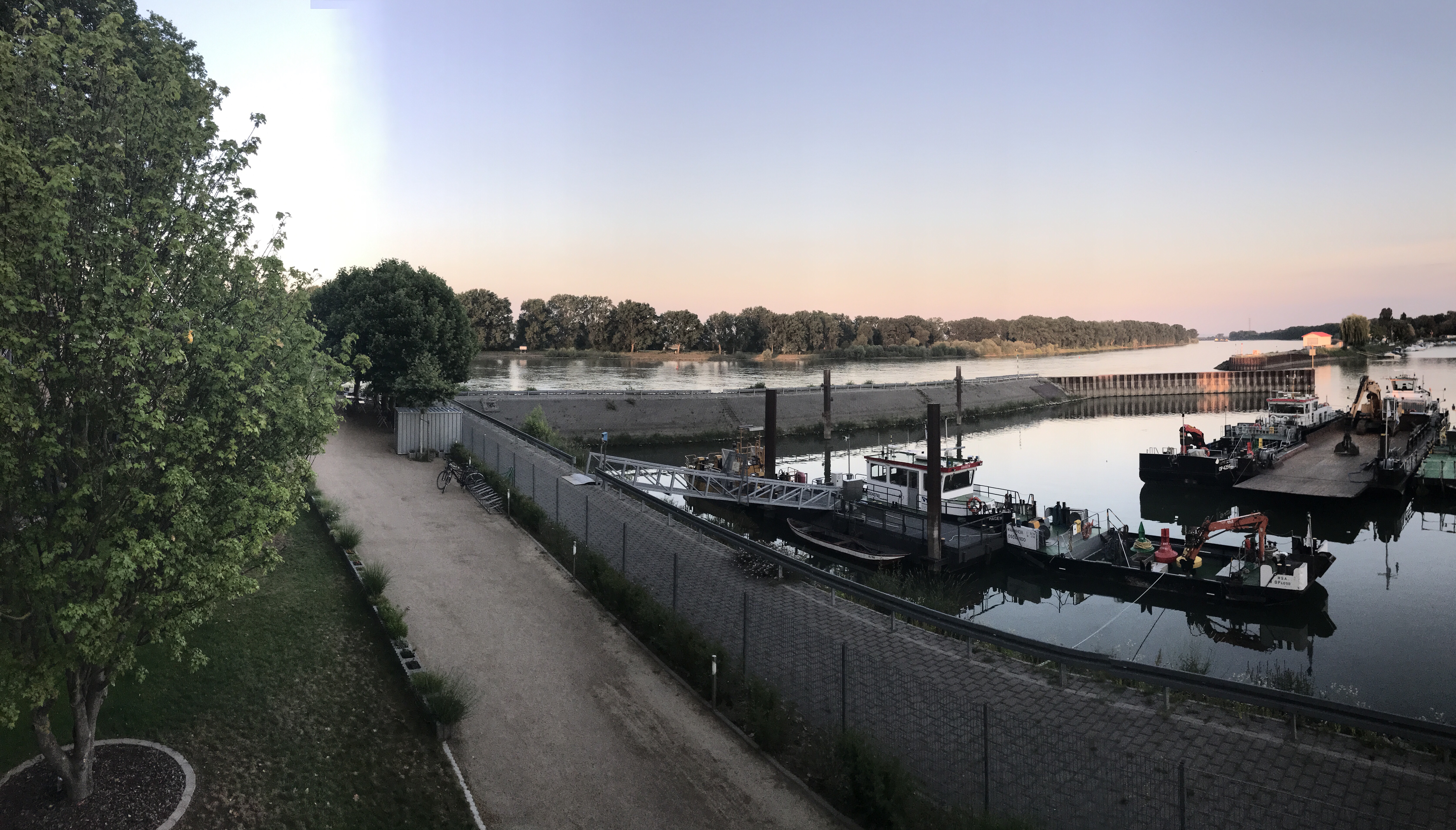 Today's trip along the Rhine was spectacular! But we have much more to see and do in the coming 7 days of riding.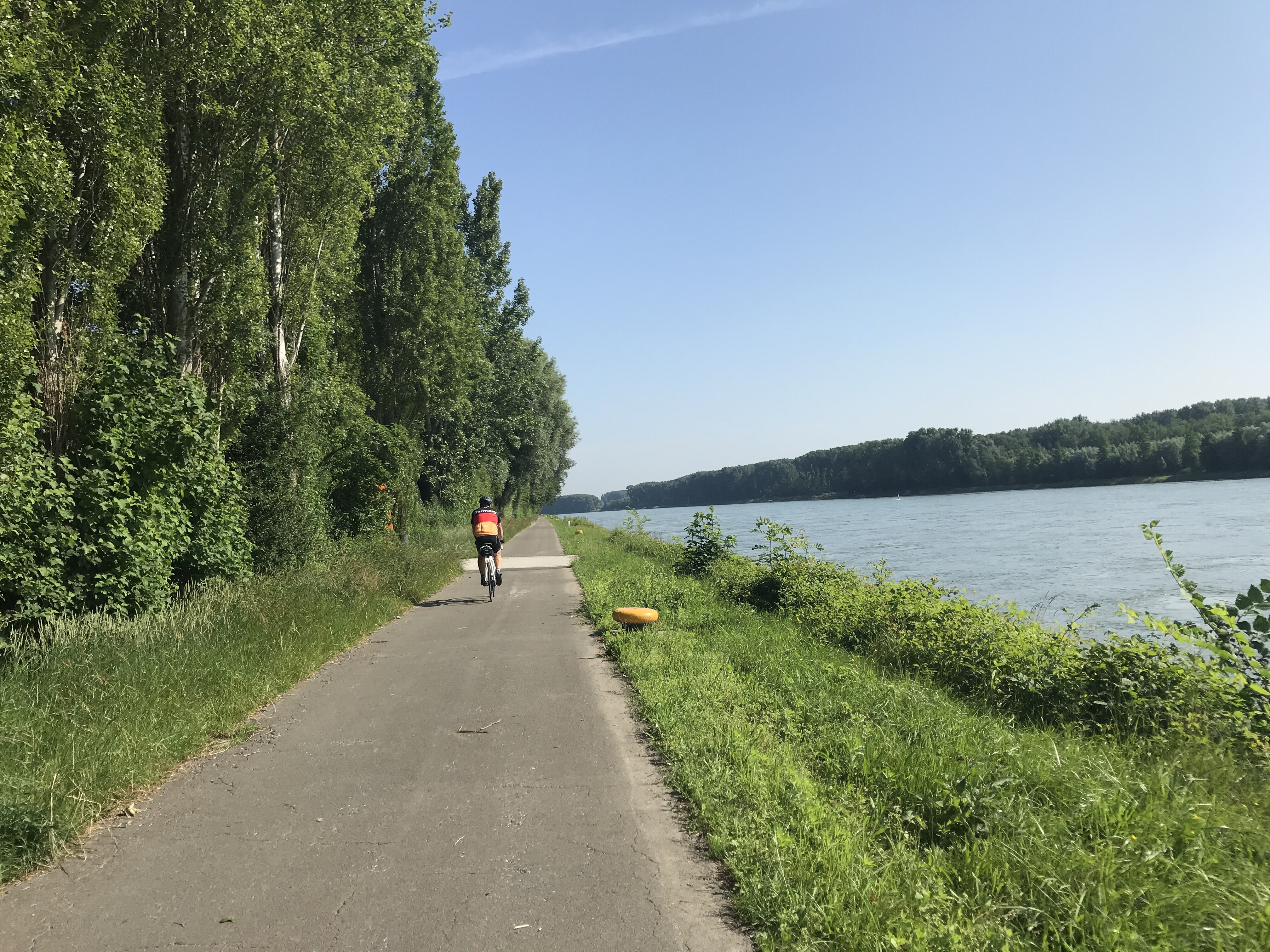 Now, it's time for bed…. 630 will come early tomorrow. We'll cross the Rhine in the morning and travel on the right bank (eastern bank) to Hattersheim. We'll be on the Rhine Radweg most of the day with the last 14 miles on the Main Radweg to our hotel.