While everyone always gets the view from the bike seat, I thought it would be fun to let everyone know what a day in the life of a BG Adventures driver looks like! So here's Hilary's take on her day…..
In case you haven't thought about how bags and gear magically appear from one stop to the next, let me paint you a picture. Imagine the smallest, cobblestone road you've ever seen. Add a couple tight turns and signs in a foreign language. Now imagine driving a tank down that road and you're probably close to what driving an 8-passenger manual stick shift van through Germany is like. Most days the bike rides start around 8:30-9 and ends between 5-6, which means that as the driver you get about 7 hours to choose your own adventure! Because the last couple days were filled with reacquainting myself with the stick shift as well as visiting with family, today was the first day that I picked somewhere new to explore. After talking it over and doing a little Google research I decided that the town of Lohr was right up my alley. It is a historical town with a fortress and deep ties to Die Gebrüder Grimm! To be exact Grimm tale 53, otherwise known as Snow White!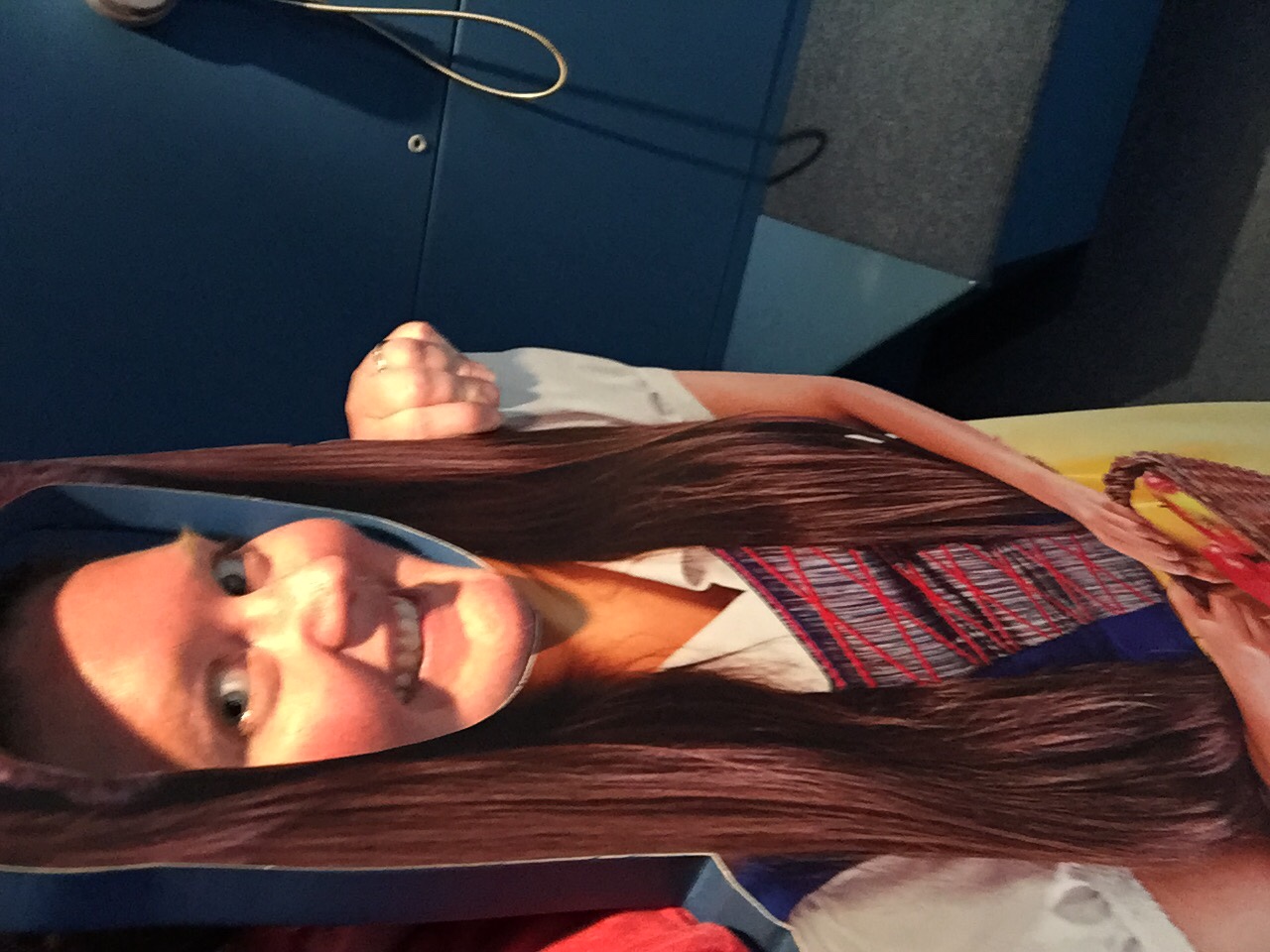 While all fairy tales hold some truth, there was a whole lot of validity to be found in Lohr am Main! Maria Sophia Margaretha Catherina von Erthal is thought to be the original Snow White from which the story was based. Her father was not a king, but he was the Prince Elector of Mainz in Lohr. She did have a stepmother who had something of a power-trip and there was a "Magic Mirror" and an apple poisoned with Belladonna, but there was no waking up poor Maria Sophia….she died tragically after eating the apple. Now where did the dwarves, a glass coffin and the mirror come from? Lohr is in a wooded mining region that specializes in the mining of the ingredients in glass. The mine workers were smaller in stature than the ruling population due to the poor quality of food and healthcare, so now we have our dwarves. The glass coffin could be linked to the high-quality glass that was made in the region. And of course, the famous mirror! There was a mirror factory in Lohr that produced many expensive mirrors for the ruling class.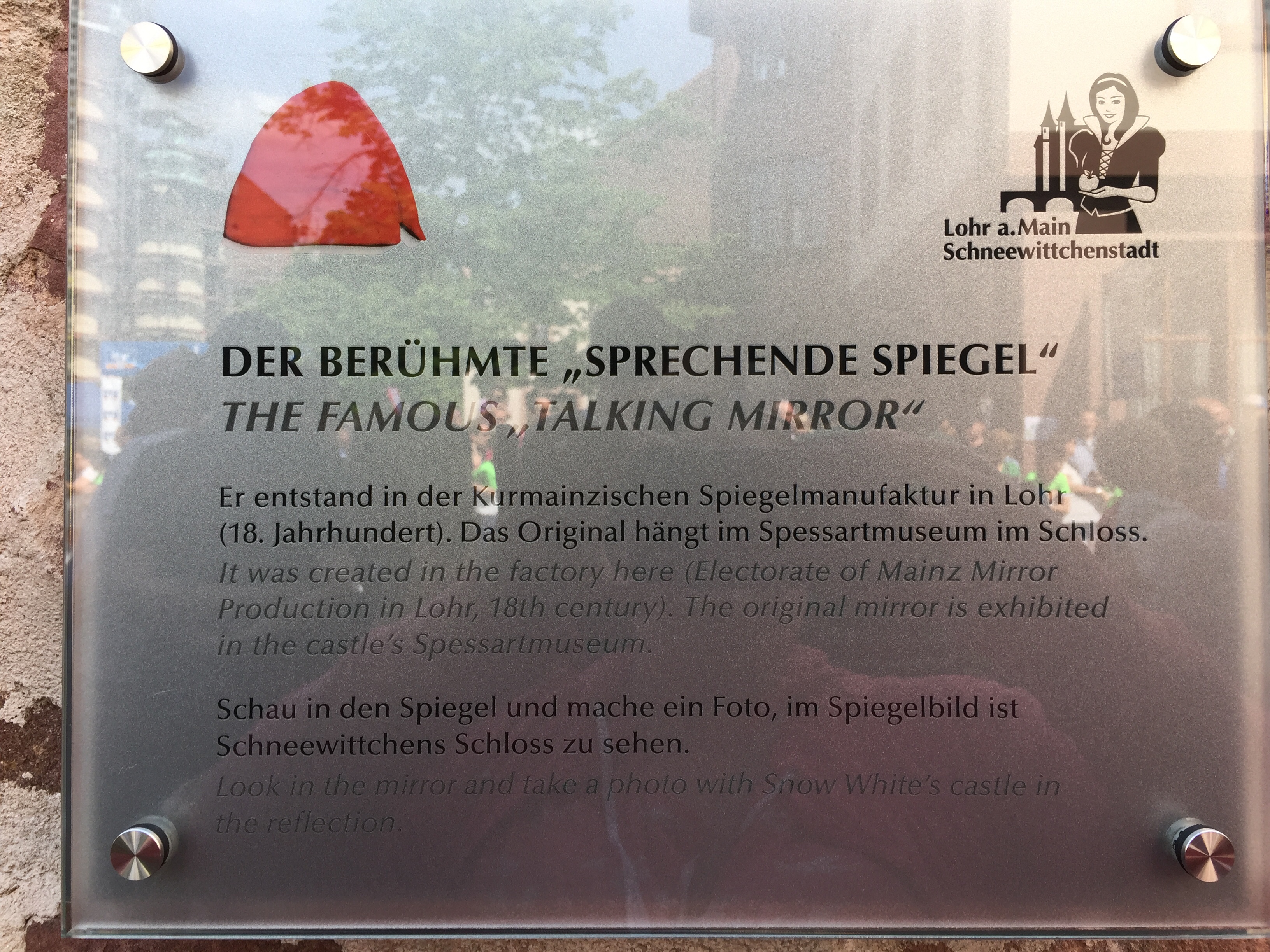 The famous "Talking Mirror" was a gift from Maria Sophia's father, Philipp Christoph von Erthal, to his new wife, Claudia Elisabeth von Reichenstein. Mirrors were popular luxury items because of the influence that France's King Louis XIV had on all of Europe after installing so many in Versailles. Mirrors from Lohr were so elaborately worked that they had the reputation of "always speaking the truth" and became a favorite gift of European crowns and aristocratic courts. This particular mirror was engraved at the top with "For Reward and Punishment" on the left and "Self Love" on the right.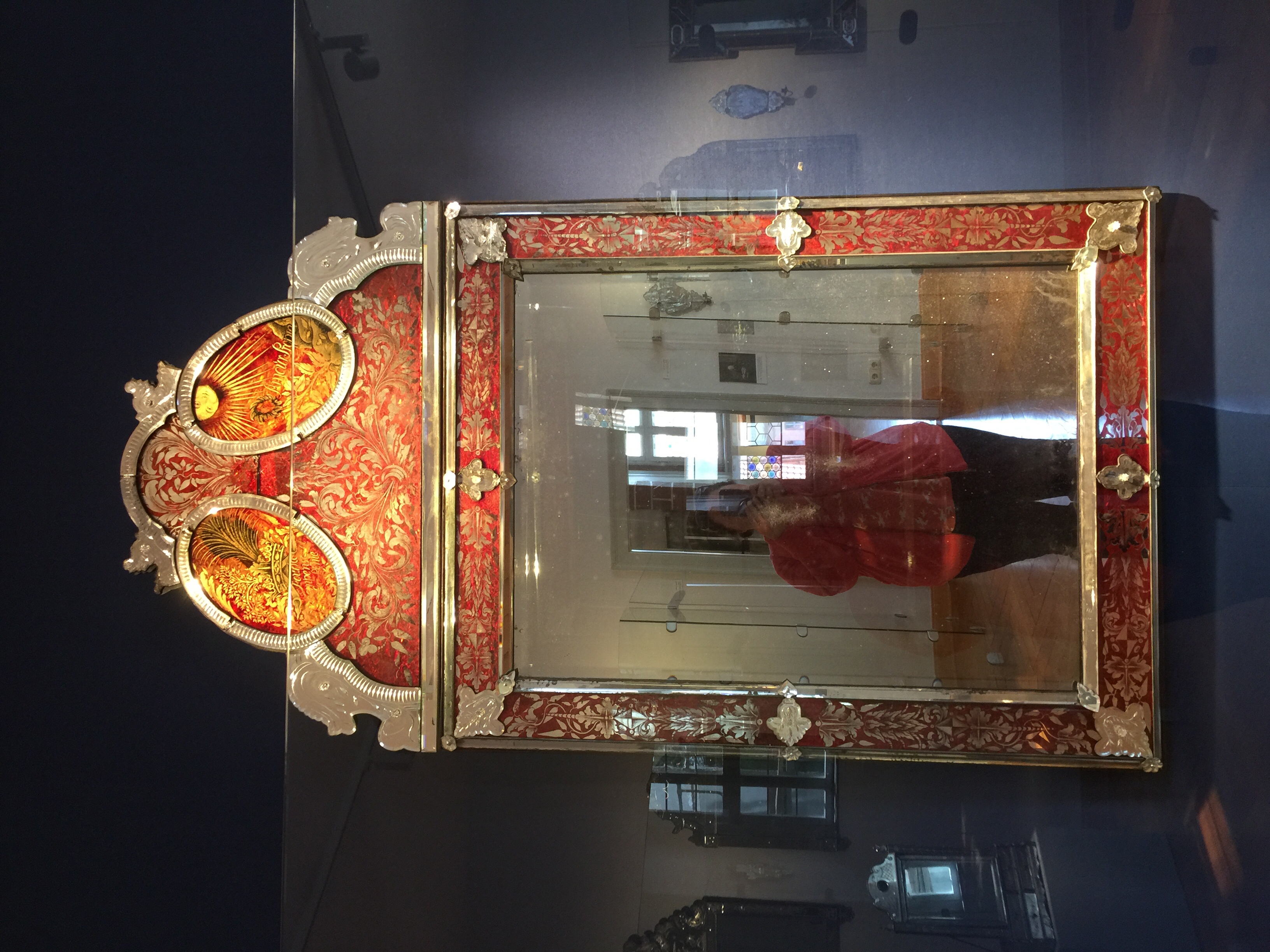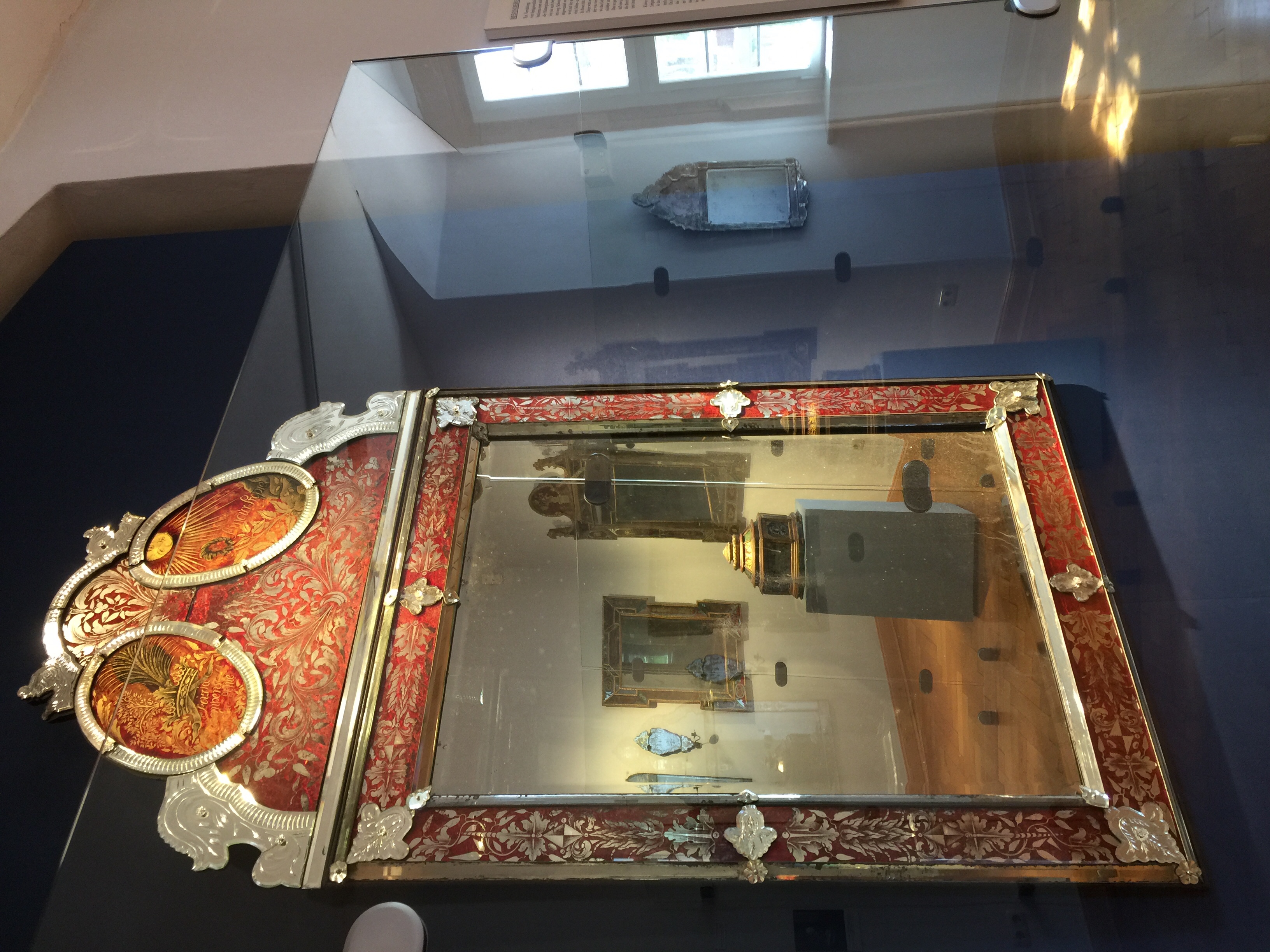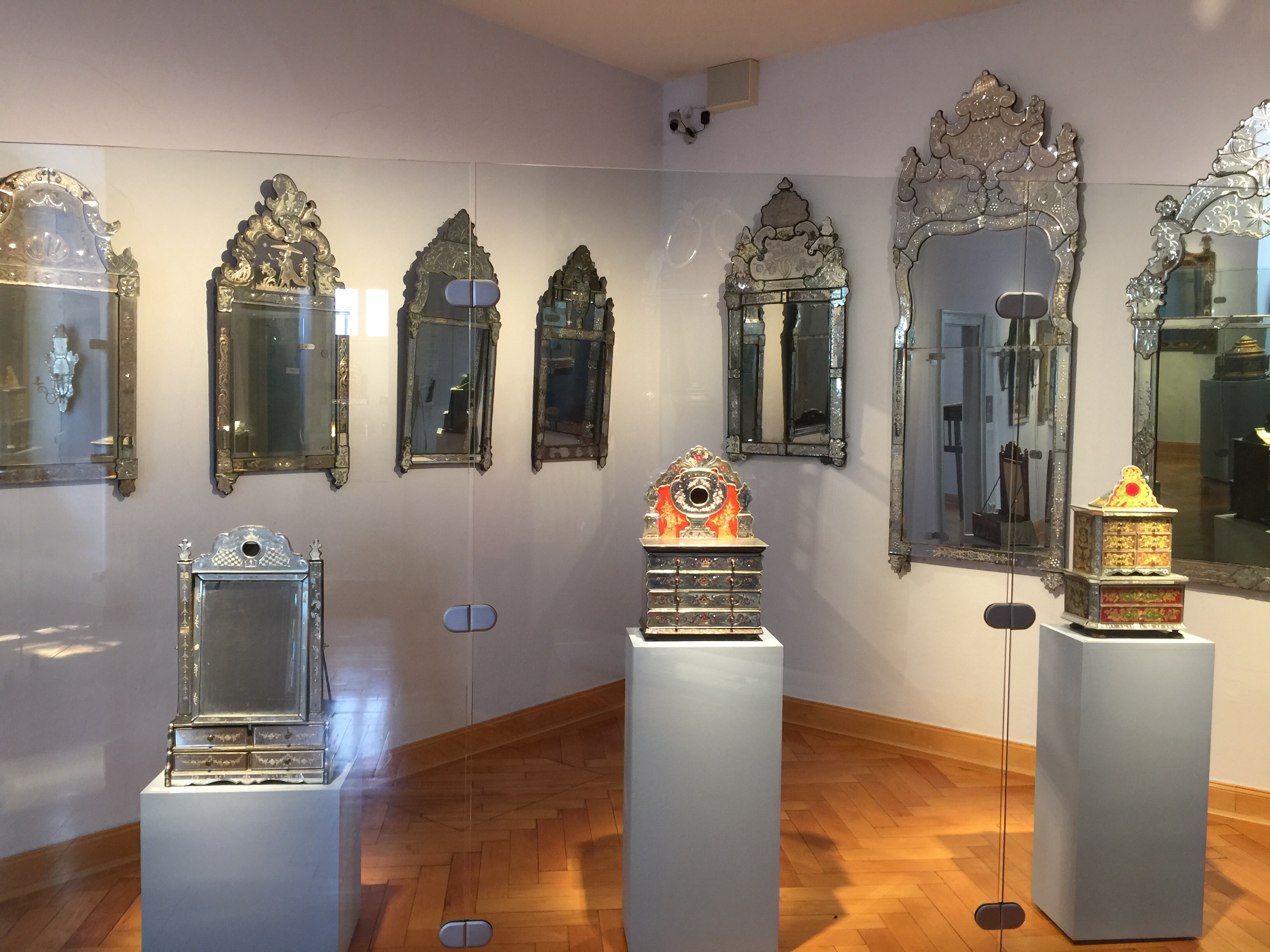 Lohr was a lovely stop, it has a large easy to park in parking lot that's a short walk from the Altstadt and definitely worth the trip should you find yourself with a couple hours to spare!