Well… you can't get lucky all the time on Adventures!! And today was our time to get unlucky!! We've had 4 fantastic days of riding but today…. not so much.
We left the hotel in Miltenberg with every intent to make it to Hattersheim but then the Fates intervened. Literally, the second we left the Hotel it started raining. A drizzle at first then building into a steady rain.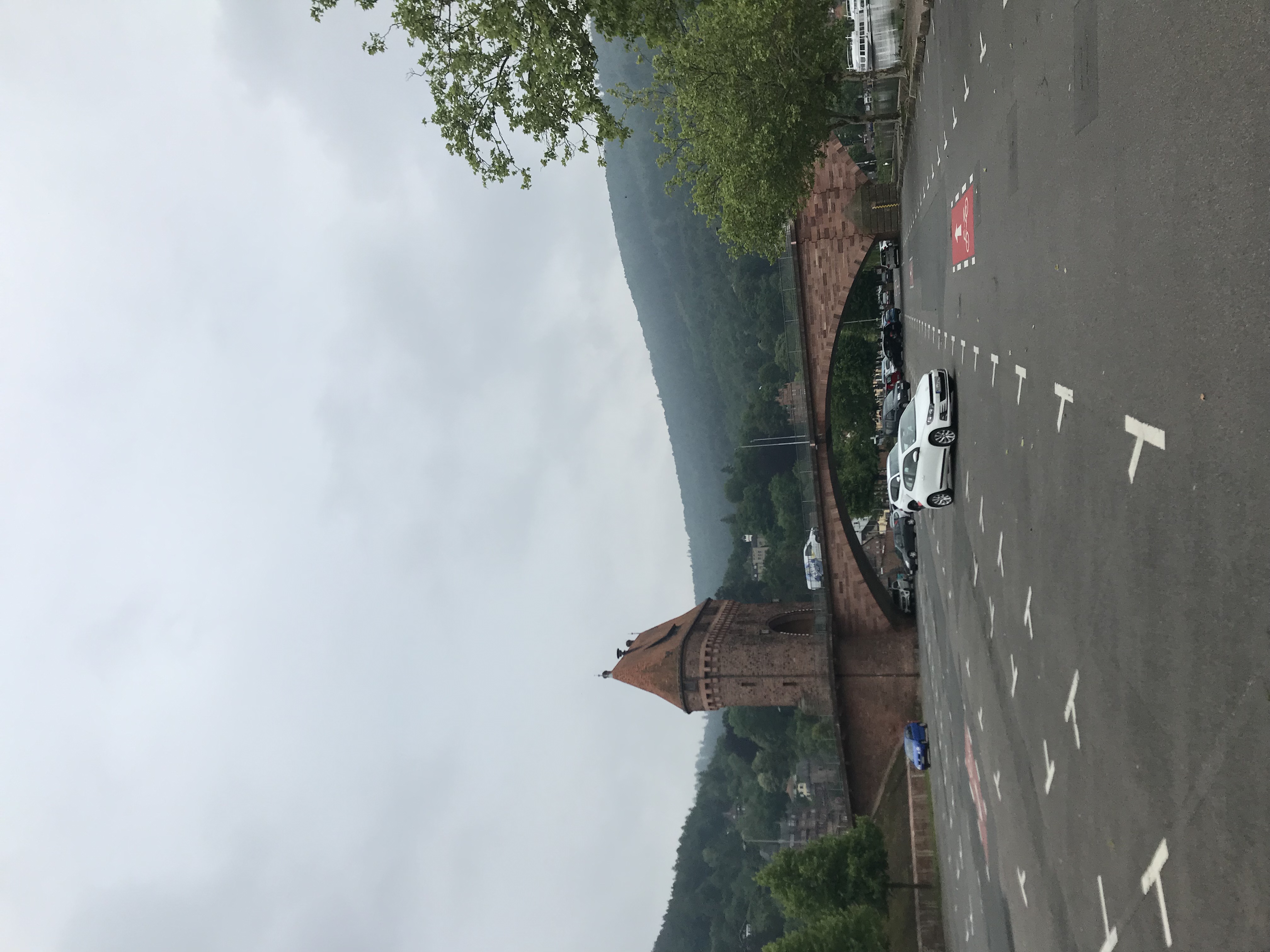 Look at the low clouds…. that was to stick with us most of our day. We rode about 12 miles…. a slow pace to prevent any accidents…. to a small town named Klingenberg am Main. There we stopped for Coffee and Pastries… Coffee to warm up, Pastries to fuel up.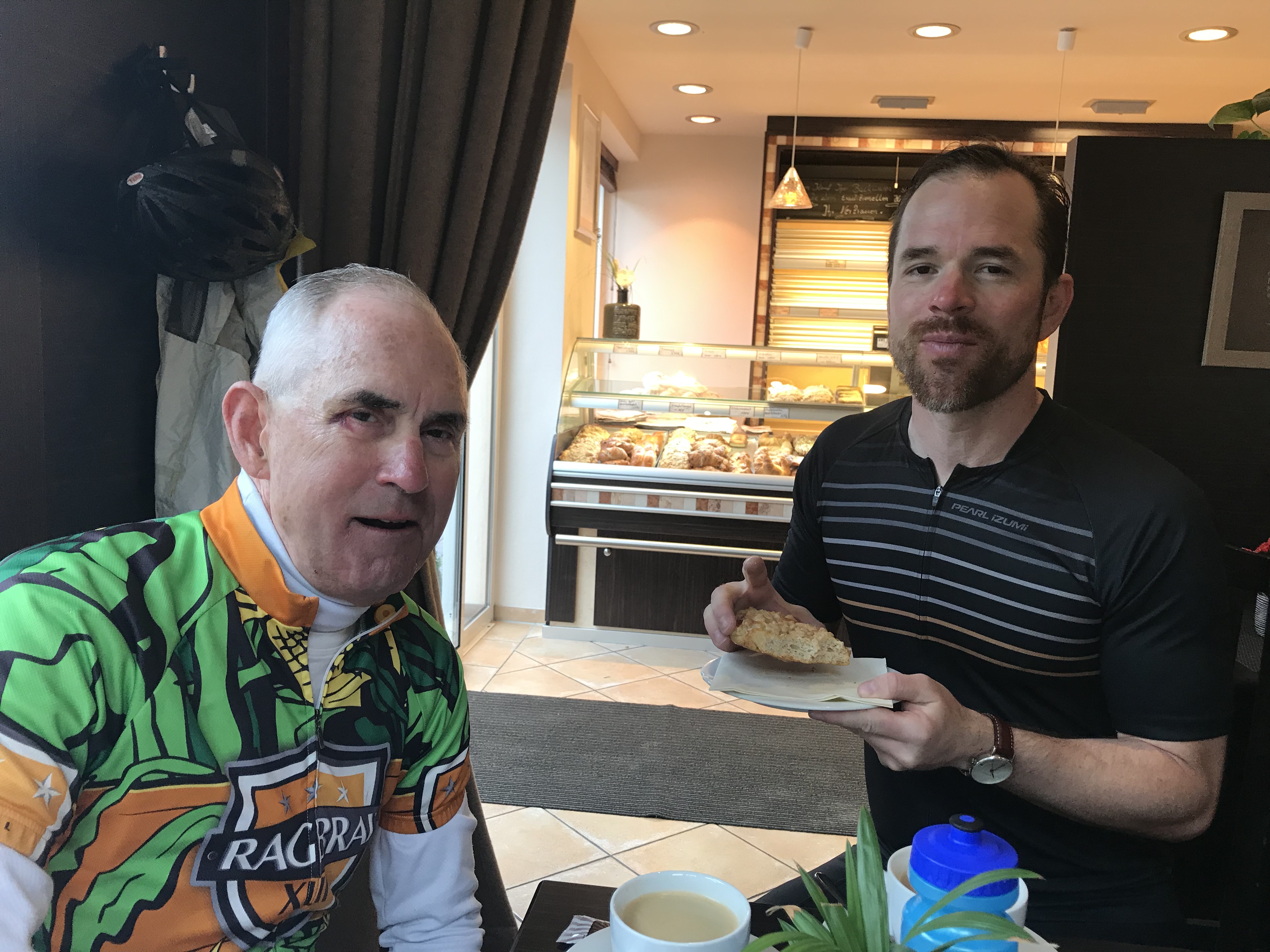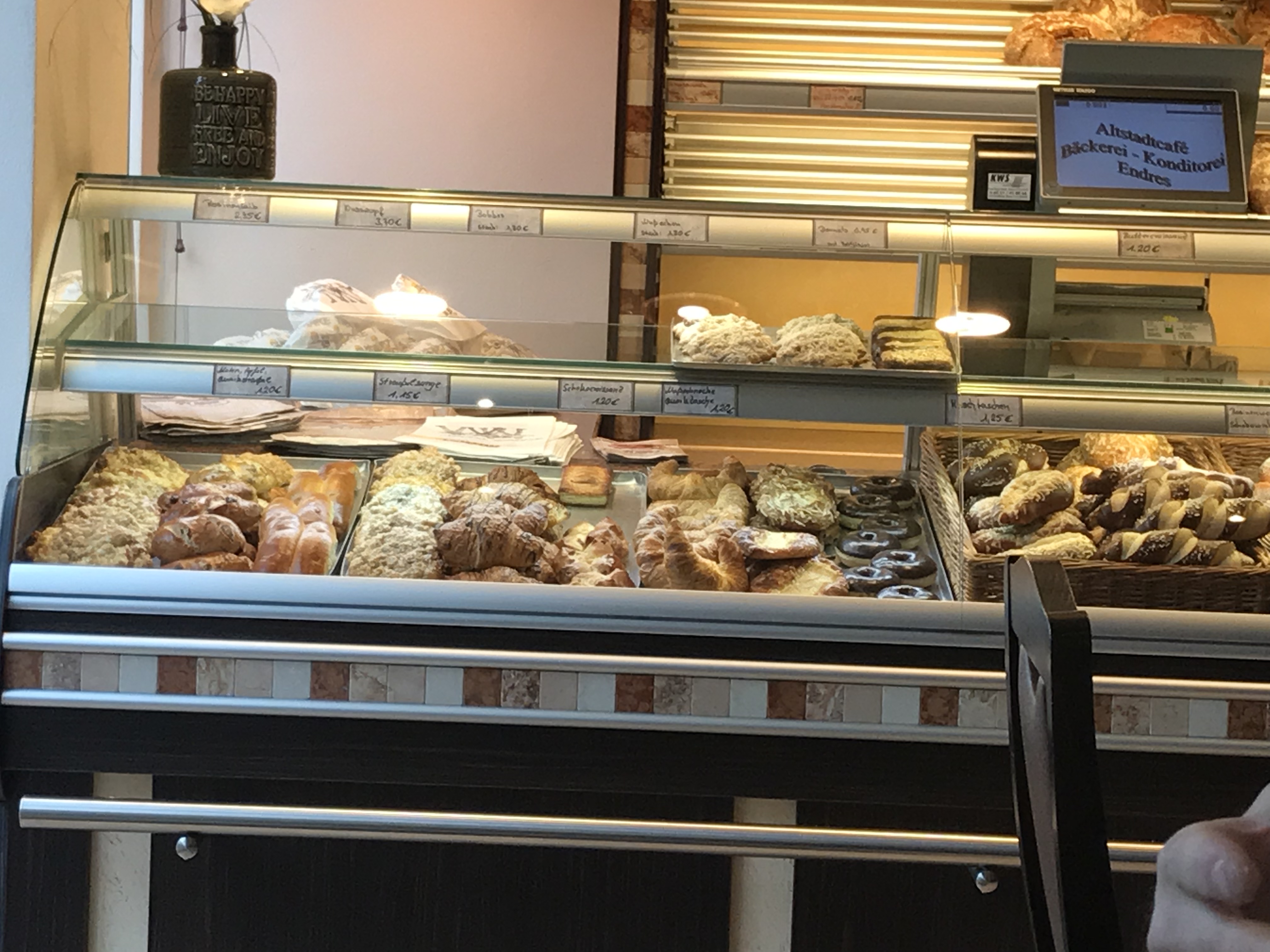 They had a pretty darned good selection! We waited there almost an hour, checking the weather radar regularly to get a feel for the rain. And when it stopped, we took off, trying to catch up some of the time we lost waiting out the rain.
But then disaster appeared!!! Four flat tires and a fouled chain in a span of maybe 10 miles!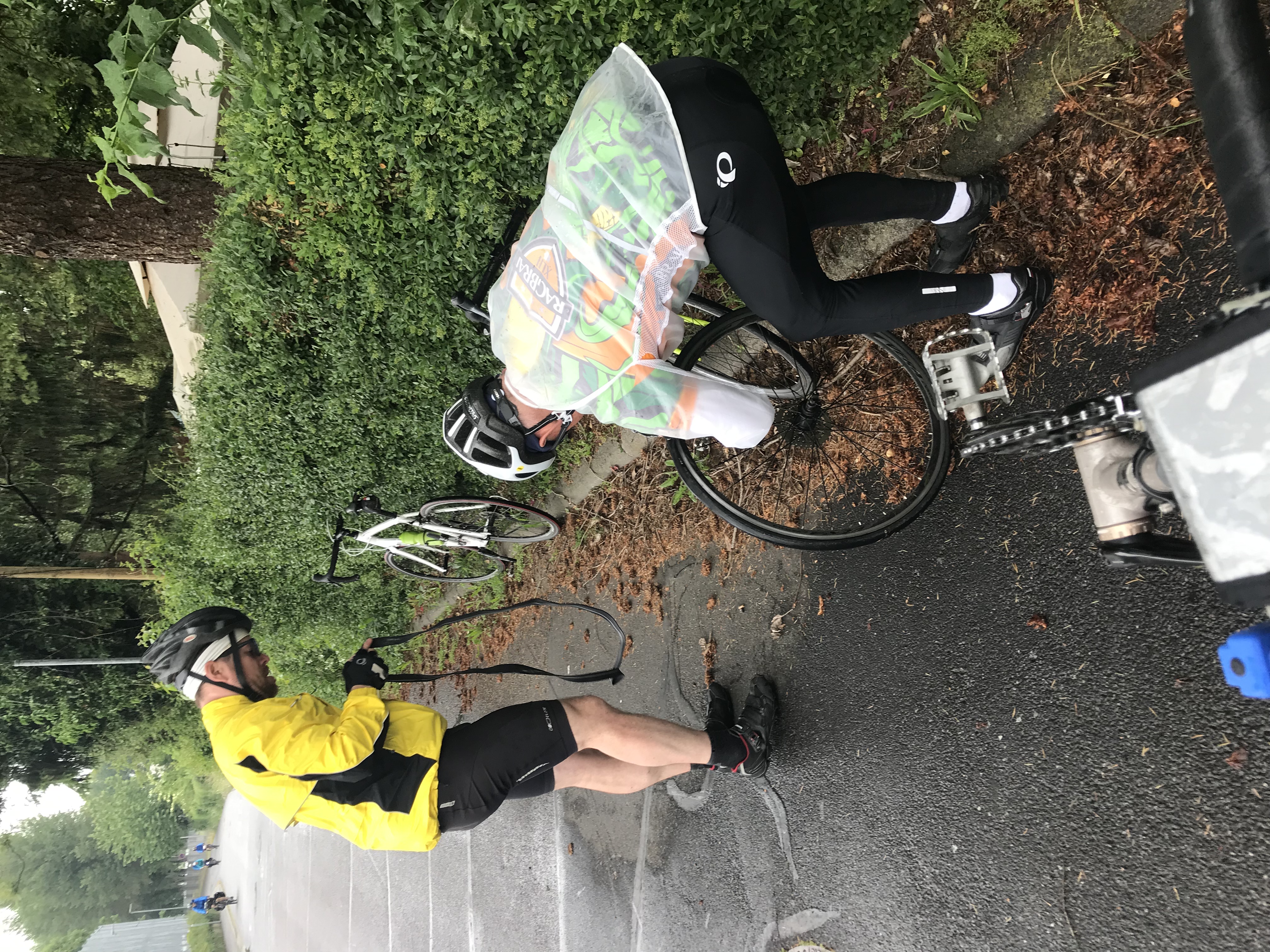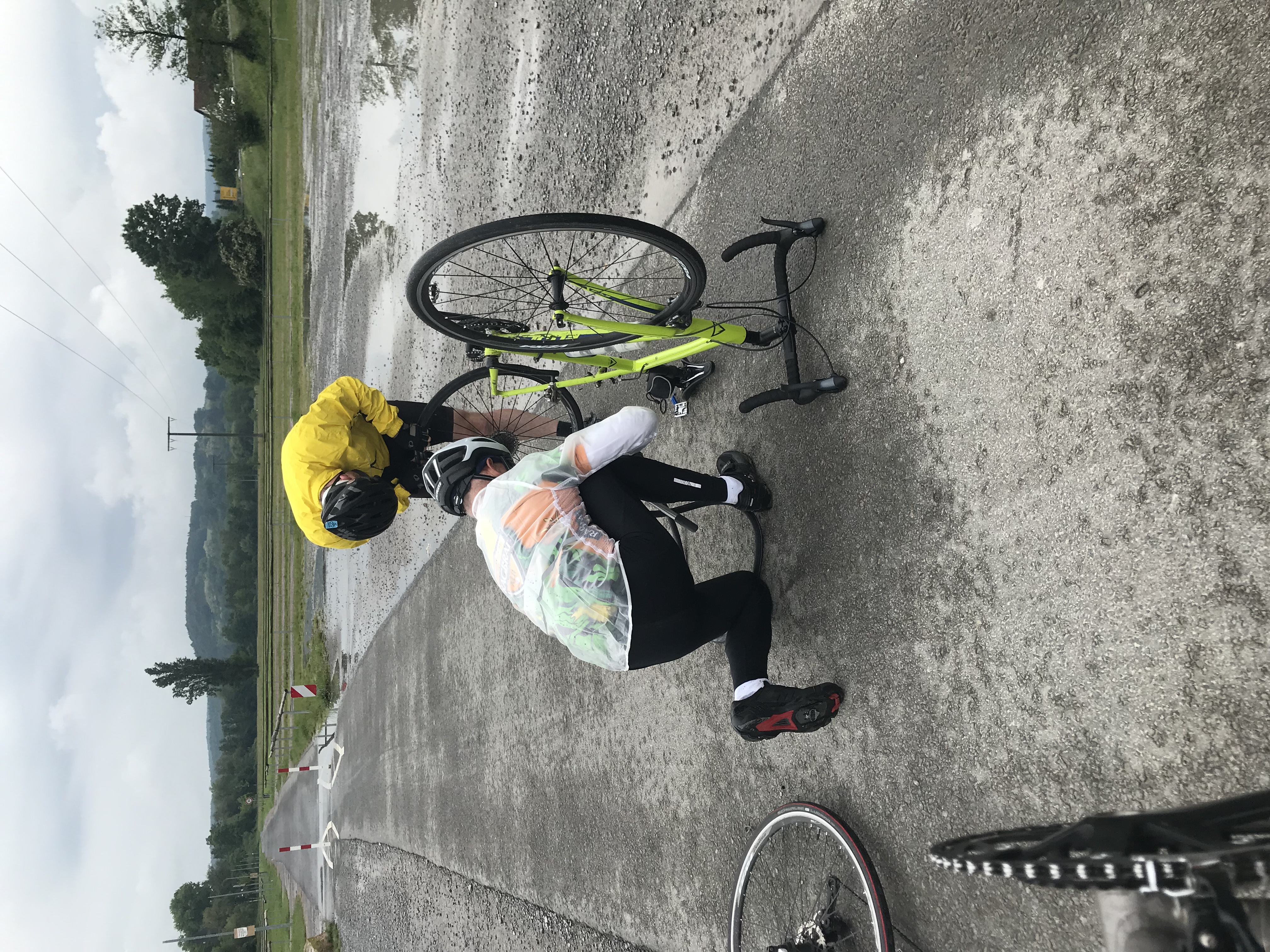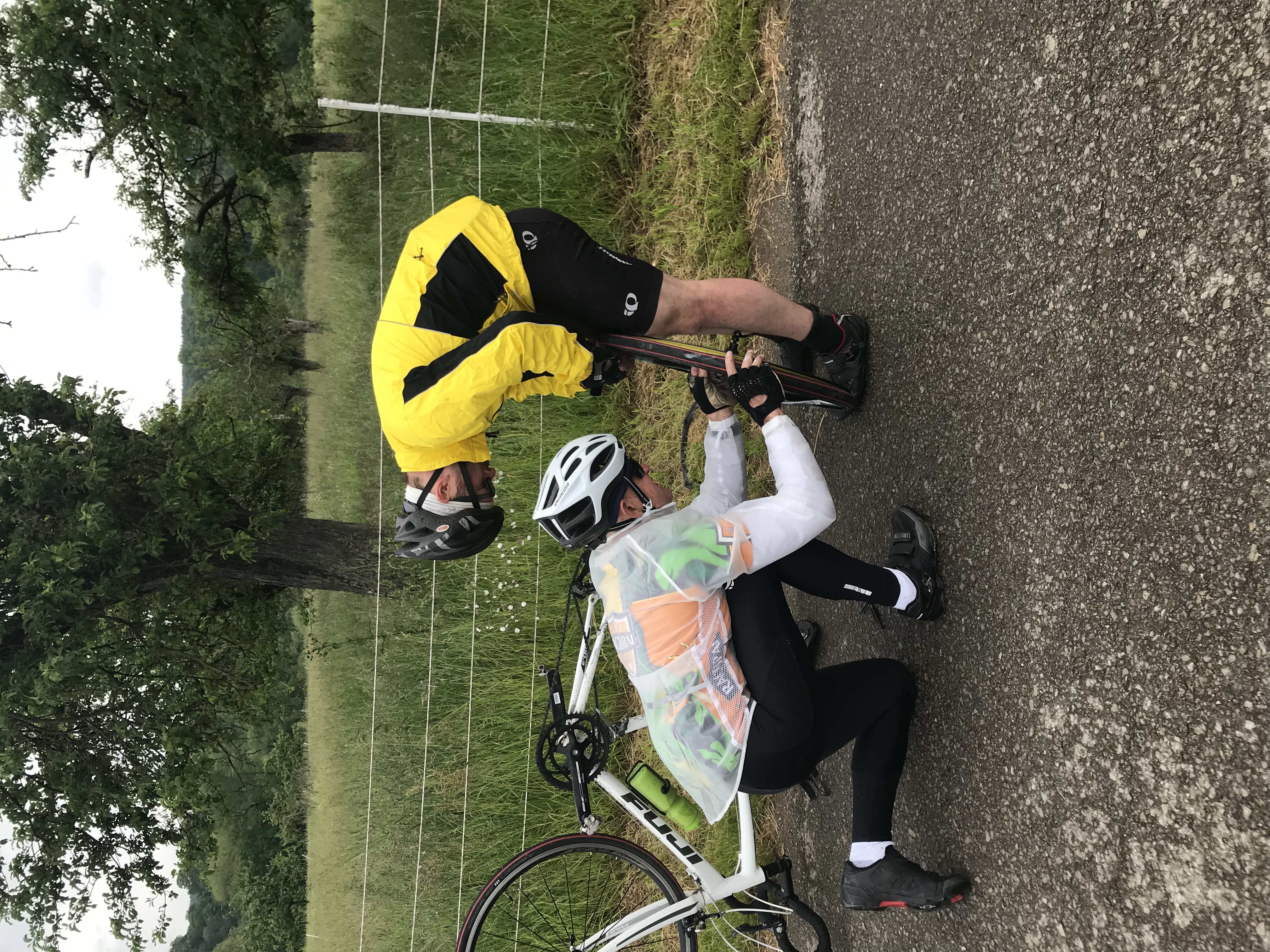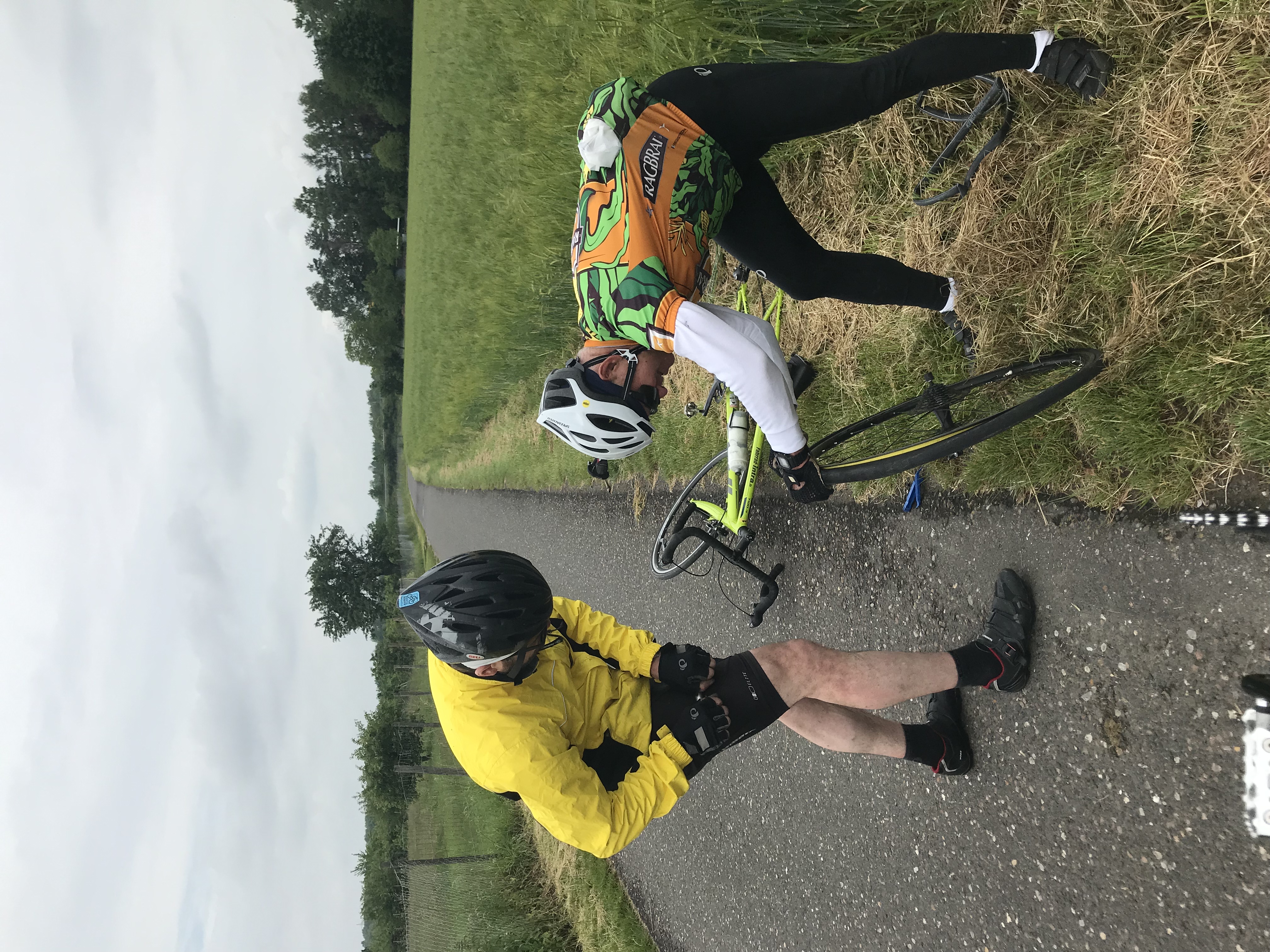 The last two occurred in the span of a hundred meters! And don't forget the fouled chain…. things were not going our way. At three flats, I had said to myself "4 flats and we're ending this fiasco!" Well, we had the 4th, the sun came out a little and we rode on to Aschaffenburg, about 30 miles into a 75 mile ride.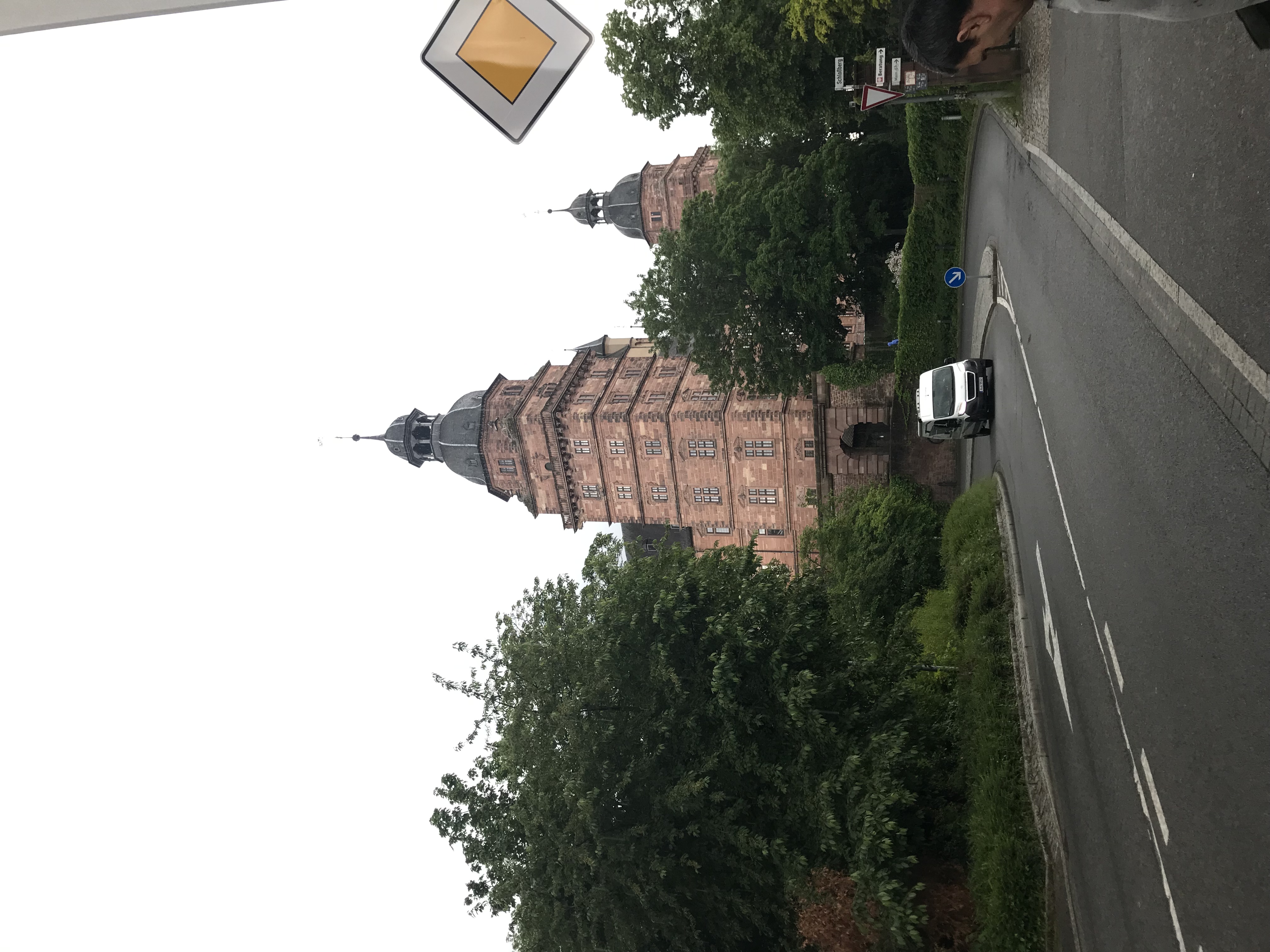 Schloß Johannisburg is in Aschaffenburg and we drove right past it. An imposing structure of red sandstone sitting high on the hill overlooking the Main River.
It was 2:15 pm when we decided to get a little lunch in Aschaffenburg. No sooner than we sat down, I received a Weather Channel update that rain was starting in 10 minutes. That was it….. we all decided that while we could likely make the ride, with impending rain and 45 miles to go, maybe today we should go about cashing in our bets and going home. We contacted Hilary to come pick us up in a town about 10 miles further, Seligenstadt. All was set so we were ready to leave…..
And what happened as soon as we left the restaurant in Aschaffenburg? Yup, it started raining! So we rode in the rain….again! After 5 miles, 2 things happened….1) the rain stopped and 2) we hit a detour. They were working on the trail and sent us around through town. Not too bad to start but then the asphalt road in town changed to gravel in the country.
Then we had a new experience happen…. the detour led us over a hydroelectric dam/river lock combination!! This was totally unexpected but interesting!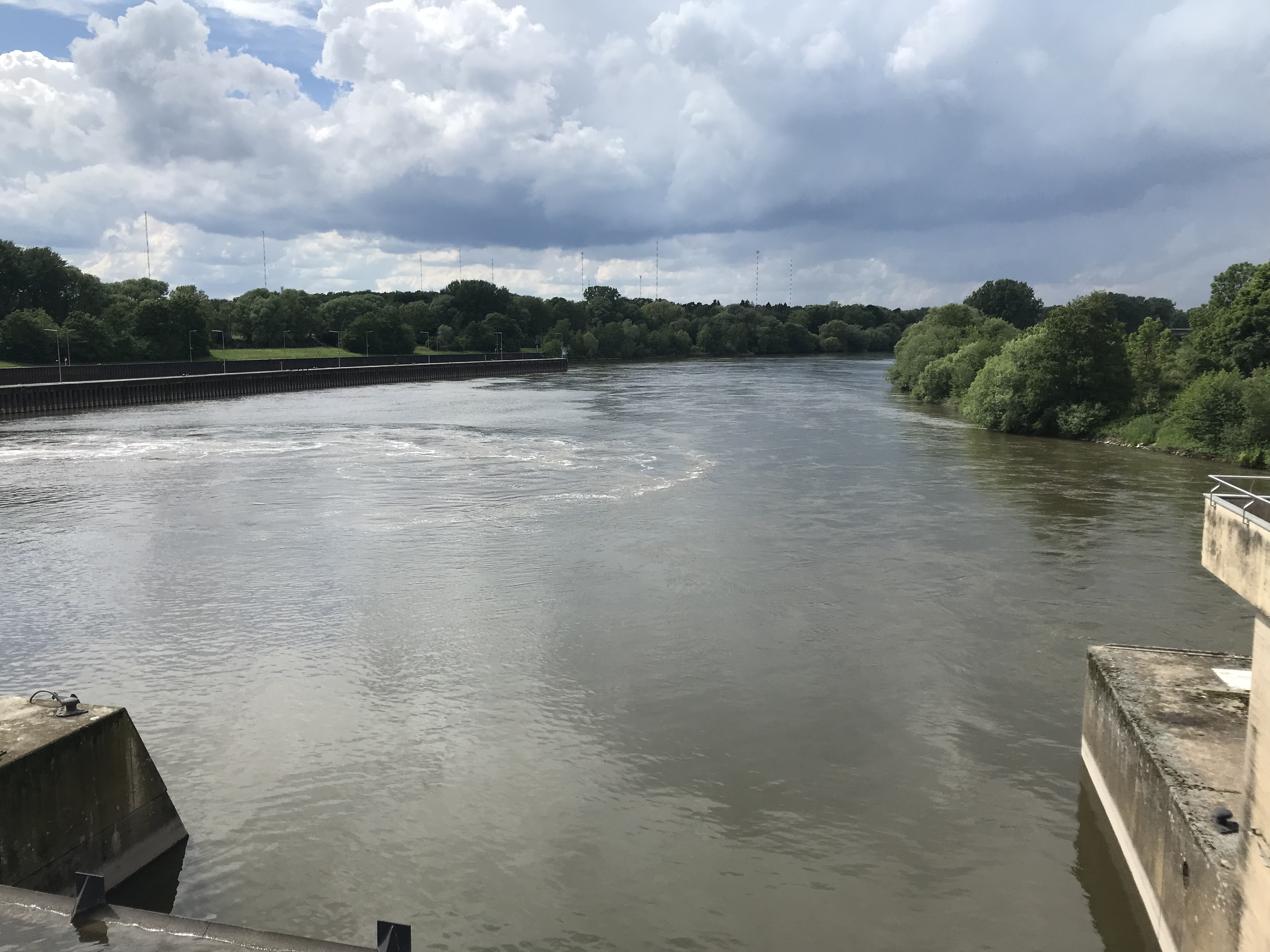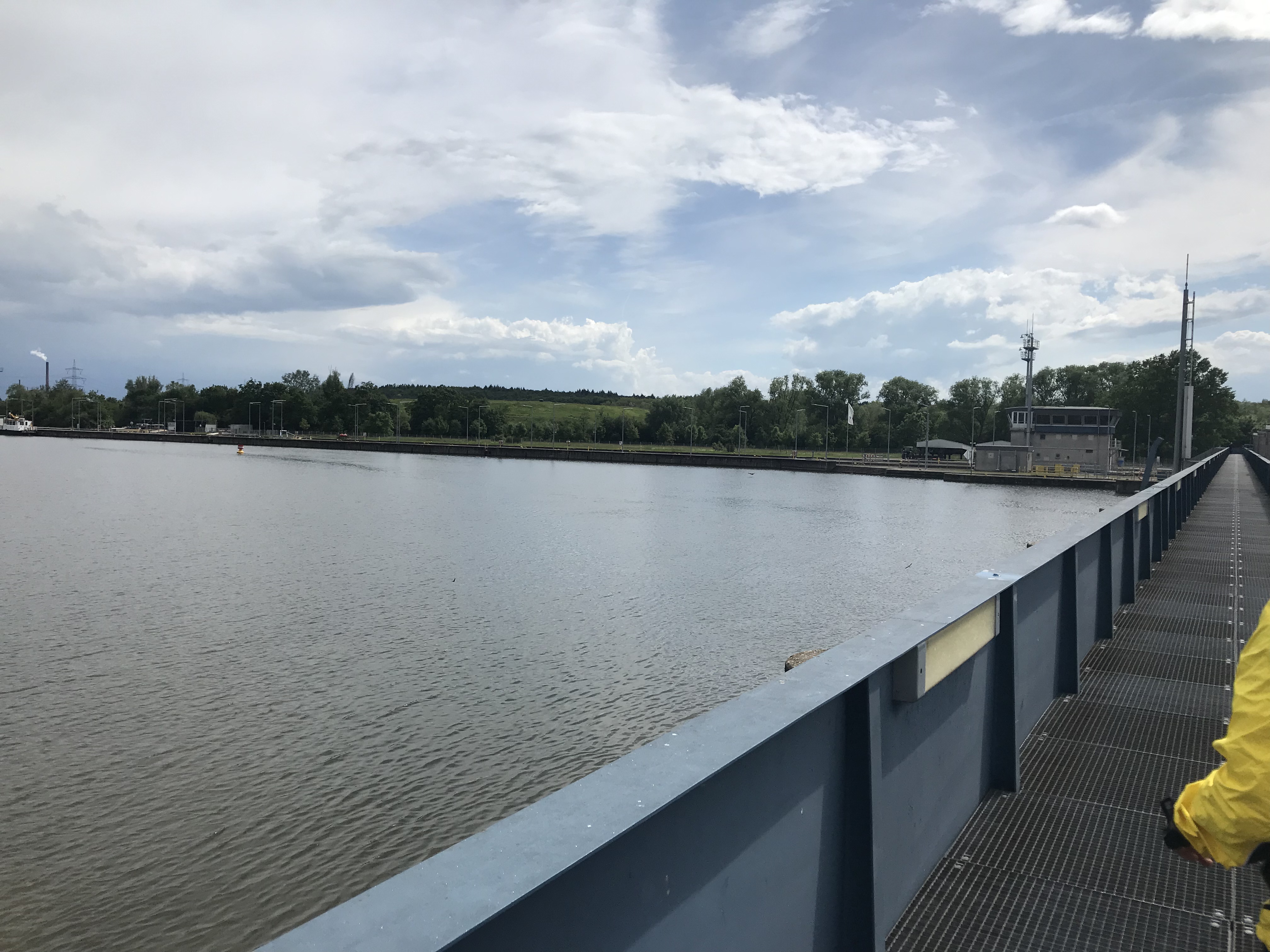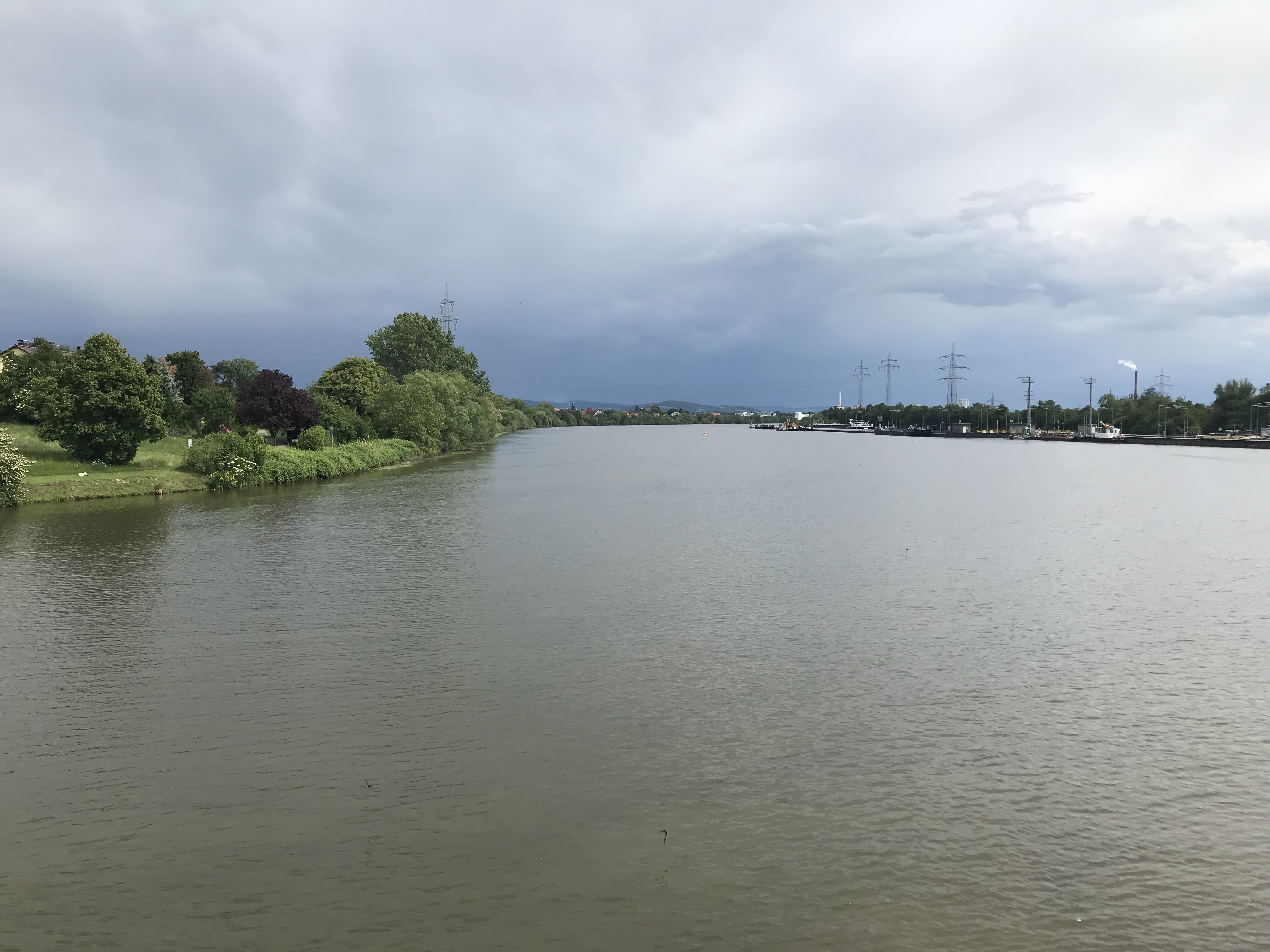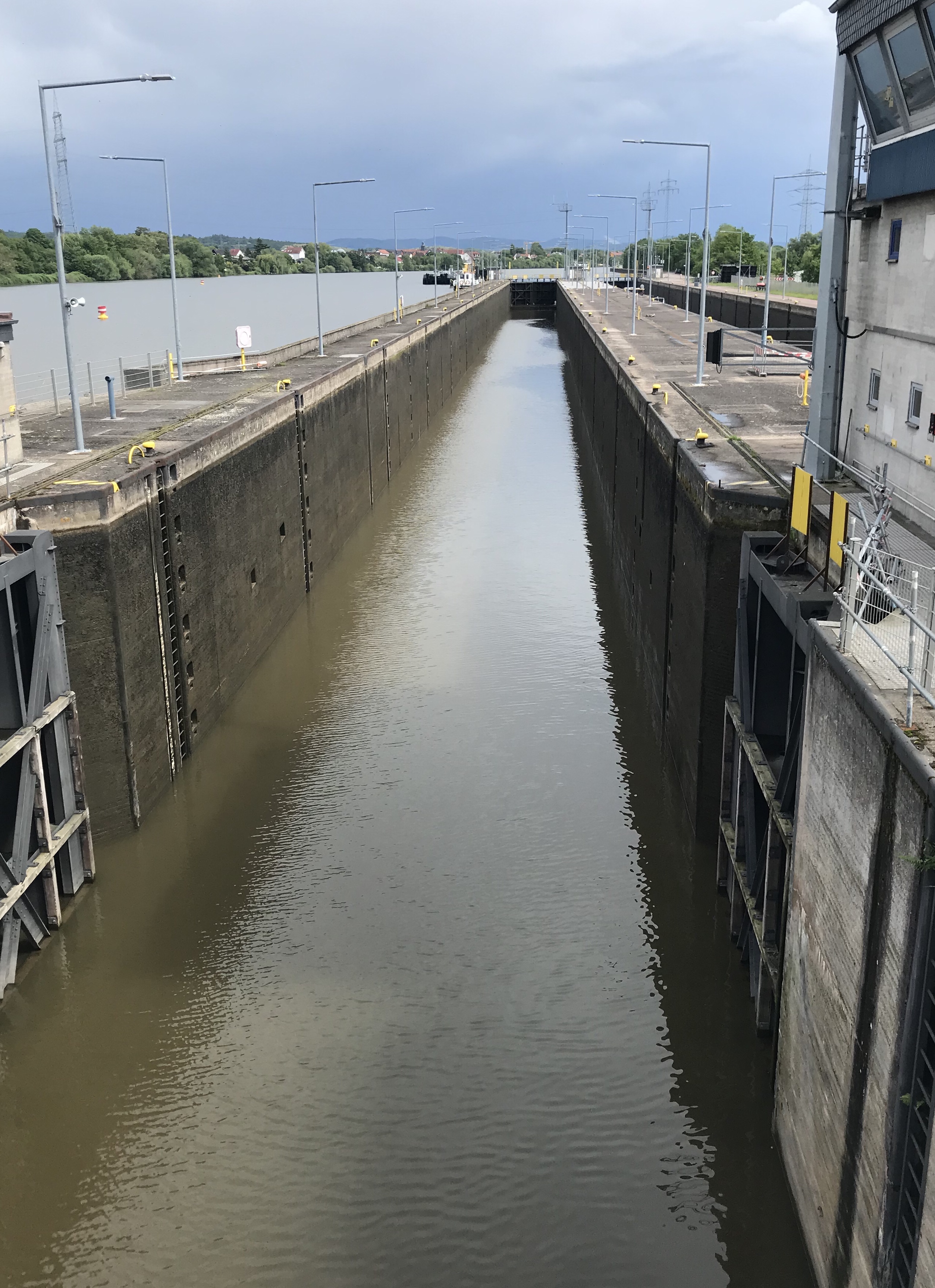 Pretty cool! But as you can see from the clouds building, we wanted to get to our "end" town. So we pressed on to Seligenstadt and made it there with no further trouble. But we did pass by a memory…. at least for me and Ross Buckley from a few years ago!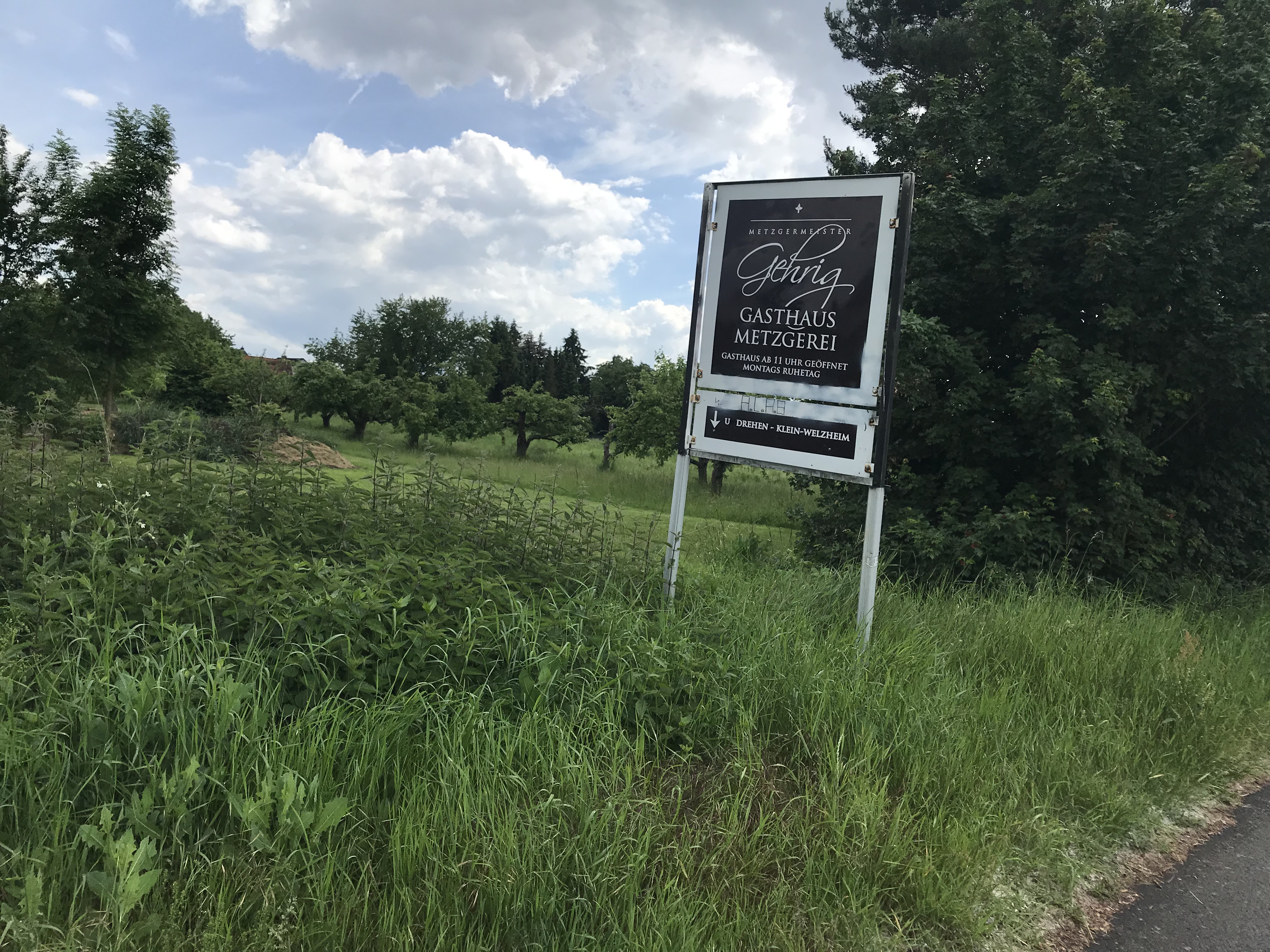 I saw this sign and remembered our lunch stop from a few years back. Conditions were a little similar…. cool and rainy. And we found shelter in a small Gasthaus in this town, Klein-Welzheim. We had a great meal at that time! Here's a picture from the memory banks….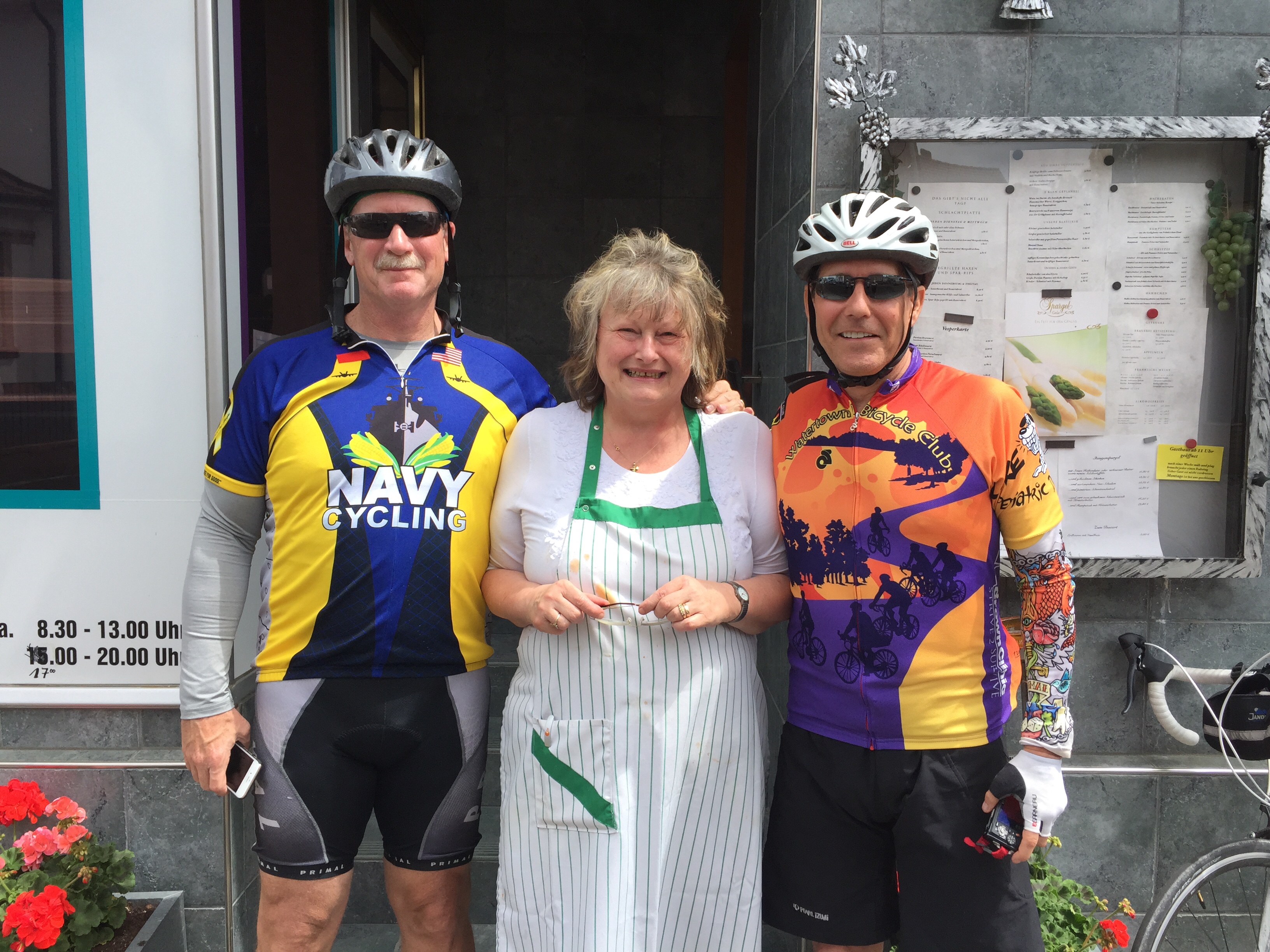 We got to Seligenstadt, loaded the vantages 4:30, headed to Hattersheim and got into our hotel rooms by 5:15. With 35 miles to ride from Seligenstadt, we were looking at a finish of at least 7:30 and we had rain to worry about. I have no doubt we made the correct decision. Like John "Mack" McCormack told me a few years back…. "I ride for fun… this doesn't look like fun!" He was right then and he was right now!!
Tomorrow, we'll ride to the Rhine!