Stage 4 …. getting closer to the end of this adventure. We left from Karlstadt and headed 50 km to Marktheidenfeld, another wonderful town on the Main River in Franconia. Today's ride had us on the eastern edge of the Spessart Mountains, as the Main River heads south….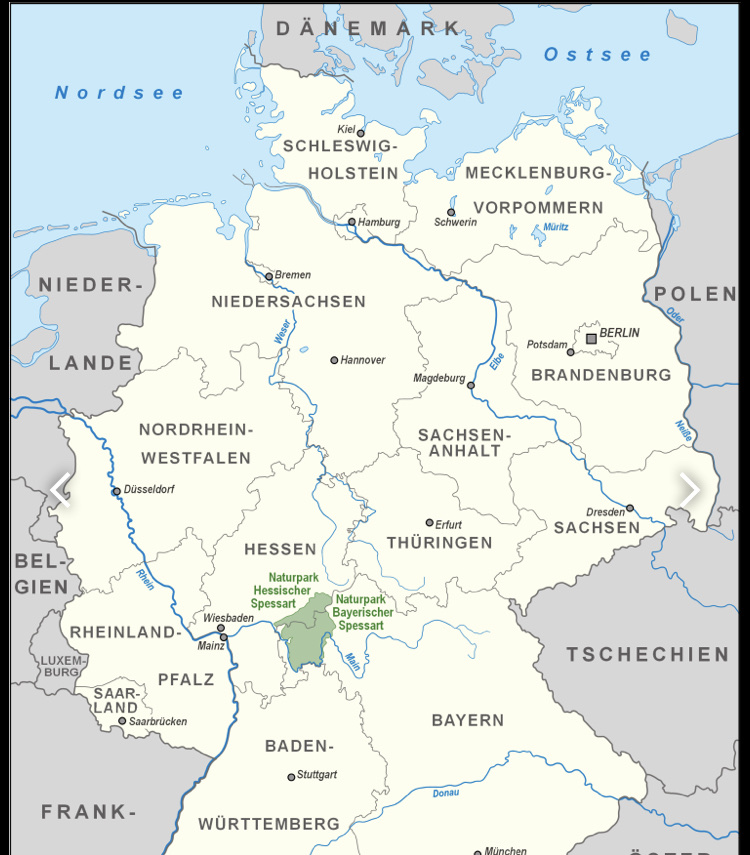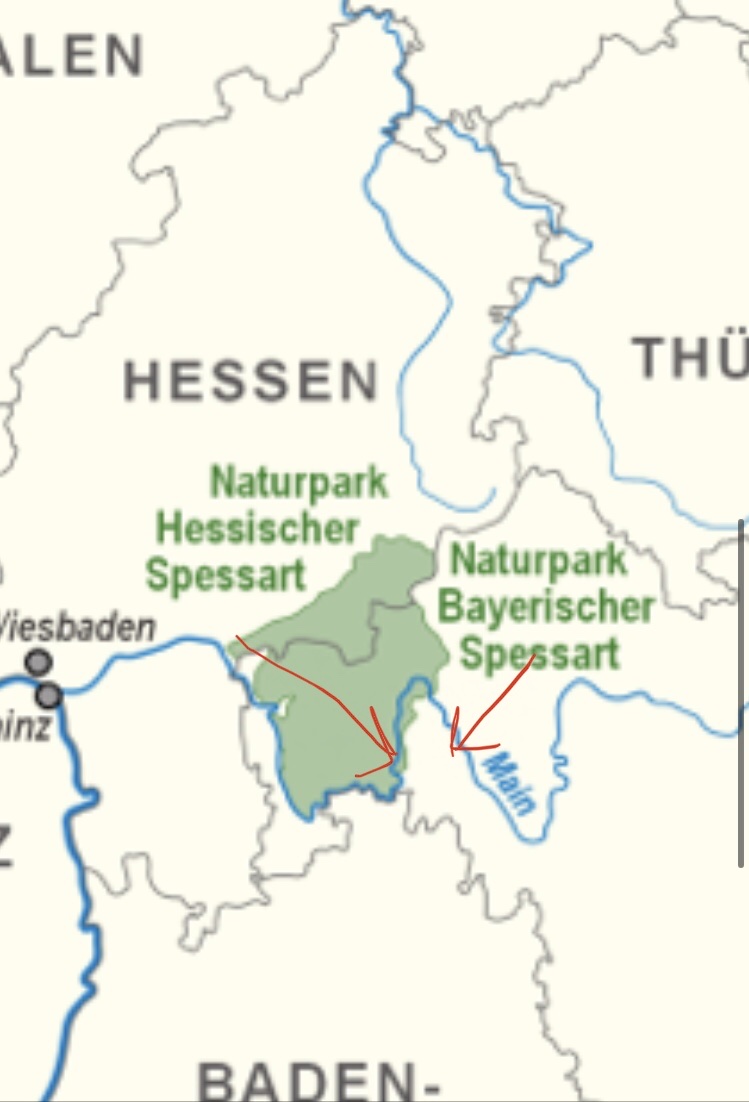 The red arrows show our start in the east and where we ended up by the mountains. And this is a 3-D model of where we are…the yellow highlighter is our overnight town of Marktheidenfeld….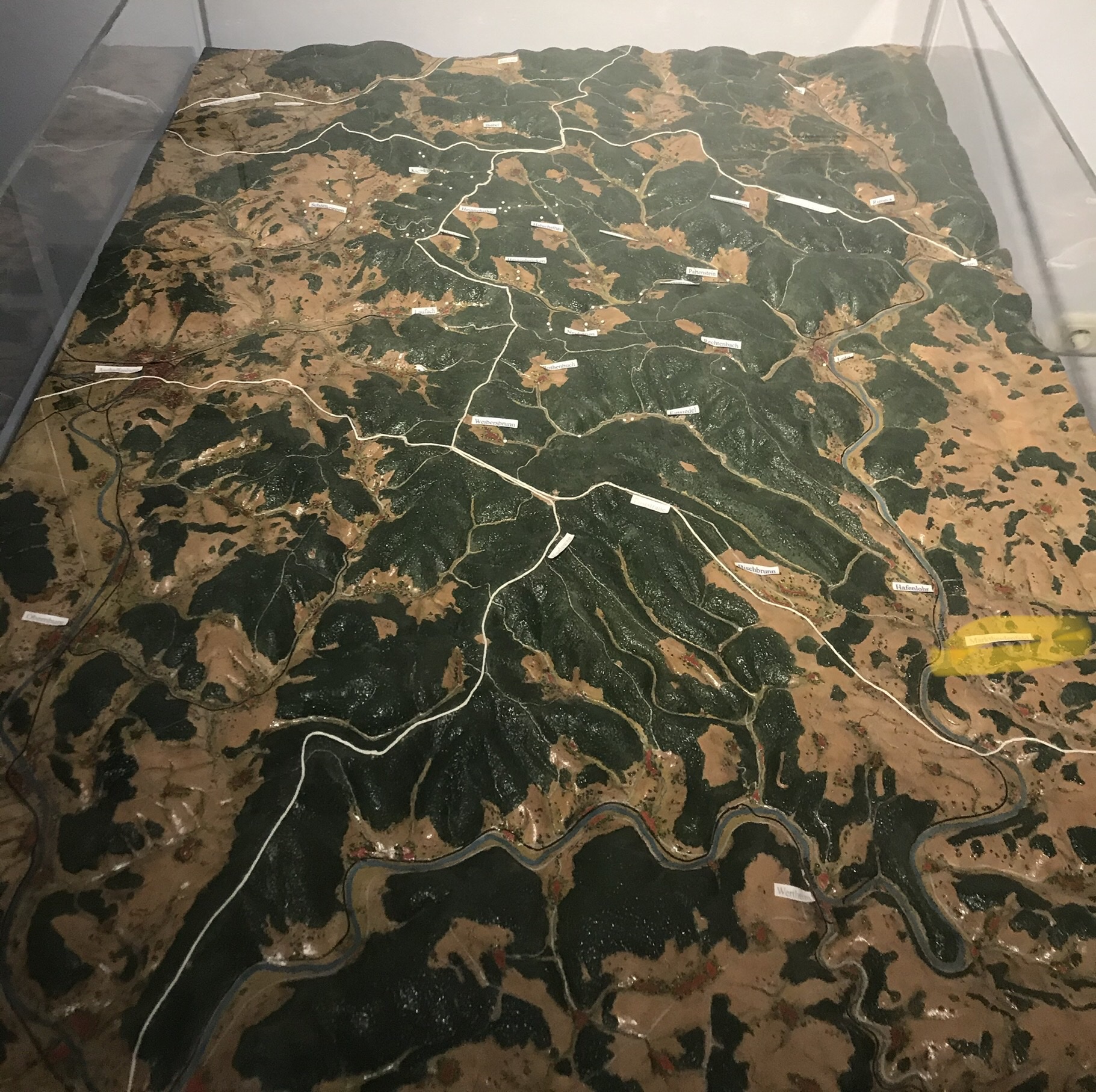 It started out as a lovely day….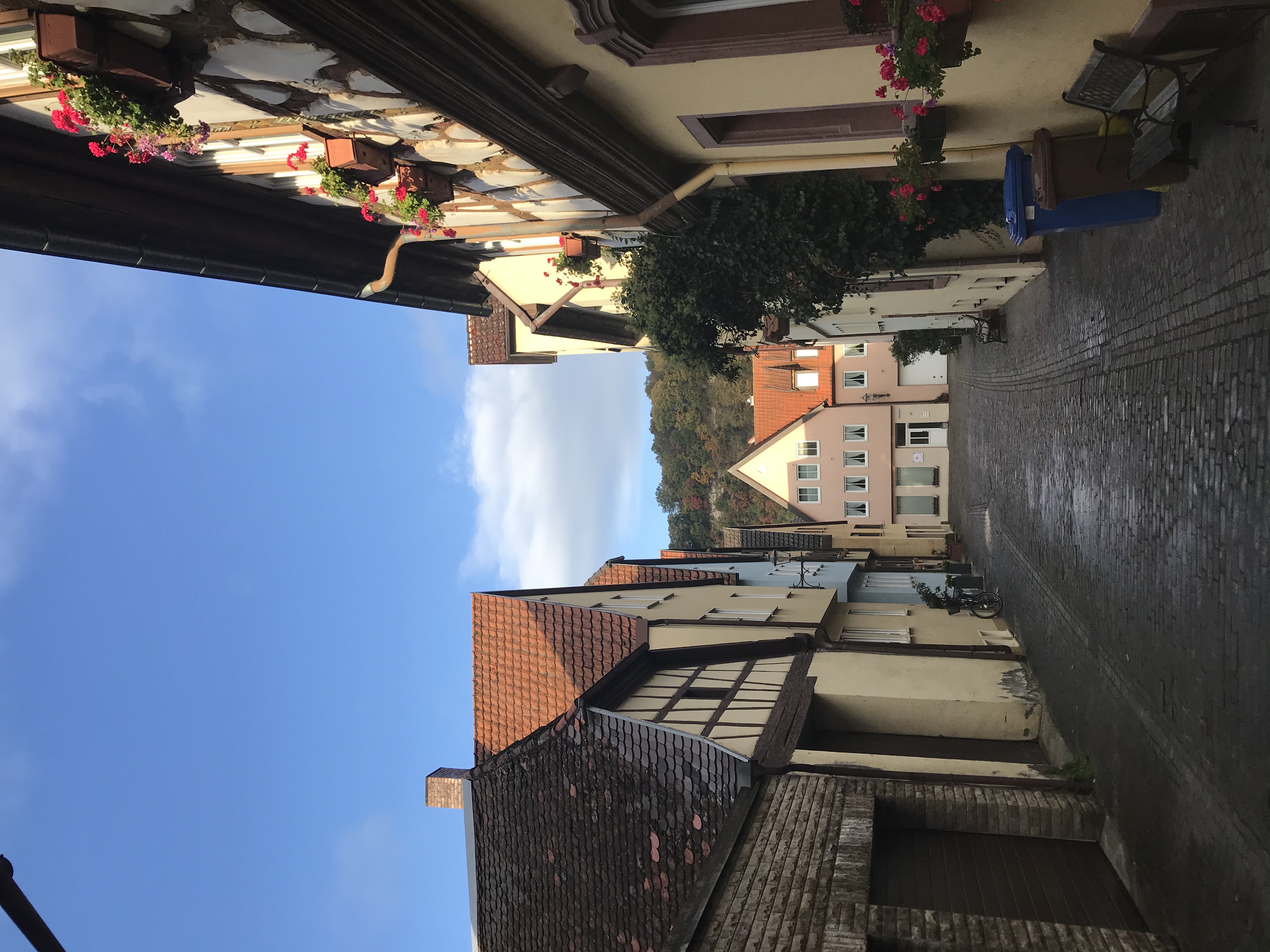 After a short while, maybe 6-8 miles, we hit some overcast skies. But it was clear sailing for the first 18 of our 30 mile ride. We stopped at Lohr, the site of Snow White's Castle and Magic Mirror, for a cup of coffee and some pastries. While we were there though, the weather changed. It started raining…. heavy for a bit but then it stopped. We checked the Weather Channel and radar predicted ALL CLEAR! So we headed out!
And it rained…. off and on the last 12 miles of our ride! Enroute we stopped at one of my favorite places in Bavaria, Rothenfels am Main, where its claim to fame is that it's the smallest town in Bavaria….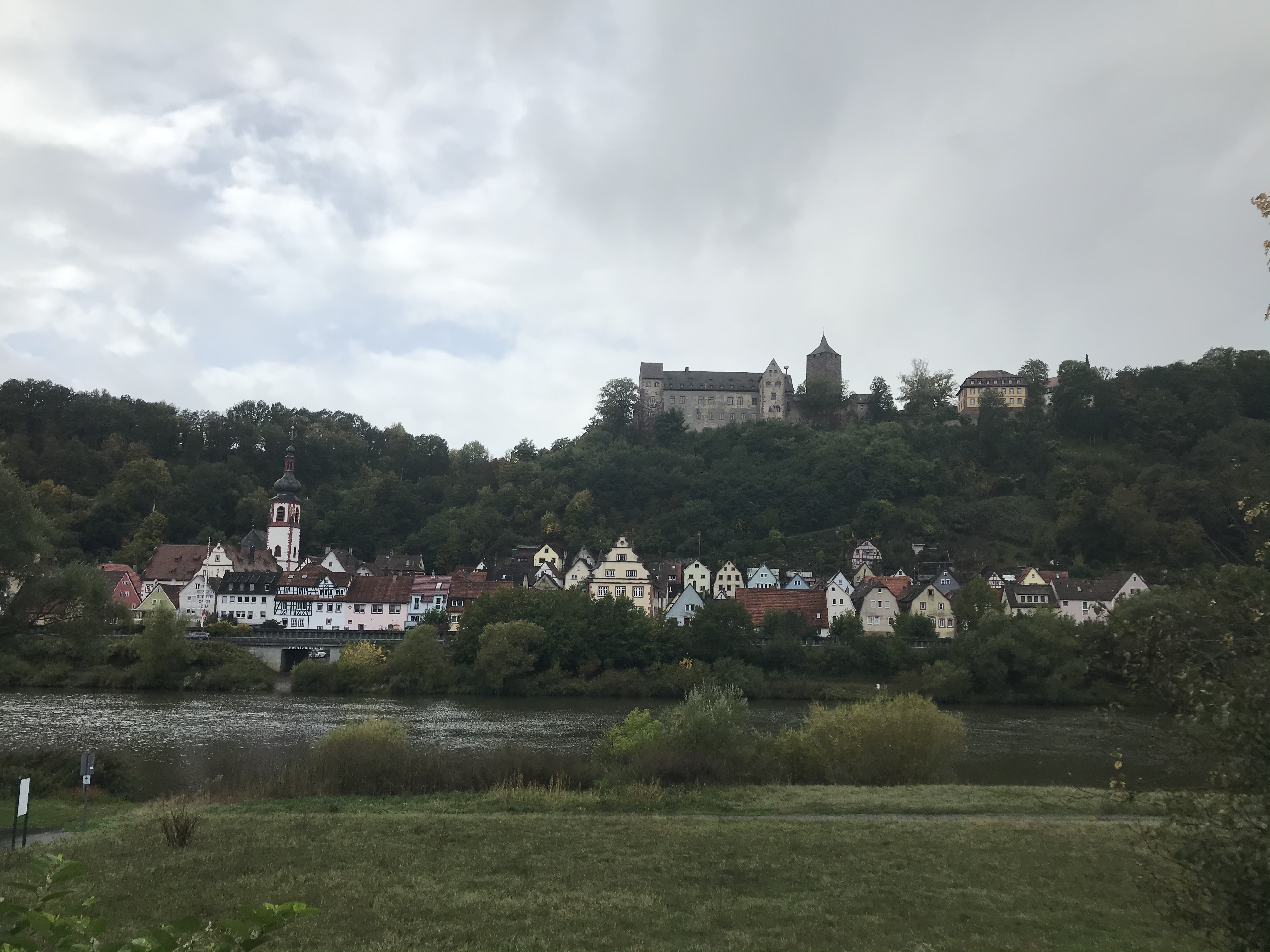 I was hoping for a rainbow or sunny skies or something better but we got what we got. I still think it is a special place!
Once we got to Rothenfels, we were about 6 km from our destination of Marktheidenfeld and wouldn't you know it? The weather cleared up!!
This is our hotel, Hotel Zum Löwen, right on the Marktplatz, and just a 100 meters uphill from the Main River.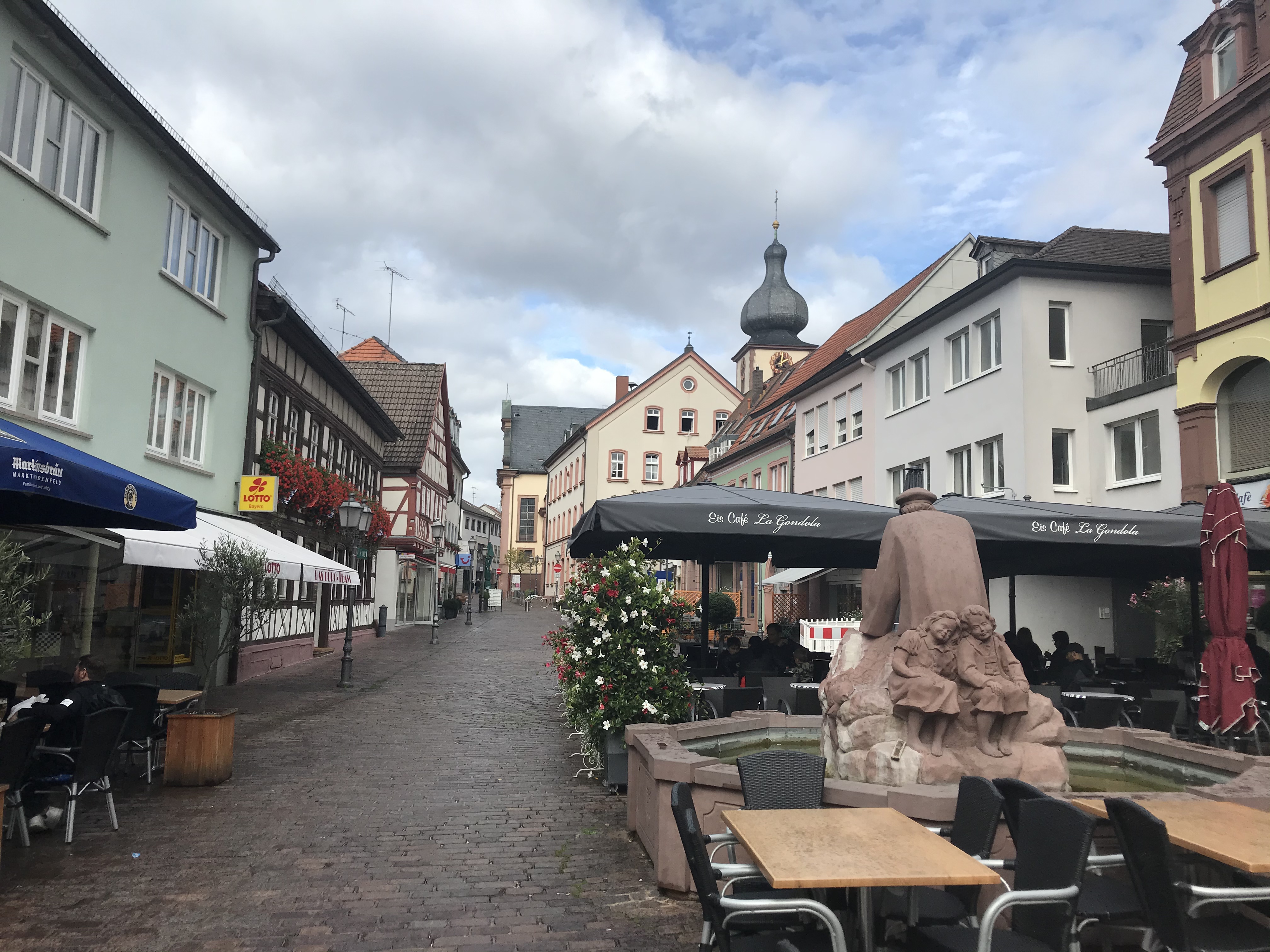 The Marktplatz….
After checking in, stowing our bikes and getting a shower, we drove back to Lohr to get a look at Snow White's Castle! Here is a website to give you the whole story of the young lady from Lohr…..https://www.lohr.de/en/tourism-and-culture/discovering-lohr/snow-white/lohrs-most-famous-daughter/
This was a fun trip for us today, and one which my daughter Hilary (and new member of the Amalgamated Travel Associates Union (ATAU), Local 1) wrote about in the spring…..http://bgadventuresllc.com/2019/05/spieglein-spieglein-an-der-wand/
But let me share some pictures with you of our visit…..
The Spessart Museum….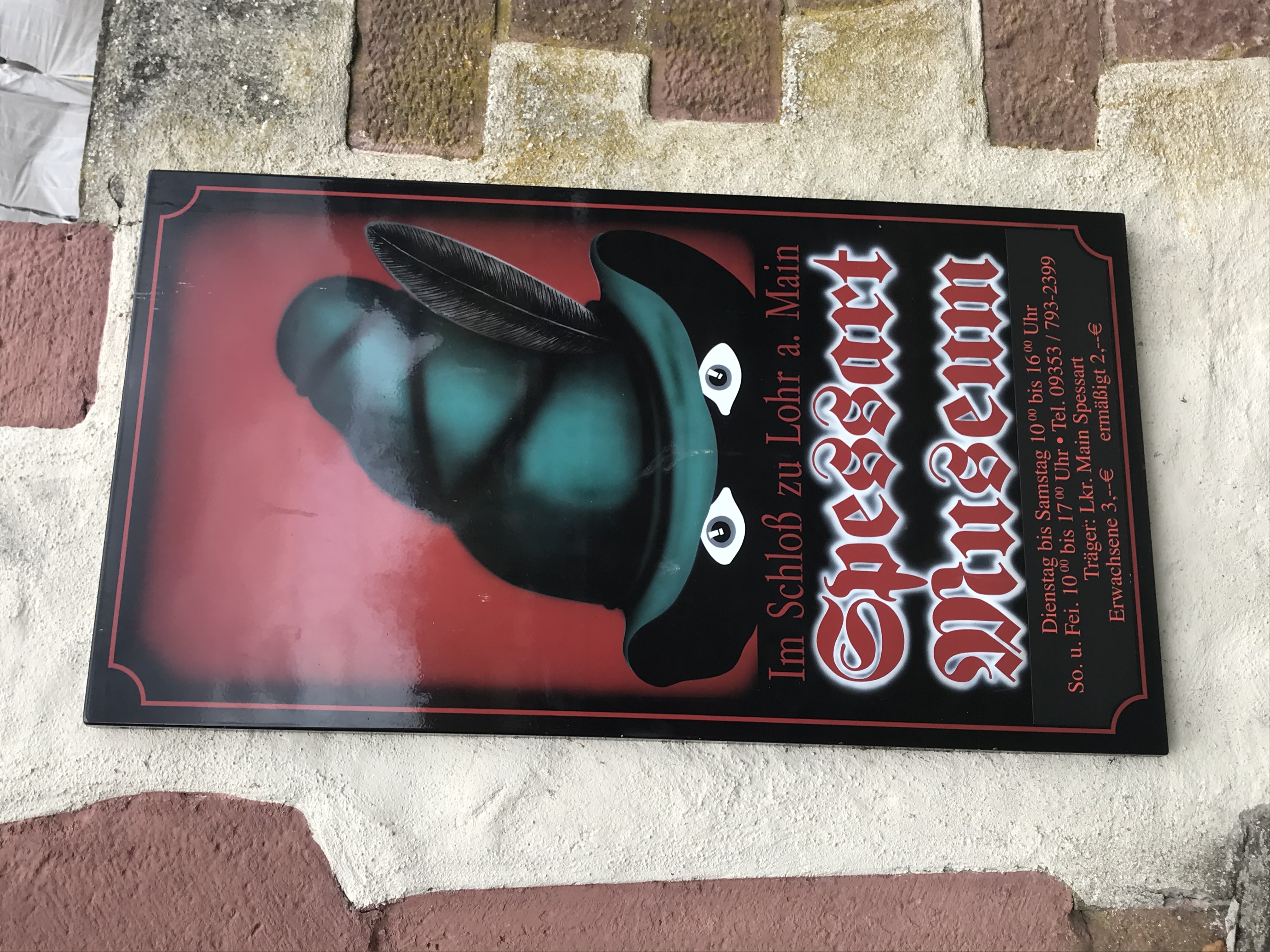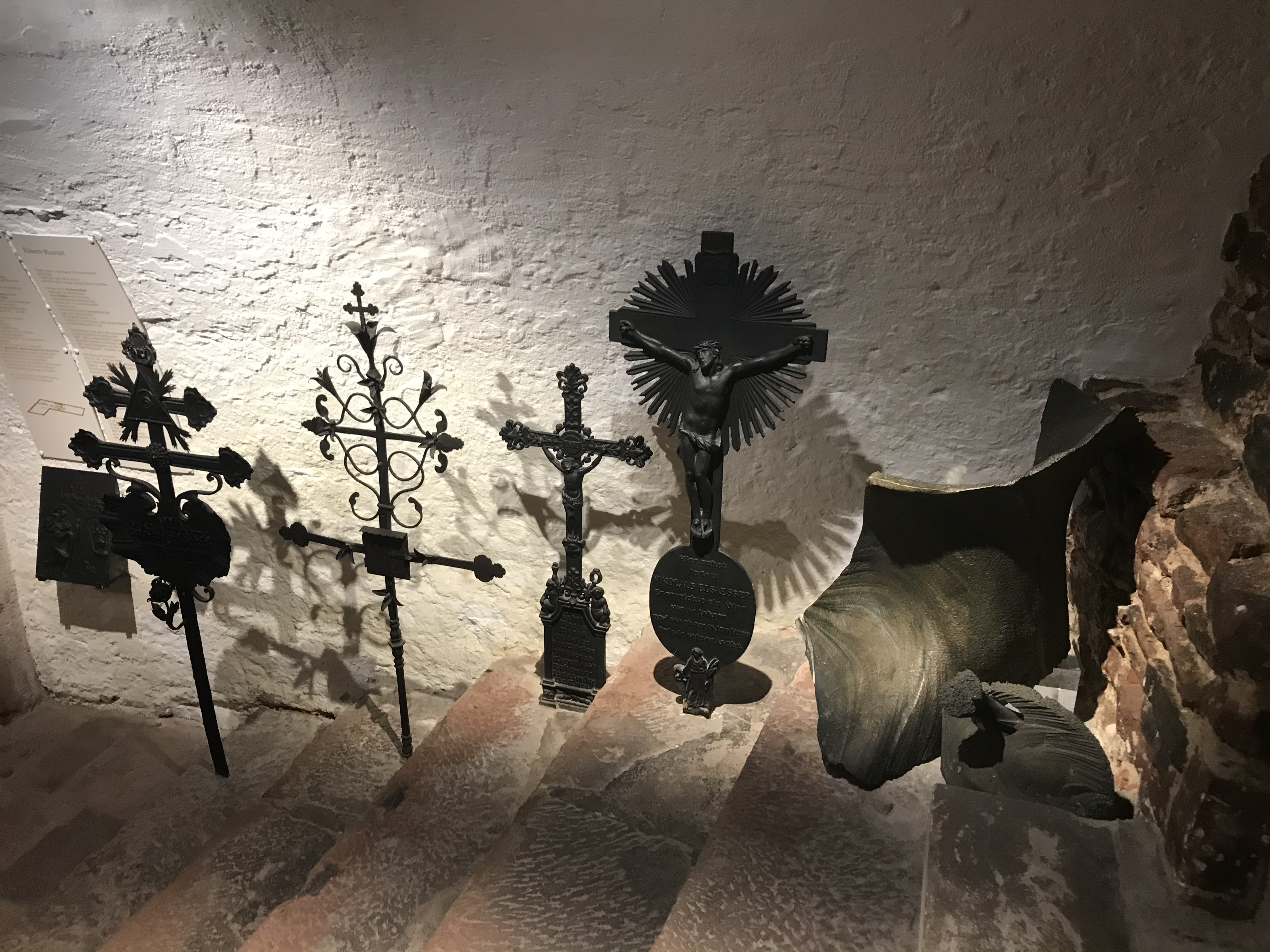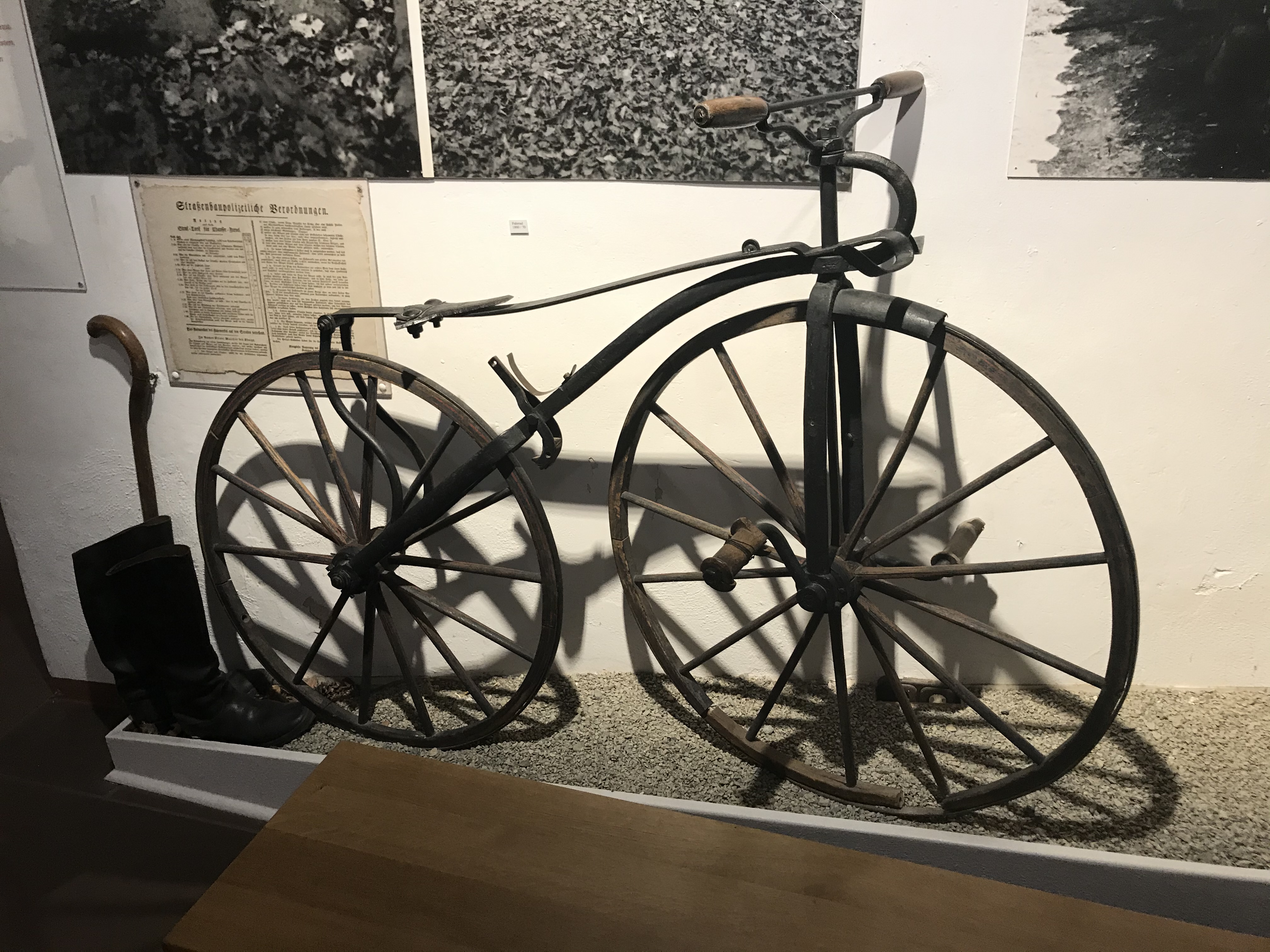 I'm not sure I'd want to be riding this bike along the Main River!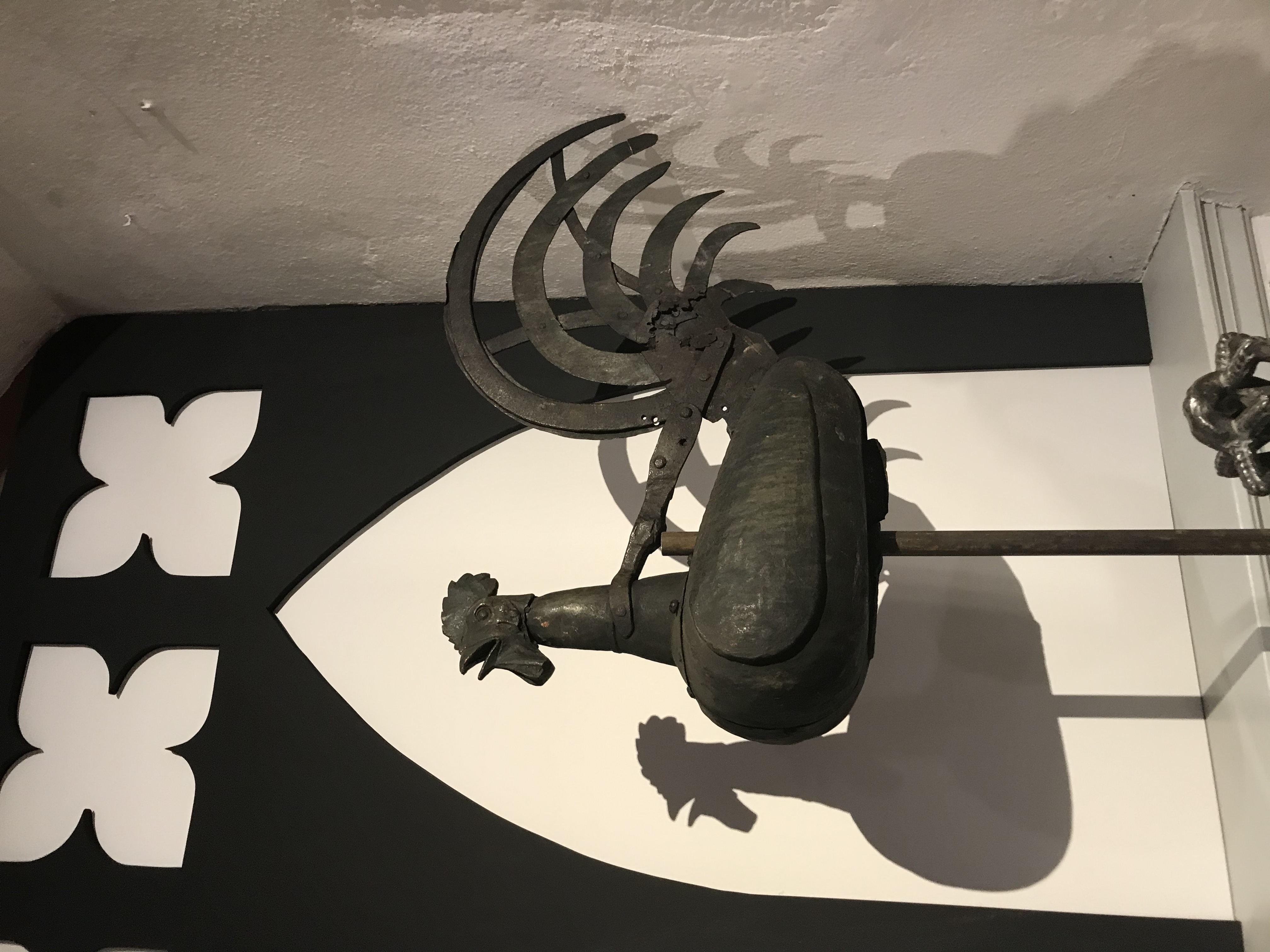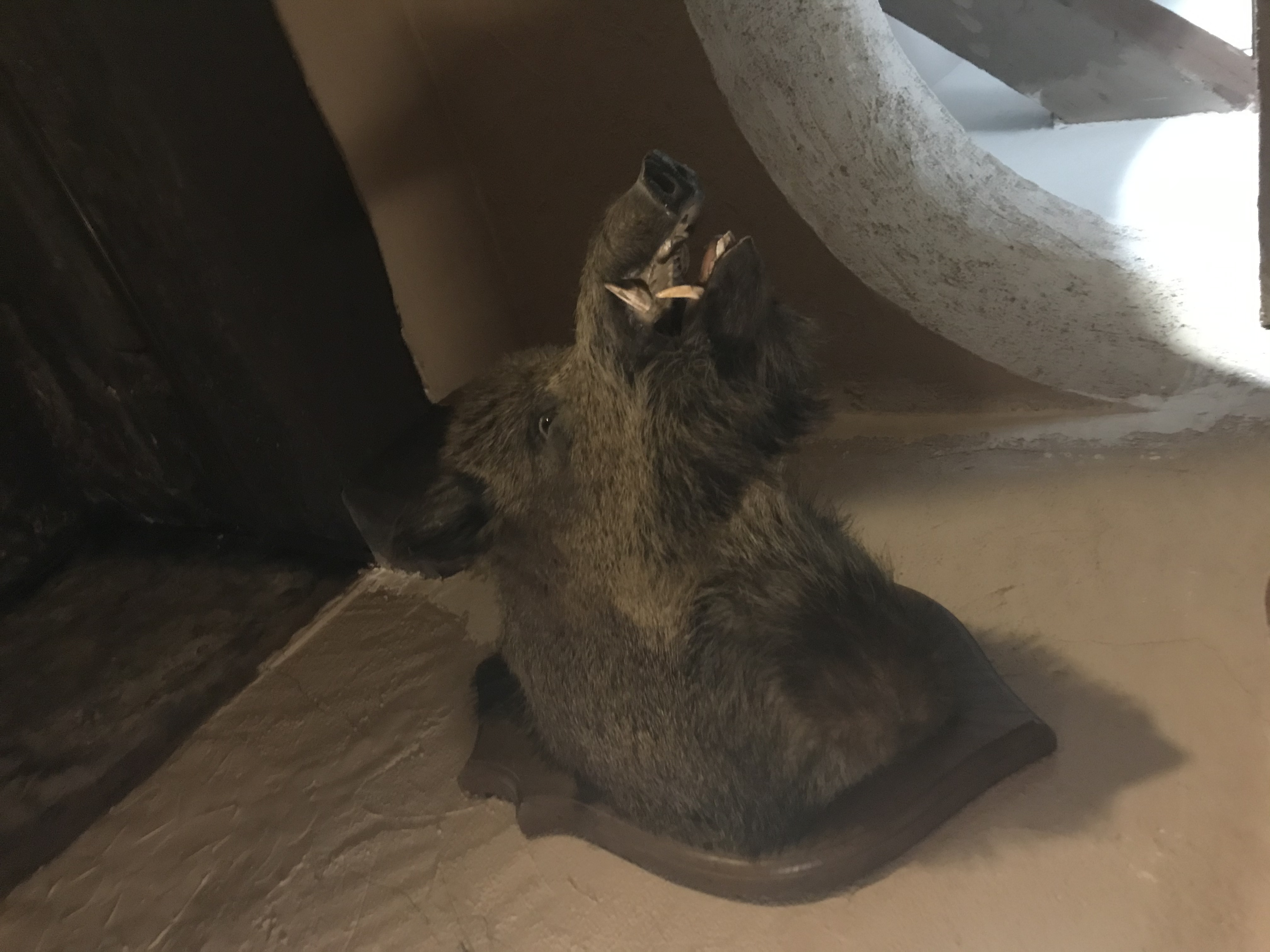 Here are a couple of interesting displays….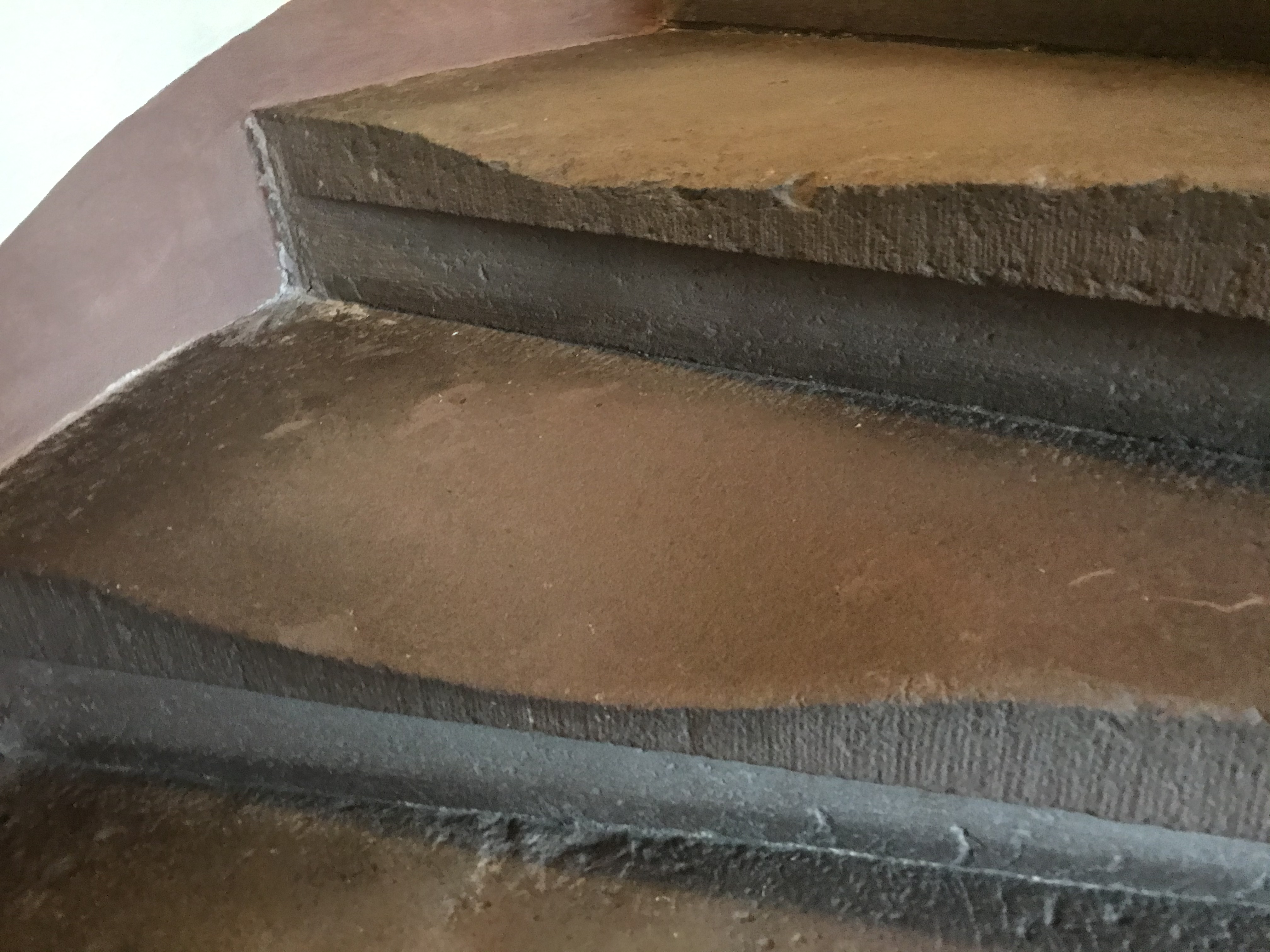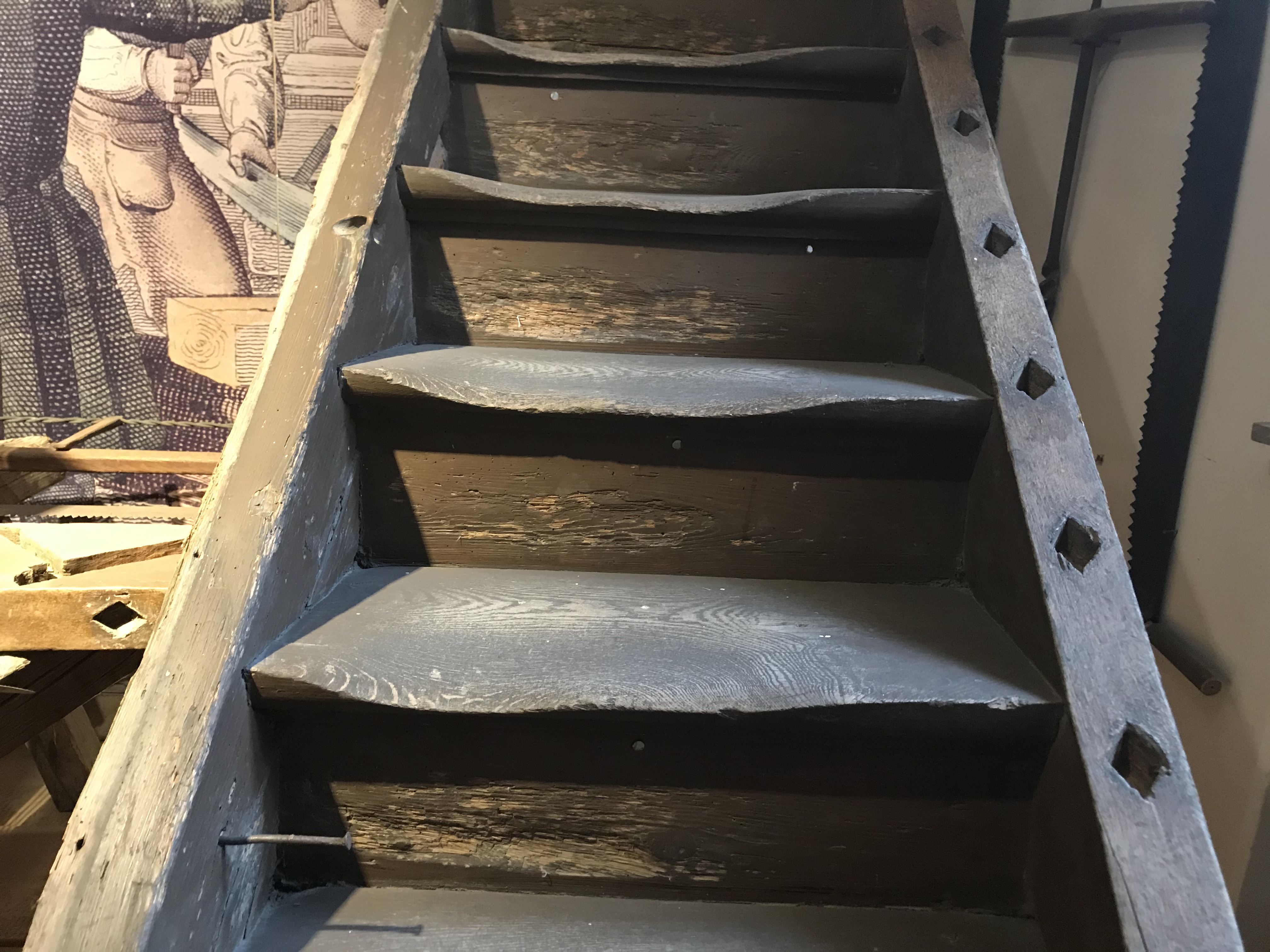 I found these fascinating… the first was stone steps worn from years of walking and the second was the wooden treads from a ship, also worn down… amazing!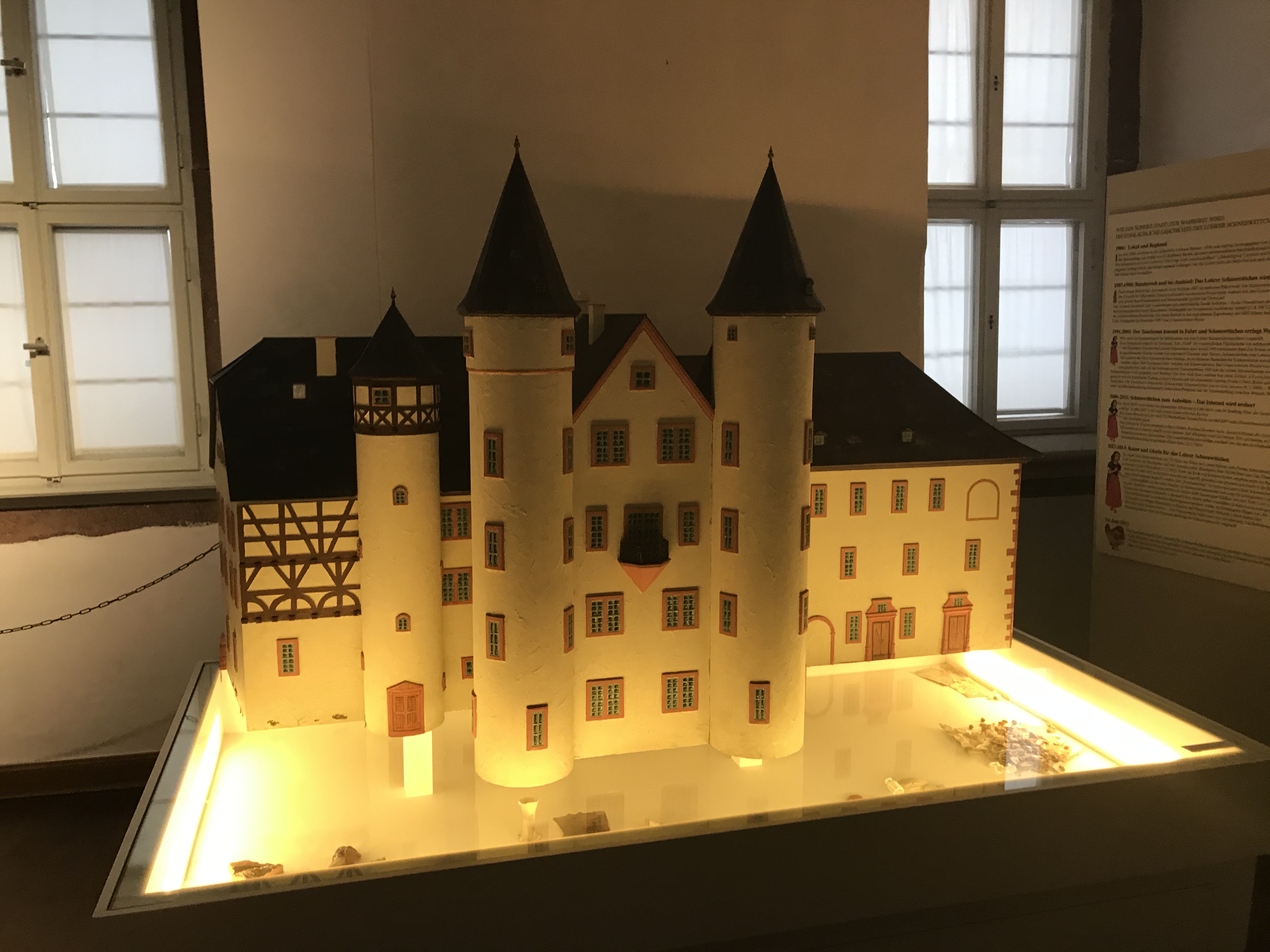 The Castle is currently undergoing renovation but this is what it looks like….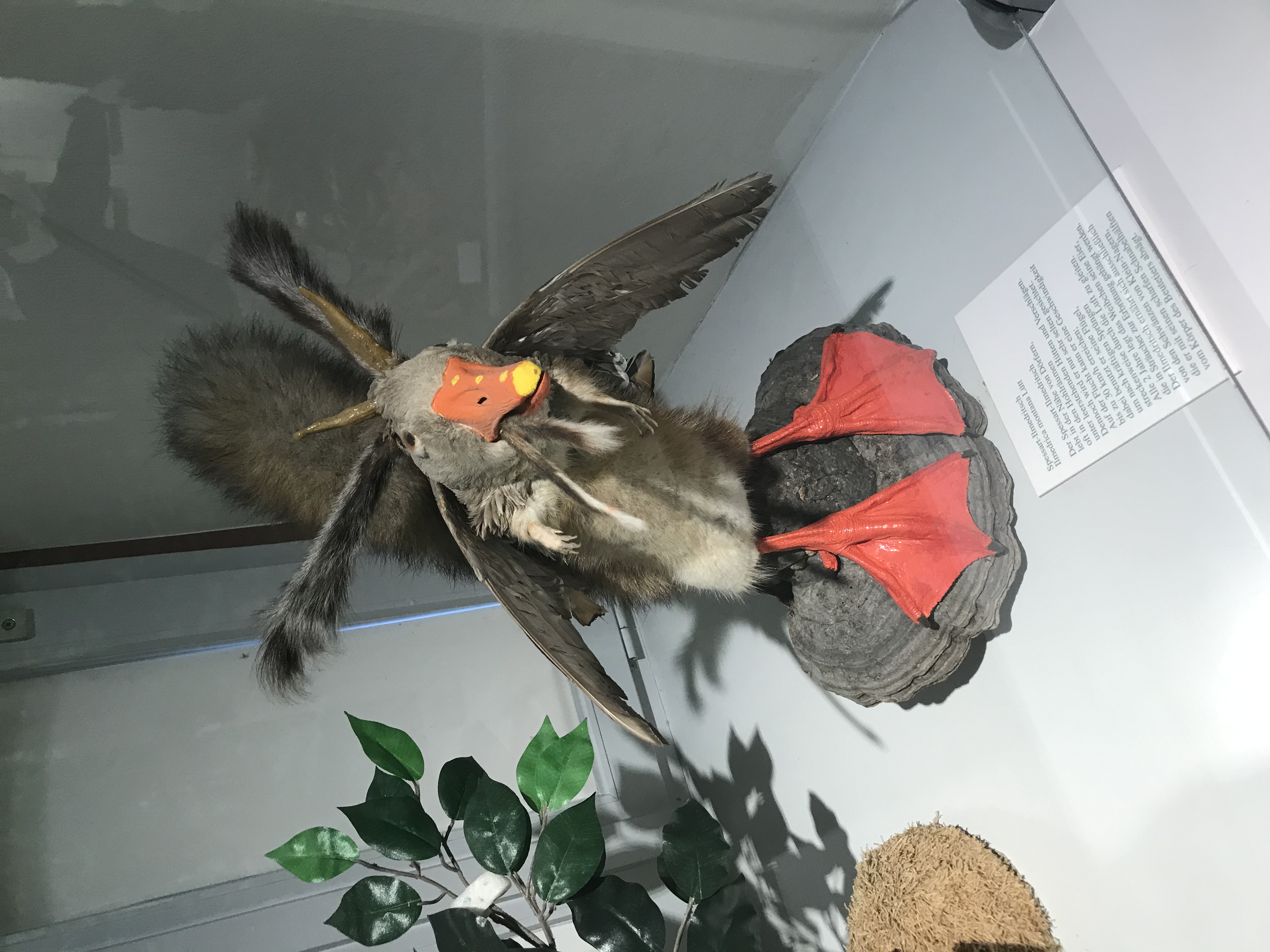 This is an Ilmedritsch, a Spessart version of the Jackalope we have in the American West. Here is the story of the Ilmedritsch, unfortunately I could only find it in German….https://www.neuwiedermuss.de/geschichten/ilmetritsch/ilmetritsch.html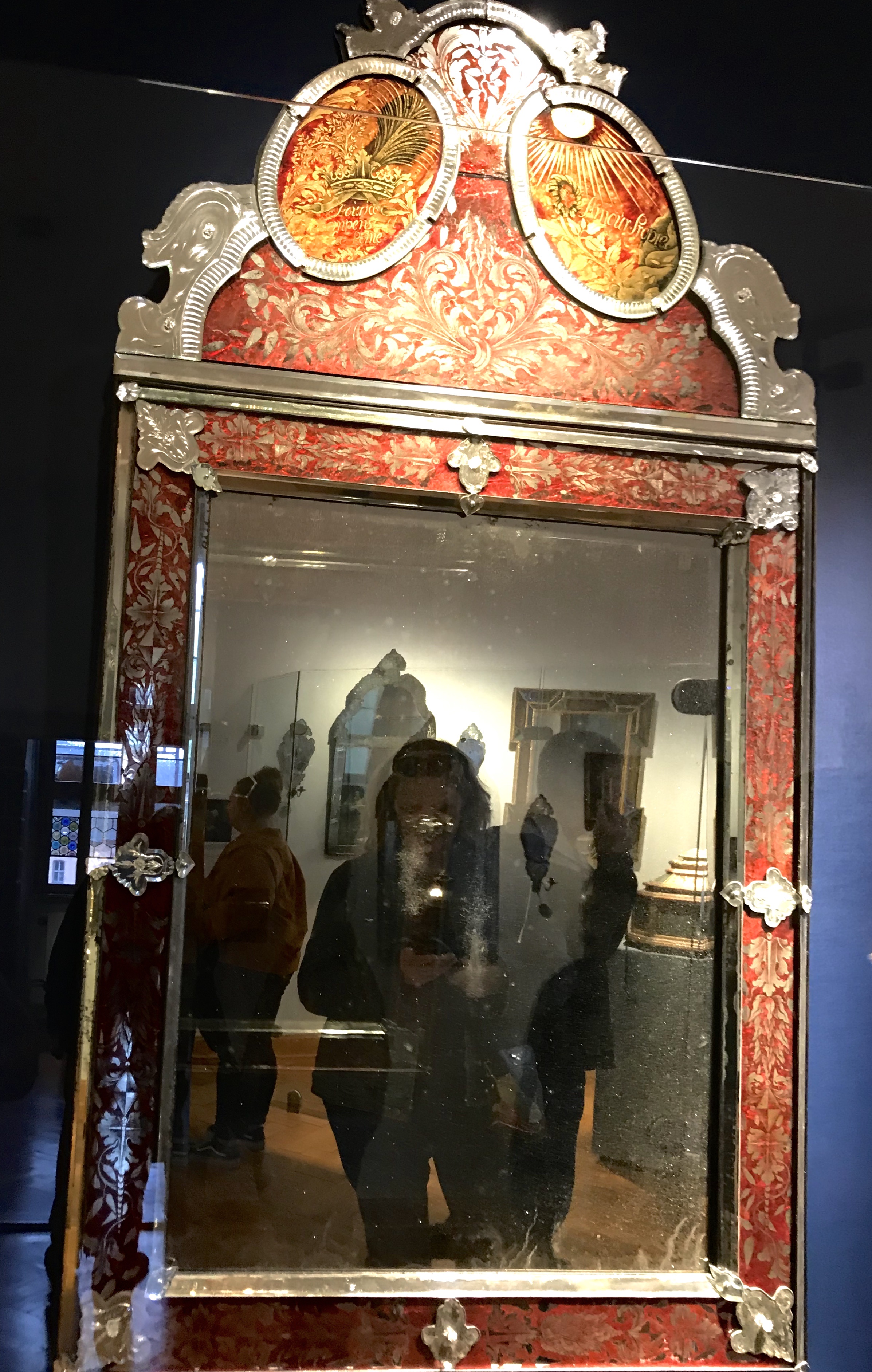 And this is it!!! Snow White's Magic Mirror!! Like the story goes the mirror shows the beholder what they want to see….
One last stop here was the photo op as Snow White!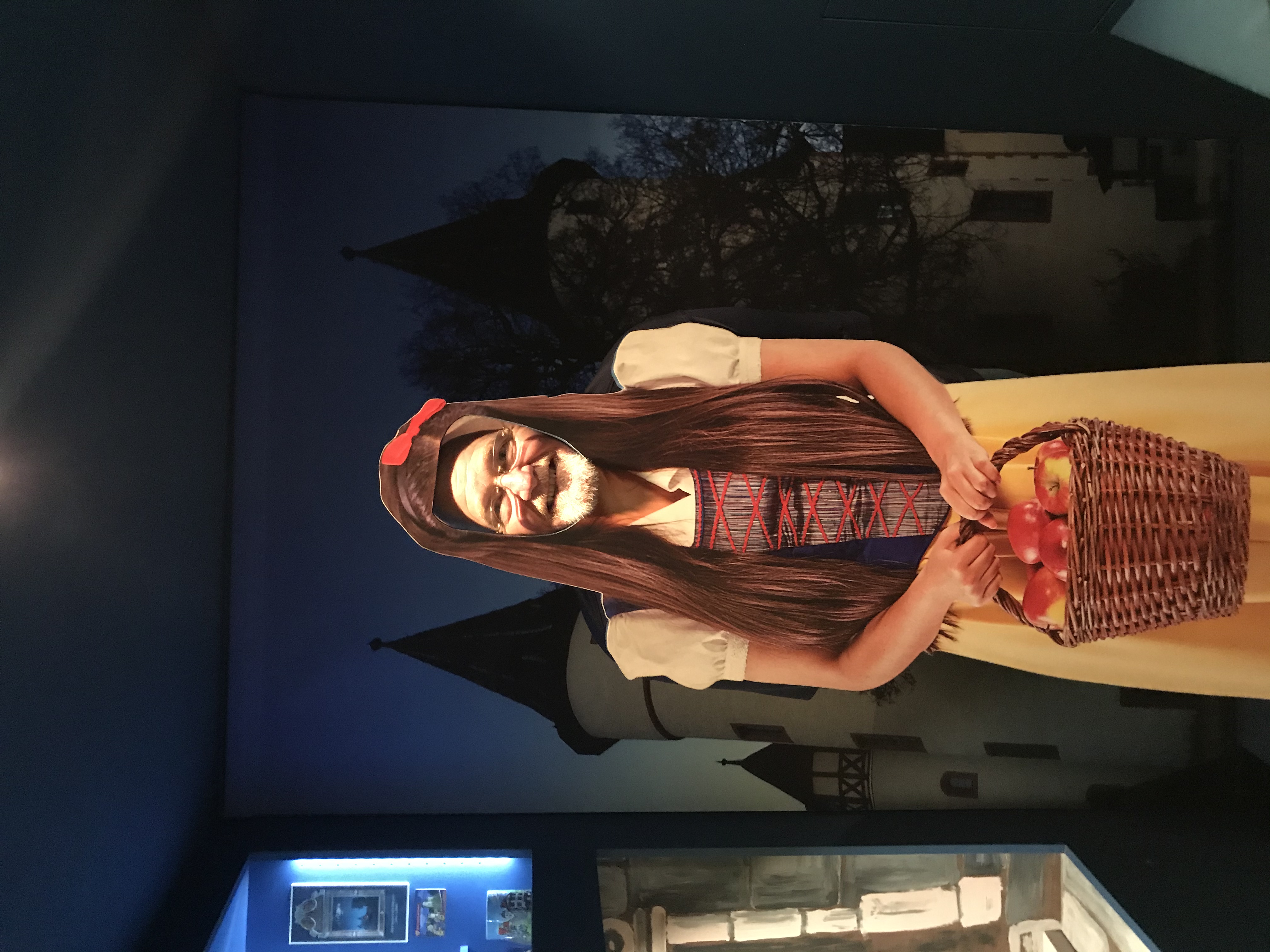 I have to say, I really look a bit like my Mom in this photo!!
Once we finished at the Castle, we headed back to Marktheidenfeld and saw that it was an absolutely beautiful evening!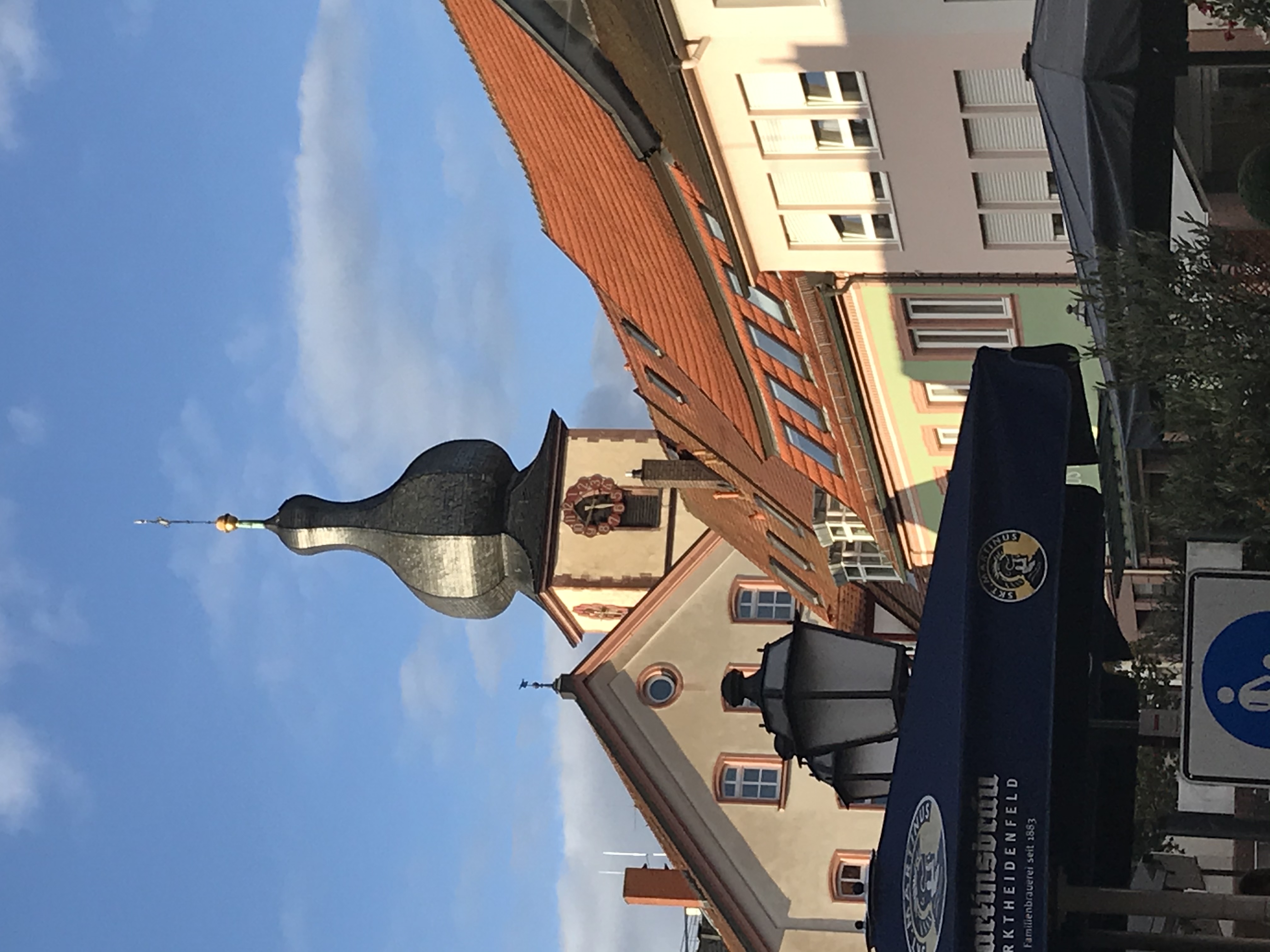 Unfortunately, a tourist bus got on the wrong trail and headed up the Hauptstraße (Main Street). And once he was here, he had to back all the way back down and out!!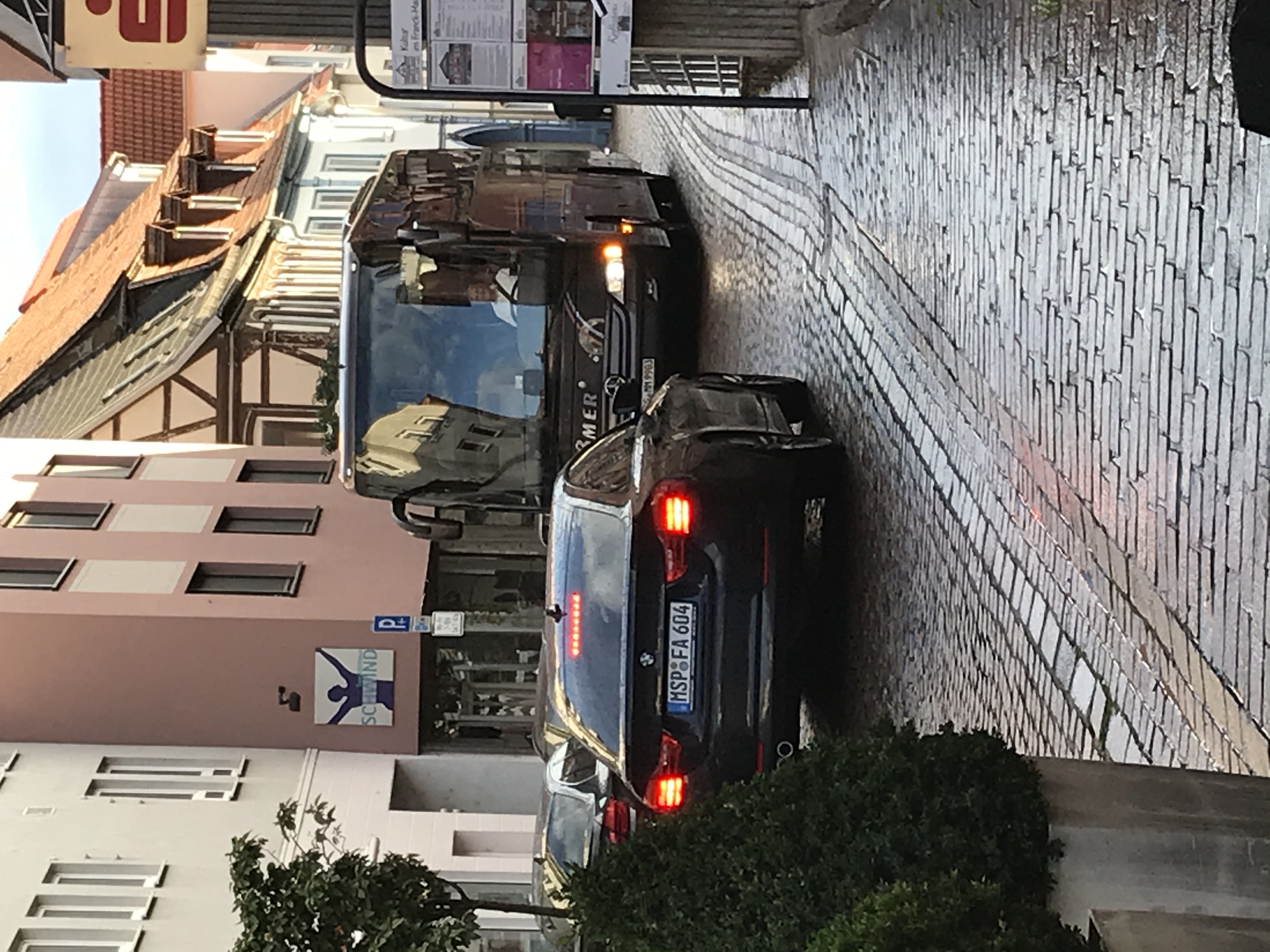 Dinner was a unique meal tonight! We went to the Bräustüble in Marktheidenfeld and had the best schnitzel ever!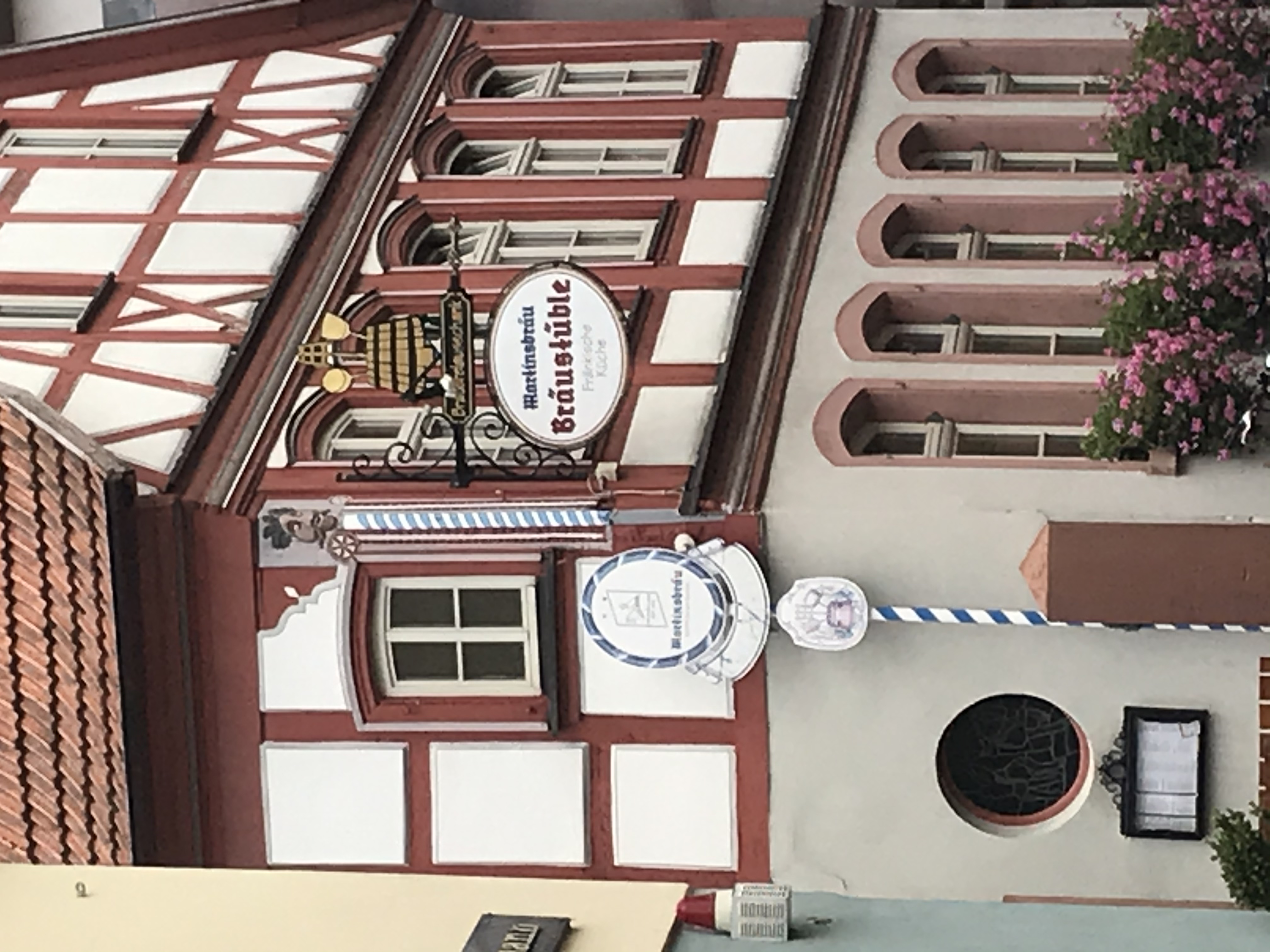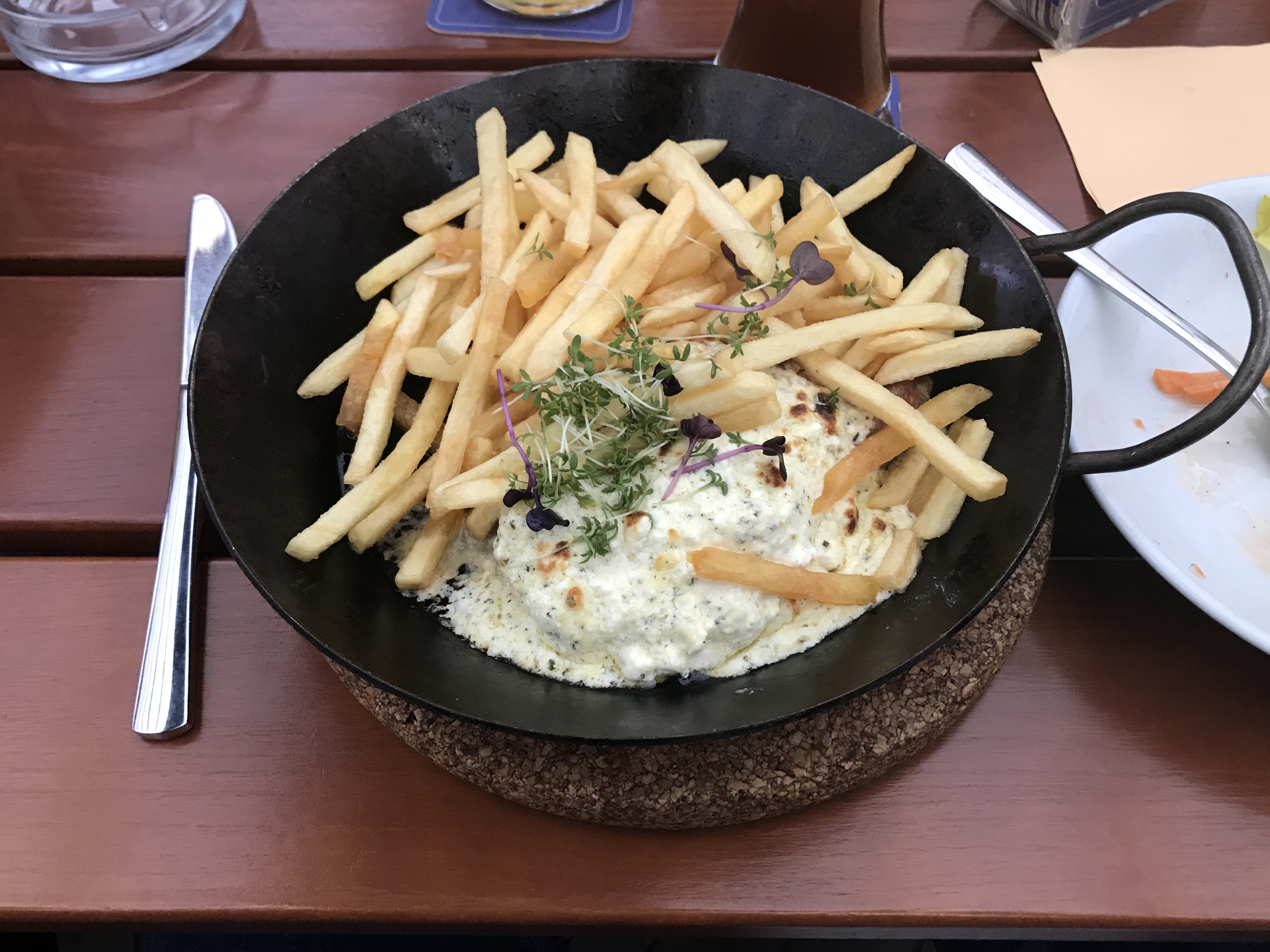 This meal was "Schäferschnitzel" (Shepherd's Schnitzel)…. a pork steak, stuffed and smothered in Feta cheese, served with fries. SPECTACULAR!!
And to complement it…. a Dunkelweizen!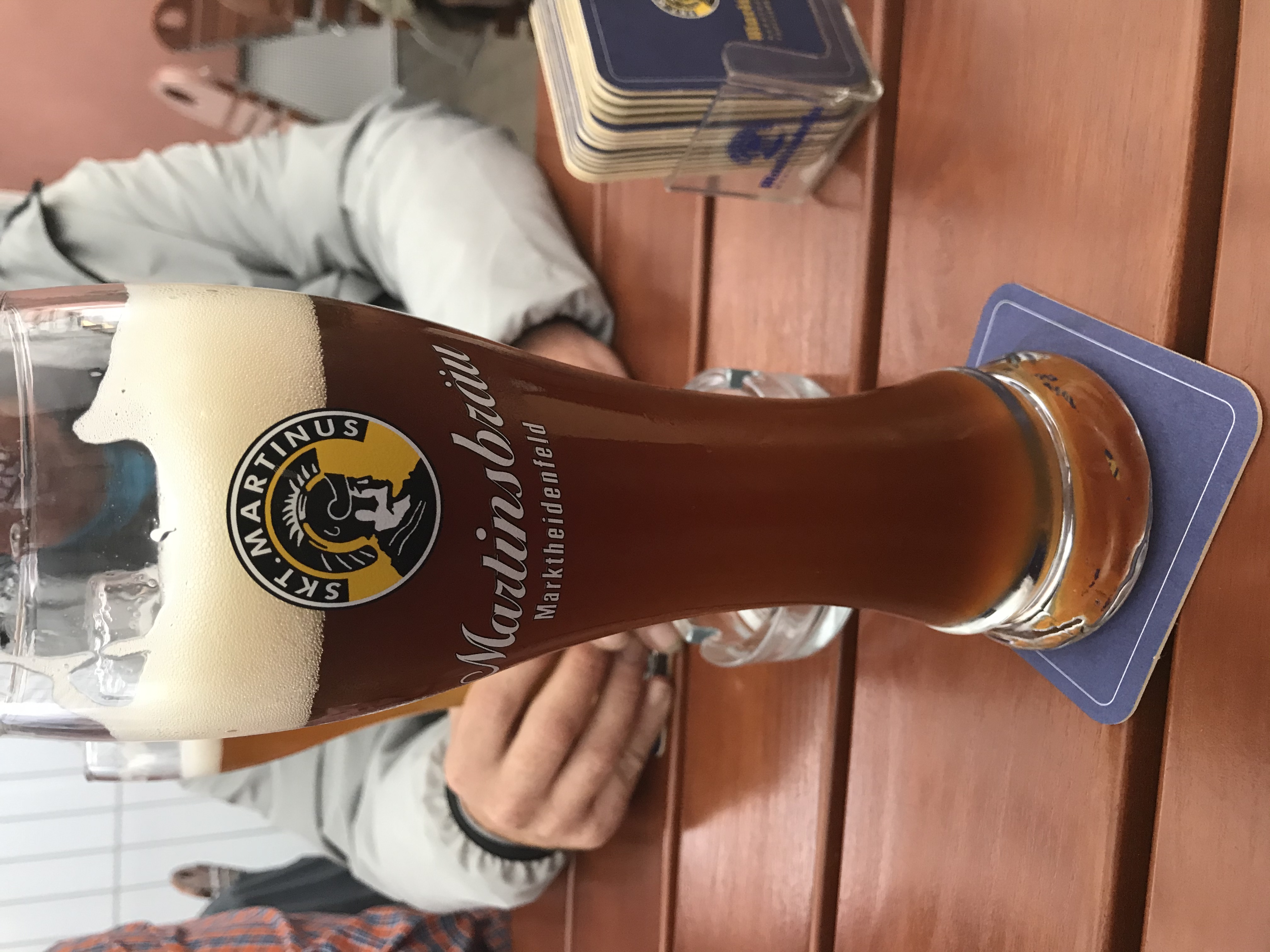 Tomorrow…. Stage 5…. Marktheidenfeld to Miltenberg