Wow! How did we (meaning I) miss a day blogging? Maybe it was because yesterday was a somewhat full day….. and today has been packed!!! So let's get started!!
Yesterday, Sunday, was a down day…. I didn't plan a thing so that the Troops could go do their own thing. And they did!! Some wandered to the Wies'n and watched the parade, others went to the gardens and museums, others just hung out.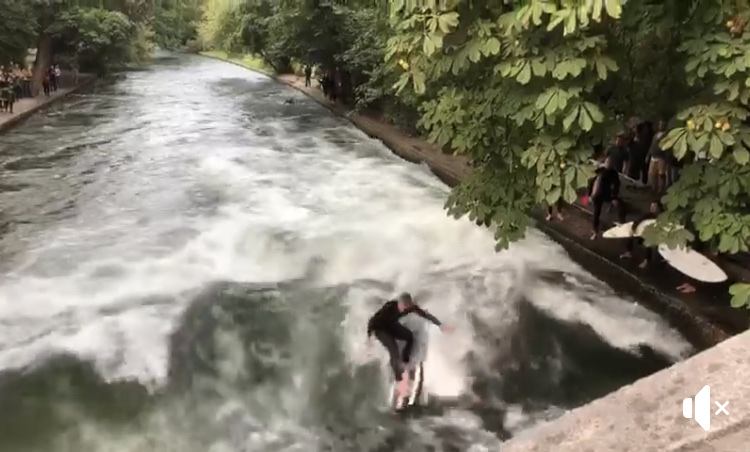 Surfing at the English Gardens….
Me? Well, I went with the Union Stewards and headed back to the Wies'n for souvenirs. No problem walking/subway/walking to the Wies'n… but as soon as we got to Mozartstraße we realized the parade was going on!!! Yesterday was the "Hunter's Parade" and I have to tell you, I've never seen a longer parade with as many bands as this one!! Lots of colorful costumes, bands playing martial music, interesting theme "floats" made it very unique. When I say "floats", I'm not meaning Rose Parade type floats. These had lots of people riding, taxidermied animals, castles and other buildings and of course, Animals!! Loads of horses and lots of dogs as well.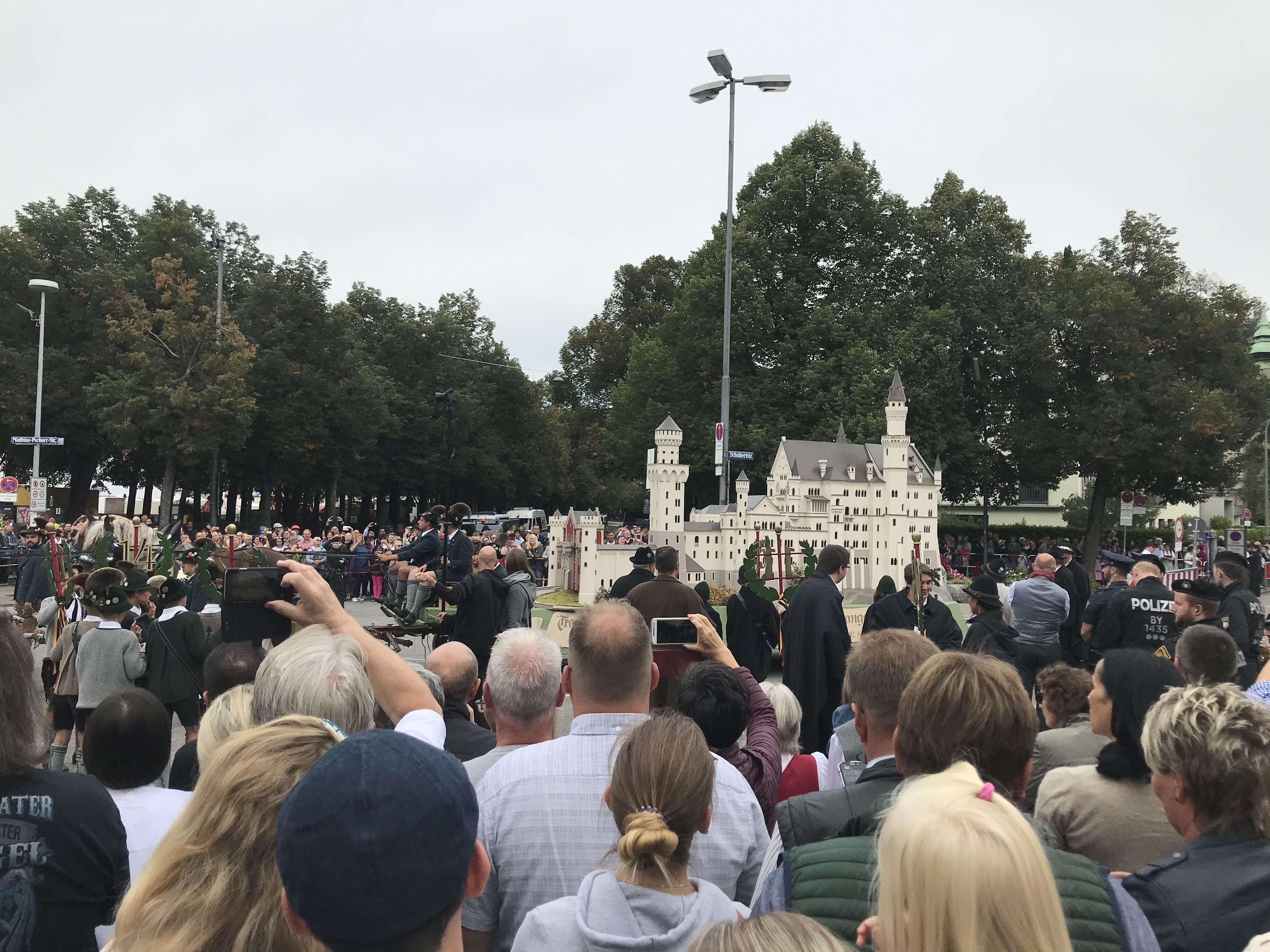 Neuschwanstein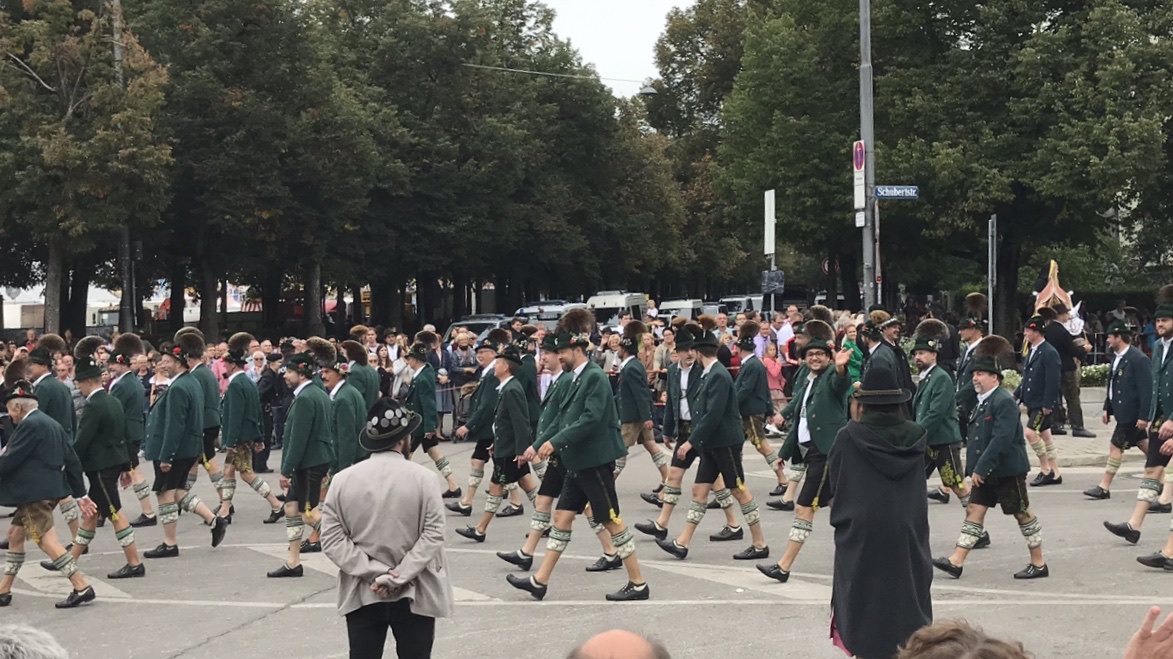 Band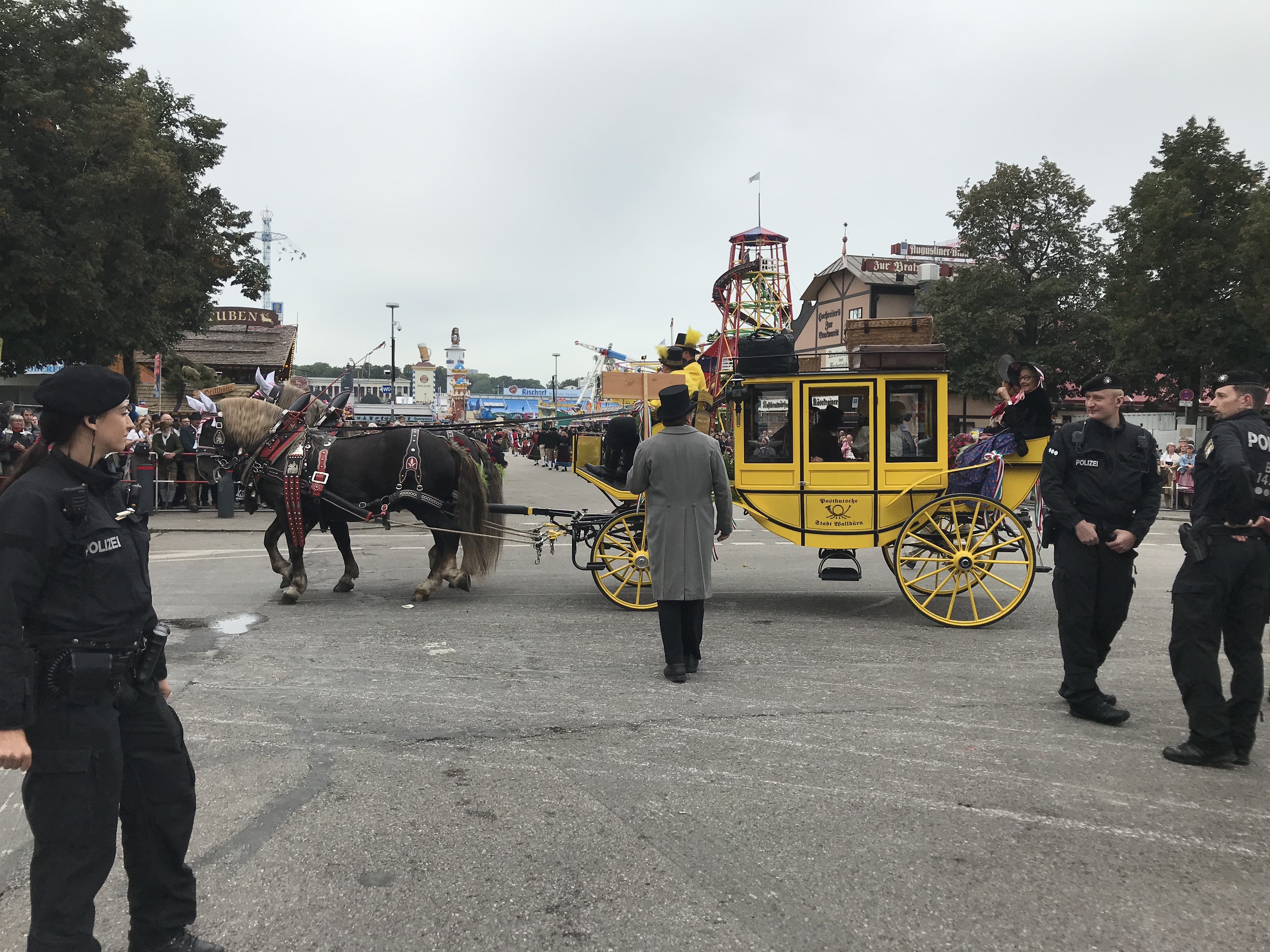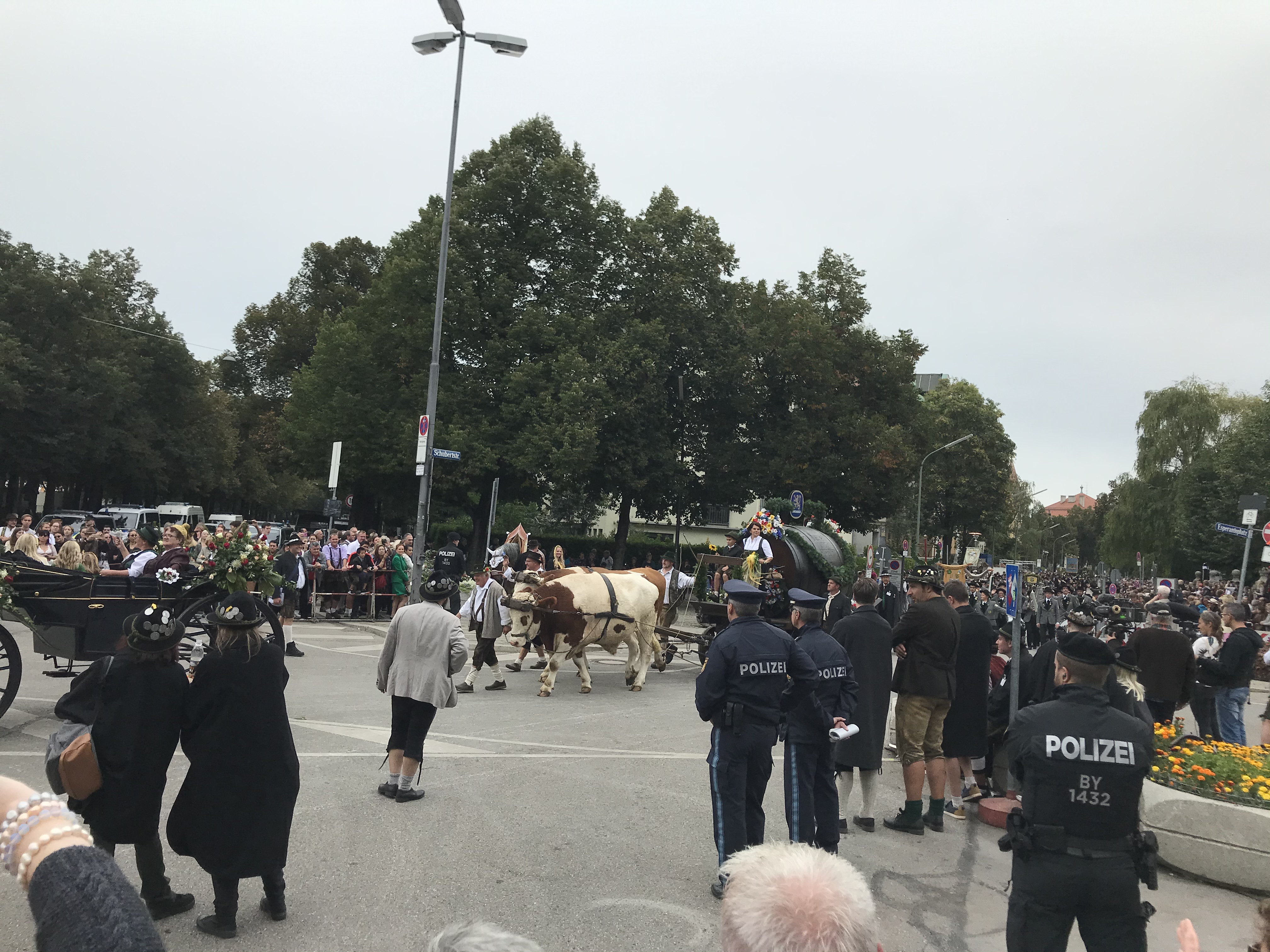 Loads of people
Ox cart
We got to the parade at 1145 am and it was at marker 12….. it ended around 140 well over marker 60. And each marker had multiple bands, groups and floats in their section. It was huge!! Long but probably one of the most unique parades I've ever seen.
After the parade, since we'd been standing on the rope line (actually along the temporary fence), we decided we'd start with a tent. Carey was focused on a wine tent so off we went!! (Gretchen and Carey would get along great!! Wine is the common denominator). We went to the Nymphenberg Sekt tent (aka Kuffler's) to see if we could get in…. no problem!! It was a two story tent and while the floor was packed, the upper level was pretty much wide open! Lots of music but not overly loud… and it was the typical Oktoberfest tunes…. you know, recent German hits, John Denver, Neil Diamond…. and it's wasn't so loud you couldn't have a conversation!! Perfekt for old folks!! We got a bottle of Silvaner from Franken, a pretzel, a wurst salat and bratwurst. Perfekt!!!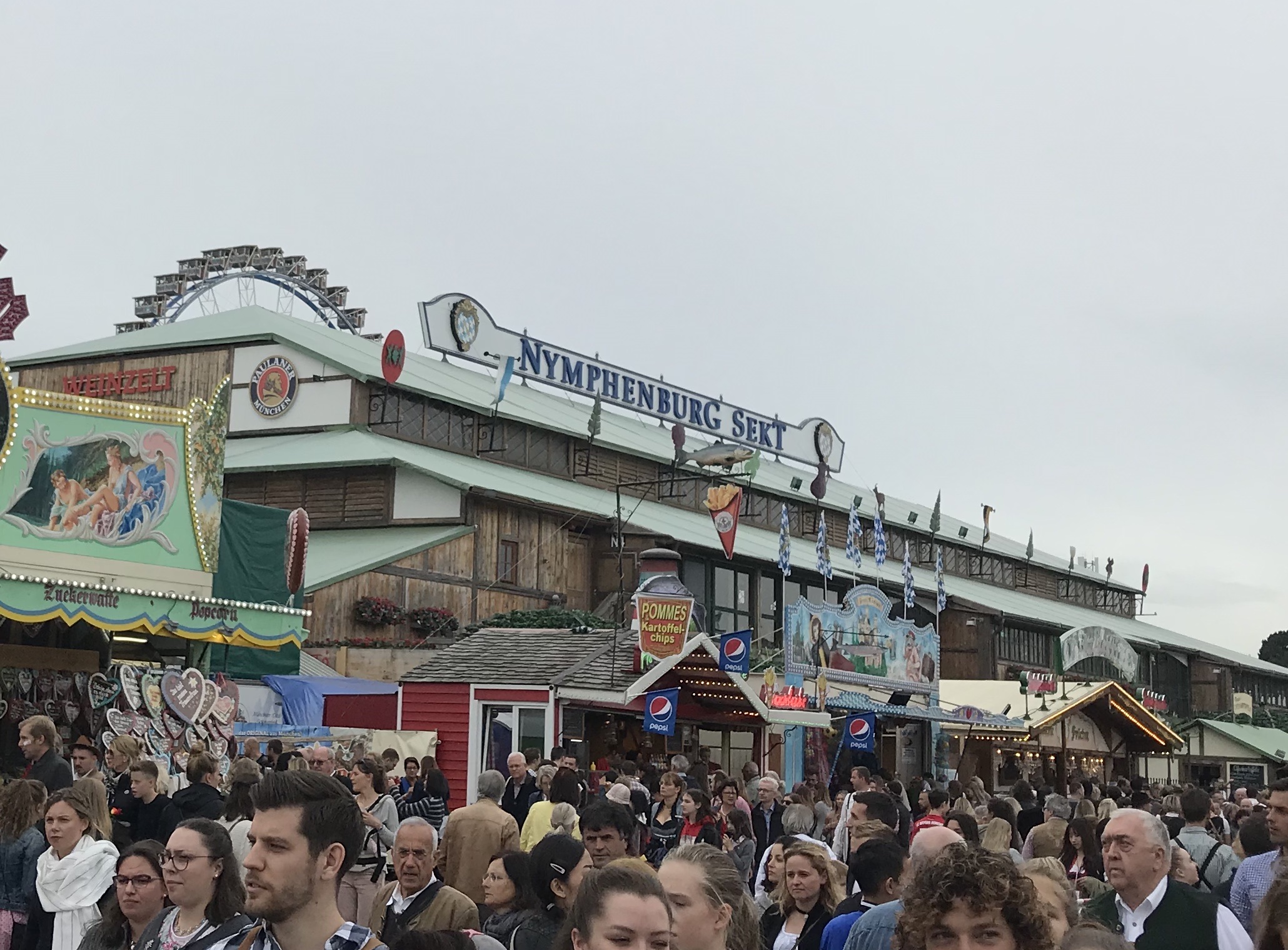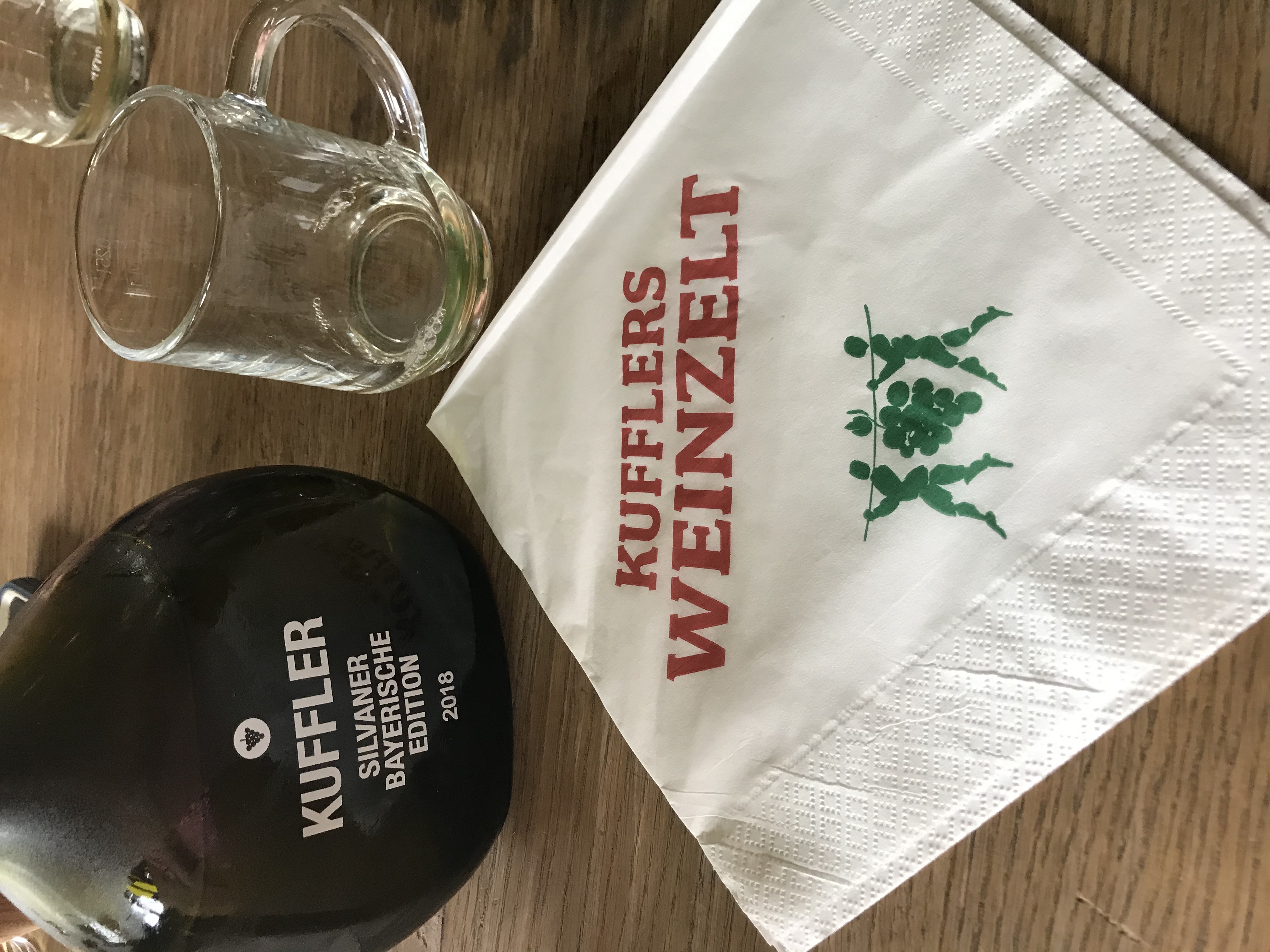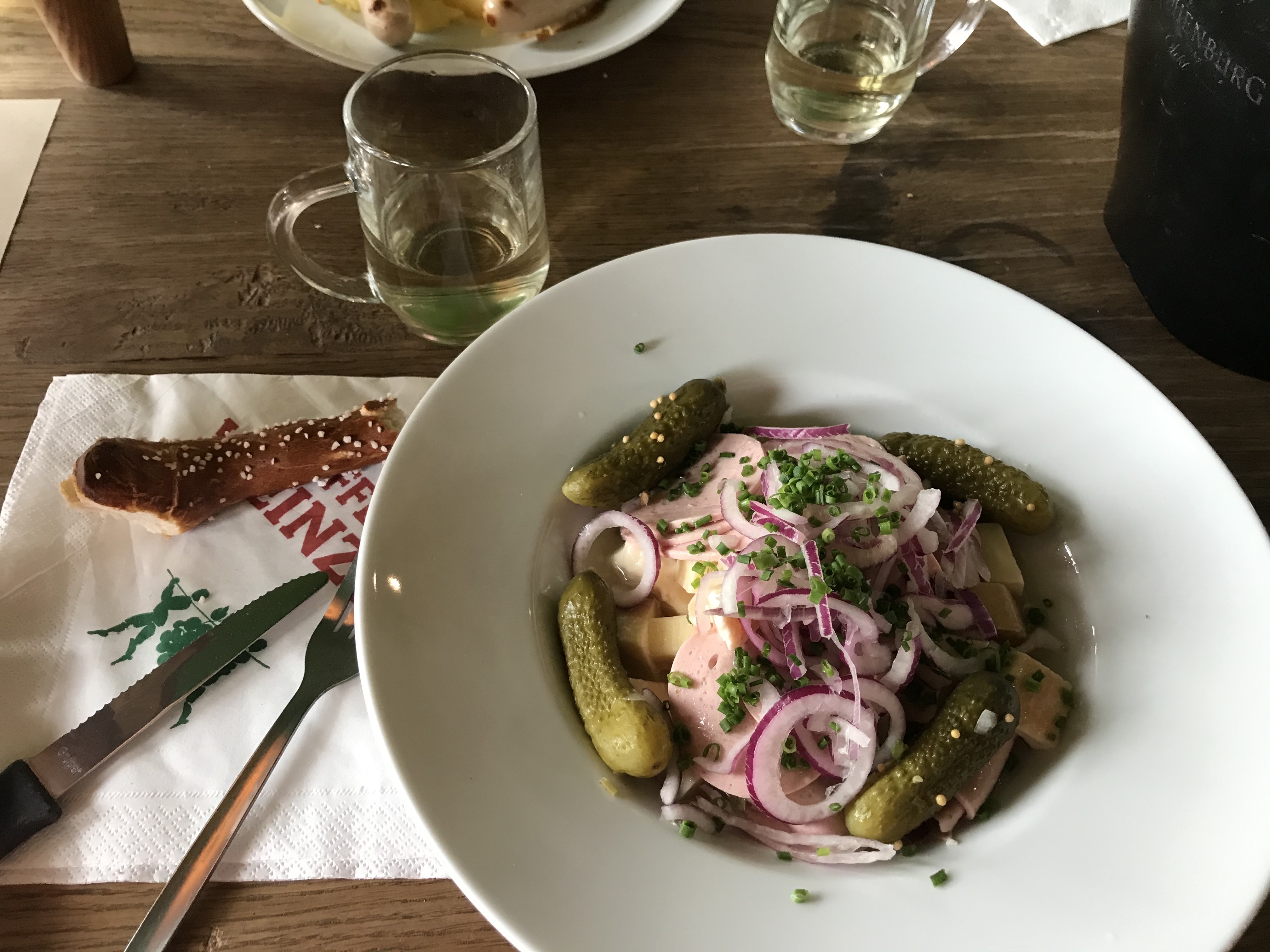 Wurst Salat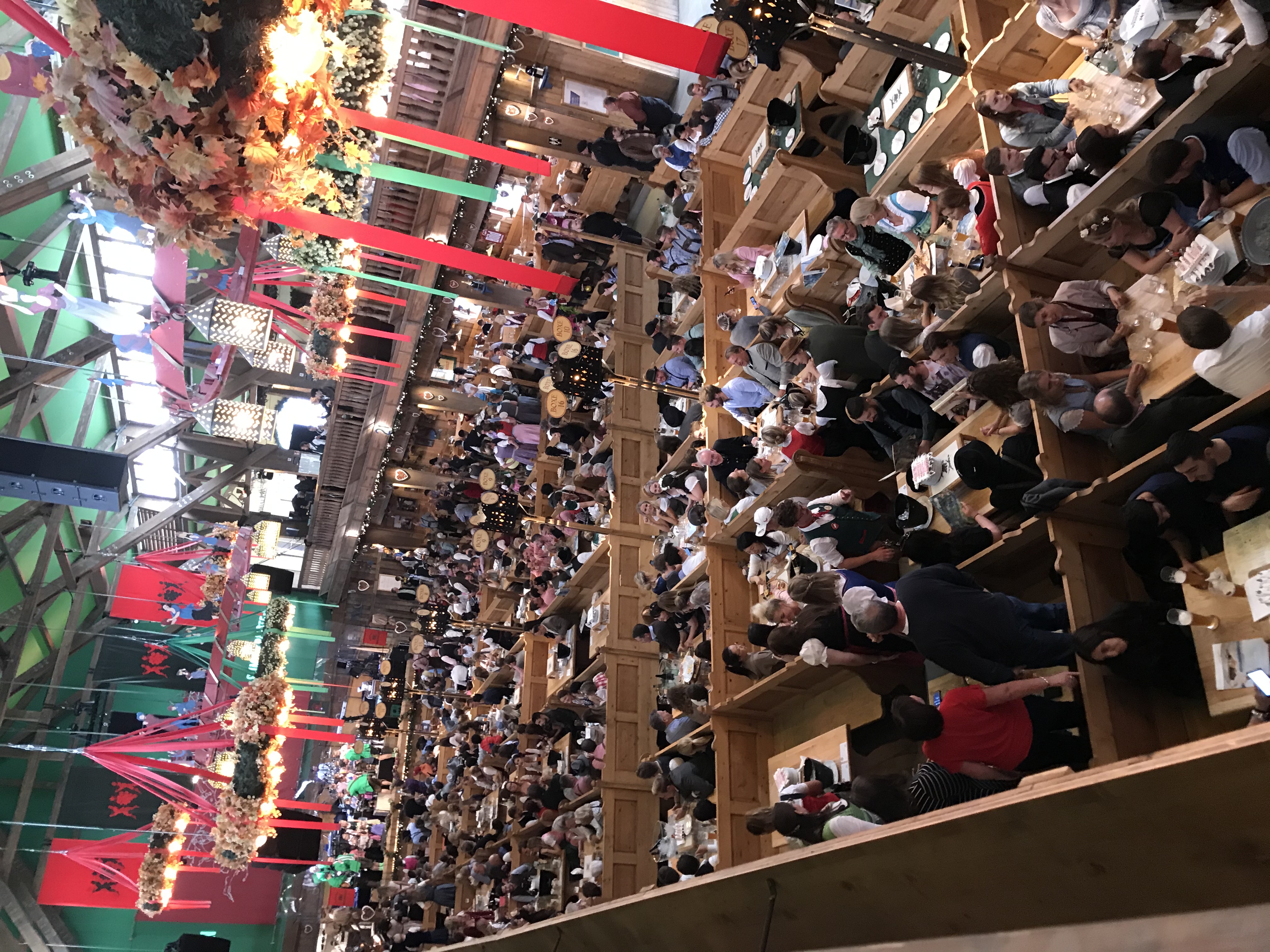 After the tent, we went to find the souvenirs we were looking for…. I wanted some ceramic steins and Eddie wanted a hat pin. My steins were easy to get but the pin… not so much!! After much walking and looking though, we finally found it! And since it was a pretty cool pin, I got one for my hat too!!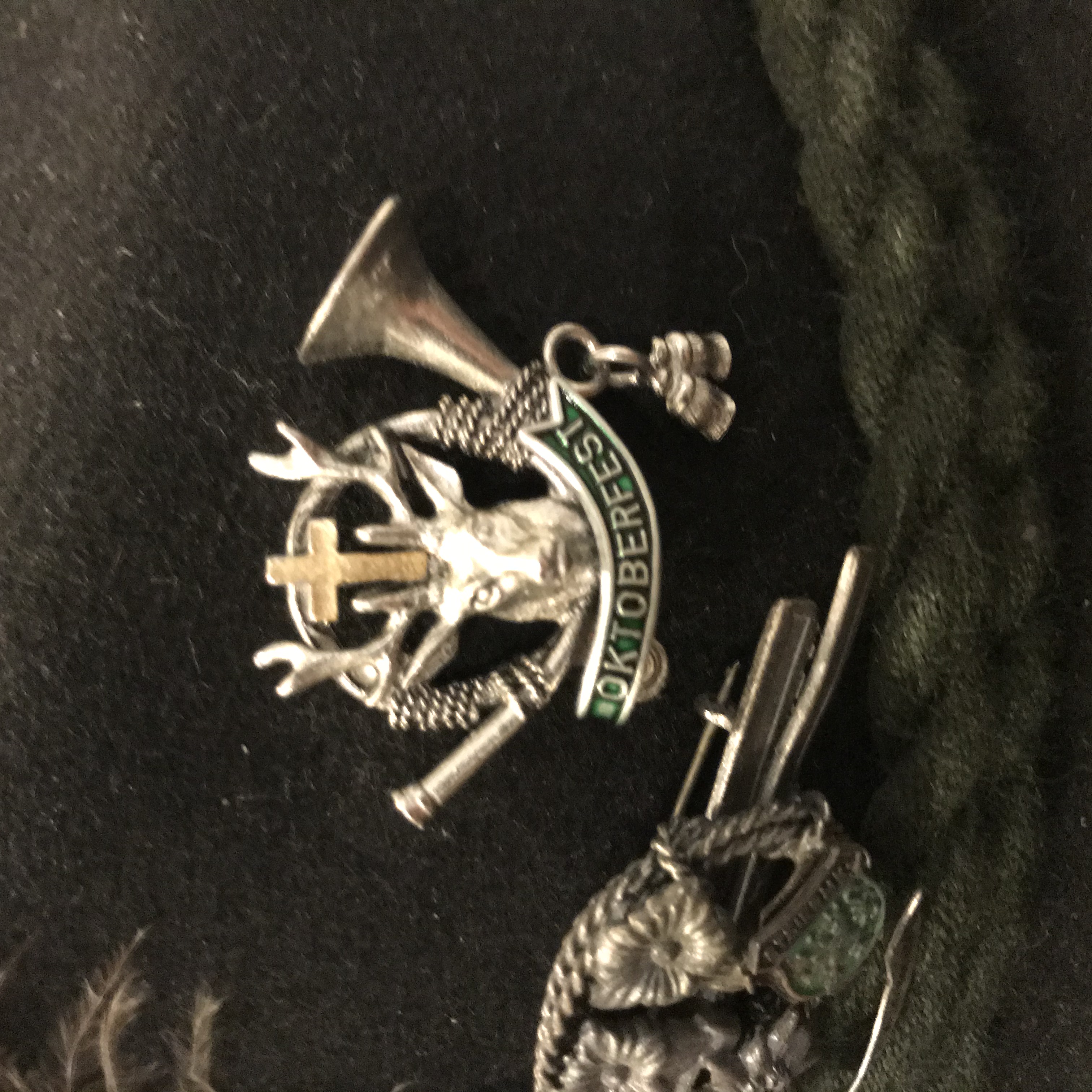 After the Wies'n, we went back to the hotel to get a drink and wait for the Troops to gather. We decided we'd go out for dinner…. to an IRISH pub!!! Go figure! But they did have some German food and Bier. So it was OK.
Then it was bed time…. Monday was a day trip to the Alps and we needed to leave early.
We hit the road at 702 am…. not bad for a bunch of non military folks!! They are getting the hang of punctuality!! We had about an hour and a half drive to the castles and I wanted to get there early to get same day tickets. Unfortunately, on a Monday morning after Oktoberfest kickoff, there was an accident on the Autobahn that diverted us, adding a half hour more to our trip. We made it to Neuschwanstein just after 9 am but we missed the 1030 tour and had to settle on the 1125 English guided tour. So… here's the good and the bad about that. Since we had 2 hours to kill, people would have plenty of time to hike to the top of the hill that the Castle sits on. But it was also a rainy day which would have soaked the walkers. I recommended taking the bus up the hill, strolling to the Marienbrücke (Marie's Bridge) once we got there for a good look at the back side of Neuschwanstein before heading to the entry.
But we still had an hour and a half to kill after all that…. so we walked to the Hotel/Restaurant on the top and had coffee and Quarkbällchen (Quark balls…. think of a mix between a donut and a beignet). It was a nice way to stay dry and warm up a little.
After this we headed to the top and when it was time for our tour, we went inside. They are still doing a lot of restoration work but it still is a fascinating place…. not to mention hearing about the stories of King Ludwig II.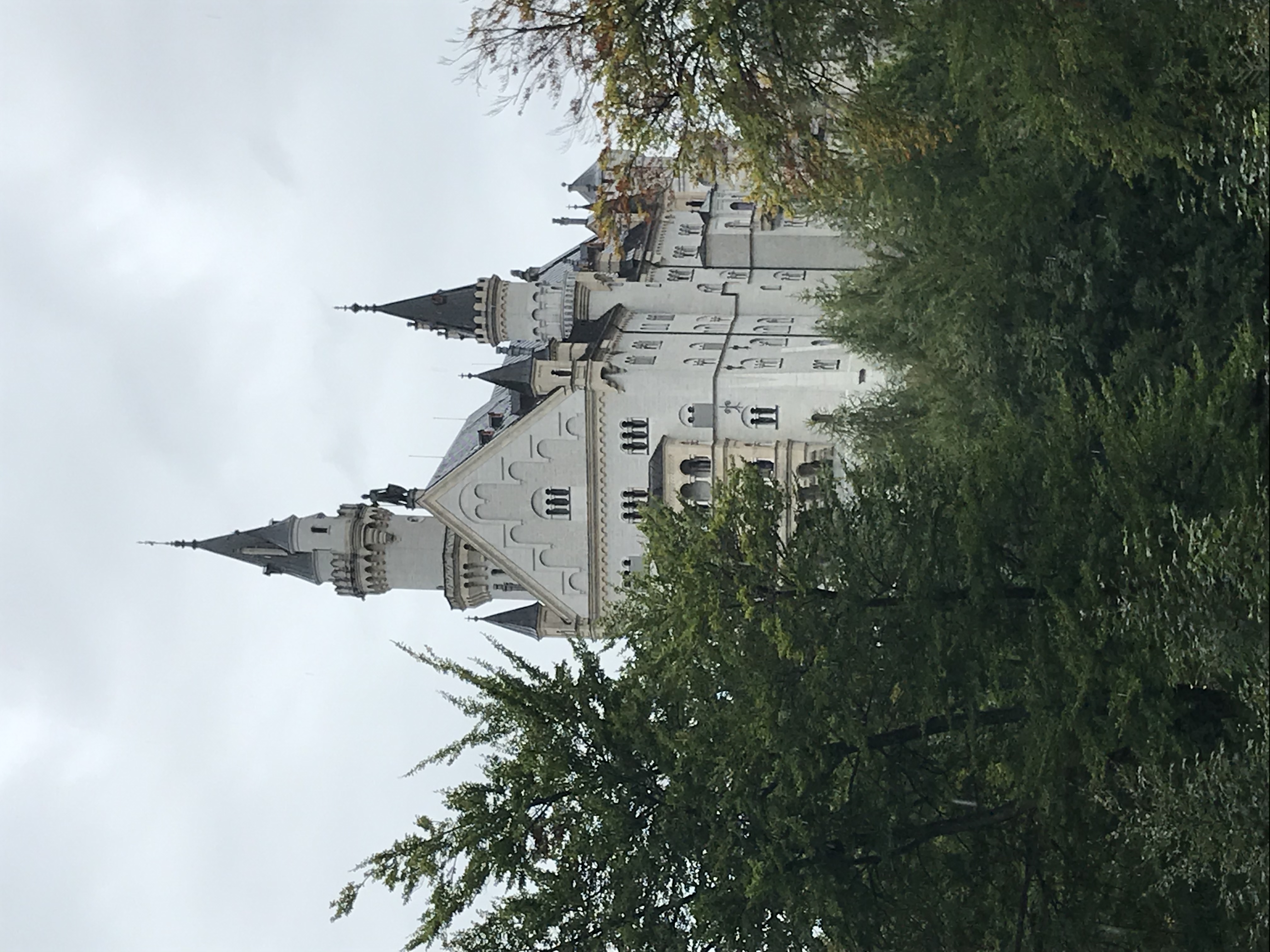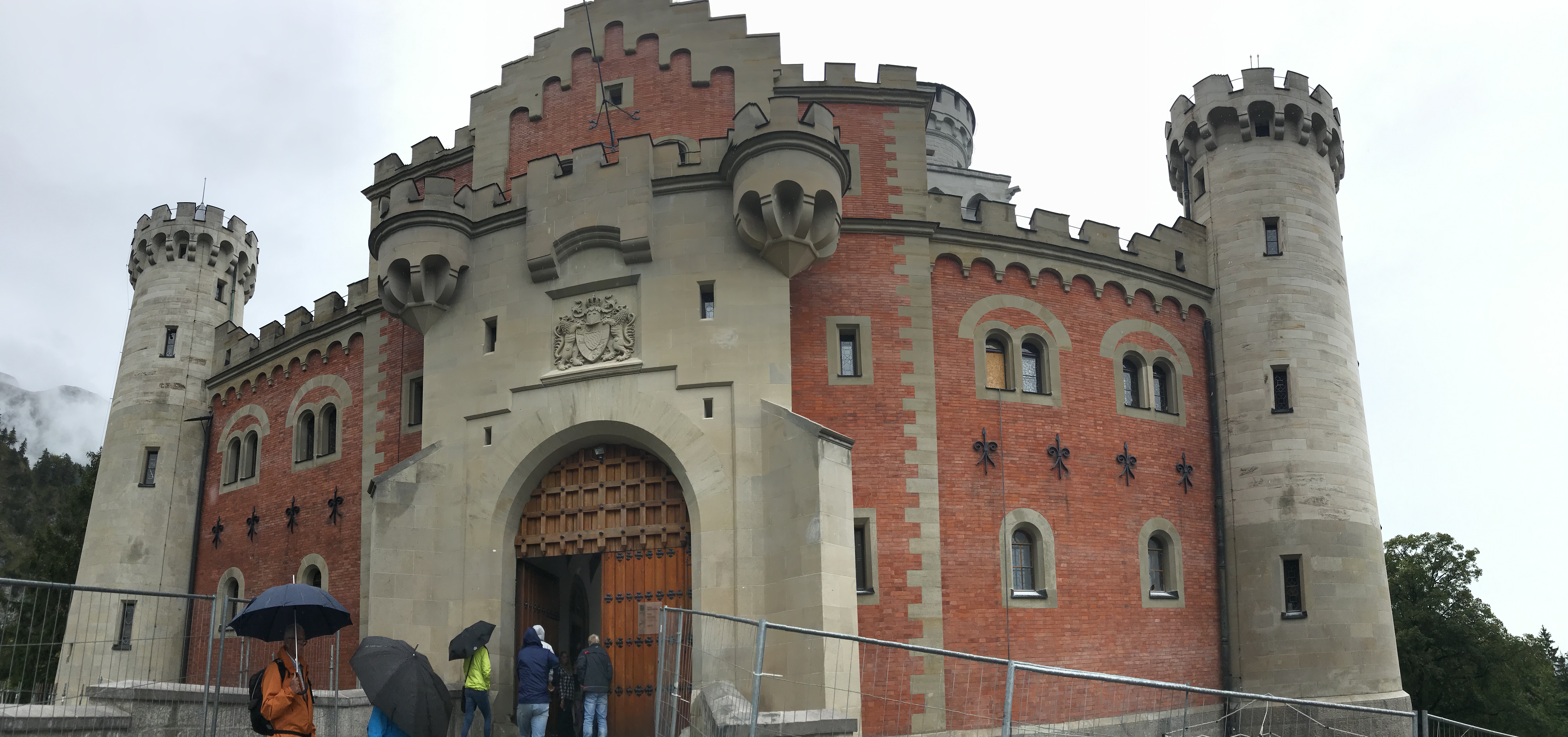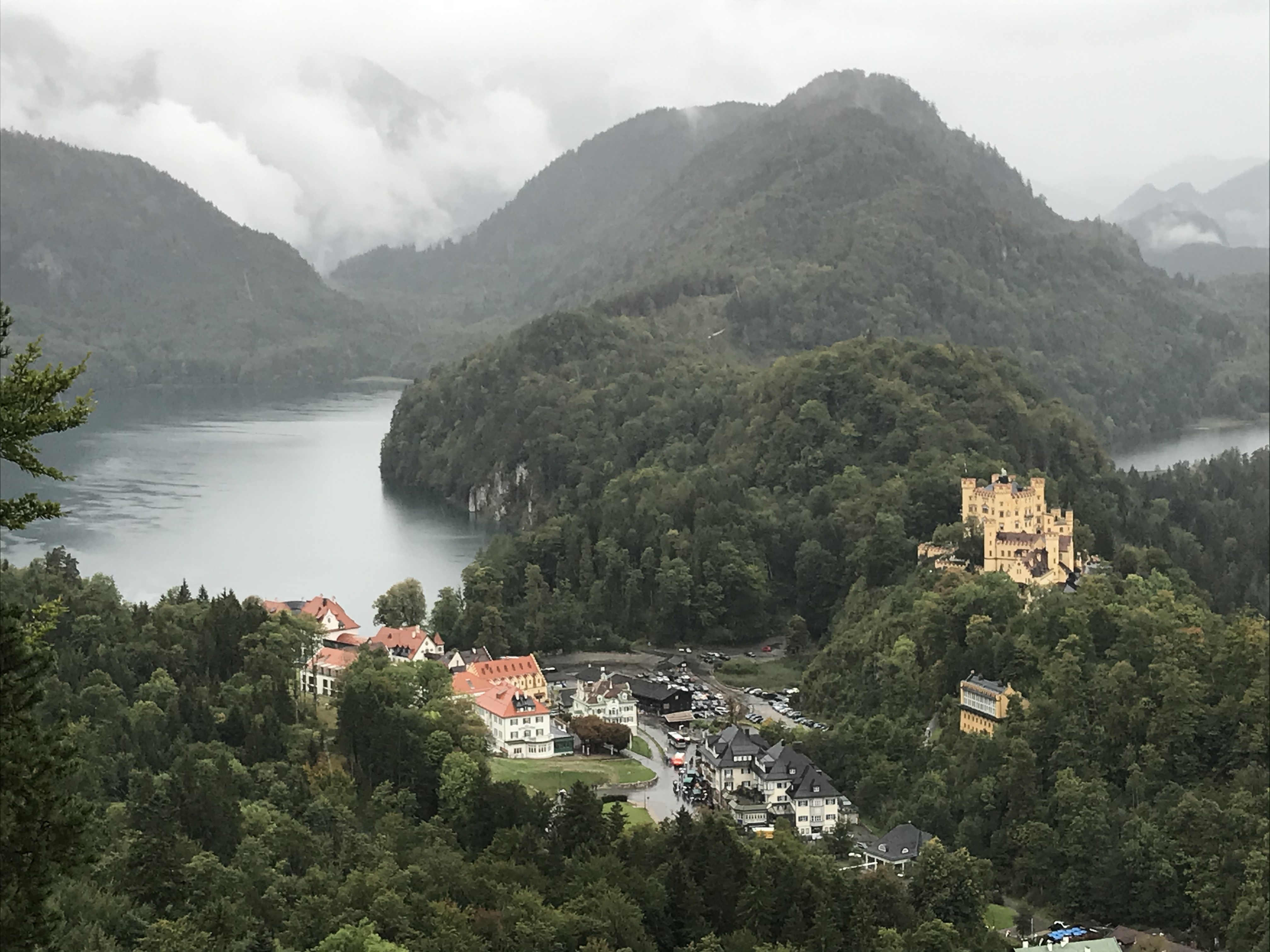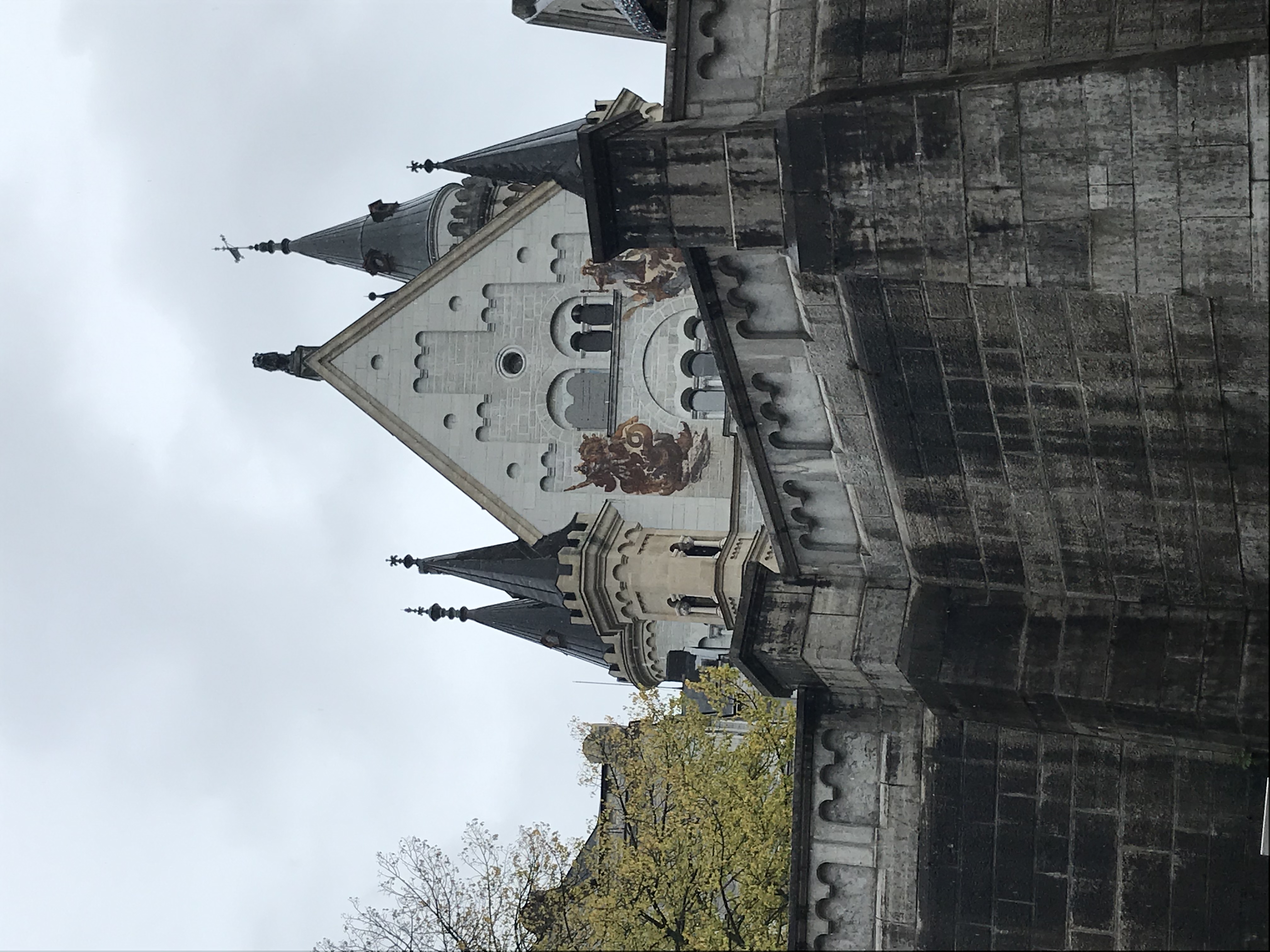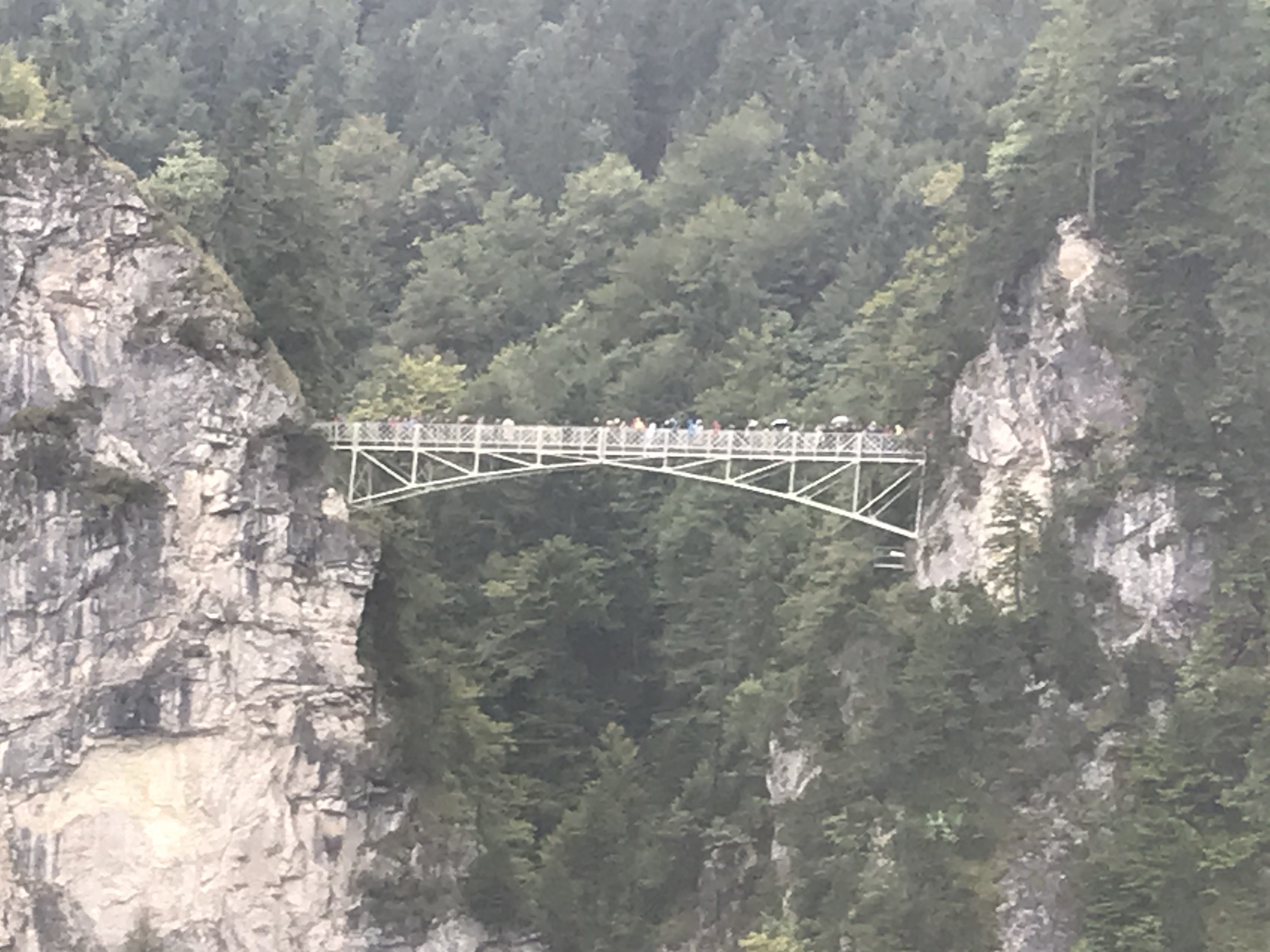 Once the tour was finished, to stay dry, we took the horse drawn carriage back down to the village of Hohenschwangau and then hit the trail for our next castle, Linderhof, another of Ludwig's castles.
An hour's drive dipping down through Austria (past the Plansee) we made it to Linderhof. This was a new experience for me…. it wasn't winter and the gardens were still open!! What a gorgeous place!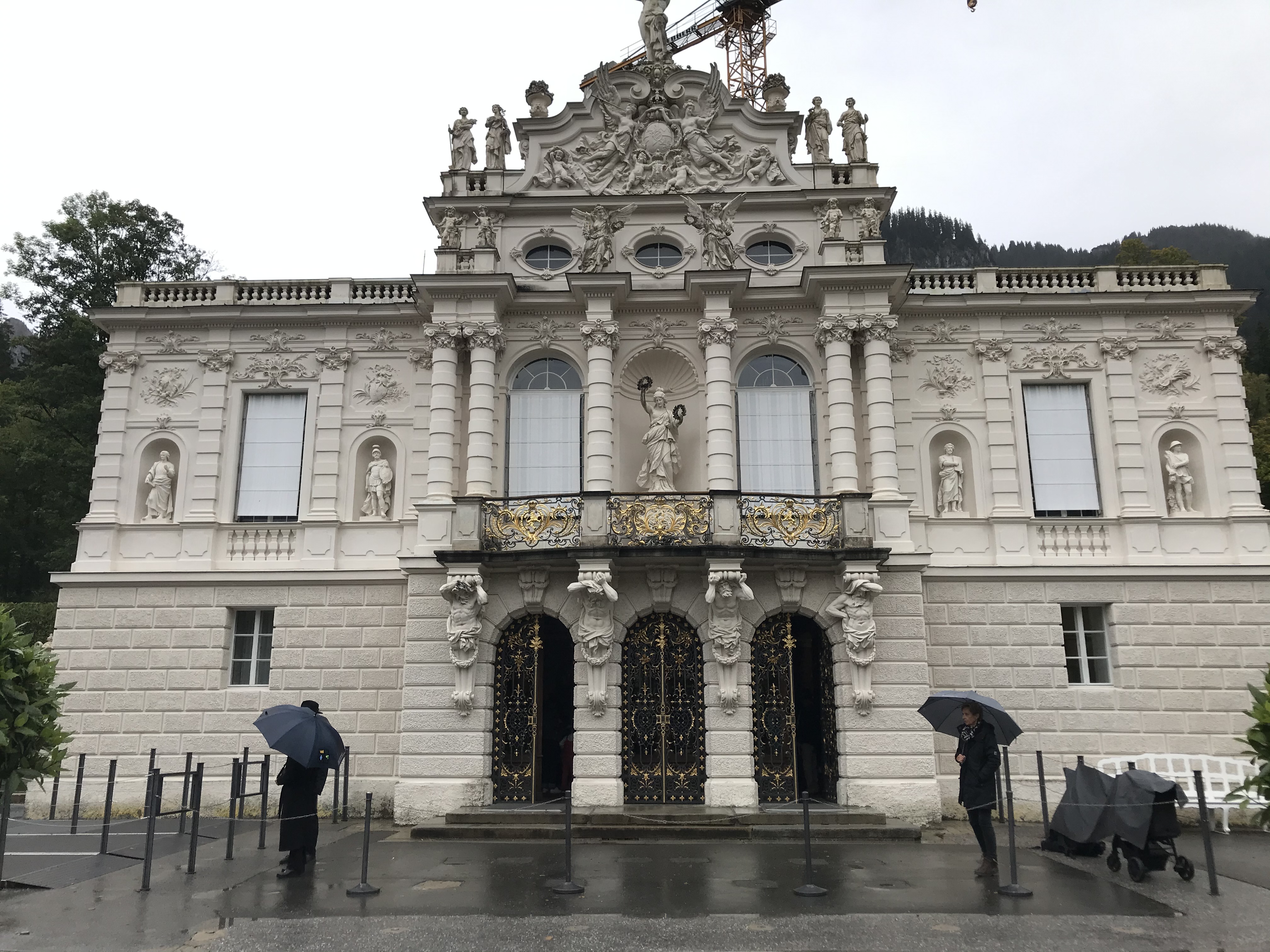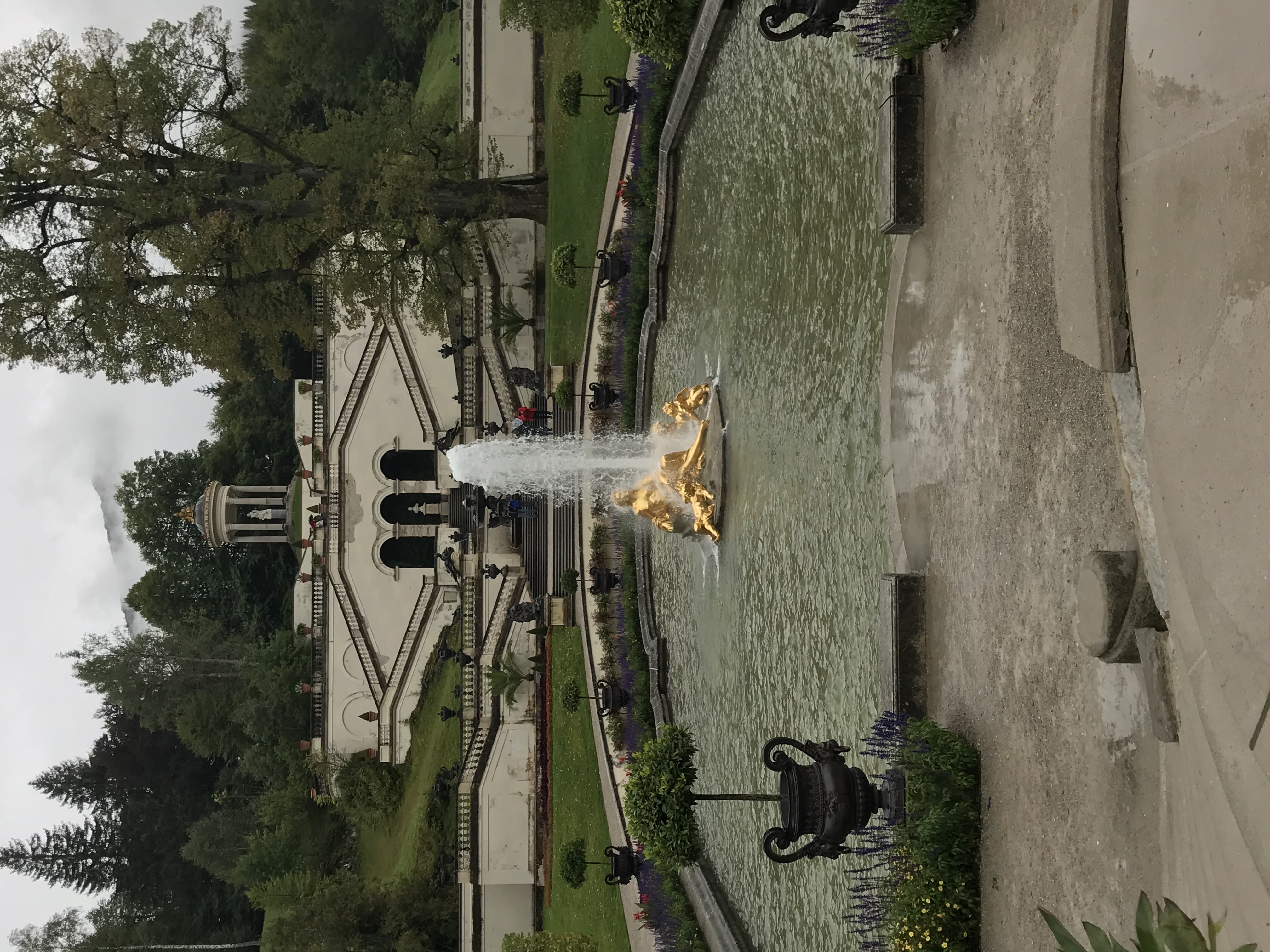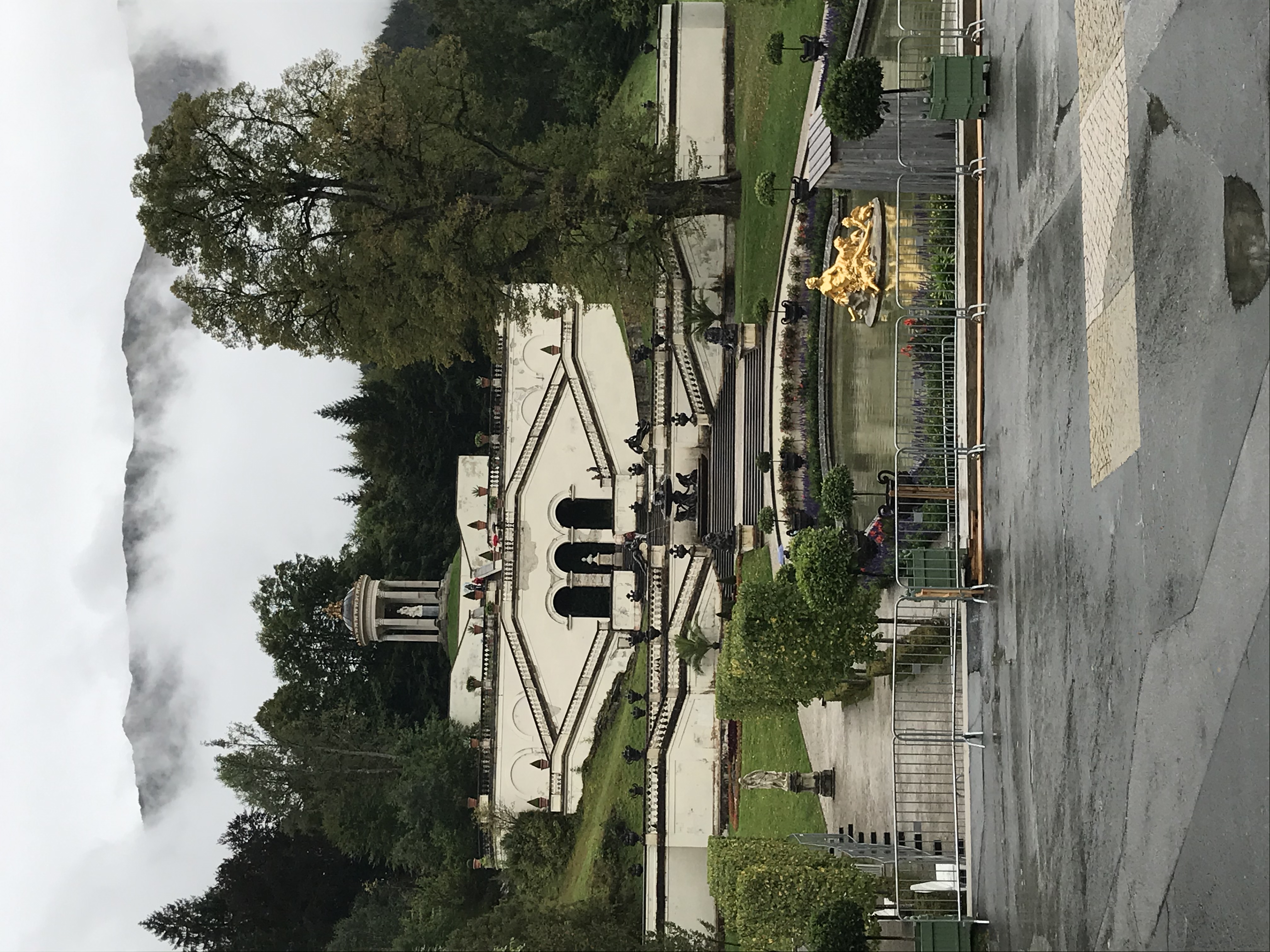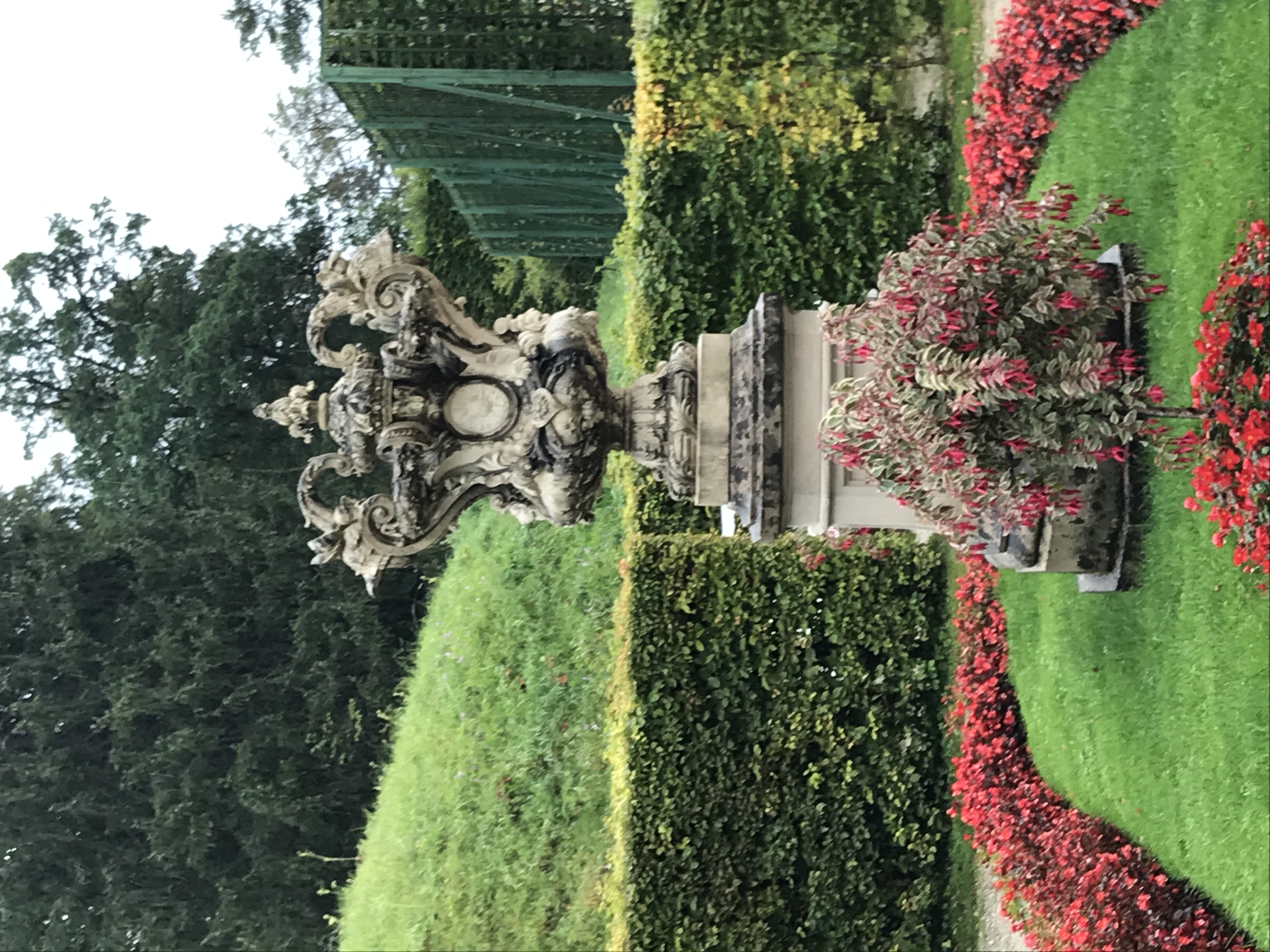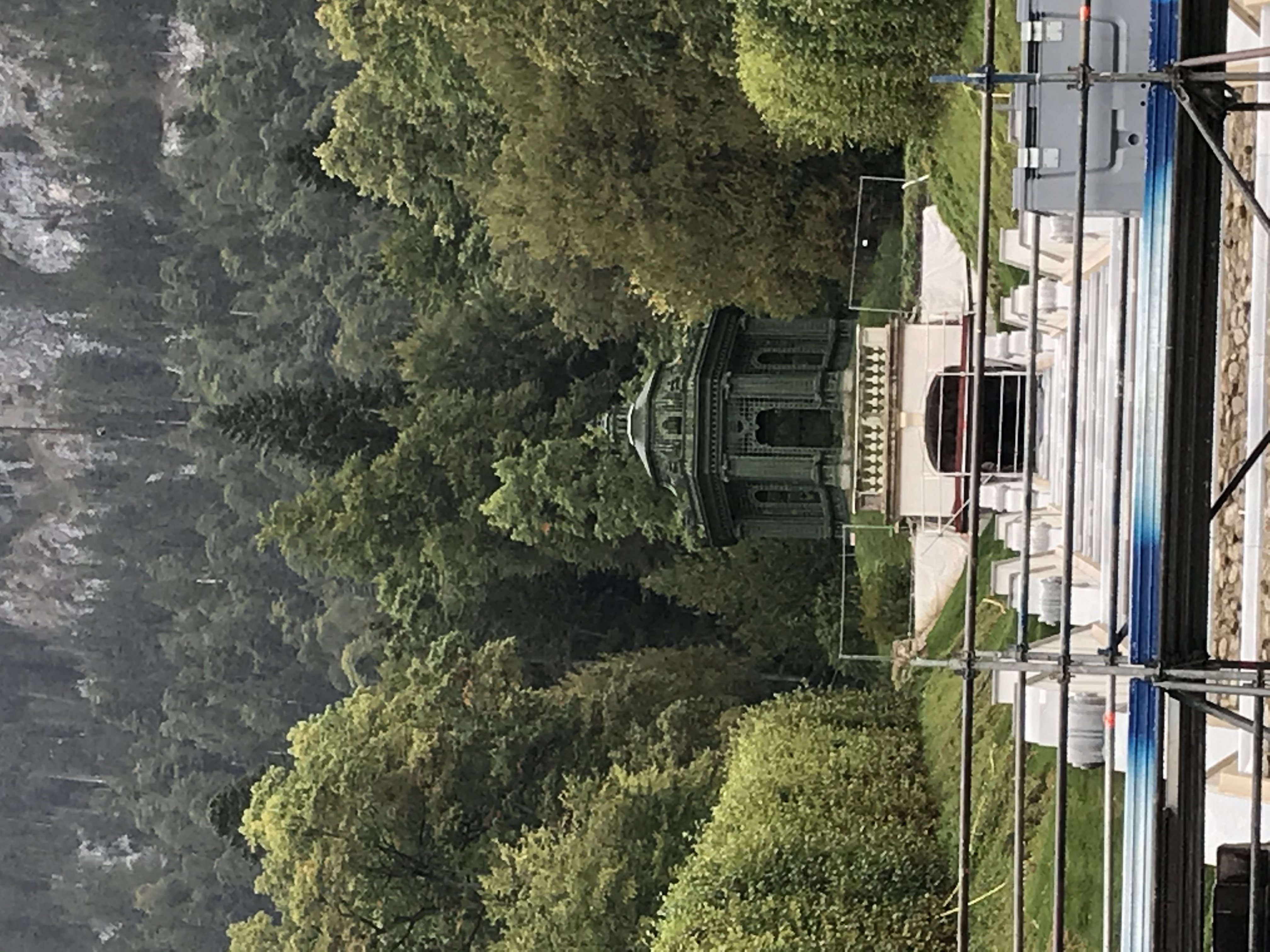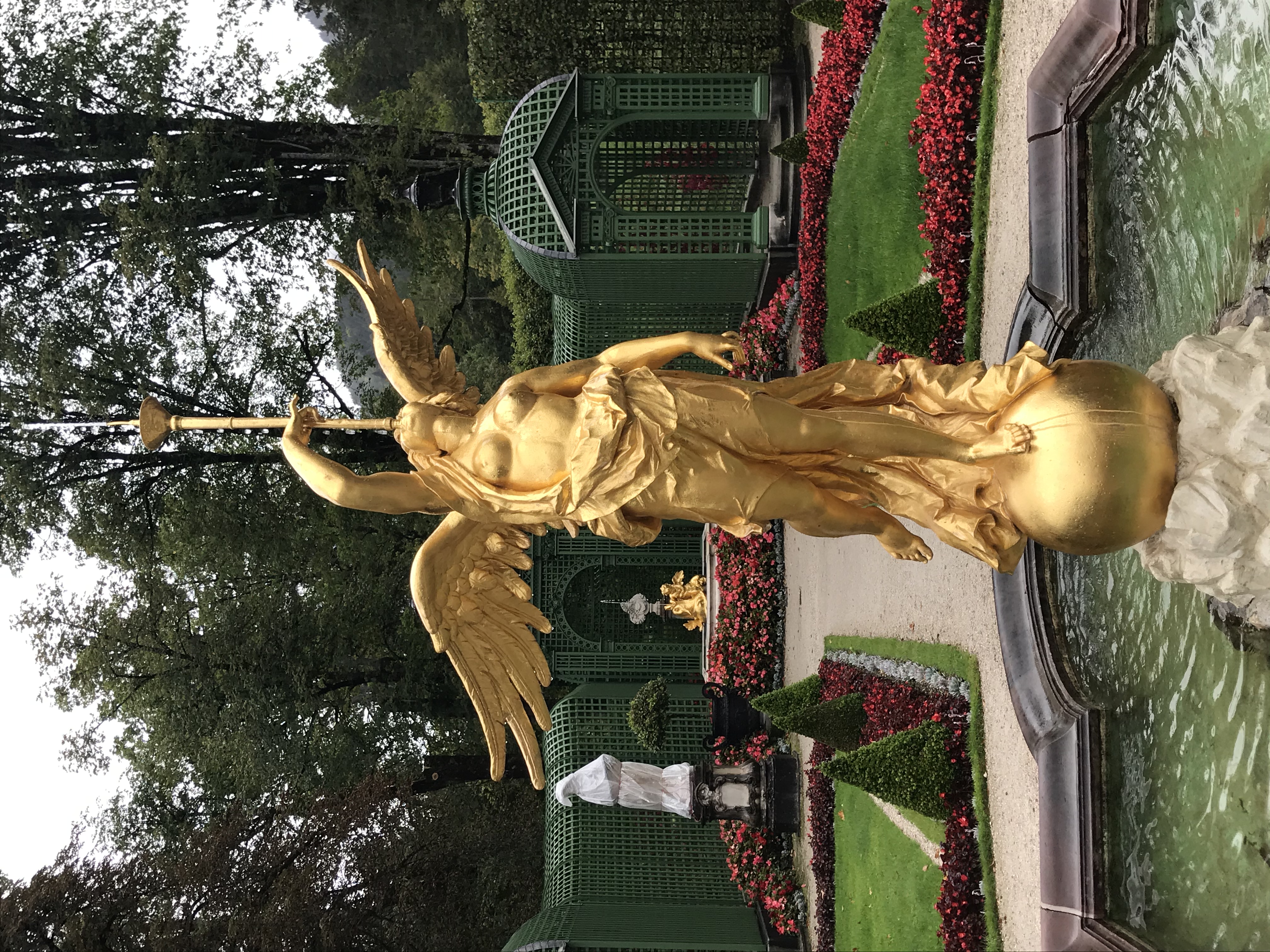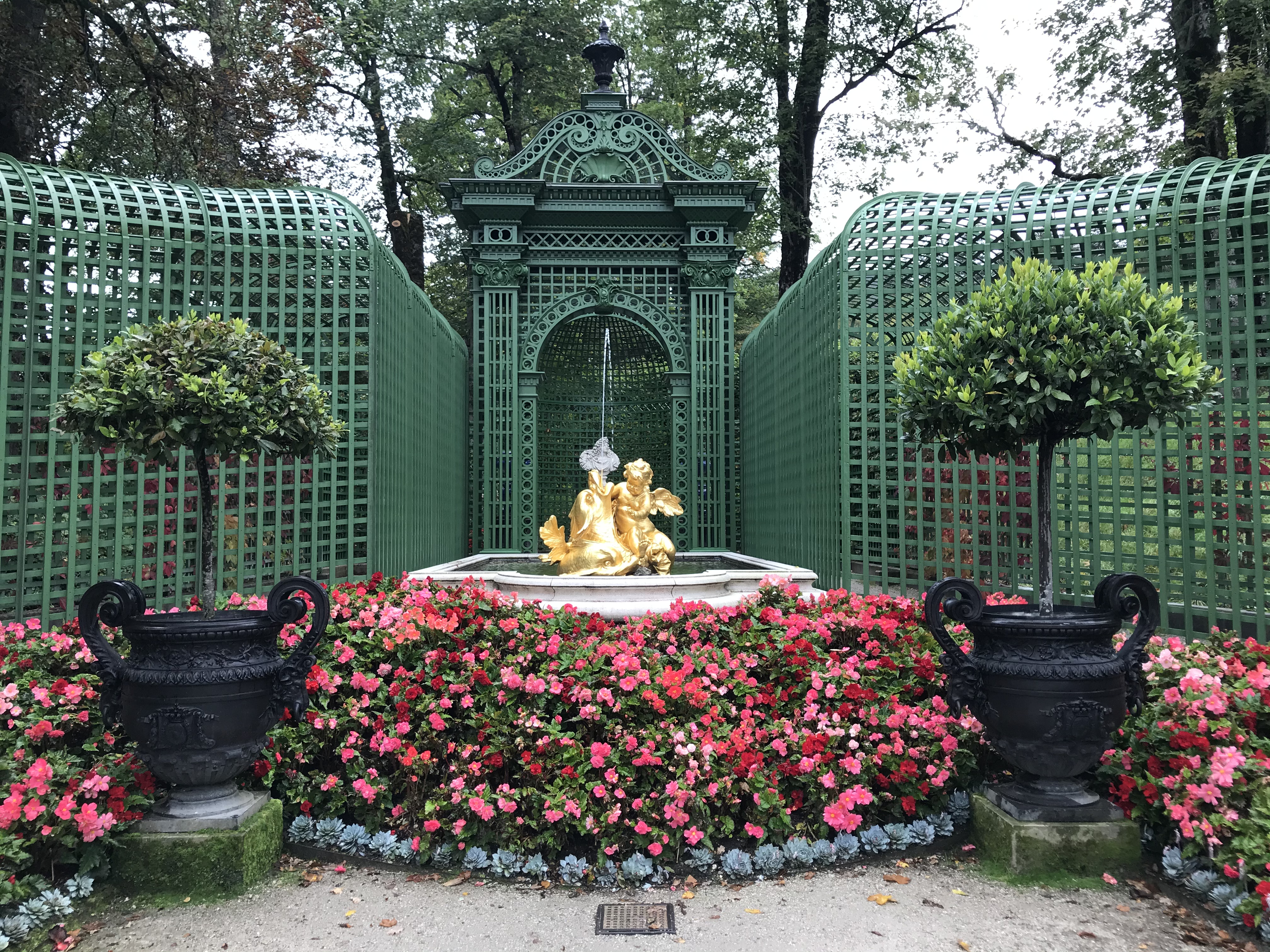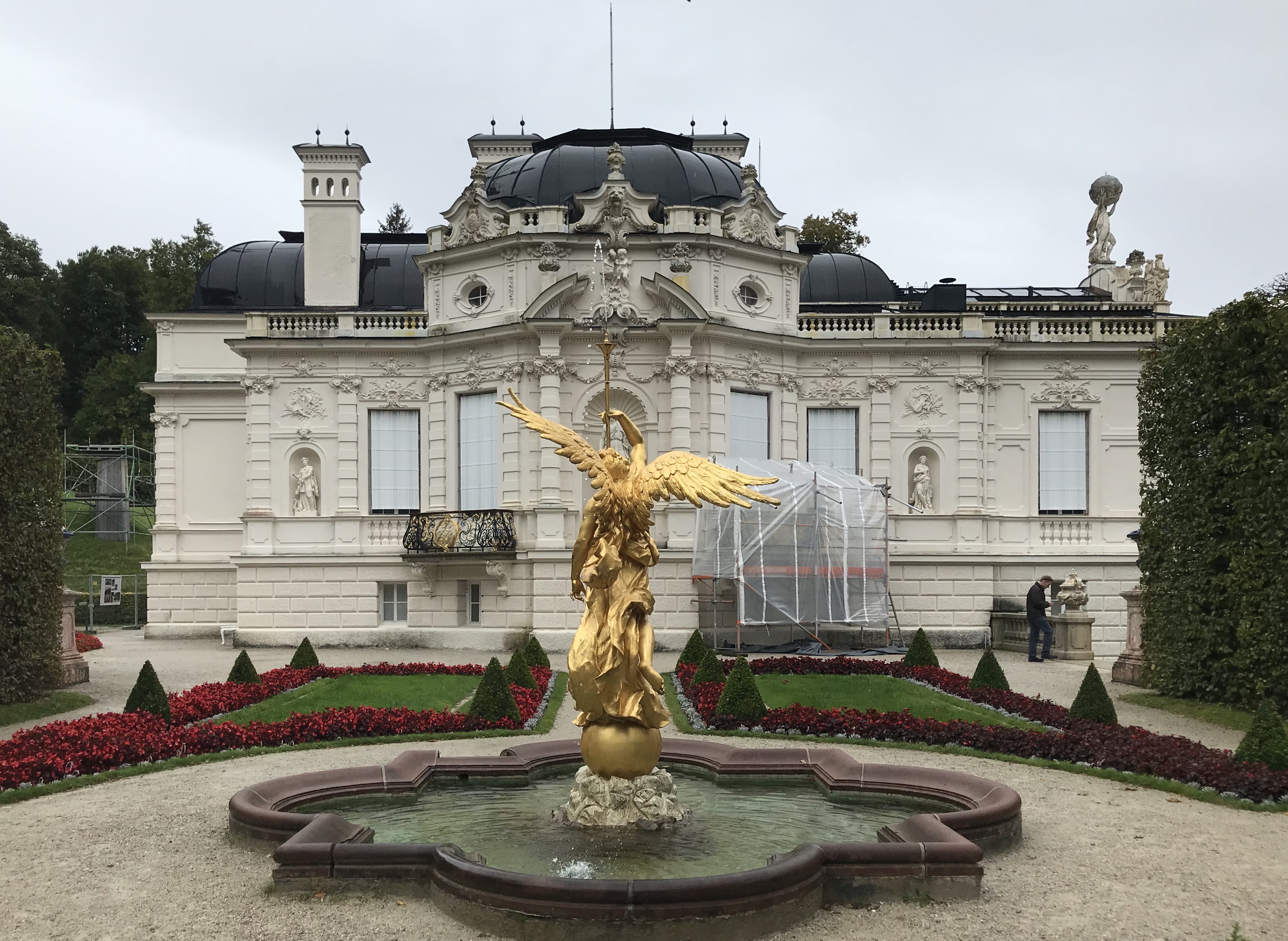 After the tour, we decided to have dinner at the Wirtschaft there. Good food and drink to prepare us for the trip back to Munich. Unfortunately, the main road back to the Autobahn was totally blocked by a quite serious accident making us detour a good 30 miles back the way we came. It was a pain but we made it back to our hotel with only about a 30 minute delay. And since we ate at Linderhof, we all met at the hotel bar for a night cap and to say good bye to Allison and Brandon who are leaving for home tomorrow. They are saddened to be leaving (as are we!!) but looking forward to the opportunity to come back for another tour in the future!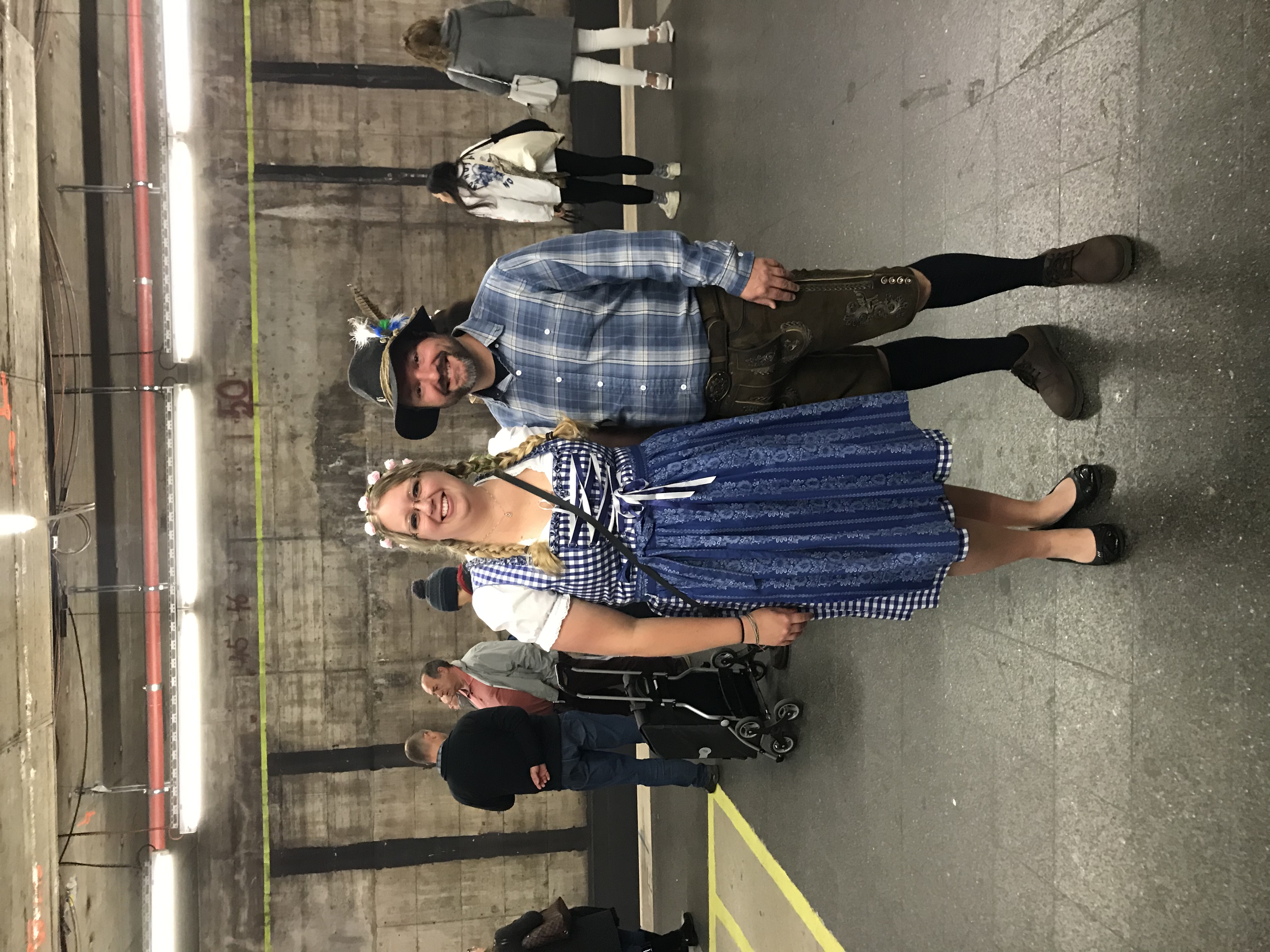 Allison and Brandon
And for us… we head to northern Bavaria to start our bike adventure on Wednesday!
More tomorrow!!!