Heading out on the last day, we were excited to be having their Adventure come to an end.   But there was much more to experience…..
You know, like they always say, it's not a matter of IF something is going to happen, it's a matter of WHEN. Rain, forgetting to unclip and falling over, flat tires….. something!! Well, this day was full of WHENS!
The first WHEN was when you get a flat tire.   There were a lot of bumps in the road this day and especially in the area around Wiesbaden.  Seems like we always have issues around Wiesbaden…. Getting lost seemed to be the biggest in the past.  But today it was flats.  I got one just before stopping for Coffee.   We got it repaired and took off for the coffee and, wouldn't you know it, just before the coffee shop the newly repaired tire was flat again.  I decided to have a quick cup of coffee before getting to work on the tire again.  I got it changed and we got it inflated again.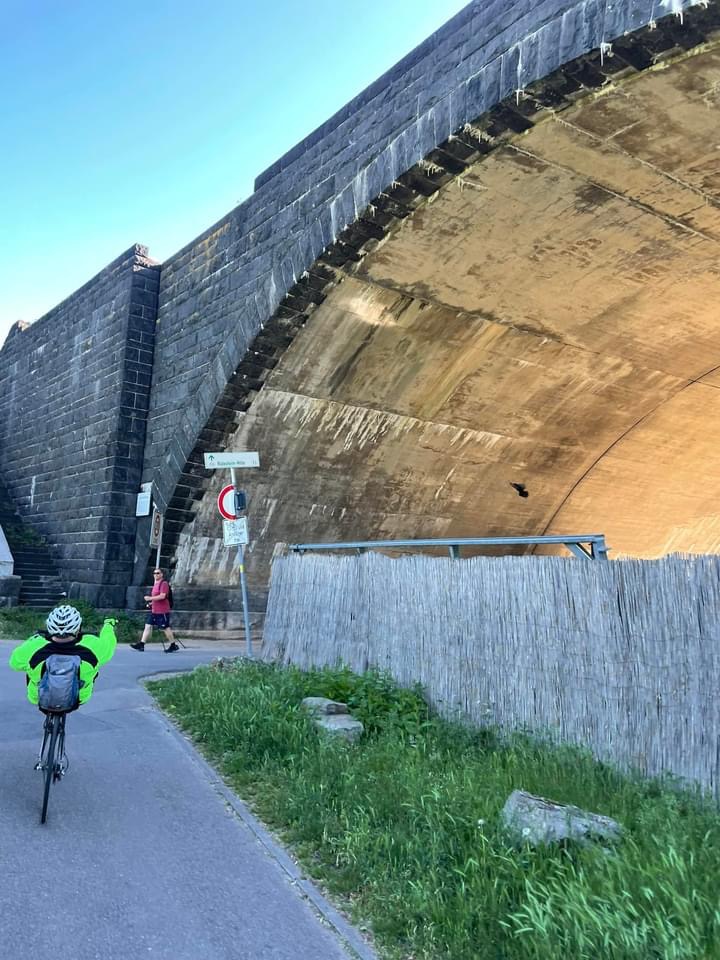 After the coffee break we headed out again, making our way to Hattersheim. We got to the confluence of the Main River with the Rhine River and headed off on the home stretch.   But the next WHEN wasn't too far off now….. in the Königin Victoriaberg vineyard there was a patch of water in the road.   We all know that water on the roadway is slick…. Well, in this case, it bit us.  One of our group, Rick, went down hard.   While he wasn't messed up awfully bad, it was enough.   He rode about a half mile further to an Imbiss (small fast food stand) and cleaned up a bit and rehydrated.   And it was at that point he decided to SAG in.   Probably a pretty good decision especially since shortly after leaving the Imbiss Katie had a flat.   At that point, sending the two of them back to the hotel by the van made perfect sense.   
We packed them off and the 3 of us remaining rode on back to the hotel.  My rear tire developed a slow leak so we babied it on in to the end.   There were a few more potentially treacherous places getting on in….. a wet underpass, an underpass with a turn at the bottom and a right angle turn over a bridge.  But we made it!
But over by the Imbiss, we saw the Graveyard of all German Street Signs…..
We got our bikes stored for the next group and cleaned up quickly because the next item on the agenda was to make a shuttle run to the airport for COVID testing.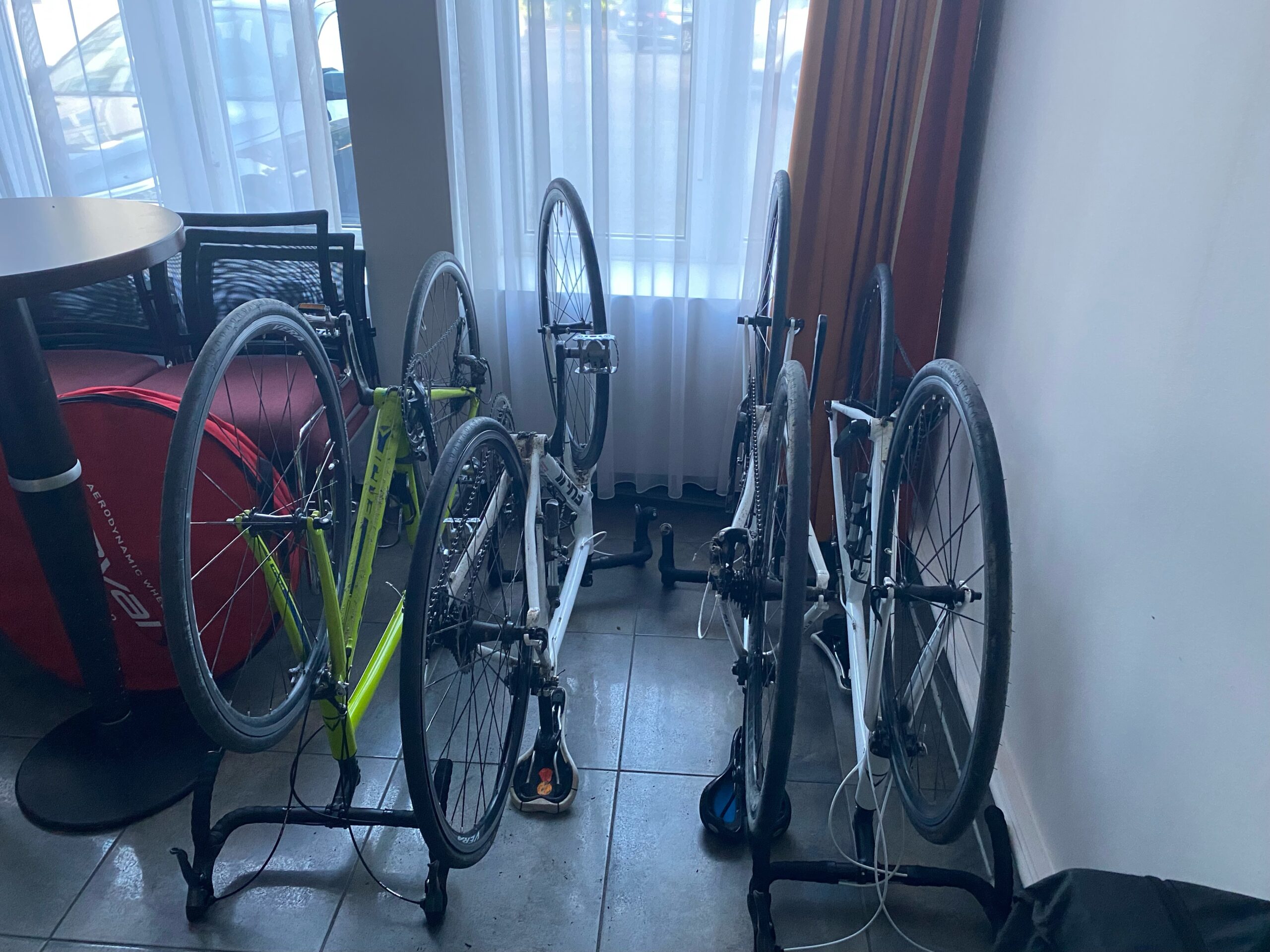 Surprisingly, we got there fast, the people heading home got tested and we were back to the hotel right at 6 pm!!!   We had reservations at the restaurant near the at 6 so we headed over there.  More schnitzel and bier and we were ready for that which we had been planning since our first day in Hattersheim…. Spaghettieis!!
Three of us had Carbonara while another had Lasagna spaghettieis!! A great way to end the Adventure.
Today, we said goodbye to Rick and Katie who continued their adventure on the train to Paris for a few extra days.  And after breakfast,
I ran everyone else to the airport to catch their flights.   Their COVID tests were negative, having come in at 3 am by email.
Now I am waiting for my next Adventure…. Tomorrow morning I'm getting on a flight to Barcelona to meet Gretchen there for a Mediterranean Cruise before returning here to Germany on the 5th of June to do the bike ride again. It was that much fun!!!
See you all with New Adventures……